I'm sure you've seen the pictures. A glorious sunrise over the plains of Bagan with balloons dotted over the horizon. You want to be the person in the balloon! And then you look up the price… shock and horror flood through your mind. You were promised a cheap holiday in South East Asia!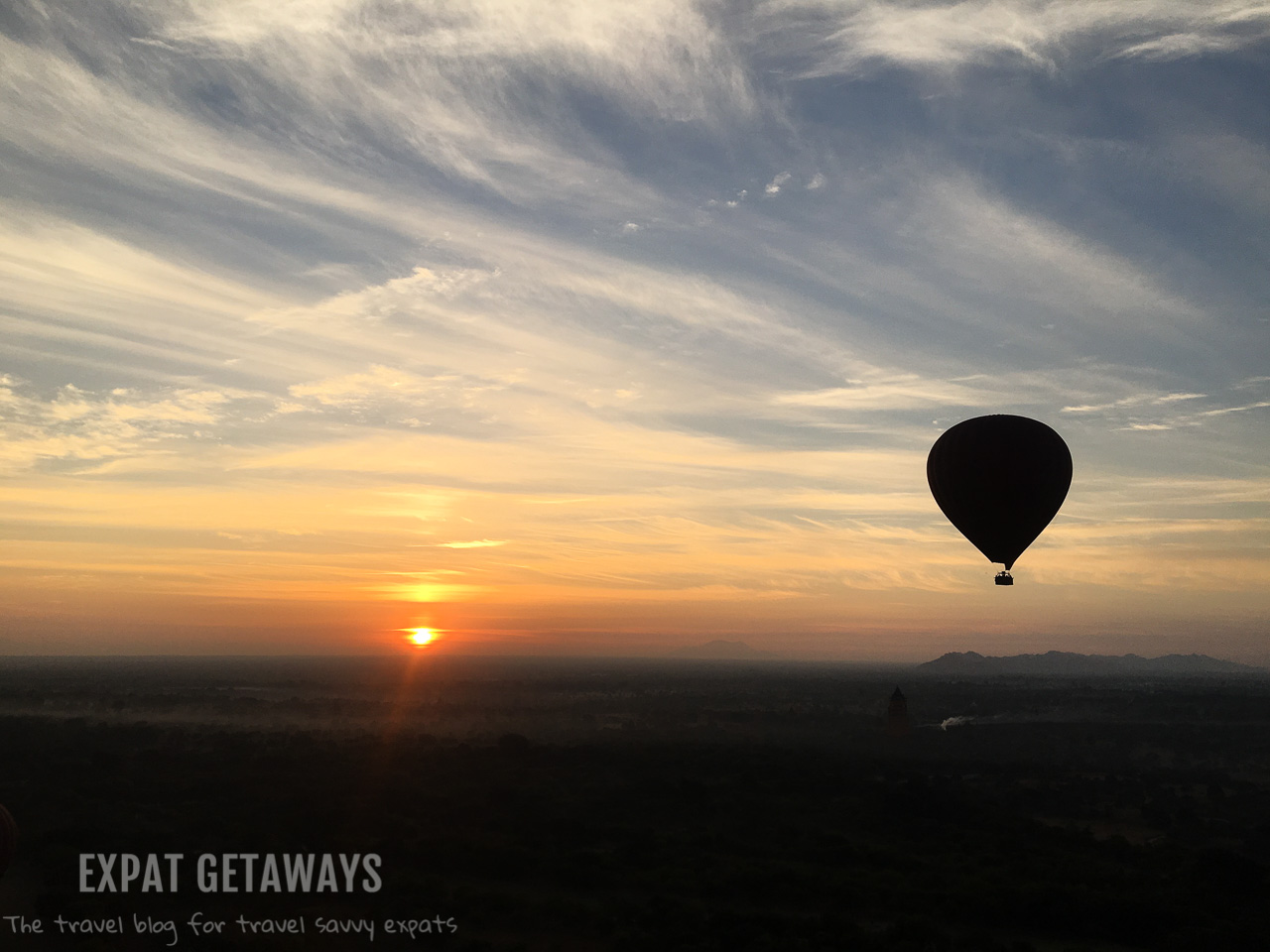 Ballooning was far and away the most expensive thing we did in our week in Myanmar. We took domestic flights and stayed in beautiful hotels. It definitely wasn't a budget trip and the balloon flight was still 25% of our total trip cost.
Was it worth it?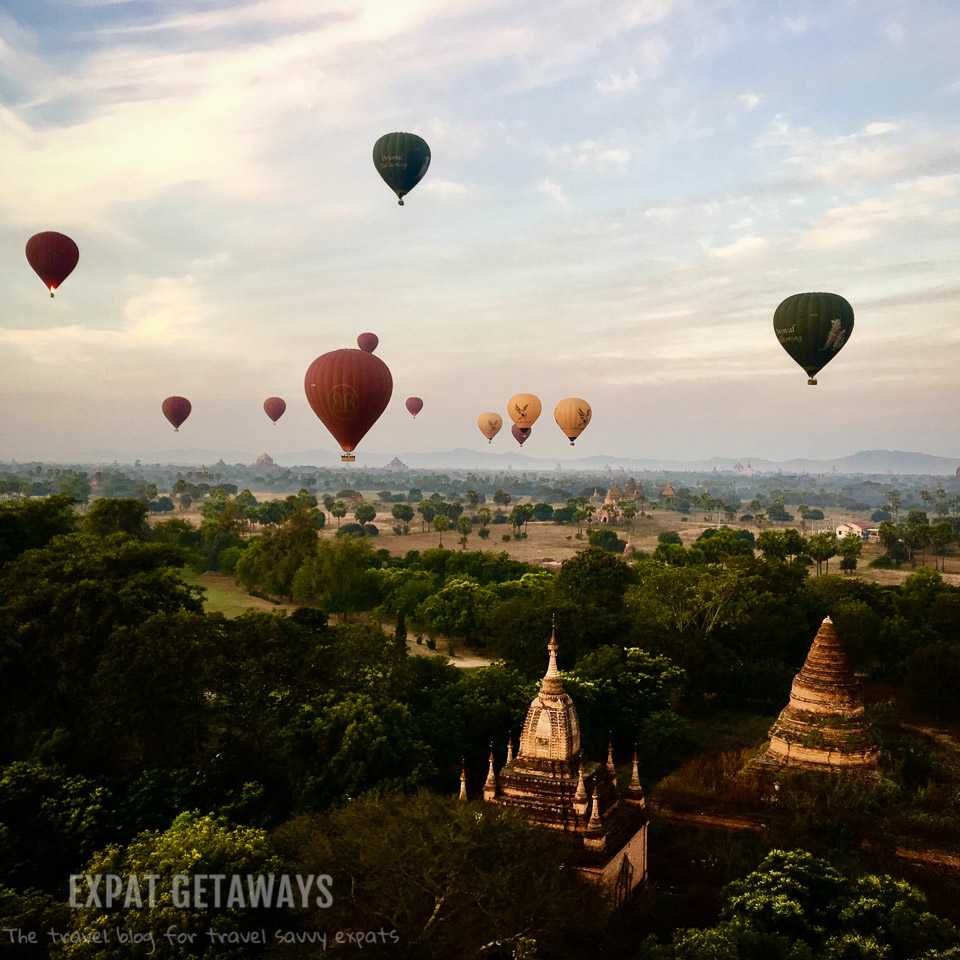 ABSOLUTELY!!!
Our Experience
Waiting to be picked up at 5.30am I was filled with anticipation and just a touch of anxiety. Was it going to live up to the expectations? Were we getting value for money? Was I going to regret the decision? Could I have had the same experience from the ground watching the sunrise? All these questions were quickly put to rest.
We arrived in the pitch black to little field with tables and chairs set up with tea, coffee and some pastries. As the sky started get the first hint of grey we enjoyed our breakie and waited for the remaining guests to arrive.
Occasionally a burst of flame would shoot up as the balloons were prepared for take off.
Once everyone had arrived it was time for the safety brief. The six balloon pilots were introduced and we were quickly sorted into our groups.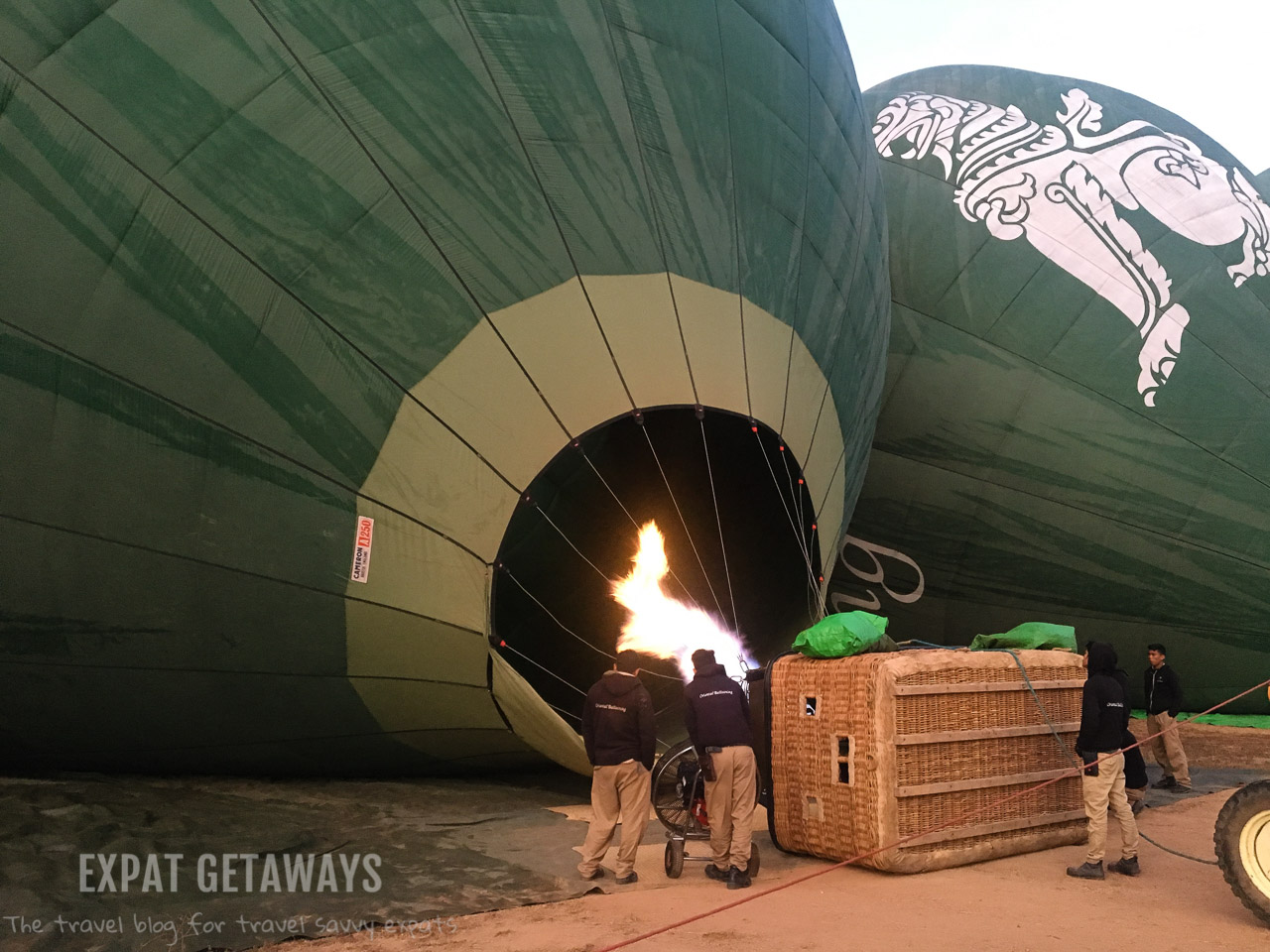 All Aboard
The anticipation built as the balloons were inflated around us. In the next field balloons start to take off and before long we heard "all aboard" and it was our turn.
Part of the magic of ballooning in Bagan is the number of balloons around you. The flight itself was incredible with phenomenal views over the plains of ancient temples, but for me, having the experience with twenty other balloons drifting across the horizon was the real highlight.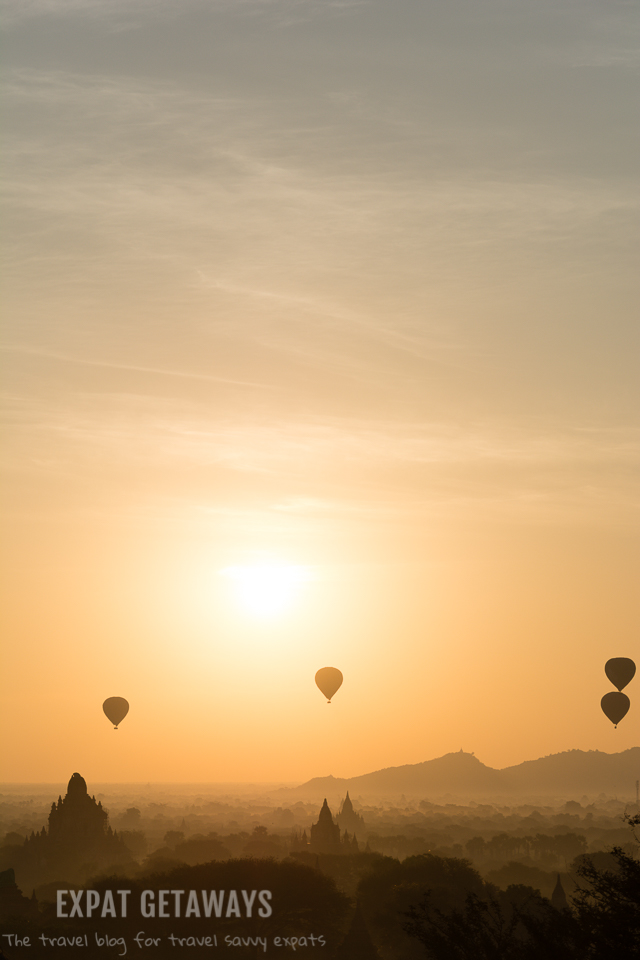 Before long we had passed the temples and were off in the countryside. As we passed villages the locals would race outside to wave in fascination as we passed. We were close enough to see their cattle, herds of goats and the fields of peanuts, chickpeas and rice paddies.
In no time at all we were landing. Ours was a gentle touch down near our landing crew who were waiting with champagne to celebrate a fabulous morning.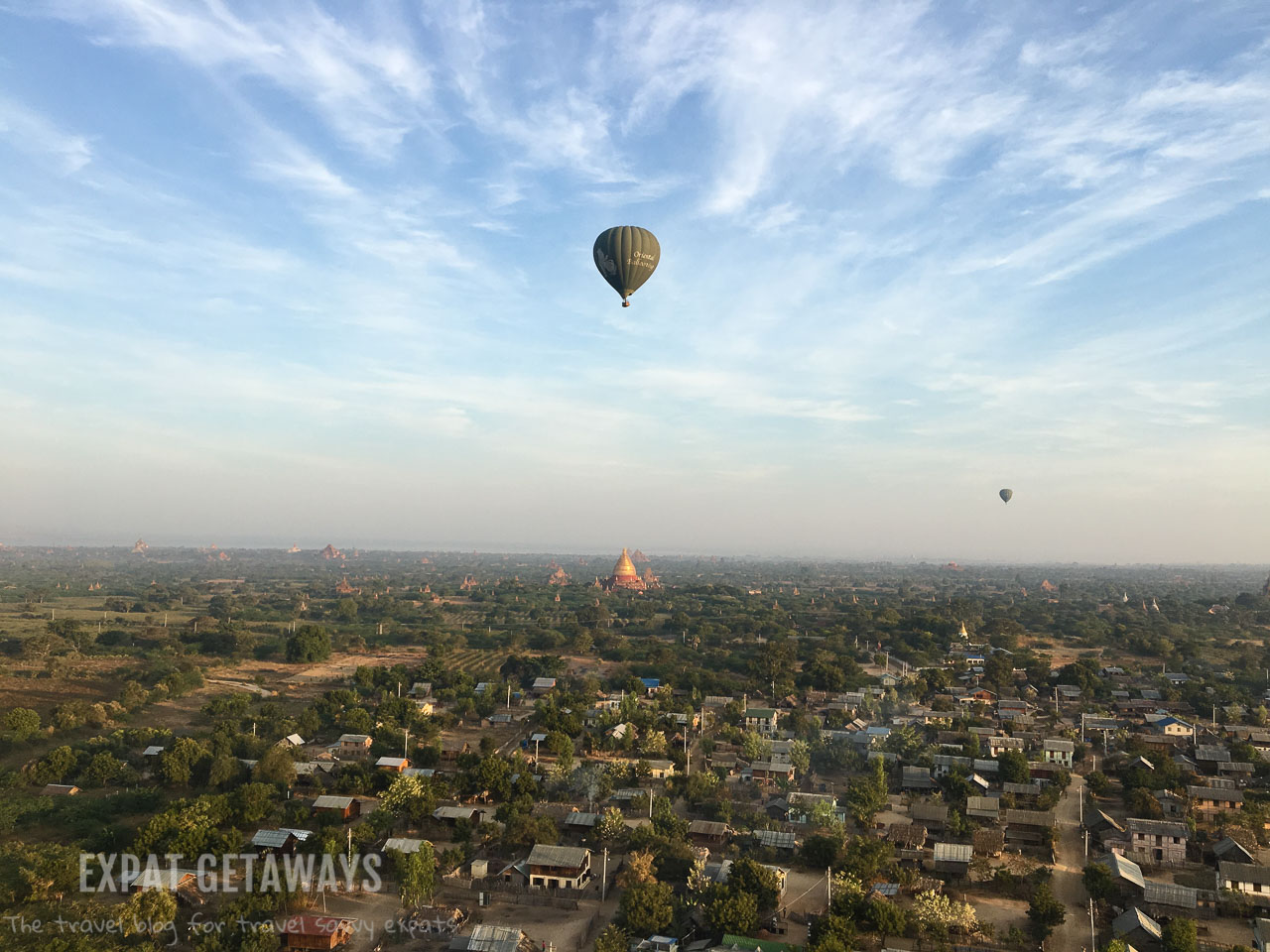 Where does your money go?
All the balloon pilots were westerners. As they introduced themselves we heard British, Australian and German accents. We had the lovely Allie who had bucket loads of experience and is a senior balloon trainer back in the UK. After the flight we heard about the trip she is taking with her husband to go ballooning over Mongolia. In short, you need this level of experience to operate in a country like this, where weather forecasts cannot be relied on. At the end of the day experience costs money.
Like the pilots all the equipment was imported. Everything from the baskets to the ropes to the actual balloon.
For each balloon there had to have been about ten locals helping with pick ups, serving the coffee, launching the balloon and driving to the landing site. It was quite the production! I learned later that the balloon industry in Bagan employs over 400 locals.
Everything else. Did a travel agent book your flight? There would be a commission there. How did you find out about ballooning? That's the marketing budget. I imagine the public liability insurance for an operation like this would by huge. Plus the usual overheads that come with running a business.
To be honest I'd be worried if ballooning didn't cost this much!
Can you get the same experience from the ground?
At our first sunset the topic of the cost of ballooning came up and we listened in. Certainly for a backpacker spending months in SE Asia the flight is the equivalent to about a week of travel. Quite a few people justified that it was better from the ground anyway because you want a photo looking up at the balloons.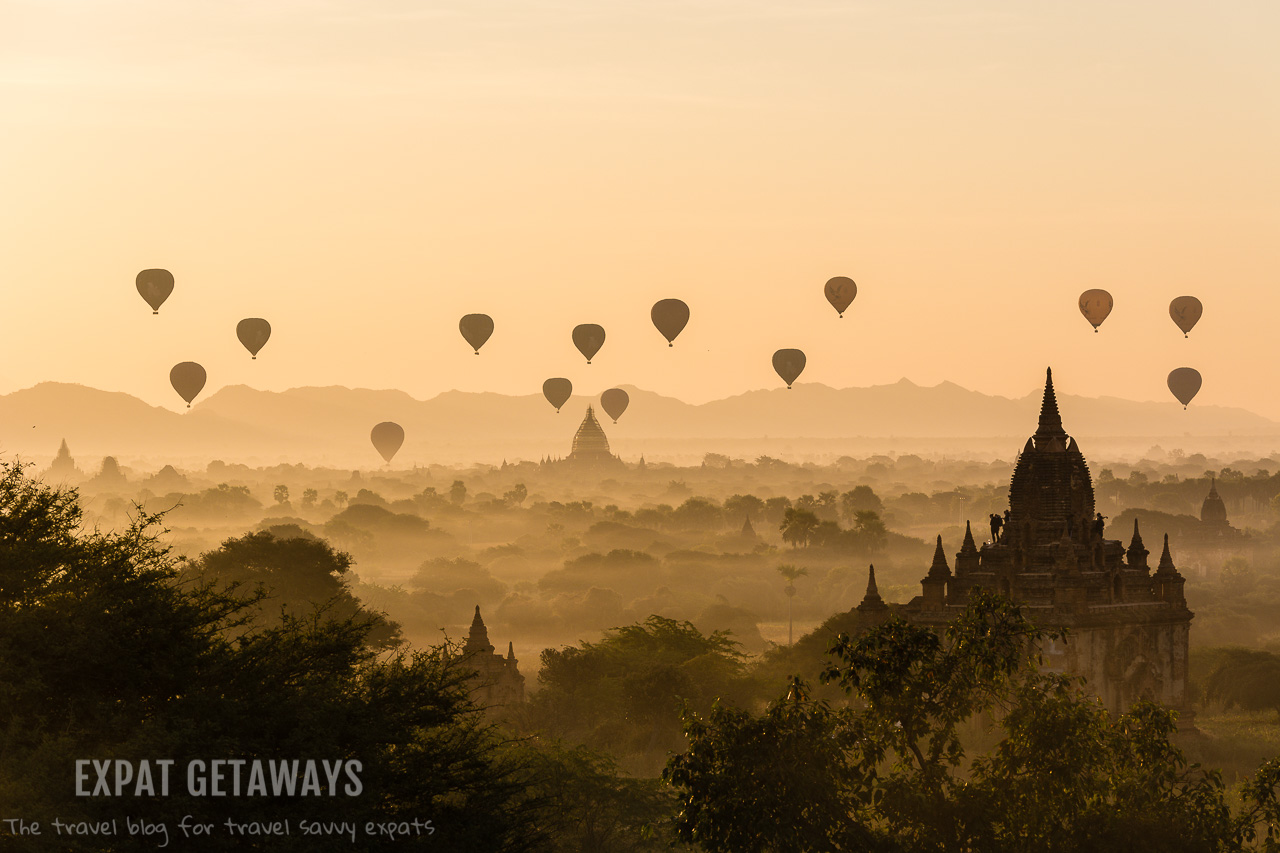 The following day we headed to a nearby temple to watch the sunrise and see for ourselves. It was fantastic and made for some unbelievable photos. However there was something extra special knowing that yesterday I was one of the lucky ones up there in the sky.
Other things to consider
Seasons
Some times of year are better than others. The balloon season in Bagan runs October-May. We travelled in January in the height of the high season and the time that has the most stable weather conditions. Safety will always come first and at other times of year flights may be cancelled for days on end. If this is a bucket list adventure for you make sure you time it right.
Company
All my comments here are based on our experience with Oriental Ballooning so I can't speak for 'Balloons over Bagan' or 'Golden Eagle'. We had eight people in our balloon, two in each corner. We all had spectacular views and the balloon was rotated frequently so there were no bad seats in the house.
So, should you spend your money on a balloon ride over Bagan?
If you haven't caught on by now my answer is a resounding YES! Andrew and I had a fantastic time and it was a highlight of our time in Myanmar. If you can afford it then I'd say bite the bullet and just do it. In five years time you won't remember how much you paid anyway, just the fantastic memories.
For more from Expat Getaways on Myanmar travel:
Make it Happen
Balloon Operators
We travelled with Oriental Ballooning and cannot recommend them highly enough. I'll be back to try their flights in other parts of Myanmar on my next adventure.
The two other companies are Golden Eagle and Balloons of Bagan.
Tour Operators
One Stop Travel & Tours came recommended to me by a friend. They organised all our domestic flights, hotels, tours and transportation in Bagan as well as Yangon, Inle Lake and Mount Popa.
Hotels
Get to Bagan
Bagan only has a domestic airport so you will first need to fly to Yangon or Mandalay.
Flights to Yangon
Fly direct to Yangon from Bangkok (several times a day), Hong Kong, Seoul, Kuala Lumpur, Singapore and Tokyo/Narita.
Flights to Mandalay
Fly direct to Mandalay from Bangkok or Singapore.
Photographs
Almost all photography is courtesy of my lovely husband over at Andrew Mizzi Photography. Be sure to check out his website for info on his camera kit, to purchase prints and of course more stunning photographs from this trip and our travels around the world.
Love it? Pin it!

Thank you to Andrew Mizzi Photography for the use of his images.
His Myanmar series can be seen at andrewmizziphotography.com/myanmar
Expat Getaways endorses a policy of full disclosure.  This getaway was not sponsored or paid for by any company mentioned, and all views and opinions are solely those of the author. This post may contain affiliate links. This means that I may get a small commission at no extra cost to you. I only recommend products that I use and love myself, so I know you'll be in good hands.
Comments
comments