Inle Lake was the highlight of our One Week in Myanmar. I didn't quite know what to expect but I'd seen amazing photos and that was enough to convince me I needed to go.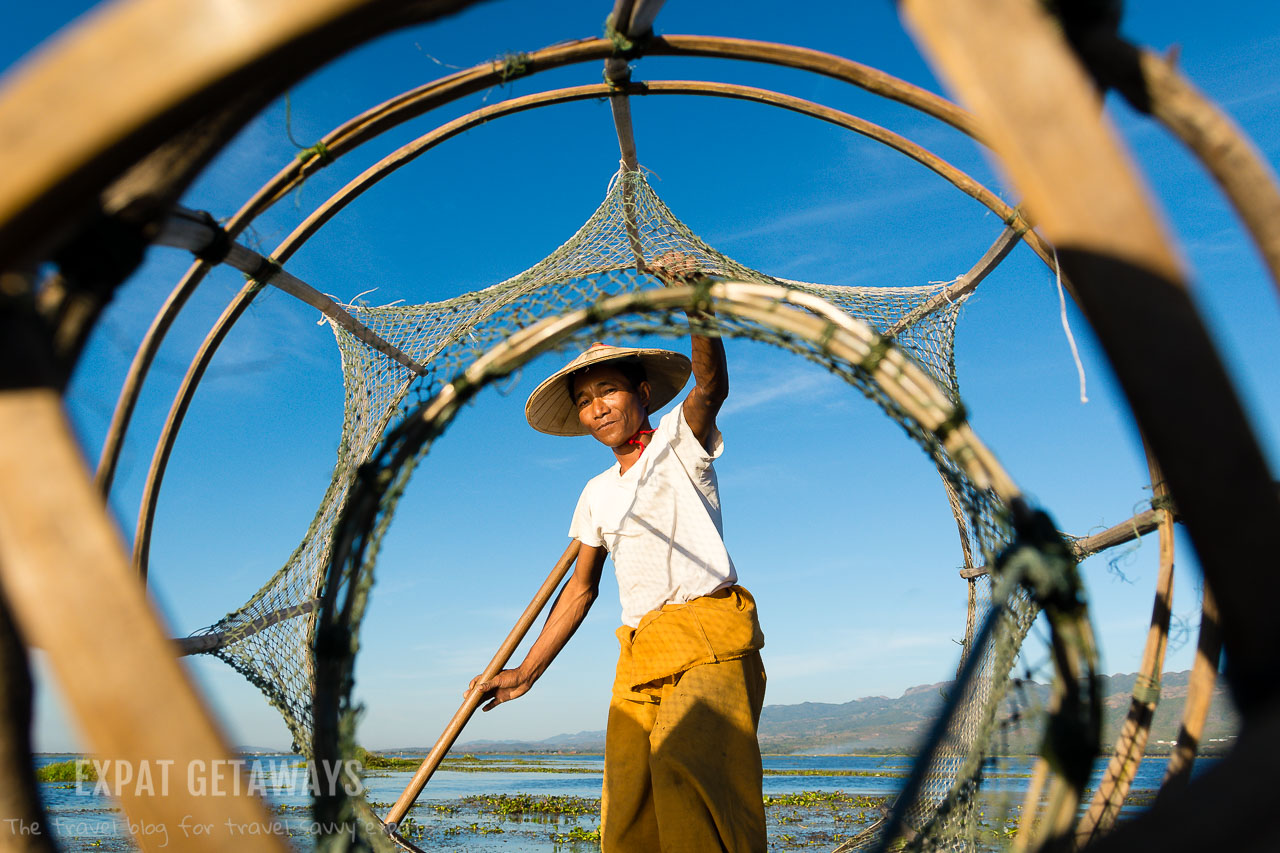 Arriving in the Shan
Shan State is the biggest in Myanmar with boarders to China, Laos and Thailand. It is home to a huge diversity of ethnic groups most of whom have been fighting the Burmese, then the English and finally each other for the last few hundred years.
The big drawcard for tourists is the spectacular Inle Lake. The easiest way to get there is to fly into Heho. From there it is a 45-minute drive to the town of Nyaungshwe where you will find cheaper guesthouses. We opted for a lake front hotel and did not regret the decision.
At Nyaungshwe we boarded a long boat and zipped off to the stunning Inle Lake Resort.
I loved our accommodation directly on the waterfront of Inle Lake. As our boat motored towards the bungalows I could only hope that this is where we were staying. Turns out it was!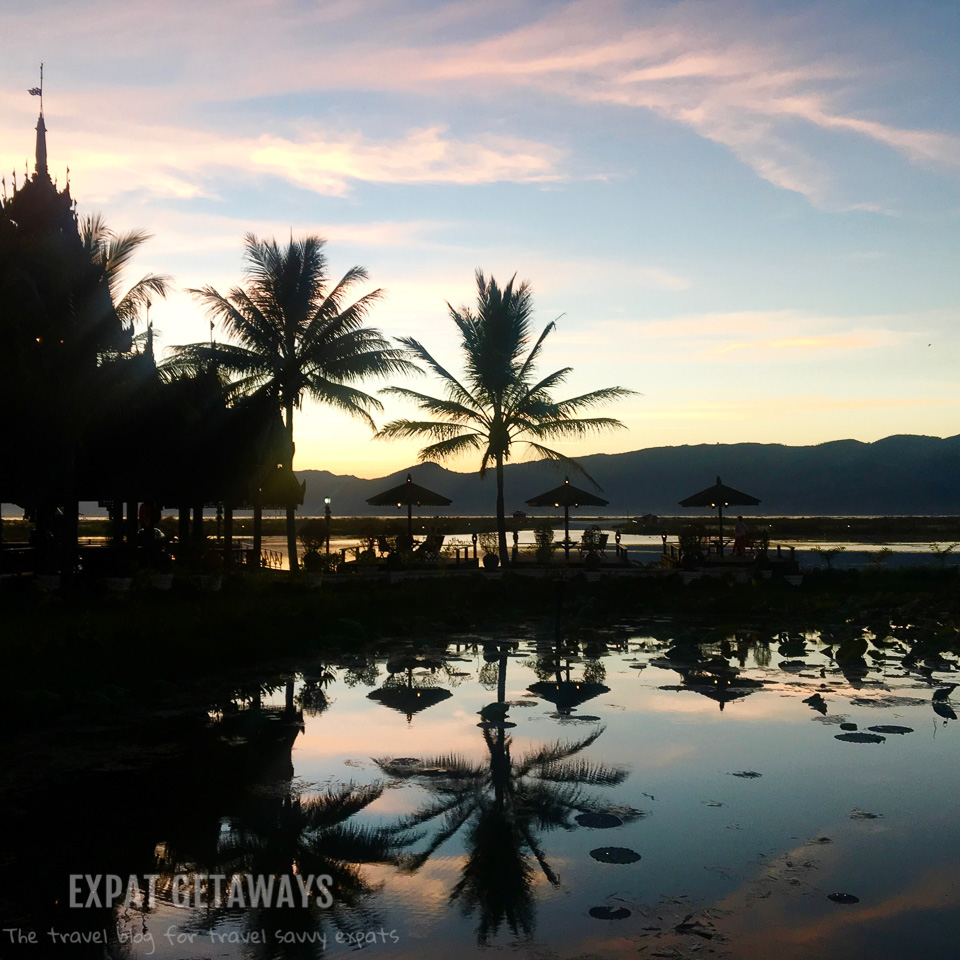 If you've been reading Expat Getaways for a while you'll know I love ethical travel – places that support the environment and local culture. Our hotel made use of solar panels, chemical free fertilisers on the garden, recycling and even giving food scraps to local villagers to feed their pigs.
The produce served at the restaurant is all sourced locally as well. Many of the staff are from the Inle Lake area. They were friendly and warmly greeted us everywhere we went. Over dinner the manager did the rounds checking on our stay and genuinely made us feel like welcome visitors.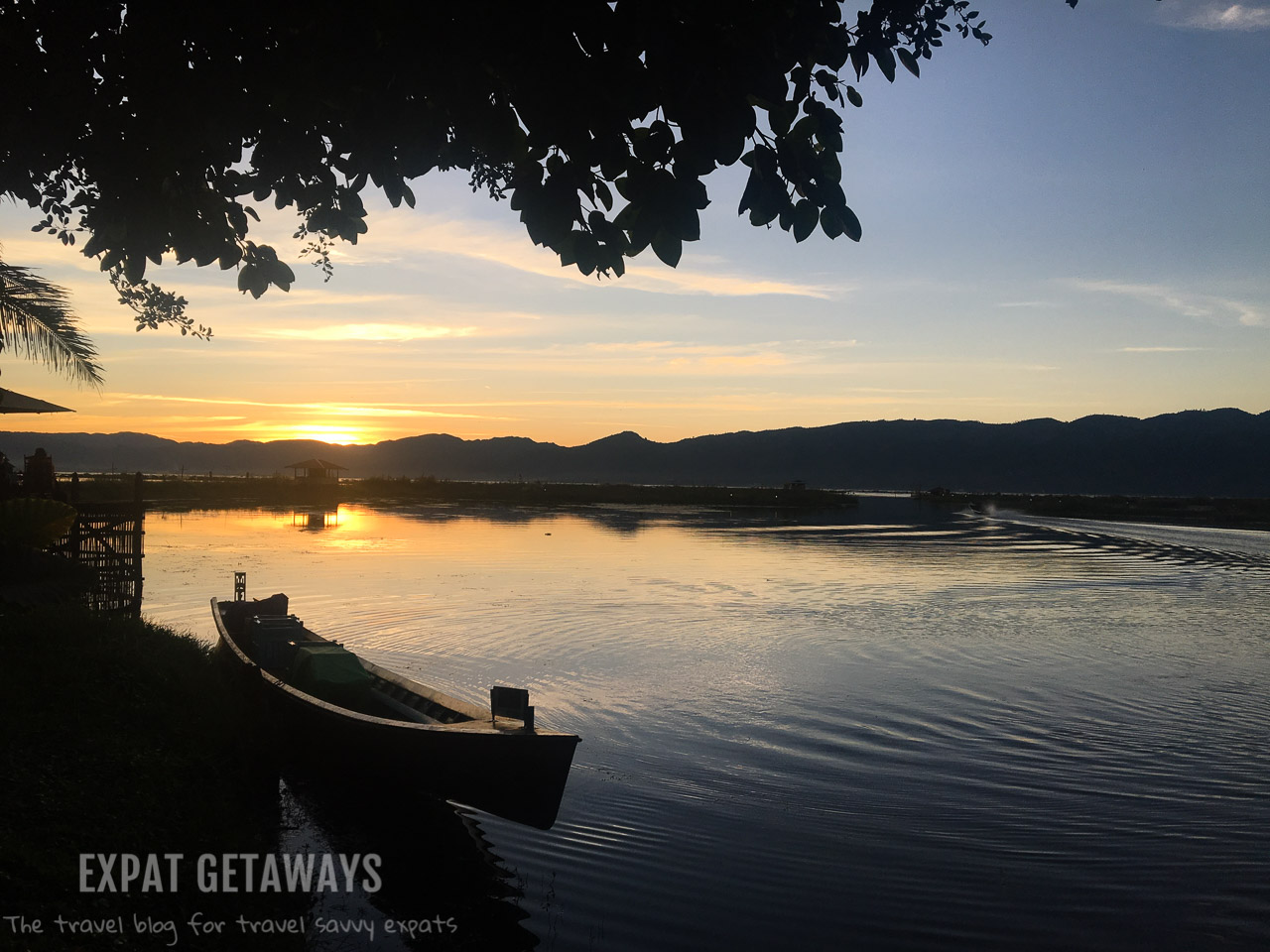 My only regret is only staying two nights. If you have longer to spend in Myanmar, definitely give yourself an extra night at Inle Lake.
Exploring the Villages
The villages surrounding Inle Lake are each famous for different handicrafts. We visited a silversmith, cigar maker and a lotus weaver over the course of our day.
If you have the time, allow yourself two or more days to really explore the region while giving yourself time to relax as well.
Local Markets
I love visiting the local market. It doesn't matter whether it is a giant supermarket in Australia or the most basic village shop. There is something about shopping as the locals do to really give you an insight into the local culture.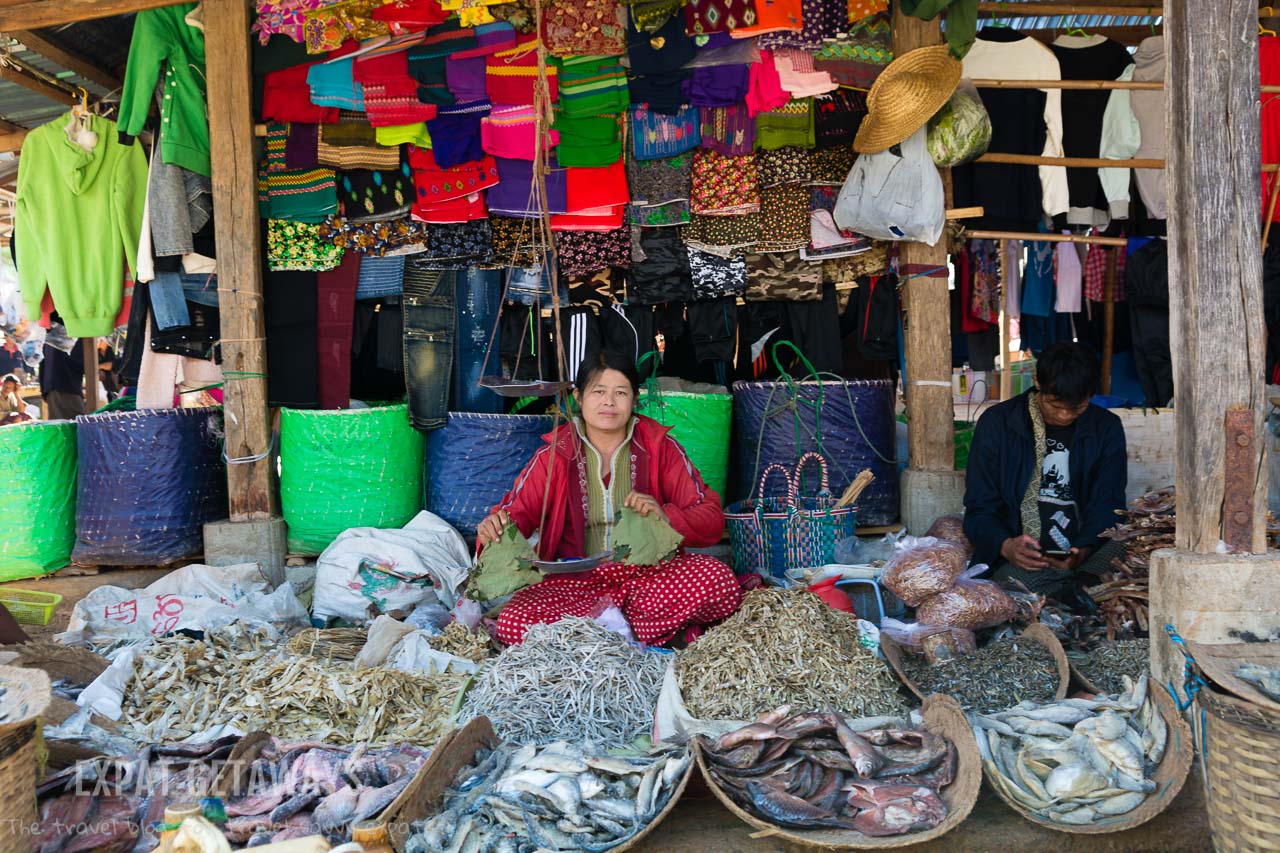 At Inle Lake, the local market rotates between five different lake front villages. For the people living in the surrounding mountains this is their one chance to do the grocery shopping. They descend the mountain and congregate in the town closest to them to pick up supplies and catch up with friends, smoke local cigars and drink tea.
Tea shops are the heart of the community and villagers gather to drink strong, sweet, milky tea with deep fried dough to snack on.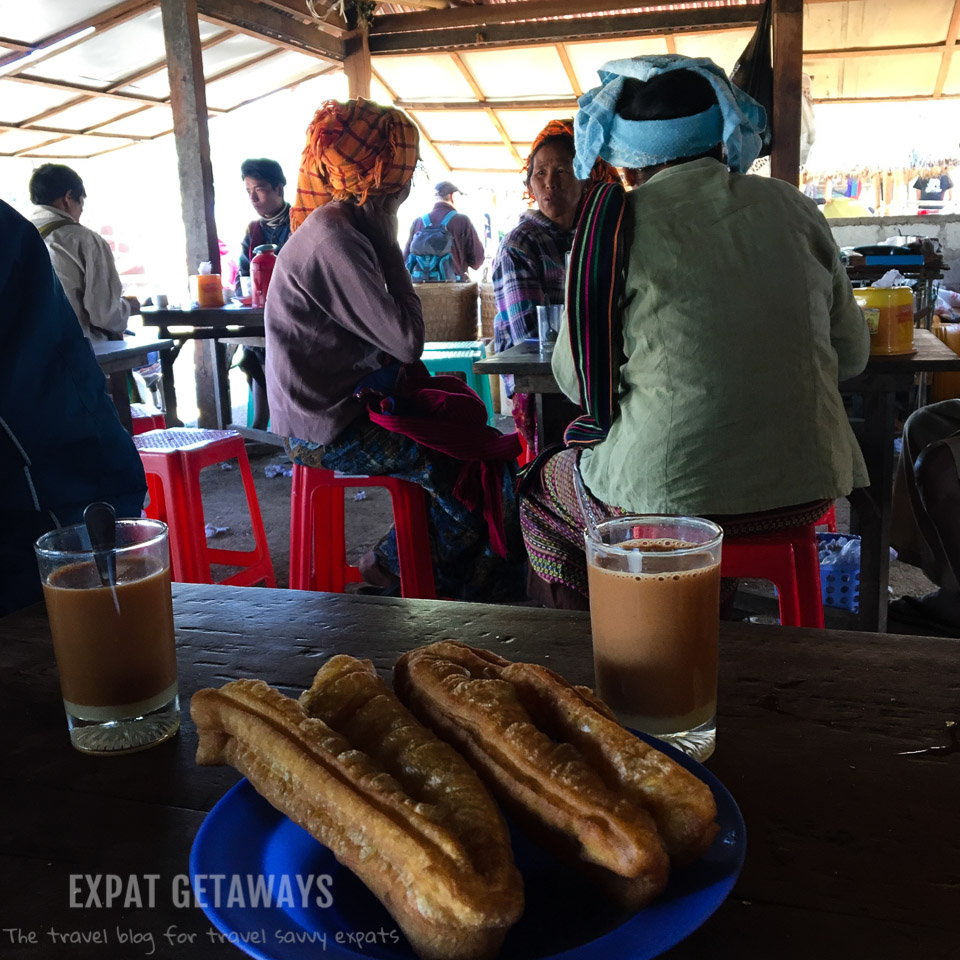 Depending on the season you will see different produce on offer. Locals set up on the ground to sell and trade their offerings. We saw lots of spices, peanuts, different types of dried river fish, cabbages and chili. It was certainly one of the most rustic local markets I've visited.
Silversmiths
Myanmar is incredibly rich in mineral resources. Vast reserves of sapphires and rubies attracted the British to Burma. In the Shan State and around Inle Lake the most common mineral is silver.
Families have fine-tuned their craft to make intricate jewelry. Of course there is the obligatory stop in the show room where you can buy necklaces, earrings and bracelets. My silver bangle is now a staple of my collection.
Cigar Making
Sitting in a teashop we noticed the local ladies smoking a big, fat hand-rolled cigars. Locally grown tobacco is mixed with spices and hand rolled in small houses that sit precariously on stilts in the lake.
During a visit to one of these houses you see how expert hands quickly roll hundreds of cigars an hour. Believe me, it is harder than it looks!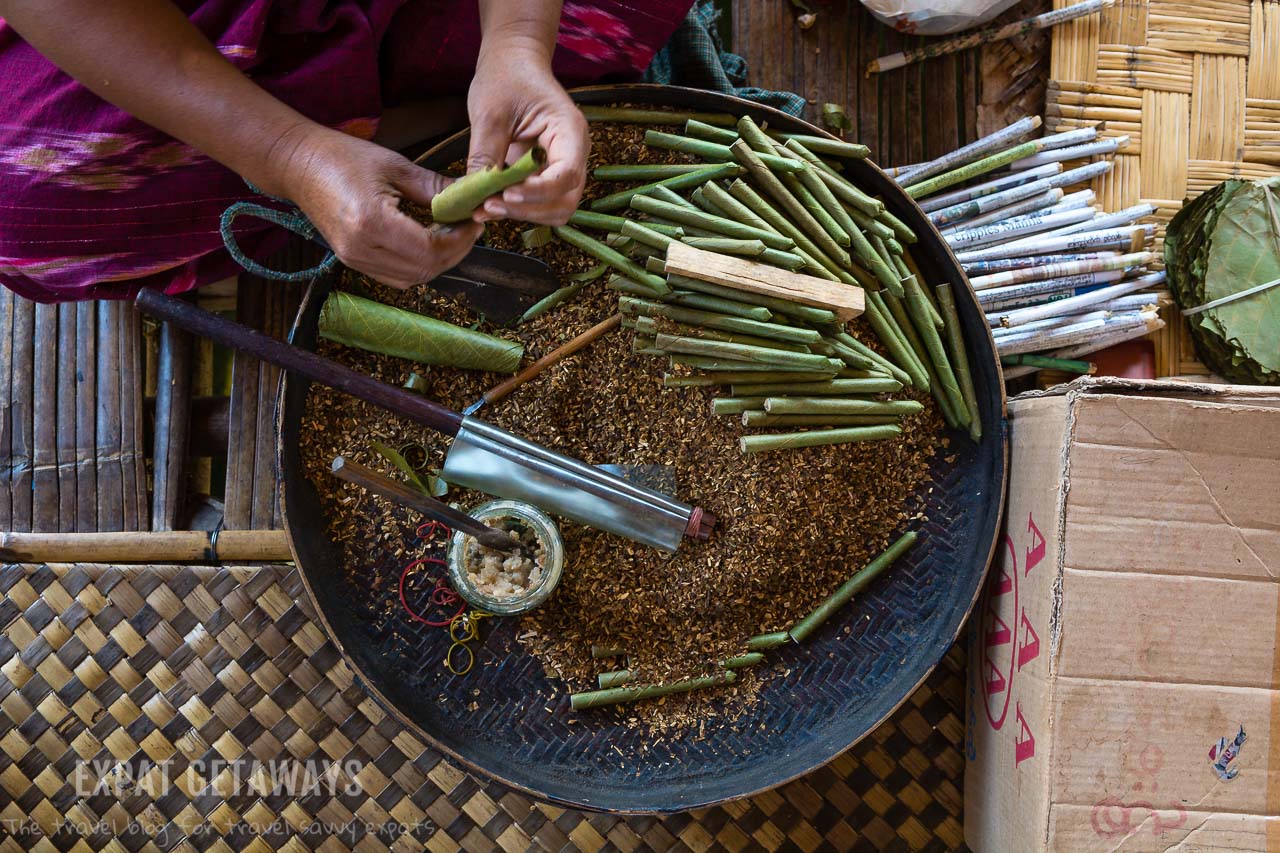 Burmese Cat Village
My family had a beautiful chocolate Burmese cat called Chinky when I was growing up. He was the biggest mischief-maker going around! When our guide said there was a breeder on Inle Lake and we could go and visit and play with the cats I jumped at the chance.
Burmese cats have their origins in Myanmar, but during the colonial times the breed was all but lost. Luckily breeders took a few pure bred cats to the USA and UK. At Inle Heritage they are working to reintroduce pure bred Burmese cats to Myanmar with the aim of regaining and preserving their lost cultural heritage.
They imported three British and four Australian pedigree Burmese cats and have grown the population to 40 cats. I got to meet Chinky's long lost cousins in a purpose built cat village. They have two sections, a spacious island with numerous outdoor cat houses and trees to climb connected to an undercover enclosure.
In addition to breeding Burmese cats, Inle Heritage is a NGO with a hotel, restaurant and vocational education centre that supports around 40 students from the local area with quality hospitality training.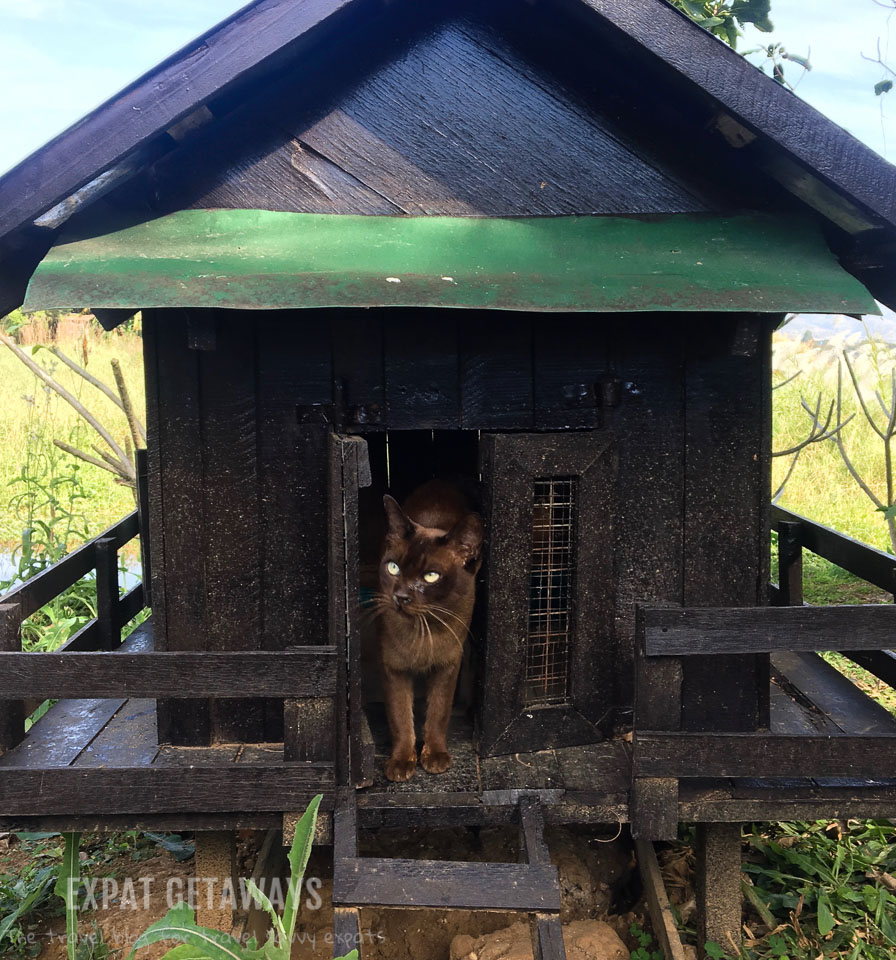 Lotus Weaving
We have all seen the scarves, wraps and sarongs that fill markets throughout Asia. At Inle Lake they offer something more than the traditional silk weaving. Lotus fabric is created from the stalks of the lotus flower. The stalks are cracked, stretched and twisted to create thread which is then dyed and woven.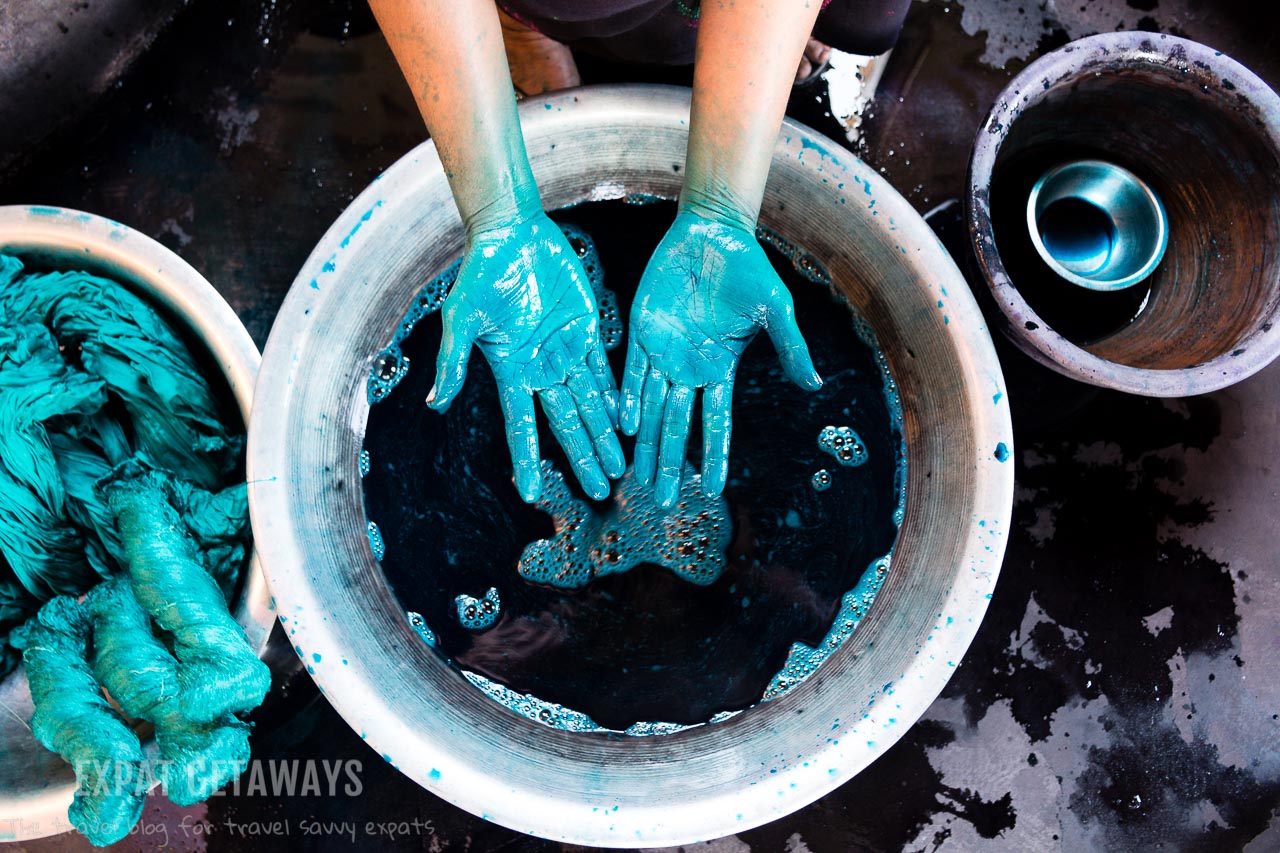 Our guide lived in the village we visited and as we pulled in his small daughter came running to meet our boat. He leaves the village during the height of the tourist season, but luckily gets to squeeze in a quick visit when he brings guests to the village. It made us more certain that not only was the money we were spending on souvenirs, but also the money in wages and tips to our guide were getting back to the local communities we were visiting.
Fishing and Agriculture
Google "Inle Lake" and the images that you see will almost certainly be the skilled fishermen balanced on one leg while rowing their boat with the other and maneuvering a fishing basket in their hands.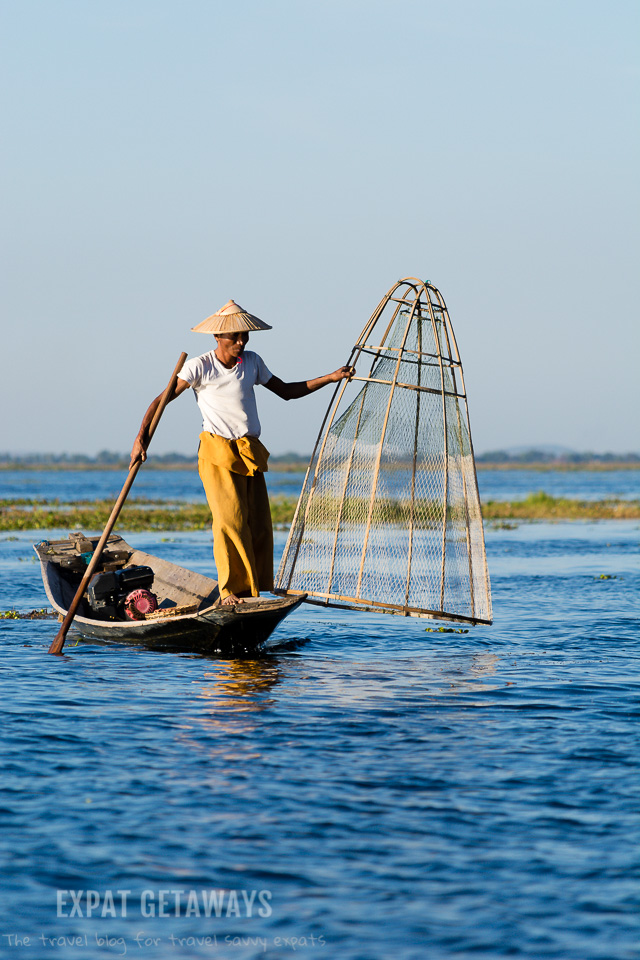 Throughout the day expect to see locals tending their floating crops. Fruit and vegetables  are cultivated on floating plots while other farmers make use of the naturally growing vegetation of the lake. We saw one boat piled so high with freshwater seaweed that we thought he'd surely sink.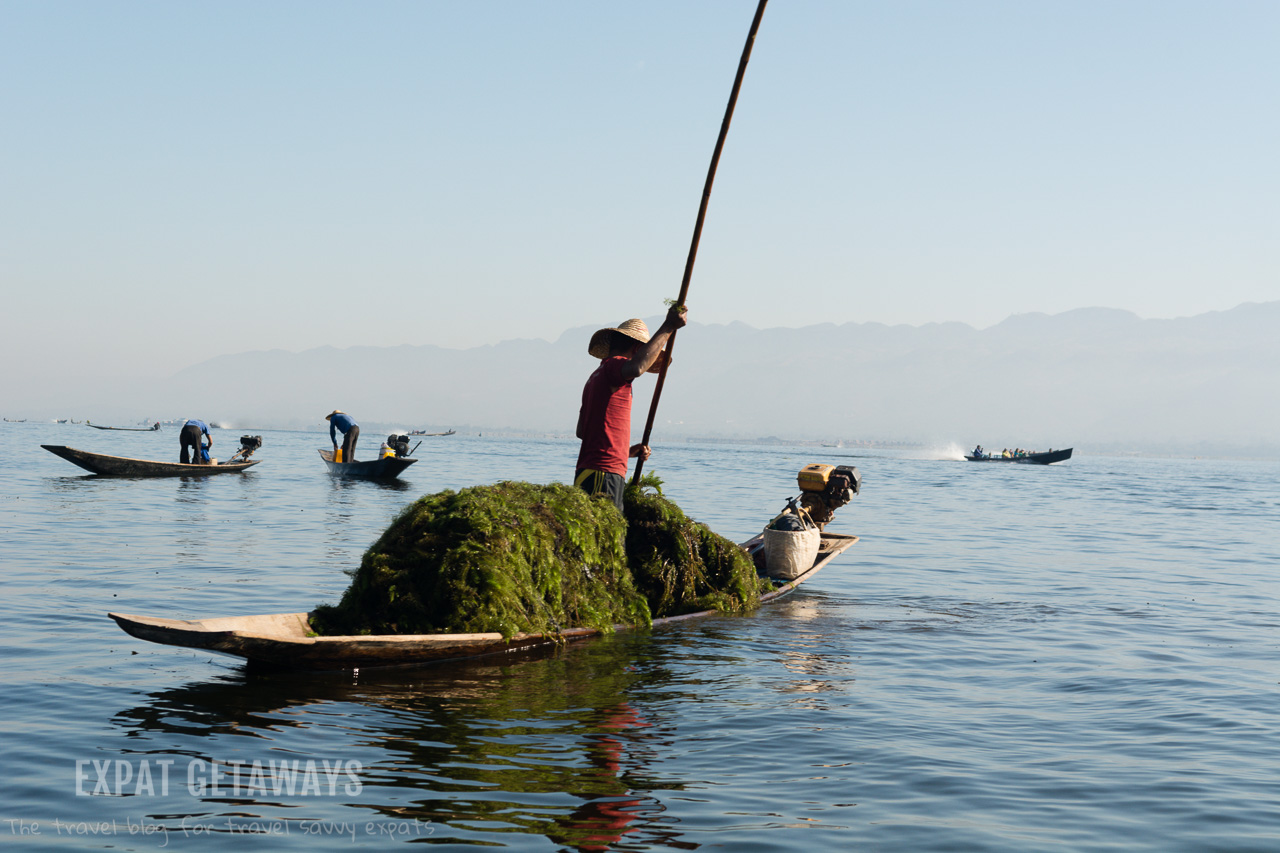 Early in the morning and late in the afternoon you will have the best opportunity to see the locals using traditional fishing methods. They use a special cone shaped basket to trap the fish in the shallow water. Others will slap the water with paddles to scare the fish towards the traps.
It is incredibly labour intensive and we were left in awe of how much skill goes into seemly so little reward. Hours of team work for a relatively small catch.
Why wait?
We found the perfect balance of experiencing local culture while also having comfortable tourist infrastructure; semi-reliable domestic flights, nice hotels and perfect service. I normally loathe "artisanal villages", we definitely felt that these businesses were helping the local economy.
During the day our guide pointed to a construction site out on the hills. I asked him what was going to be built. "Fifty new hotels" he said. There are currently about thirty surrounding Inle Lake. I don't want to think about what this place will look like in a few years time with double the tourist numbers.
Tours
We booked all our One Week in Myanmar travel through One Stop Myanmar. They were easy to deal with via e-mail before our trip and ensured everything ran smoothly on arrival.
Transport
The nearest airport to Inle Lake is at Heho. There are domestic connections to Yangon, Mandalay and Bagan.
Photographs
Almost all photography is courtesy of my lovely husband over at Andrew Mizzi Photography. Be sure to check out his website for info on his camera kit, to purchase prints and of course more stunning photographs from this trip and our travels around the world. His Burmese series of photographs 'Mingalabar' is specifically from this trip.
Love it? Pin it!
Expat Getaways endorses a policy of full disclosure.  This getaway was not sponsored or paid for by any company mentioned, and all views and opinions are solely those of the author. This post may contain affiliate links. This means that I may get a small commission at no extra cost to you. I only recommend products that I use and love myself, so I know you'll be in good hands.
Comments
comments