When I think of China I think of big cities, pollution and chaos. The Guangxi province was the complete antidote to all that. Stunning rivers running through limestone karsts, rice-terraced mountains shrouded in mist and a lively city scene.
Our Itinerary
Day 1: Arrive Guilin, transfer to Yangshuo, Impressions of Light Show
Day 2: Explore the countryside by bike and bamboo raft, drive to Long-Ji
Day 3: Hike through the rice terraced mountains, drive to Guilin, night markets
Day 4: Depart
* Our trip was an absolute whirlwind. If time is on your side spend two nights in Longji and two in Yangshou.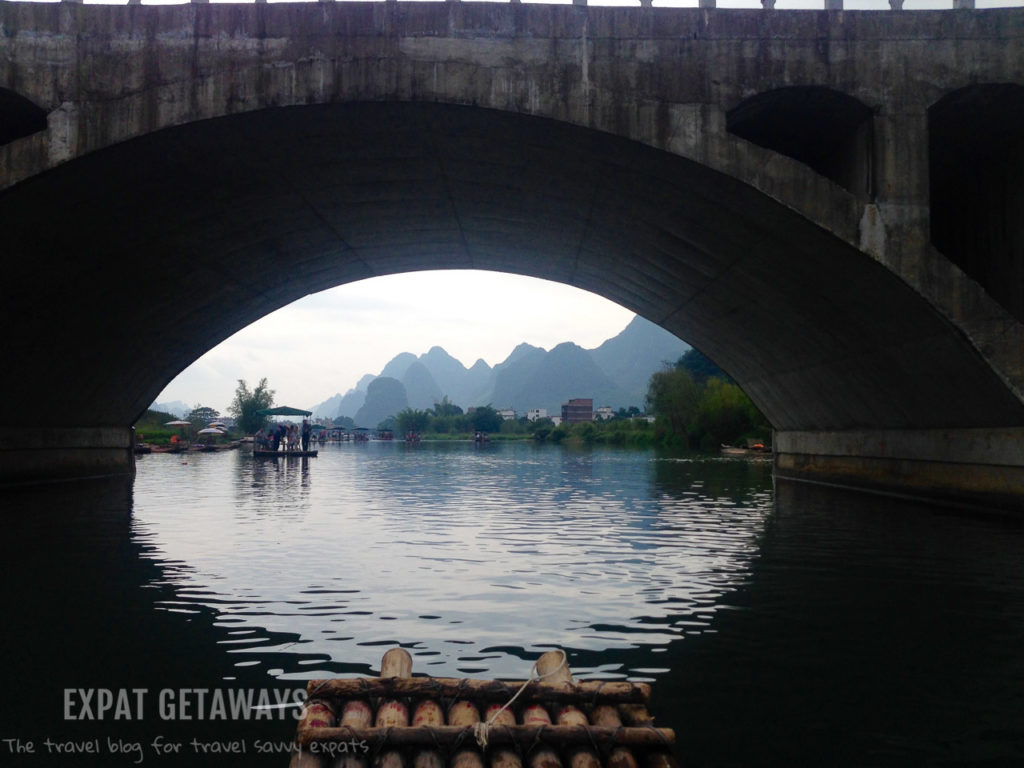 Living in Hong Kong I get a good dose of Chinese culture every time I step outside. I was in no rush to visit "the Mainland". But we jumped at the chance to visit when some friends invited us on an adventure!
One of the reasons our itinerary worked so well was because every aspect of it was pre-planned. We booked hotels, shows, tours and transport in advance so all we had to do was show up. With limited time it certainly made the most of our time.
Get ready to be Impressed
On arrival in Guilin we met our driver who whisked us away to the town of Yangshuo. Yangshuo is a little town about an hour out of Guilin and was once a hidden gem. With tourism taking off the town centre has changed with the typical array of hotels, souvenir shops and tacky bars.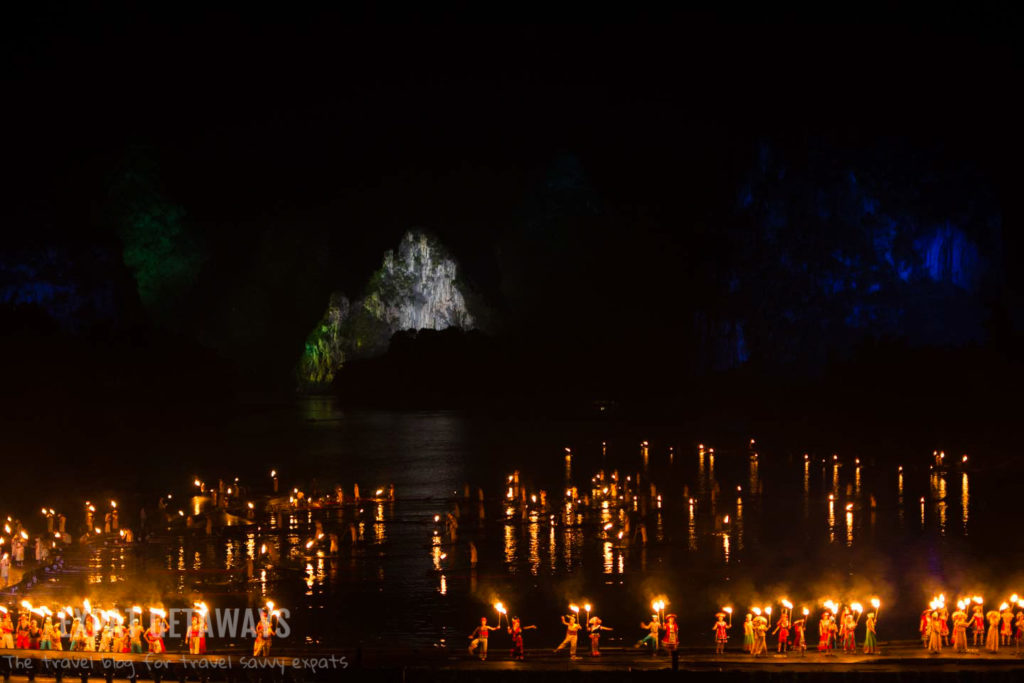 Luckily we stayed outside the actual town and only went in to see the Impressions of Light Show. If you are like me and had never heard of the show you will be awe-struck! It is a twice a night extravaganza featuring 600 performers taking to water in the natural ampitheatre on the river. It is directed by Zhang Yimou whose credits include the opening ceremony of the 2008 Beijing Olympics. The tickets are worth every penny!
Part of the ease of our stay was the warm hospitality of the Tea Cozy Guest House just outside Yangshou. There are only 12 rooms and each one thoughtfully decorated with traditional Chinese style. You wake up to the view of the mist clearing over the rice paddies as farmers start their day in the fields.
Bikes and Bamboo
Our hosts spoke excellent English and were able to arrange our transfers from Guilin and to Long Ji, our show tickets and our bike and bamboo raft tour. When we were running late, our driver even phoned ahead and they made sure there was dinner waiting for us on arrival so we wouldn't miss our activities. Speaking of food they had a lovely Chinese menu, but also surprisingly good pizza for those in need of a western fix!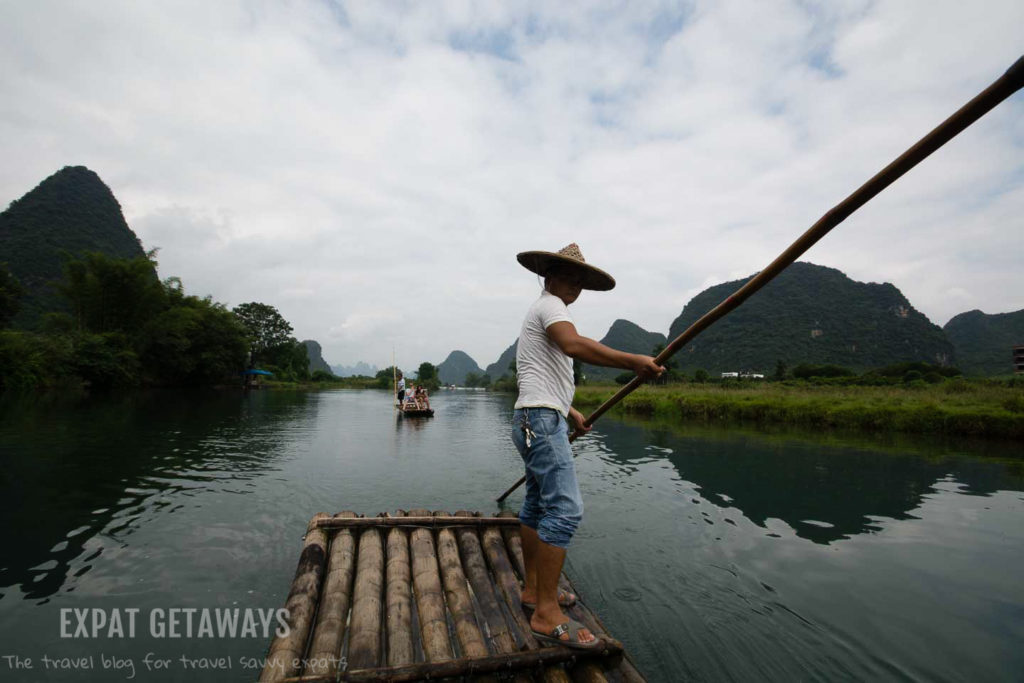 The serenity of Yangshou really came alive on our second morning as we set off to explore the countryside. The roads vaguely follow the river while winding through small villages and rice paddies making an easy flat ride (perfect for beginners).
Next it was time to cruise along the river on a bamboo raft. There were tourists around, but we were the only westerners we saw in the area. By the time we got further downstream it was just us enjoying the peaceful views of the mountains.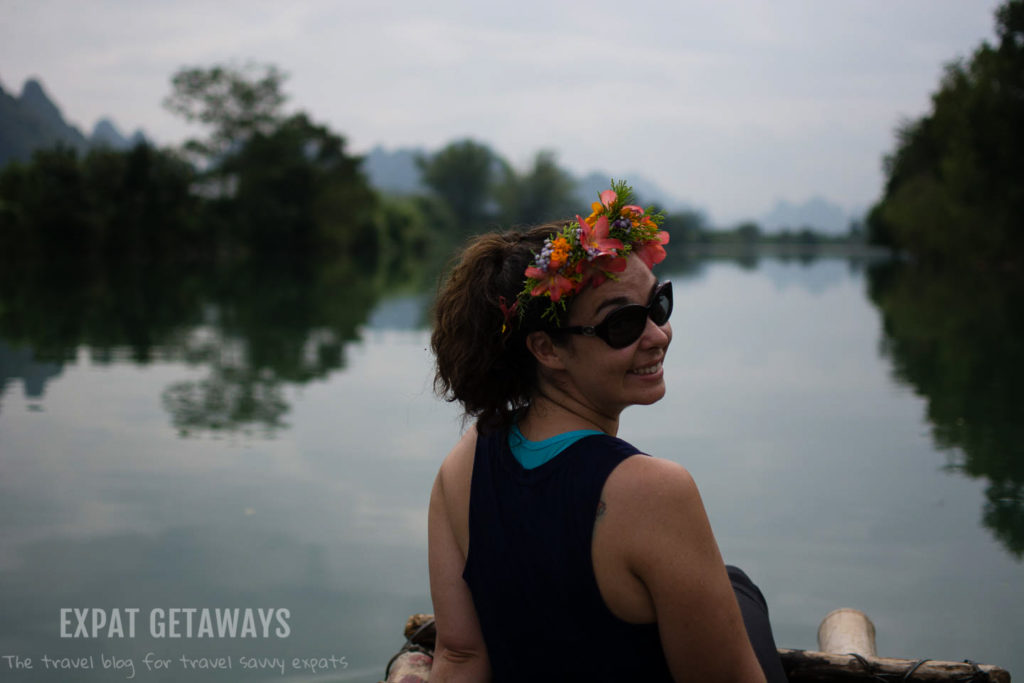 After lunch it was time to say goodbye and head off to the next destination… the Longji Rice Terraces.
Up to the Mountains
We arrived in the village of Ping An just before sunset but in a haze of clouds. We had just enough daylight left to explore the village markets that were just closing up after catering to the day-trippers from Guilin.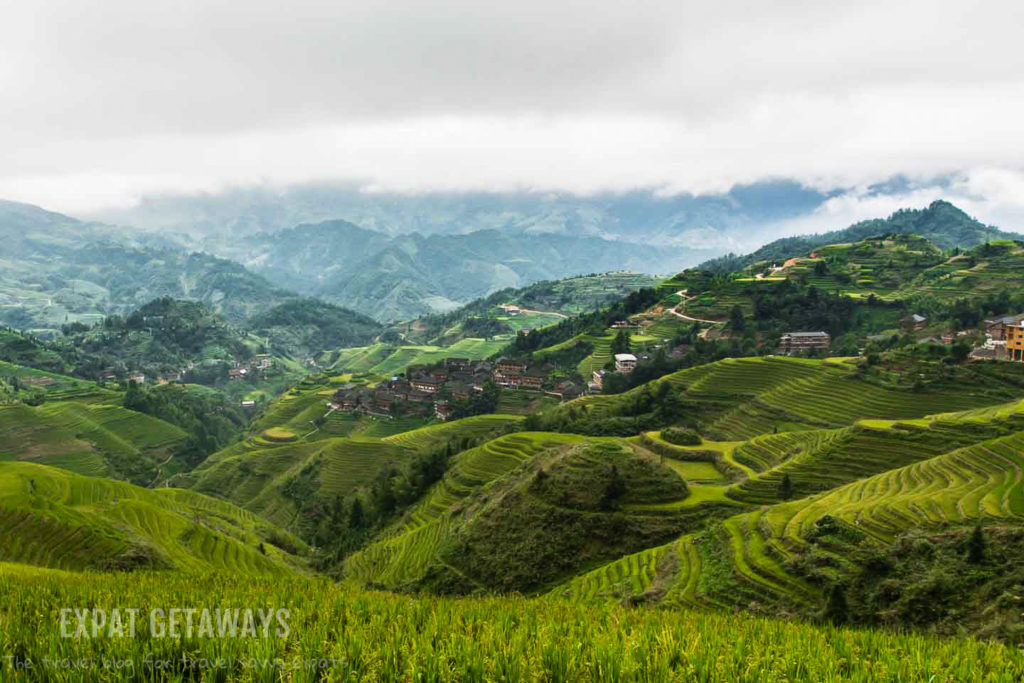 This is where I need to give special mention again to our accommodation. Just like Tea Cozy in Yangshou, the hospitality at Baike Hotel made our stay. The owner Jason has worked in tourism for many years and speaks perfect English. The rooms were comfortable and functional, but the real selling point was the spectacular view.
They also serve up excellent local cuisine sourced from local shopkeepers and we were treated to specialities like sticky rice cooked in bamboo!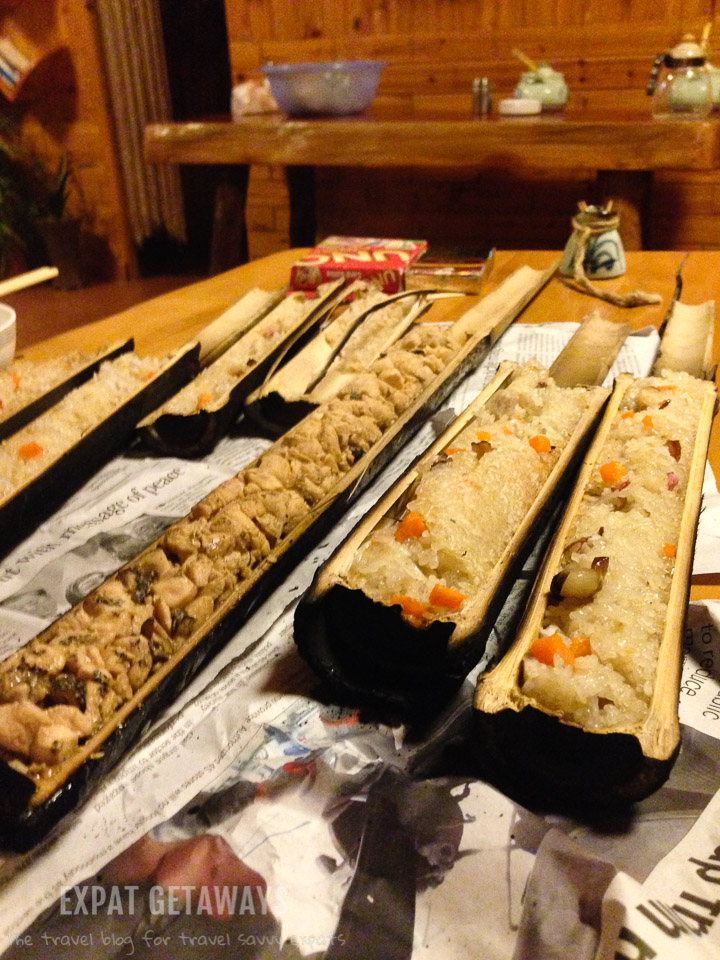 Hikes and Hill Tribes
The main reason to visit this part of the world is of course to see the rice terraces and the best way to do this is by hiking. Jason organised his father-in-law to accompany us for the 13km/8mile journey. While we were huffing and puffing up the hills he just strolled along in his flip flops!
We were out for about 7 hours, with a 30-minute tea break, an hour lunch break and lots of photo stops along the way. I wouldn't say the hike is easy and we were all exhausted by the end of the day. However, none of us had any real hiking experience and average fitness levels. If you are a regular hiker I think you'd find this track quite reasonable and if you are less mobile or not active then this wouldn't be for you.
The mountains in this area are home to many different ethnic minorities including the Yao people. Yao women are famous for their colourful dress and long hair. Married women without children wear their hair coiled on top of their head while mothers will wear it over their forehead. With tourism providing economic opportunities you will of course come across markets selling their handicrafts and meet locals along the way posing for photographs.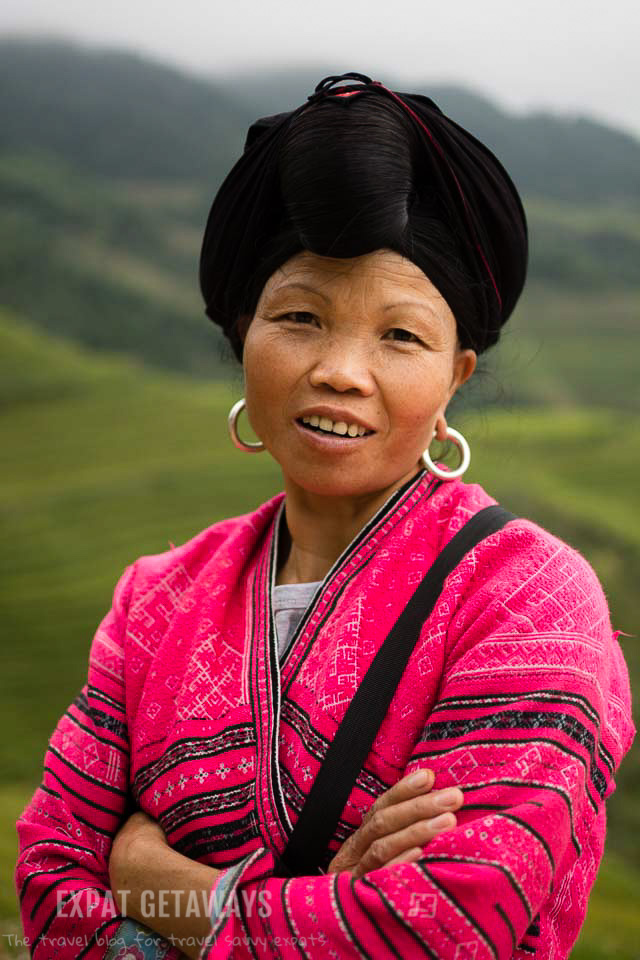 Back to the Big Smoke
Rather than returning to Ping An after our hike we returned to Guilin for our last night. Guilin is the gateway to the region and was the first city in China to open to tourism. Most people will now use it as their base to take day trips.
After a day of biking and a day of hiking we were not in the mood for sight-seeing and focused our attentions on eating. The night markets in Guilin sell the usual array of souvenirs but also lead to an excellent area full of street food. The highlight for us was the dancing BBQ man!

Beautiful natural landscapes won me over in the Guangxi Province and opened my eyes to China. Where in China should I go next? Have your say in the comments below!
Need to know:
Visas
Some cities in China fall into special economic zones. Guilin is not one of them and you will need a visa. In Hong Kong we organised this through China Travel Service but you will need to check the latest information with the embassy in your city.
Transport in Guangxi
Guilin is the gateway for Guangxi province and many people will opt for day trips to Yangshou or Longji. I would highly recommend staying at least overnight in these towns (or at least the rice terraces) like we did to really appreciate them after the tourists go home.
Public transport is available if you are on a budget, but you will need to allow extra time for this. We travelled as a group of four and organised a private van through Tea Cozy Guesthouse and Baike Hotel.
As an example of costs we paid:
Guilin to Yangshou- 40RMB pp
Yangshou to Ping An- 800RMB total (about 4 hours)
Accommodation
Tea Cozy Guest House, Yangshou
Baike Hotel, Ping An
Golden Oriole Hotel, Guilin
Guilin is a big city and home to many western hotel brands including Shangri La and Sheraton


Tours
Impressions of Light Show our tickets were booked through Tea Cozy Guest House
Relaxing Bike Ride and Bamboo Raft
Hike through the Longji Rice Terraces booked through Baike Hotel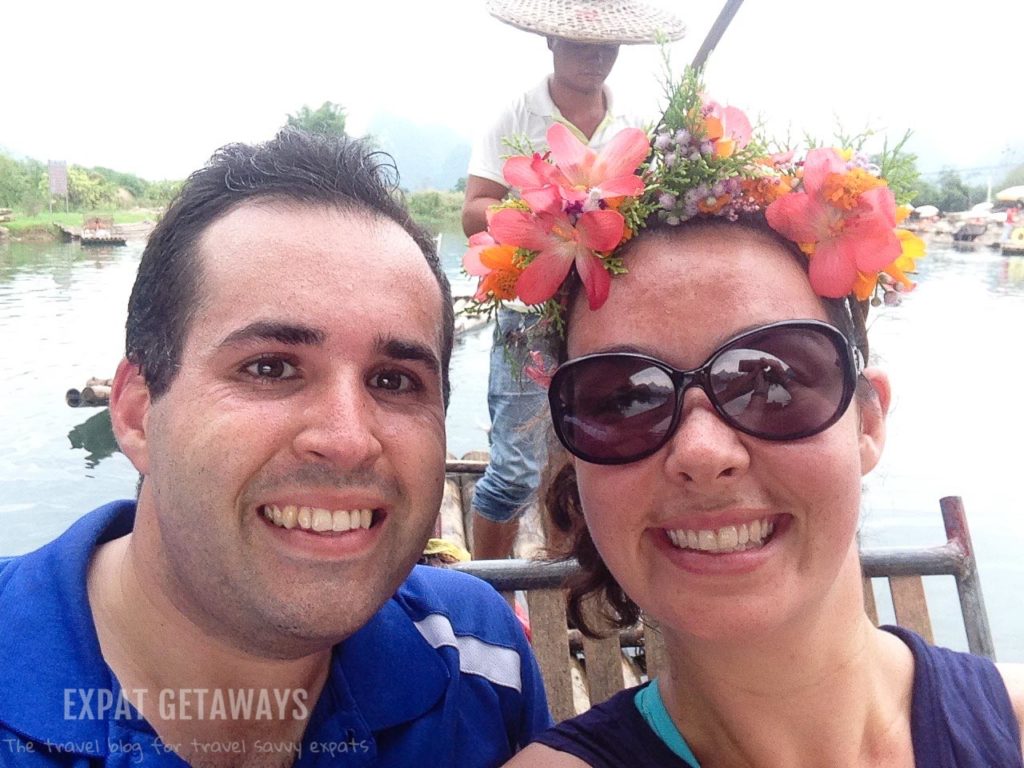 Transport to Guilin
From Hong Kong
Cathay Dragon flies three times a week
From Shenzhen
High speed bullet train to Guilin three times a day (This was our form of transport, via Hong Kong)
From Seoul, Korea
Asiana flies daily
From Kuala Lumpur, Malaysia
Air Asia flies four times a week
From the rest of the world
China Southern connects through Beijing, Shanghai, Guangzhou or Shenzhen.
China Air connects through Beijing or Shanghai
Comments
comments