About Me
I'm an Aussie tour guide living and working as an expat in Hong Kong, travelling the world whenever I get the chance.
I got hooked on travelling as a naive 21 year old on exchange in Ecuador (talk about jumping in the deep end!). After 7 months gallivanting around South America with a backpack I realised that my future career as a high school teacher wasn't really for me.
Fast forward a few years – I started working in the tourism industry and never looked back. I started out as a Tour Manager with Contiki Australia and Asia which let me get paid to surf, scuba and sail along the east coast, hike the outback and meander through Thailand, Laos, Cambodia and Vietnam. What does someone who travels for a living do in their spare time? More travelling of course! In my spare time I backpacked my way through Europe, South America, Asia and got my PADI Divemaster qualification in Africa.
I met my husband Andrew while guiding in Far North Queensland and decided that life on the road wasn't going to work for too much longer. I stuck with tourism though and Cairns is the perfect place to work and feel like you are always on holiday.
Andrew's work as a pilot brought us to Hong Kong. As you can imagine his career and our love of travelling work very well together so when we aren't working we love to head off around Asia to explore, eat and scuba dive.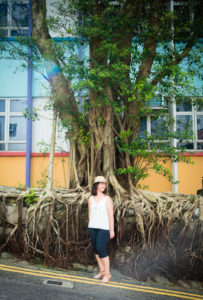 When I'm not travelling, I'm working as a tour guide for a wonderful company called Hello Hong Kong. We do food tours and private walking tours all over Hong Kong and this has immersed me in the local culture.
All these experiences have led to loads of questions from family and friends about where to go, what to do and where to eat which in turn has led to the creation of this travel blog.
On this page you will find short itineraries ideal for those quick getaways and long weekends that we get so often in Hong Kong along with travel tips to use when planning your next getaway.
I hope you enjoy and don't forget to follow on Facebook, Instagram, Pinterest and Twitter for the latest updates!
Jess
My World Map…


Travelled Map



My Travel Style
To know if these itineraries and tips will work for you, I thought you should know what sort of traveller I am. While I may have caught the travel bug backpacking, these days I'm more about comfortable travel.
Where possible I like to stay in smaller boutique hotels, especially if they showcase the local history and culture. I'm also a fan of Air BnB, especially when travelling with friends.
I love to try the local cuisine and if it is my first time visiting a city I'll almost always take a food tour. Whether I take a guided tour depends on the place I'm visiting and what I want to get out of a trip. After 8 years of tour guiding I know the value of having a good storyteller to make a city or landmark come alive.
While I love a bargain, I also like my life to be easy so I'll spend a little more if it means getting from A to B more quickly and comfortably.
Lastly I'm a bit of a greenie and I typically prefer nature-based travel to cities. You'll almost always see me choose a beach, rainforest or somewhere with good scuba diving over the cosmopolitan city scene. Having said that I'm a sucker for good history and love any town with a good old quarter.
Where possible I like to support sustainable tourism, local businesses and companies that give back to the environment and the community. This normally plays some part in deciding where to go, what to see and which company to use.