Hoi An
Hoi An is one of those places that I just keep coming back to. It draws you in with its old worldly charm and keeps you there with amazing food, interesting culture and of course great tailoring! Has Hoi An won you over? Let me know your top hang outs in the comments.
Ideal Itinerary- 4 nights
1: Arrive, wander the old town, check out the night markets
2: Morning: Tailoring / Afternoon: Hoi An Street Food Tour by motorbike
3: Sleep in, clothes fittings, beach day, eat some more now you know where the best banh mi in town is
4: Morning: My Son Temples / Afternoon: Massages and spa treatments at Essense Spa
5: Depart
I first visited in 2011 as a tour guide leading tours the length of Vietnam. At the time I went in knowing absolutely nothing and left in love! It became the fast favourite of every group I took there and the one place they always wished they had more time.
My first non-work visit was early in 2015. We were in the midst of planning our wedding in Cairns when I became increasingly terrified trying on wedding dresses. Not at the prospect of marriage, but at the price tag. I knew I was in for at least $2000 (if I got the cheapest dress I tried). So I decided to get in touch with Yaly Couture, a well renowned tailor I had visited while on tour in Hoi An. Depending on fabric and the exact details their estimate was $US200-600! Next minute I'm checking airfares and I'd found a great deal. AU$2000 on a dress is one thing, $2000 on a dress AND a holiday… ABSOLUTELY!
My mum is never one to shy away from adventure so she didn't take much convincing to come along for the ride and at the last minute Andrew's work situation changed so he came along too.
We spent 4 nights in Hoi An just outside the old town at the Essence Hotel and Spa. It was just enough time to feel like we saw everything and experienced a few extras. I would definitely squeeze an extra day in if you have the option. Maybe even an extra two days if you are staying out near the beach and want some relaxation time. That said on my tours we would have two nights here, so it is doable, but I guarantee you'll want more time.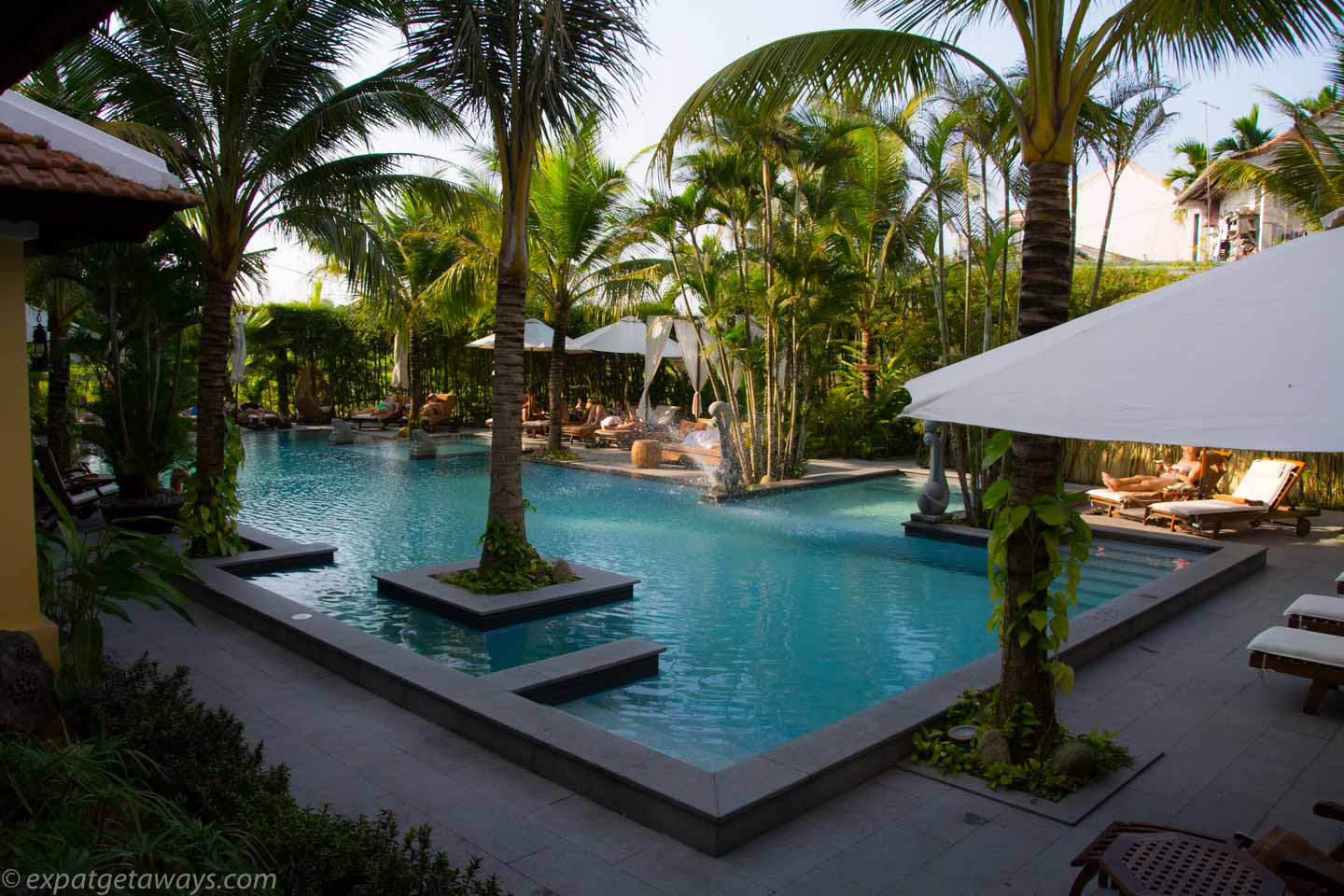 Custom Tailored Clothes
We arrived on a Sunday after a long flight from Australia. First stop on Monday morning… Yaly Couture on a wedding dress mission. I went in with a picture of my dream dress, front and back and was shown my fabric options (I did get in touch with them prior to our trip to check they had suitable lace options). For once I was decisive and within 10 minutes I was being measured up and told to come back the next day for a fitting with the whole thing being completed the day after that. AH-MAZE-ING!
Of course you can't walk away from a tailor with just one dress, even if it is a wedding gown and Mum and I spent the morning picking dresses and work outfits to be made. We even got Andrew a strapping new suit!
Now Yaly isn't the cheapest tailor in town, but if it is quality you are looking for this is the place. We also had some clothes made at a cheaper tailor down the road and they were much cheaper, (about $US30 for a cotton summer dress), but on the first wash some stitching came apart.
SOOOOOO HAPPY with how my dress turned out!
My advice to anyone coming here for tailoring would be to know what you like, what you want and what suits you. The possibilities are endless and if you are short on time it is easy to get overwhelmed. Most of my favourite dresses and the ones I get the most compliments on are ones I've had tailored in Hoi An. If you choose something that is terrible for your body type no amount of tailoring is going to make it work.
Food Tours
The other main reason for us to visit Hoi An is the food. Vietnamese food has always been high on my favourites, but not so much for Andrew. I was determined to convert him and in my research I came across Hoi An Food Tour. Their Street Food by Motorbike tour looked fabulous. The next challenge was Mum- she is terrified of bikes and was already struggling with the chaos that is crossing the road in Vietnam.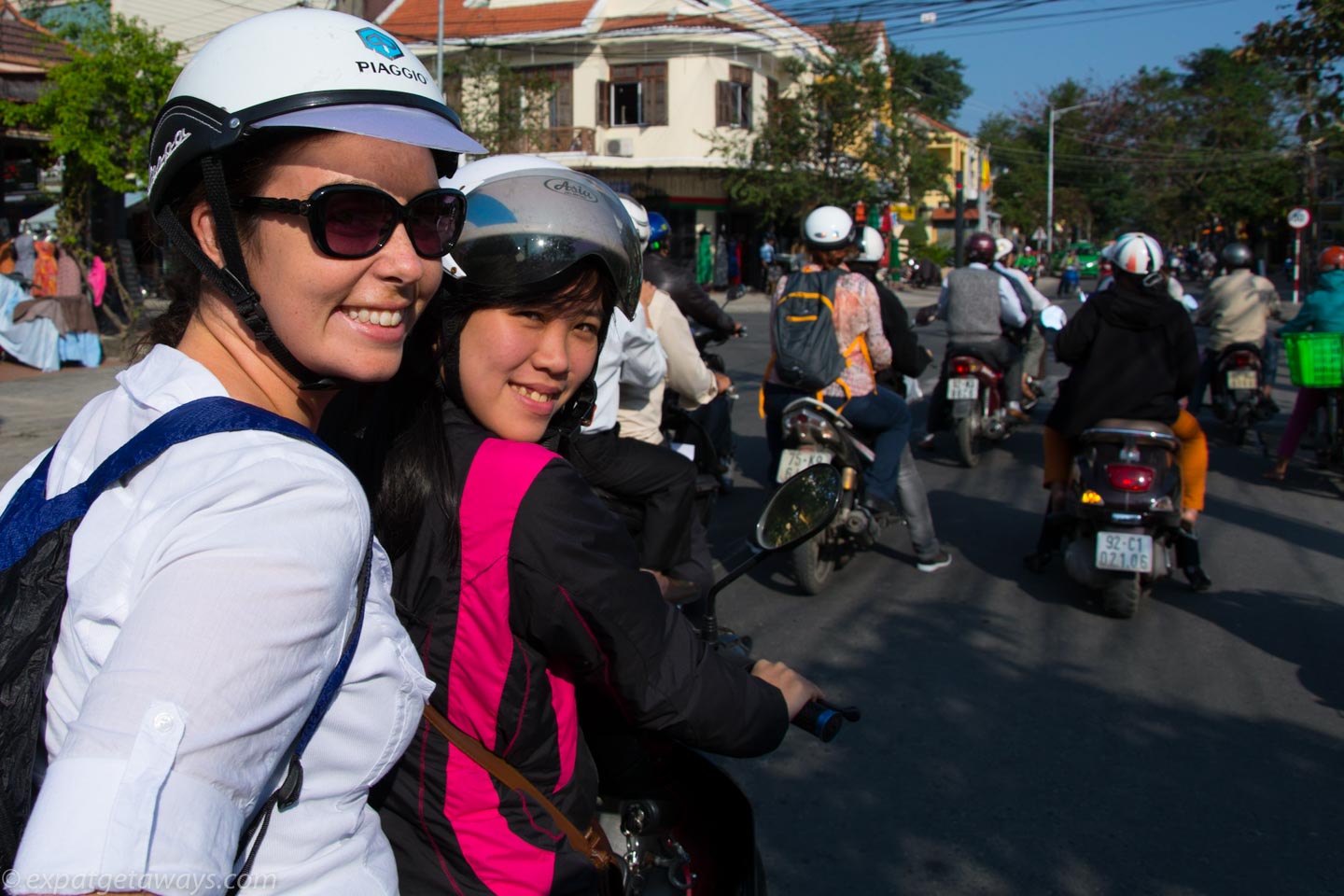 I shouldn't have worried because the guides were fabulous and this remains one of the best food tours I've done. We were picked up from our hotel and introduced to our guides- yep plural, one guide each. What I loved about this was that we had this amazing group of young locals showing us around. They each took turns introducing the food and sights and we really felt like we were hanging out with a group of friends. My Mum was especially impressed by her guide who made her feel safe on the back of the bike as she went zipping through the streets and along rice paddies. She loved the tour so much she took her partner on it when she went back to Vietnam a year later.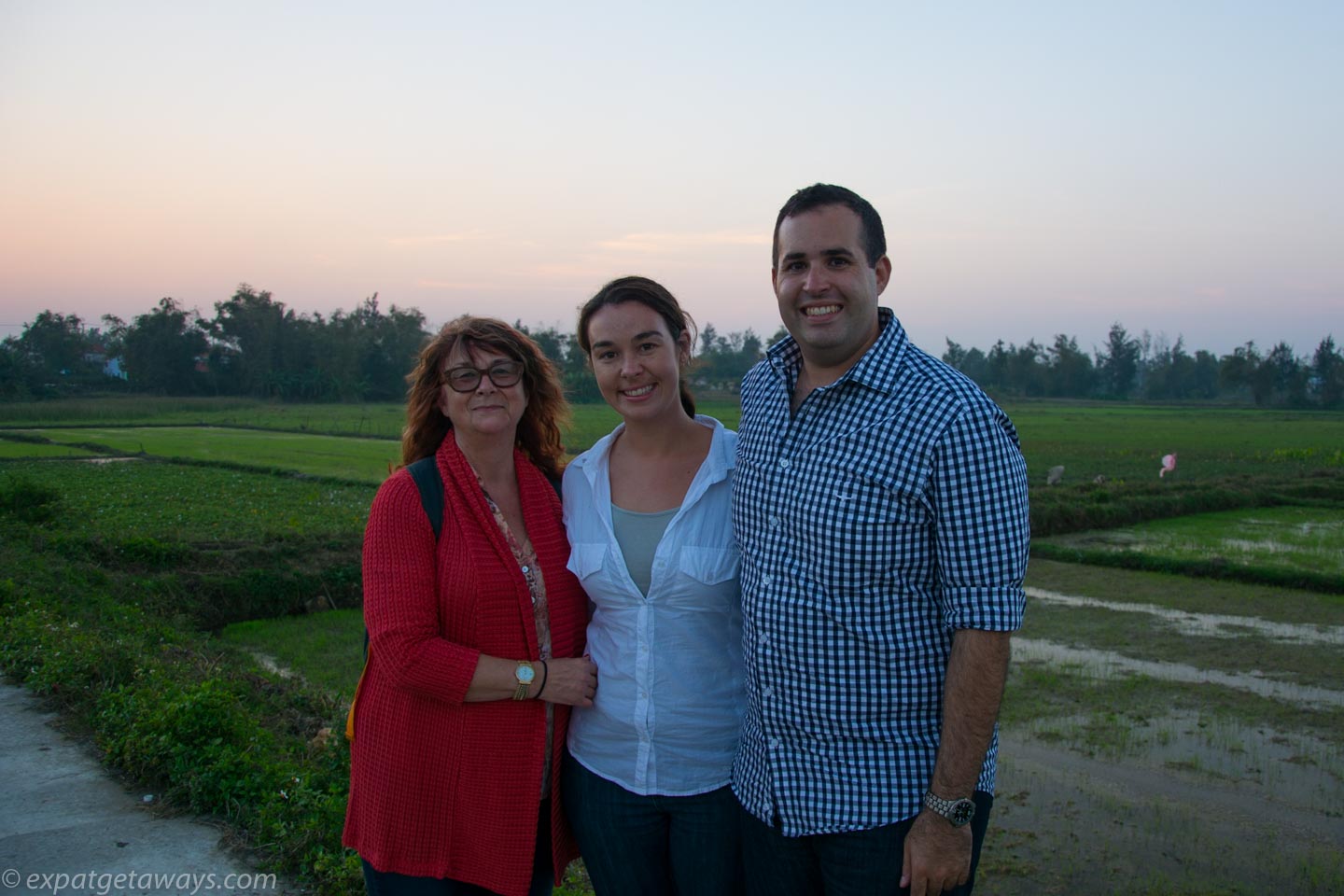 As expected the food was phenomenal and Andrew quickly became a convert. We tried everything from the familiar banh mi- pork sandwich, to my new favourite banh khot- savoury coconut pancake to the very unique balut egg- not quite an egg and not quite a duck they say.
| | | |
| --- | --- | --- |
| | | |
| The familiar banh mi | The new favourite- banh khot | For the adventurous- balut egg |
A Slice of History
Of course Hoi An is one of those towns where you can happily while away the hours wandering. A fluke of history has meant that this once bustling trade city was abandoned in favour of the deeper port of Da Nang just in time to protect it from modernisation. The town was placed on the UNESCO world heritage list in 1999 and ever since it has been a firm favourite on the tourist trail.
Wandering the streets you will see a mix of Chinese, Japanese and European architecture. Thankfully much of the old town is closed to traffic so you can take it all in peacefully. At night colourful lanterns light up the streets and if you time your visit right you may even catch the full moon lantern festival where hundreds of floating lanterns are cast off into the river. While this is a beautiful sight to witness, commercialism has caught on and there are loads of people selling the lanterns at all times of the month. I do wonder how good all that plastic in the water is for the environment.
My Son Temples
The last addition to our trip was a morning visit to the My Son temples. This is a gorgeous world heritage listed temple structure and an easy hour drive from Hoi An. We asked our hotel to organise a driver and set out early. Best decision ever! We got to the ruins as they opened and the mist was clearing. I'm pretty sure we were the first ones through the door and we had the place to ourselves for most of our visit. These are temples from the Champa people and are of a similar vintage and style to the Angkor temples in neighbouring Cambodia. Mum was in temple heaven, Andrew was running around getting great photos and I was glad I finally had time to visit this amazing place.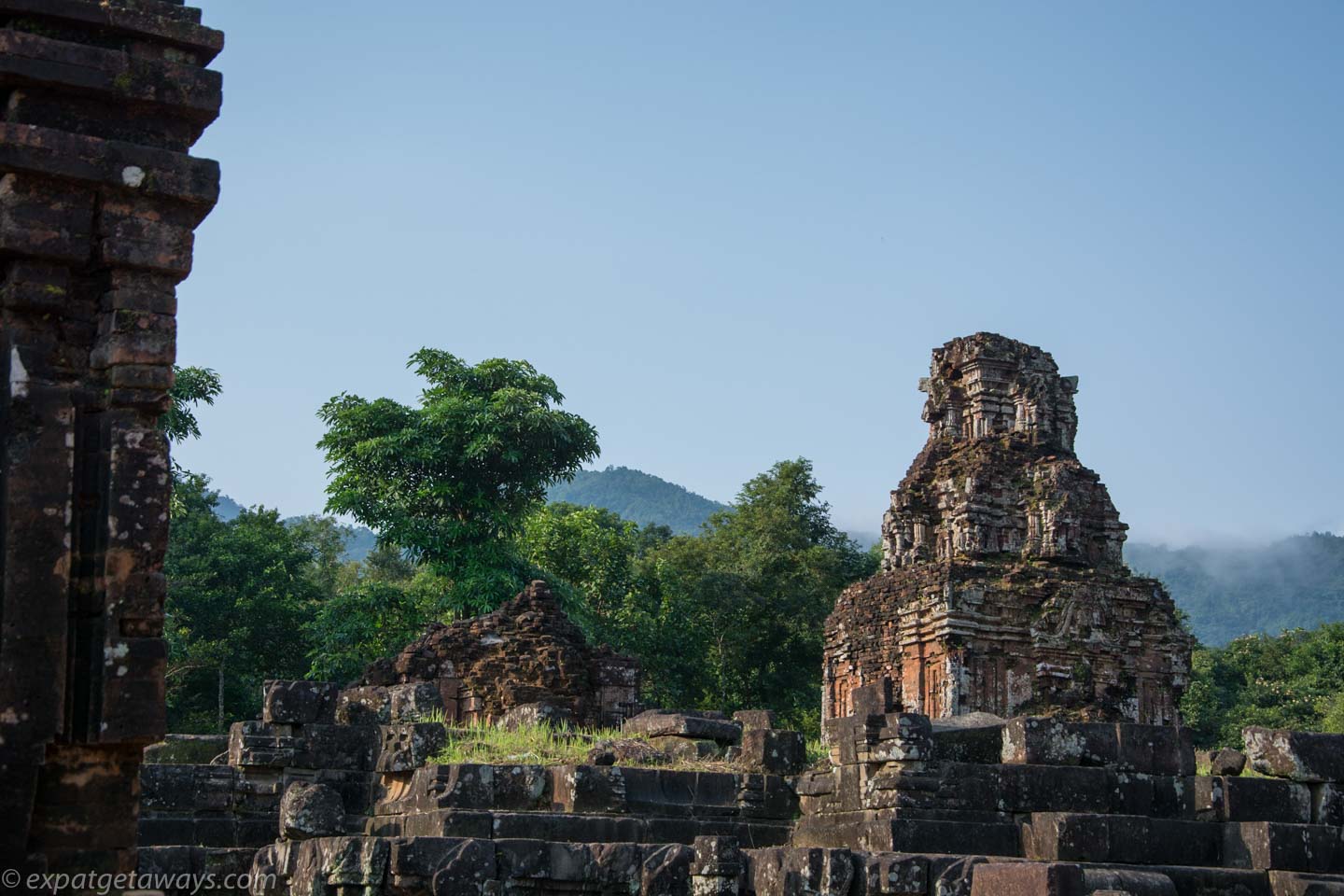 If you are thinking about a trip to Hoi An, stop thinking and just go. Just writing about our trip has got me thinking I'm about due for another visit!
Accommodation
Hoi An Essence Hotel and Spa–  A beautiful, small hotel. The service was impeccable, the food delicious and the rooms new and stylish. They have a great on site spa too which we visited on multiple occasions!
Food
Go hungry and try everything! Some favourite restaurants of mine are:
Secret Garden
Green Chilli
Tours
Hoi An Food Tour– we did the Street Food Tour by Motorbike but there were plenty of other options.
My Son Temple Tour- we booked a driver and guide through our hotel. Tip- go early!
Transport
Fly into Da Nang and have your hotel organize a car for the 45 minute trip to Hoi An.
From Hong Kong
Dragon Air- 4 times a week
Hong Kong Express- daily flights
From Singapore:
Silk Air- daily
Jetstar- 3 times a week
The rest of the world can connect through Saigon or Hanoi.
Love it? Pin it!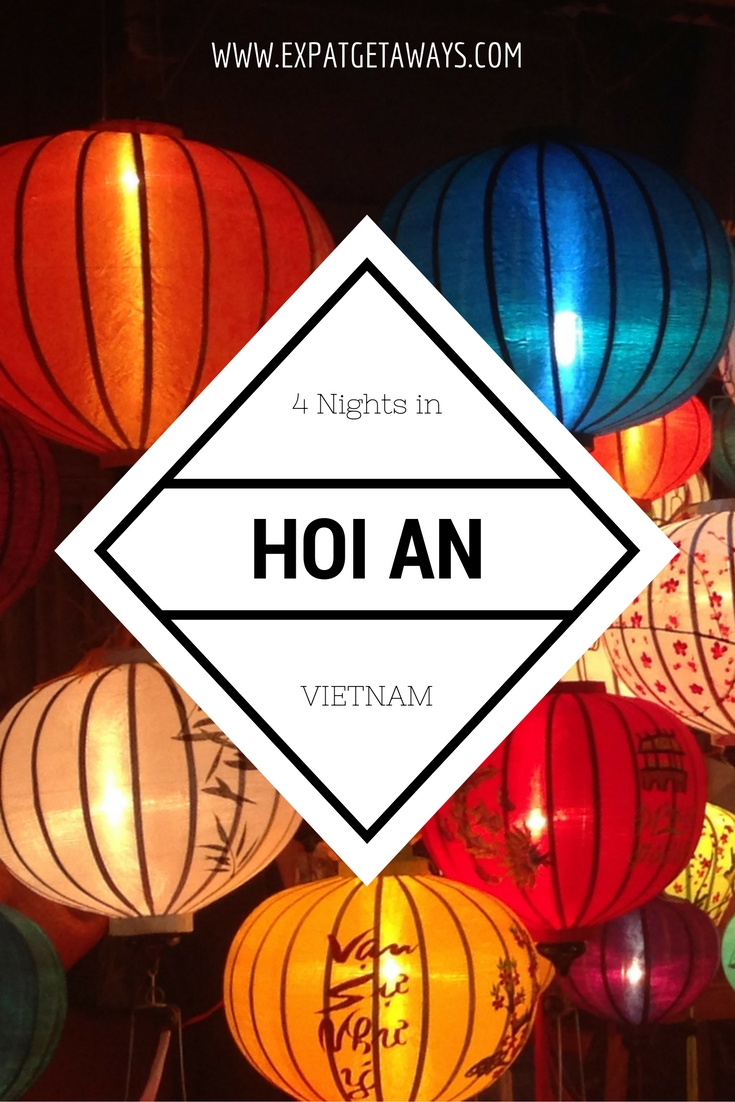 Expat Getaways endorses a policy of full disclosure.  This getaway was not sponsored or paid for by any company mentioned, and all views and opinions are solely those of the author.
Comments
comments