The Halong Bay Alernative – Bai Tu Long Bay
Halong Bay often tops traveller's bucket lists. The downside… 1000s of tourists visiting the same packed caves and lookouts. Thankfully there is an alternative! The less visited and just as beautiful Bai Tu Long Bay.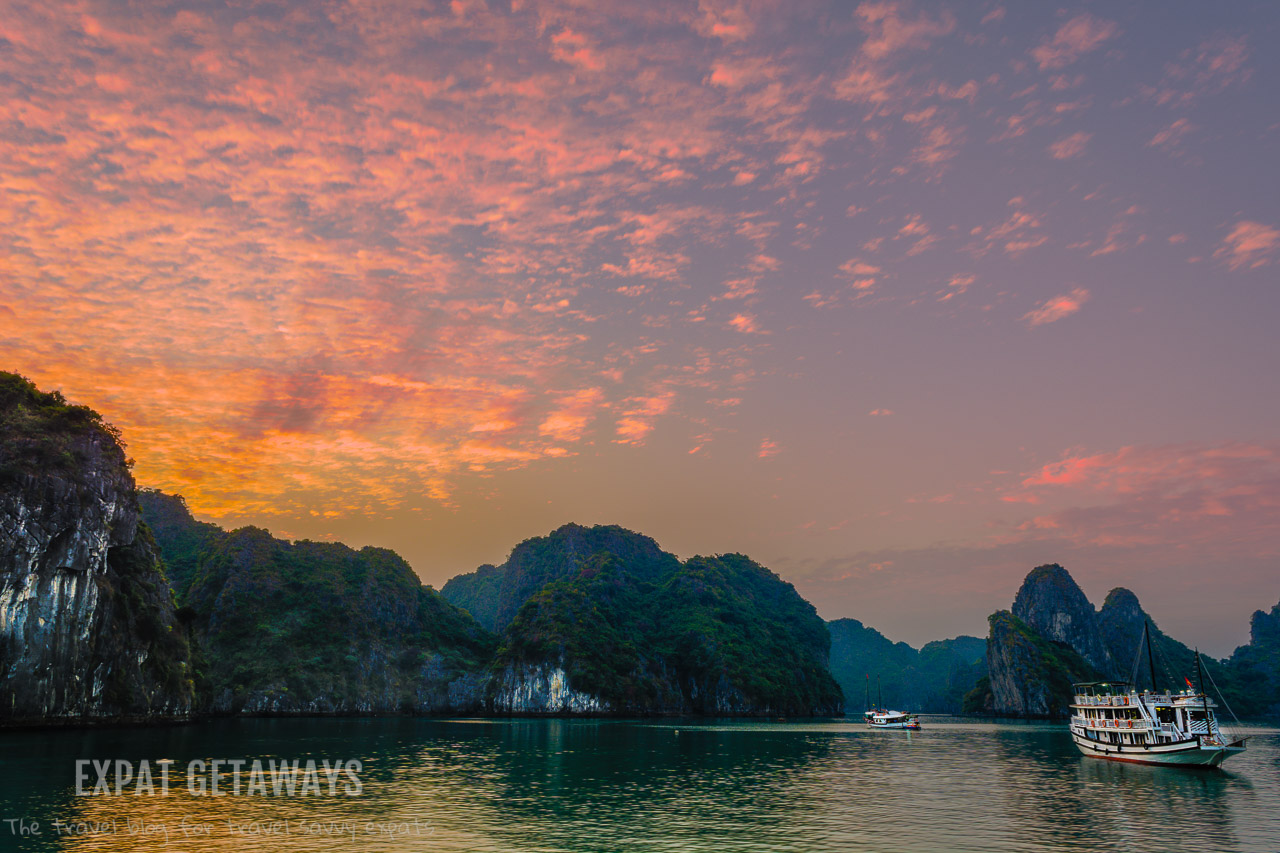 The Halong Bay UNESCO World Heritage Area includes over 1600 islands. It's BIG. Unfortunately, most tourist boats follow almost identical itineraries and visit the same few areas. This makes it difficult to differentiate tours as everyone is including a visit to a lookout, a cave and kayaking…
I was very conscious of this leading up to our visit to Vietnam. A quick search led me to Indochina Junk. After a bit more investigating I quickly determined that their Dragon Legend cruise was for us.
My one tip for anyone visiting Halong Bay- 1 NIGHT IS NOT ENOUGH. Halong Bay is a 4 hour drive from Hanoi. On the 1 night cruise you board at 12.30pm and leave at 11.30am. Less than 24 hours out in the bay. Certainly not enough time to take in beauty and kick back and relax. Do yourself a favour and book a 2 night cruise. 
Fast Facts
Itinerary: 3 days/2 nights in Bai Tu Long Bay
Class: $$$ luxury
Activities: kayaking, swimming, cave visit, beach BBQ, massages/spa, cooking demonstrations.
24 cabins so a maximum of 48 people on board
Green Halong Bay Program
Pros
Stunning scenery
Beautiful boat
Gorgeous rooms with big windows to take in the view from bed or bathtub
Away from the tourist crowds
Great food
Friendly Crew
Cons
Expensive for Vietnam (but still a bargain compared to everywhere else in the world)
This boat is changing to a 2 day/1 night itinerary in 2017
Not "technically" Halong Bay, but the same scenery and still in the World Heritage Area.
Would I recommend Dragon Legend to others? Absolutely!
The Scenery
Bai Tu Long Bay was everything I hoped for. Sheer limestone karsts jutting out of the water create a labyrinth for boats to get lost in. I found myself imagining what it must have been like hundreds of years ago for seafarers navigating their way up the coast.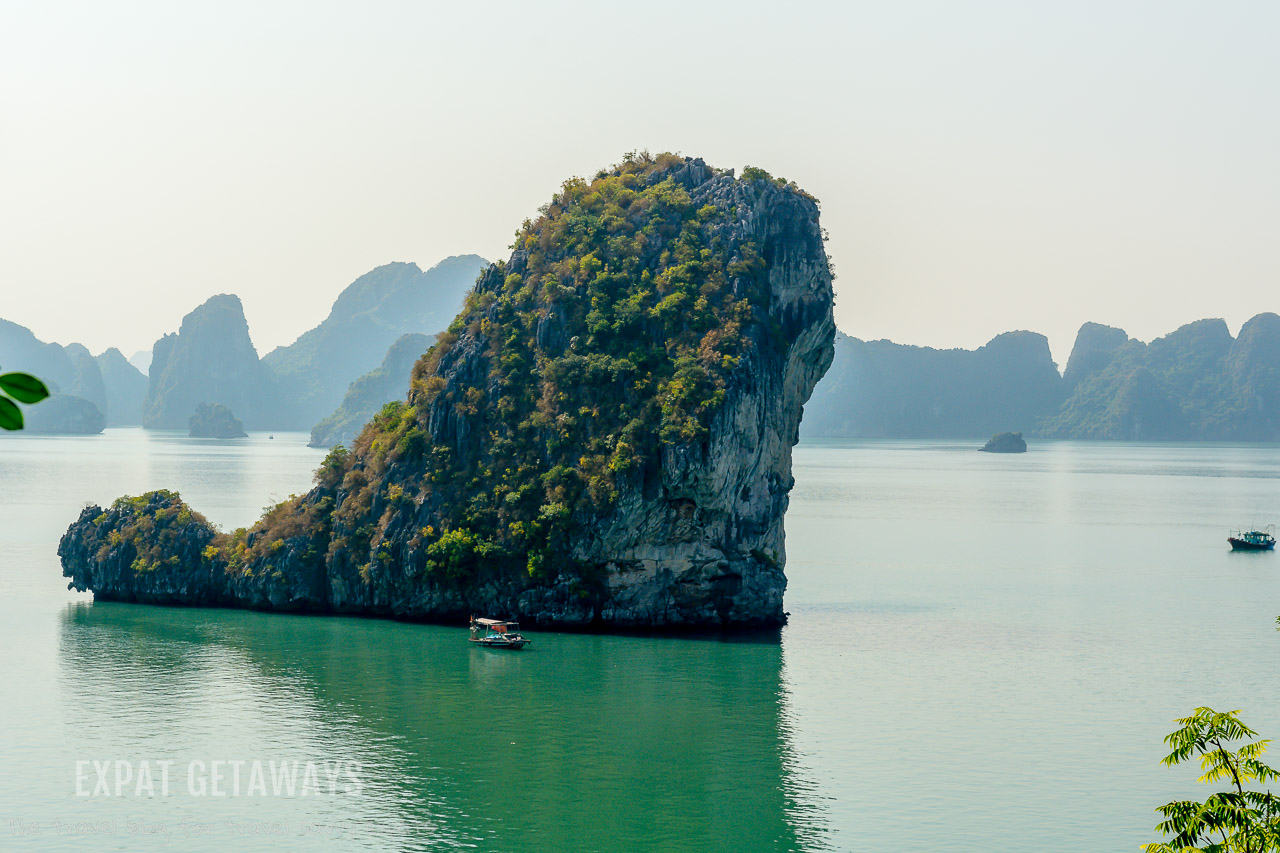 In the water in a kayak is the perfect perspective to view the formations. From the kayak you can get closer and in touch with nature. There were two opportunities to get out and kayak as well as an option for a slow boat for those less actively inclined.
Fishing Villages
We visited Vung Vieng, one of the many floating villages located within the UNESCO World Heritage Area. Home to around 400 people who rely on the waters of Halong Bay to make their living. Everything is on the water, from the houses to the school yard. We were able to have a little look around their fish farms and also saw how pearls are farmed (with the obligatory visit to the gift shop on the way out).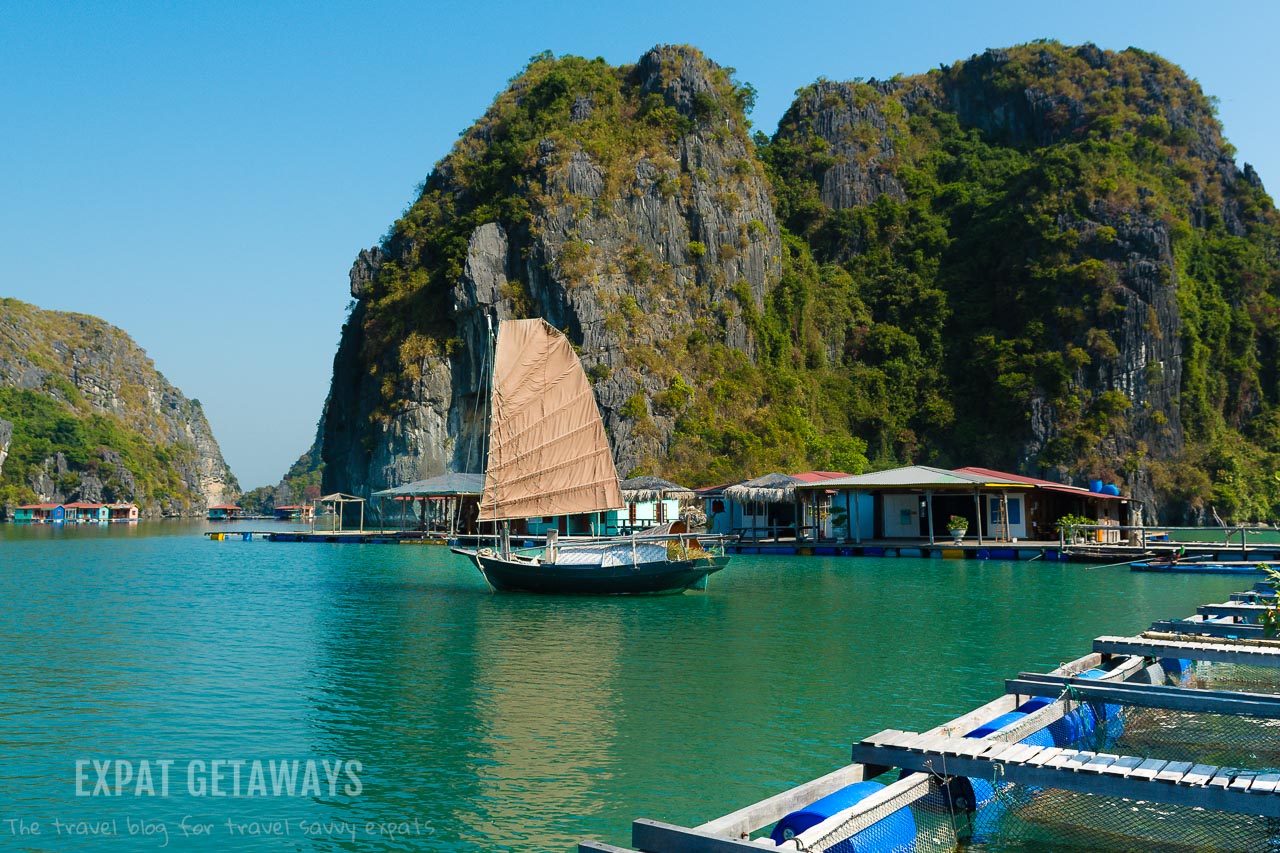 Eco-Conscious
One of the disappointing memories I have from my visits to Halong Bay in 2011 is the amount of rubbish I saw floating around. There was definitely enough that I didn't think about getting in the water for a swim.
Indochina Junk have taken it upon themselves to do something about this by developing "For a Green Halong Bay".  We saw local villagers collecting rubbish from the water, old polystyrene floats have been replaced with more durable plastic drums and guests were encouraged to refill their water bottles with the filtered water available on board.
It is definitely a step in the right direction.
The Food
Well we definitely didn't go hungry on the Dragon Legend that is for sure. Lunch was served alfresco on the deck shortly after setting sail. Kicking back with a cool drink, being served up a seven-course (yes seven!) seafood lunch with the best view imaginable, perfect!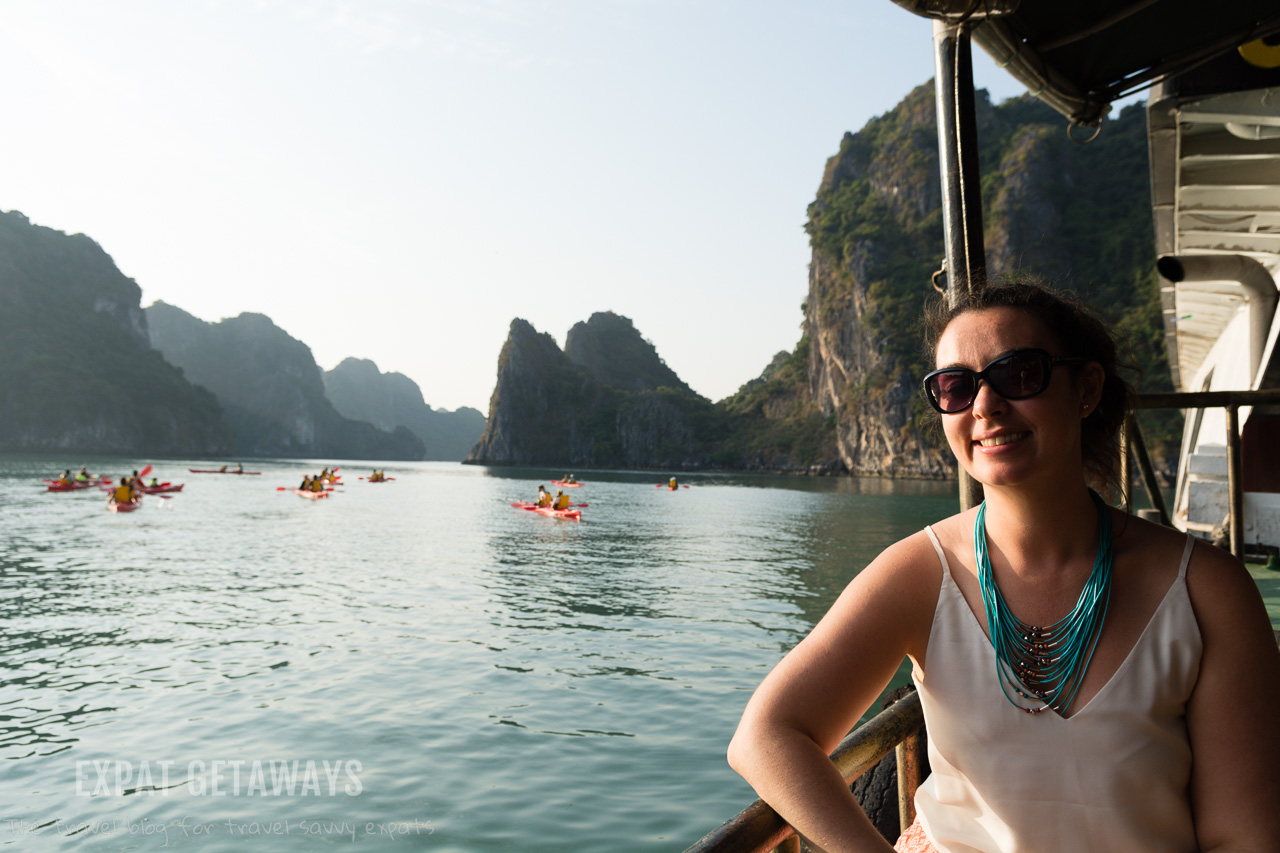 The beach BBQ on day two was definitely a highlight. The crew started the preparations as we went for a short walk up to check out a hidden cave and lookout. Then it was back to the beach for another seafood extravaganza. The food just kept coming.
If I had to say a negative it would be the breakfasts. Breakfast was mediocre at best- pho on the first day (actually the pho was pretty good just small), and some cardboard like white toast and omelette. It didn't matter though because we knew that lunch and dinner would more than make up for it!
The Rooms
When all the other guests on board wake up and say they've had the best sleep of their lives you know they are on to something. My two nights on board the Dragon Legend were among the best nights sleep I've ever had. I don't know where they source their bedding but I need to get my hands on some!
Added to this the beautifully appointed rooms, big window to take in the view from the bed, and my favourite – the giant bathtub.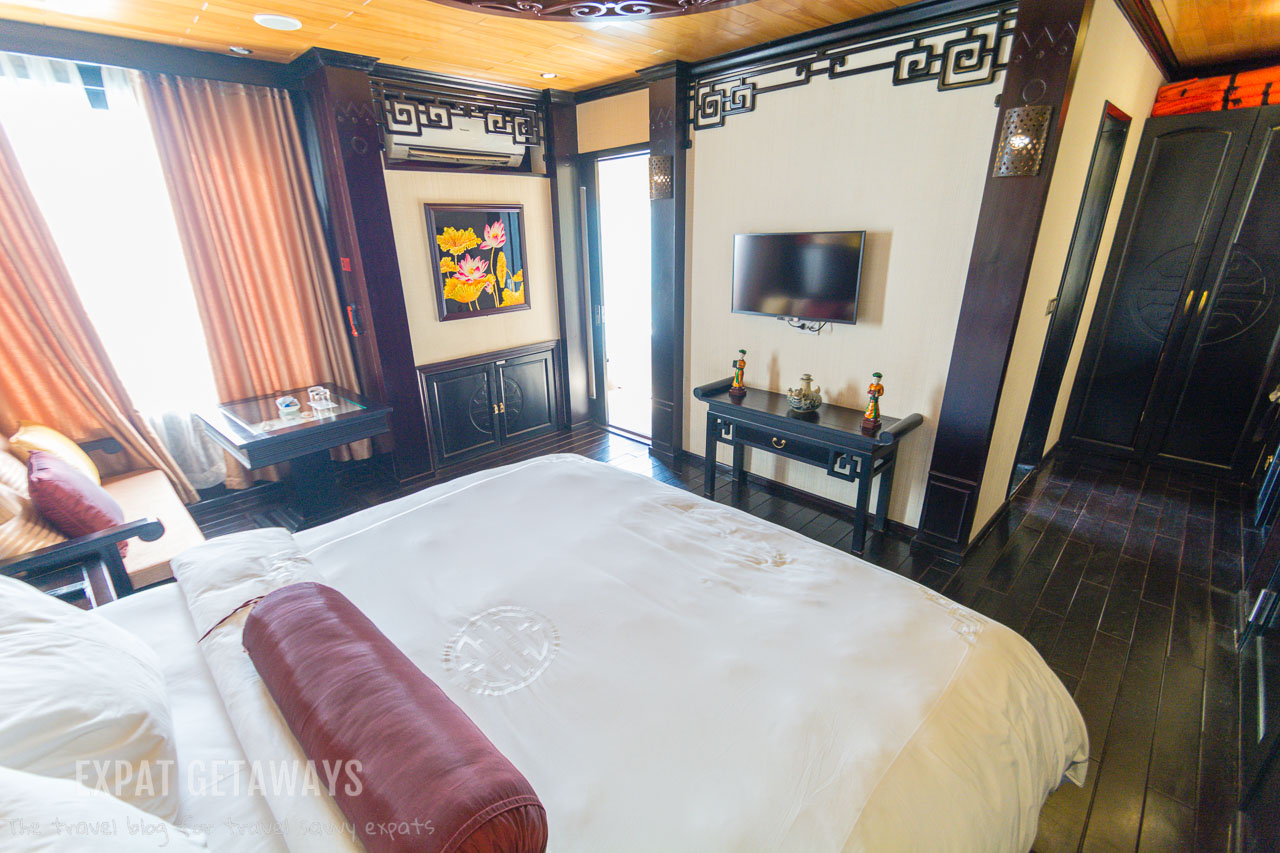 I'm not going to lie, I did enjoy a bath with a glass of wine and a good book instead of kayaking on day 2. And it was bliss!
The Staff
The staff on board Dragon Legend live up to the Vietnamese reputation of providing excellent hospitality. Our trusty Tour Guide Kenny spoke excellent English (and also Mandarin I found out), made sure we always knew where we needed to be and had an excellent knowledge of all things Halong Bay.
Overall Verdict
I finally feel like I have properly seen Halong Bay. It was the bay I know from the photographs- pristine, isolated and largely untouched. I felt like we experienced a slice of paradise that unfortunately many miss out on if they don't do their research before booking.
Have you been to Halong Bay? What is your favourite memory?
Tours
Dragon Legend cruise with Indochina Junk
Transport
Nearest international airport is in Hanoi. Transfers can be arranged through Indochina Junk.
From Hong Kong
Cathay Dragon, Hong Kong Airlines and Vietnam Airlines fly daily. Jetstar flies 5 times a week.
From Singapore
Singapore Airlines, Silk Air and Vietnam Airlines fly daily. Tiger Air flies 4 times a week
From Bangkok
Thai Airways, Vietnam Airlines, Qatar Airways, Air Asia, Nok Air fly daily.
Fly direct to Hanoi from Kuala Lumpur, Seoul, Busan, Taipei, Guangzhoi, Chengdu, Tokyo, Osaka, Nagoya, Yangon, Siem Reap, Vientiane, Istanbul, Abu Dhabi, Delhi, Moscow, Paris, Frankfurt, London and Nairobi.
Expat Getaways endorses a policy of full disclosure.  This getaway was not sponsored or paid for by any company mentioned, and all views and opinions are solely those of the author. This post may contain affiliate links. This means that I may get a small commission at no extra cost to you. I only recommend products that I use and love myself, so I know you'll be in good hands.
Comments
comments