You can tick off many of Hong Kong's sights on a quick 48 Hour Layover. When you have longer really get to know a city.
Welcome to the first of Expat Getaways' neighbourhood guides. I love Western District. For me it shows you the real Hong Kong. East meets west. Old and new. Rich and poor.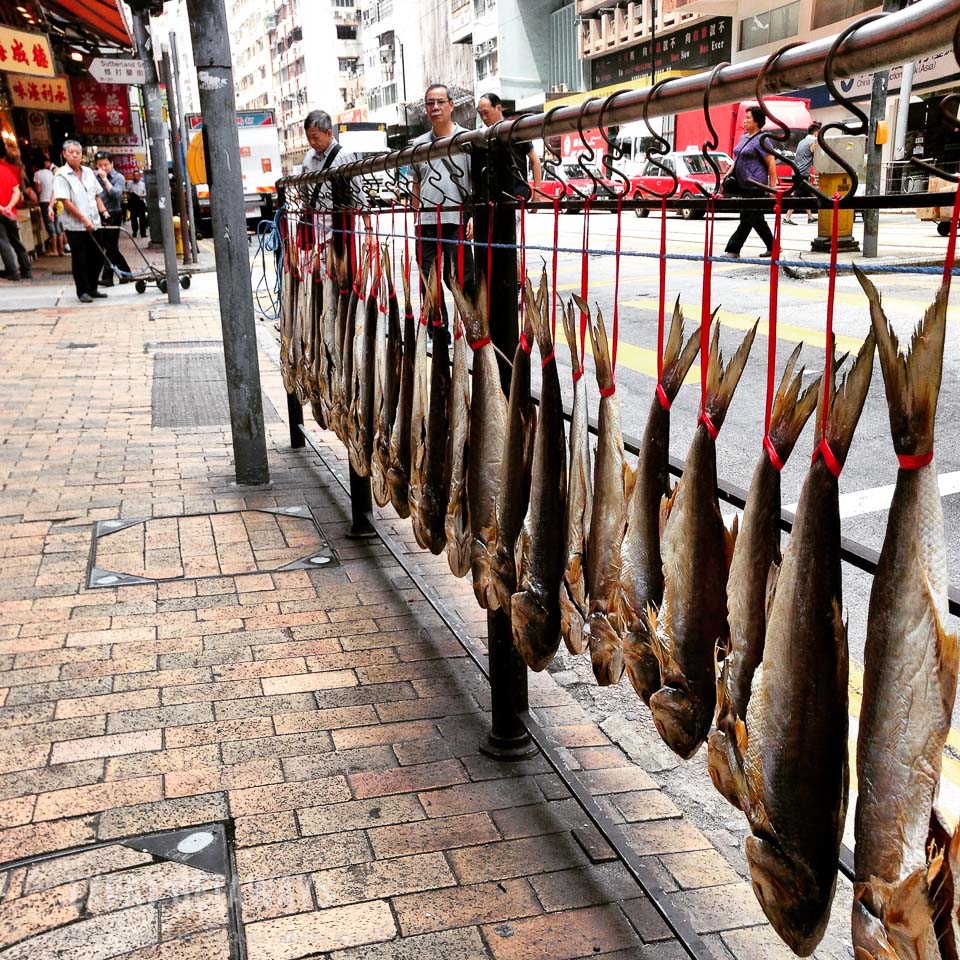 Most people will venture into the Western District for the stunning Man Mo Temple, quirky Cat Street Markets and to visit the antique shops of Hollywood Road. If you know where to turn you will get so much more out of your visit.
Hong Kong's Western District
Neighbourhoods: Sheung Wan, Tai Ping Shan, and Sai Ying Pun
Tourist Hotspots: Man Mo Temple, Hollywood Road and Cat Street Markets
Off the Beaten Path: Tai Ping Shan, Dried Seafood and Chinese Medicine Streets
Distance: 2.6 kilometres
Time: Minimum 2.5 hours, but more if you want to really look around all the temples, shops and markets. Shops and markets open late in Hong Kong so don't start your adventure until after 11am.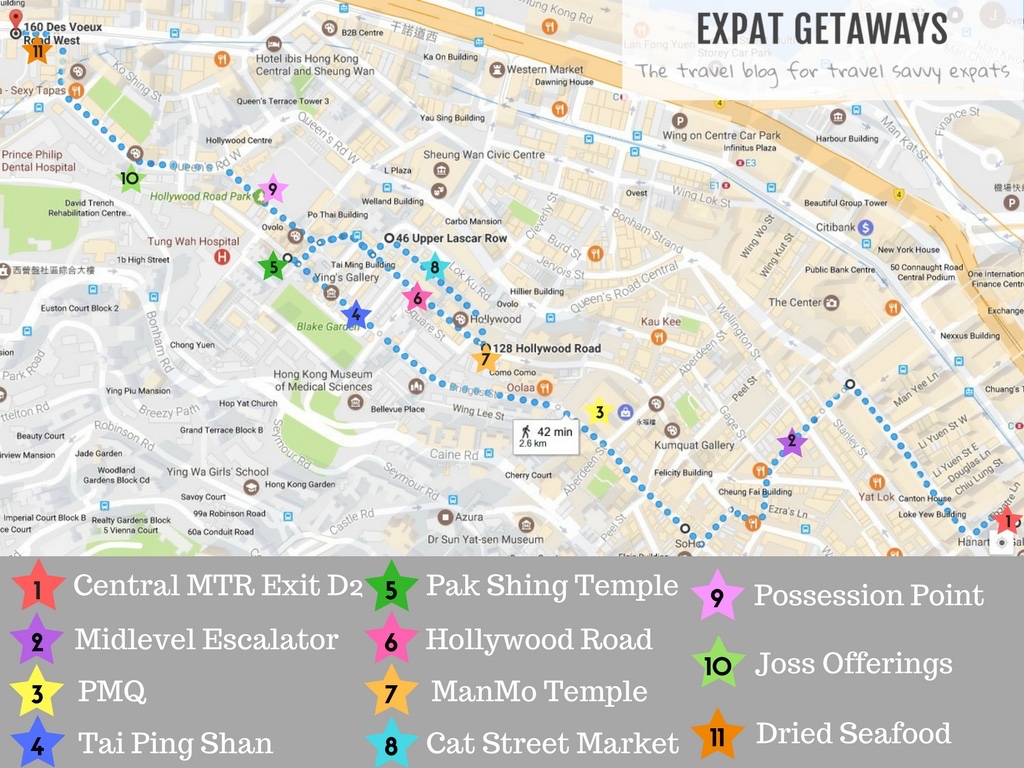 1. Starting Point- Central MTR exit D2
For the ease of navigation start your exploration here. Walk out the exit to Queens Road, cross the road, turn right and keep going until you reach the Midlevel Escalator.
2. Midlevels Escalator
Hong Kong loves the superlatives! We've got the world's most vertical city, the highest hotel (the Ritz-Carlton), the cheapest Michelin star restaurant (Tim Ho Wan), the highest population density (Mong Kok with 130,000 per square km) and of course the world's longest outdoor escalator.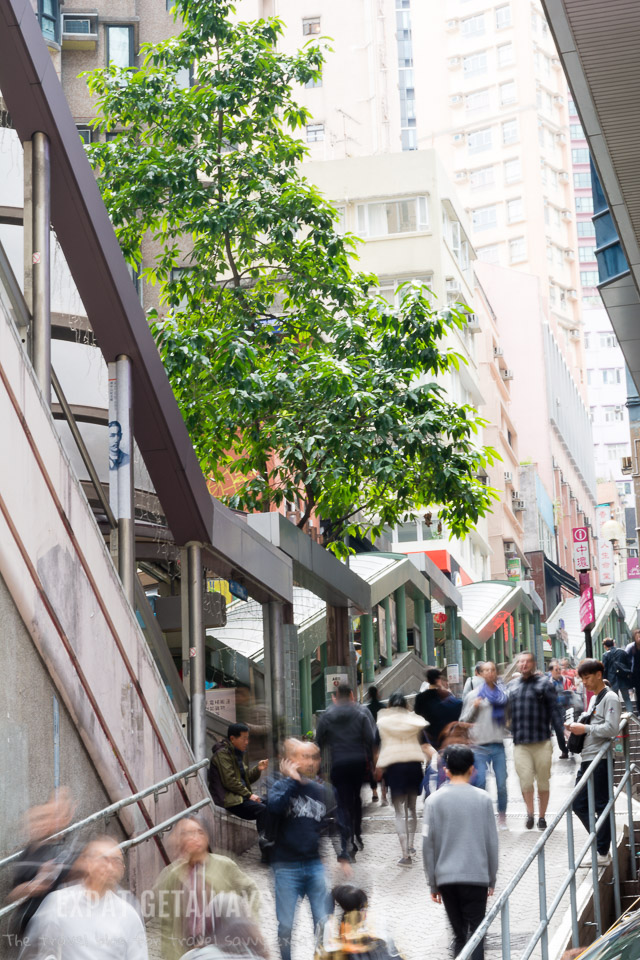 There isn't just one escalator, but 23 separate travellators making the 800 metre (half mile) journey up through Soho to the residential area known as the Midlevels. Go after 10am when the escalators run up the hill.
Take the Midlevels Escalator all the way to Soho and turn right on Staunton Street. You will pass lots of bars and restaurants as the street transitions into Bridges Street.
3. PMQ
The former Police Married Quarter sits at the junction of Bridges and Aberdeen Street. The exclusive Queen's College originally occupied this site from 1894 until WWII. Graduates include many notable Hong Kong politicians, diplomats, academics and businessmen. There was significant damage during the Japanese occupation so the school was replaced with a married quarters for junior Chinese police officers.
At the time Hong Kong's population was growing at an unprecedented rate with migrants flooding in from the Mainland. Accommodation was a huge draw card for police applicants!
Fast forward fifty years and police housing was no longer necessary. Other buildings in Hong Kong quickly get slated for demolition, however the PMQ was restored and transformed to a creative and design space. There are loads of pop-up shops, cafes and restaurants to peruse. One of my favourite rainy day activities!
Continue along Bridges Street until you reach a set of stairs. These lead down to Tai Ping Shan.
4. Tai Ping Shan
Tucked in behind Hollywood Road is a little pocket of low-rise walk up buildings. There is a mix of old-school Hong Kong shops, restaurants and temples alongside up and coming cafes and boutiques. The gentrification is glaringly obvious. I'm often left wondering if the expat couple in the newly renovated apartment know that this neighbourhood was where a peace deal was signed with notorious pirates and later an old Chinatown and where the bubonic plague once strangled the city.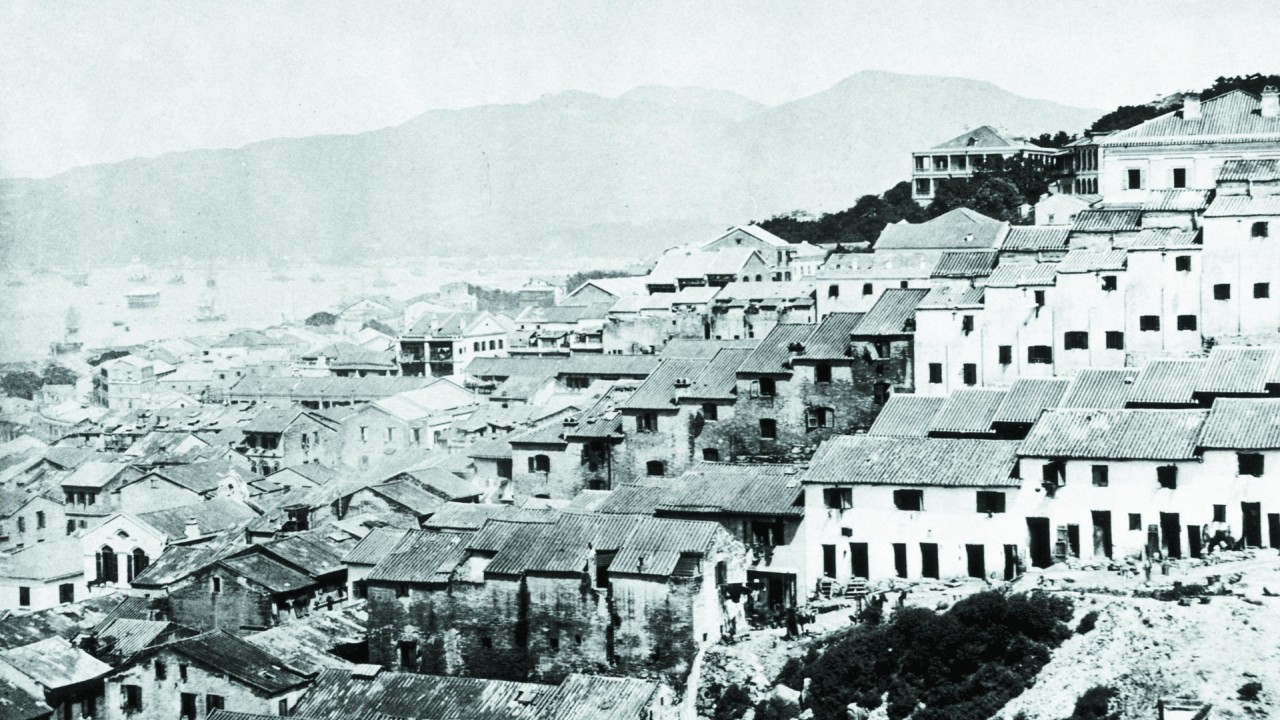 The streets here are so old they pre-date town planning. If you've visited nearby Sai Ying Pun you will have noticed the grid of First, Second, Third and High Streets intersected with Eastern, Centre and Western. All very orderly. Not so in Tai Ping Shan where Bridges Street ends in a staircase leading to Tai Ping Shan Street ending in more stairs down to Pound Lane.
Keep your eye out for shrines tucked into little alleyways as well as street art on every corner.
Walk along Tai Ping Shan Street to the end and take the stairs down to Pound Lane.
5. Pak Shing Temple
Just like nearby Man Mo this temple has beautiful incense coils hanging from its ceiling. The notable difference is the lack of tourists and the spooky past.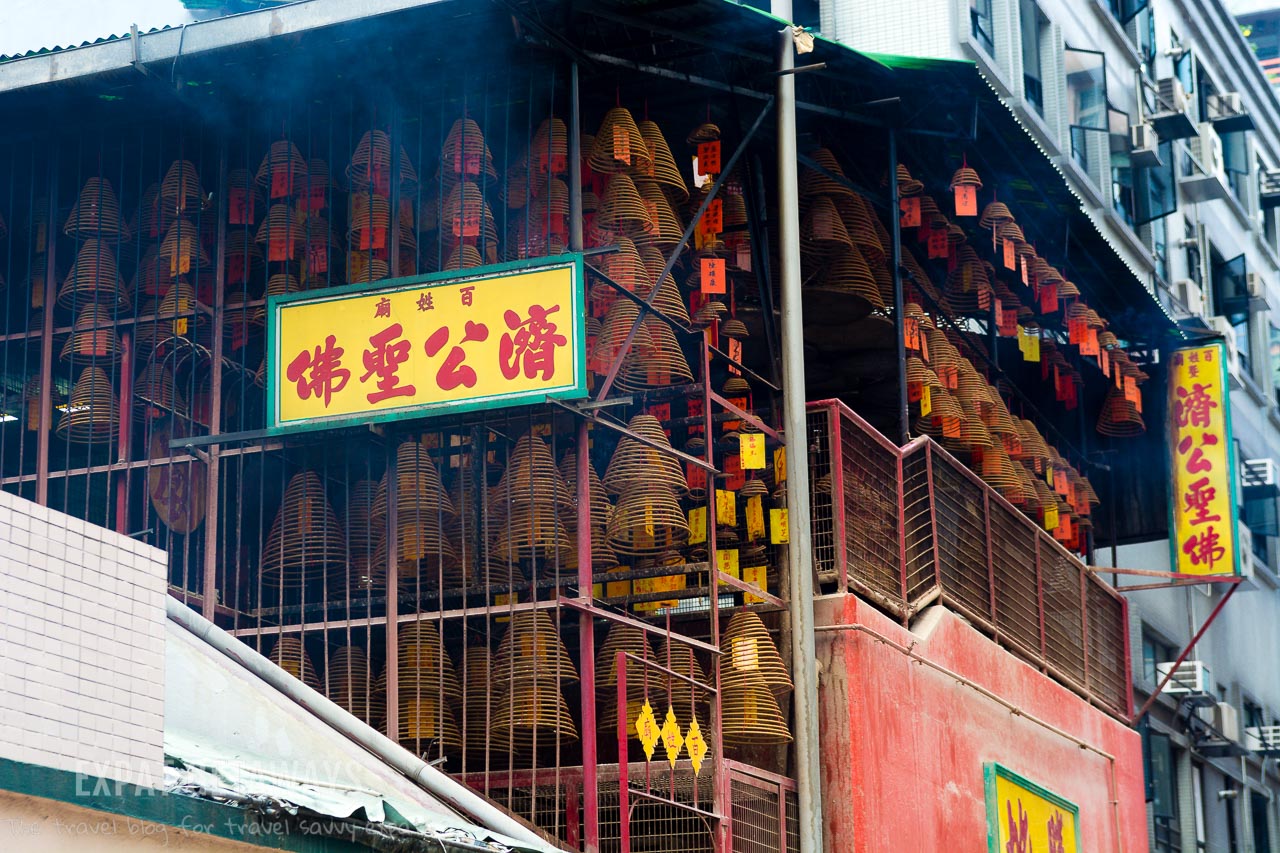 After the British took possession in 1841 Chinese people started flocking to the city from all over the Pearl River Delta. The opportunity to make money attracted them to work in the new colony. Many came with the plan to make their cash and retire to a nice comfortable life back in their villages. That was all fine and dandy until the bubonic plague broke out in 1894. On the worst day over 100 bodies were collected from the streets.
So what does this have to do with a temple?
The Chinese believe that unless your ancestral tablet is written you will be left to roam the earth as a hungry ghost. Nobody wants that! The people in this neighbourhood were far from home and away from their family. The sick made their way to "Temple of a Hundred Surnames" where ancestral tablets were created to send them to the afterlife in peace. Inside the temple there is a little room off to the left where you can still see these tablets lining the walls.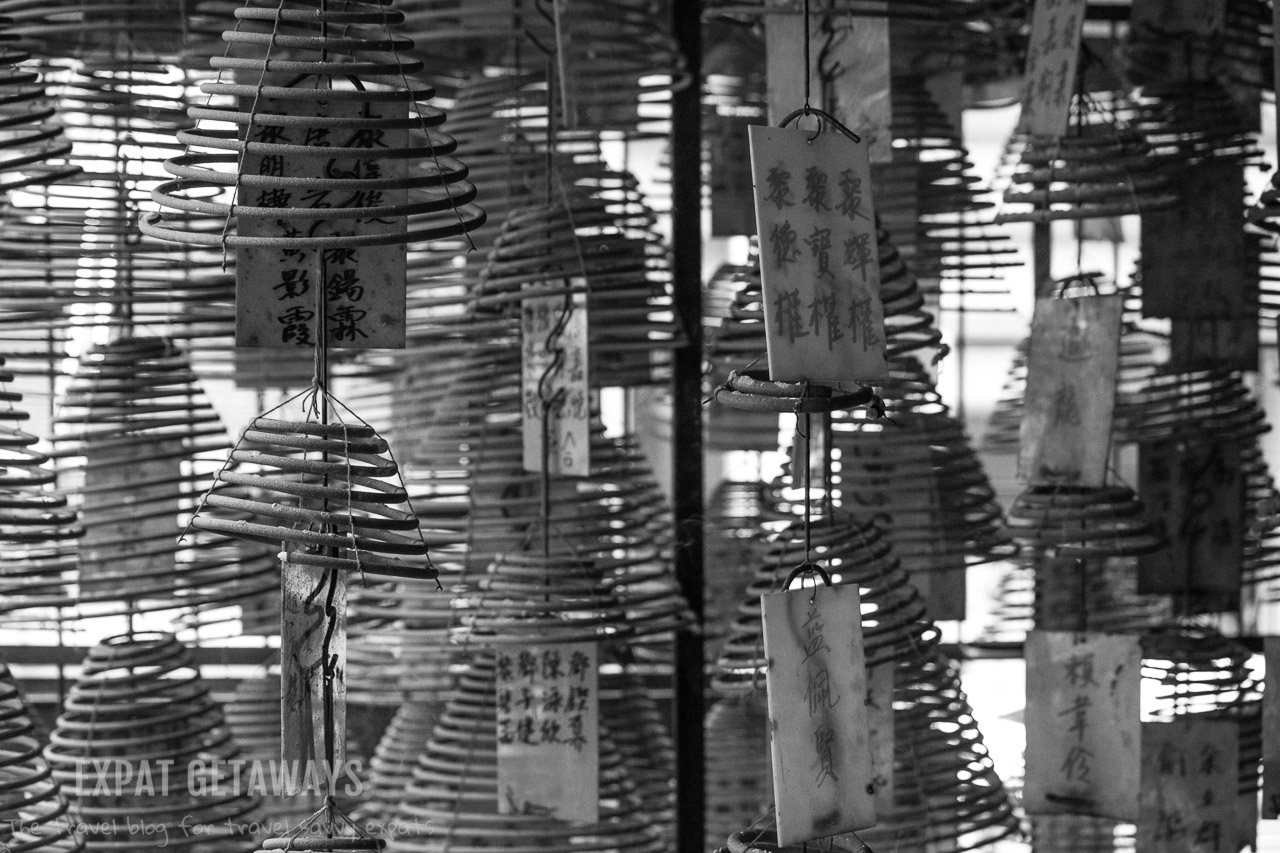 Walk down Pound Land to Hollywood Road and turn right.
6. Hollywood Road
Hong Kong, and Asia in general, has this knack of grouping shops selling the same products in similar areas. You may have heard of the Flower Market Road, Goldfish Street or Sneaker Street. Well this is Antique Street!
You can find everything here from Ming dynasty antiques, Tibetan rugs, to fine Chinese furniture and porcelain. A word from the wise… if you are in the market for antiques do your research so you know what you want, how much it is worth and how to spot if it is genuine. This is China after all, known for knock-offs.
Continue along Hollywood Road until you reach the Man Mo Temple.
7. Man Mo Temple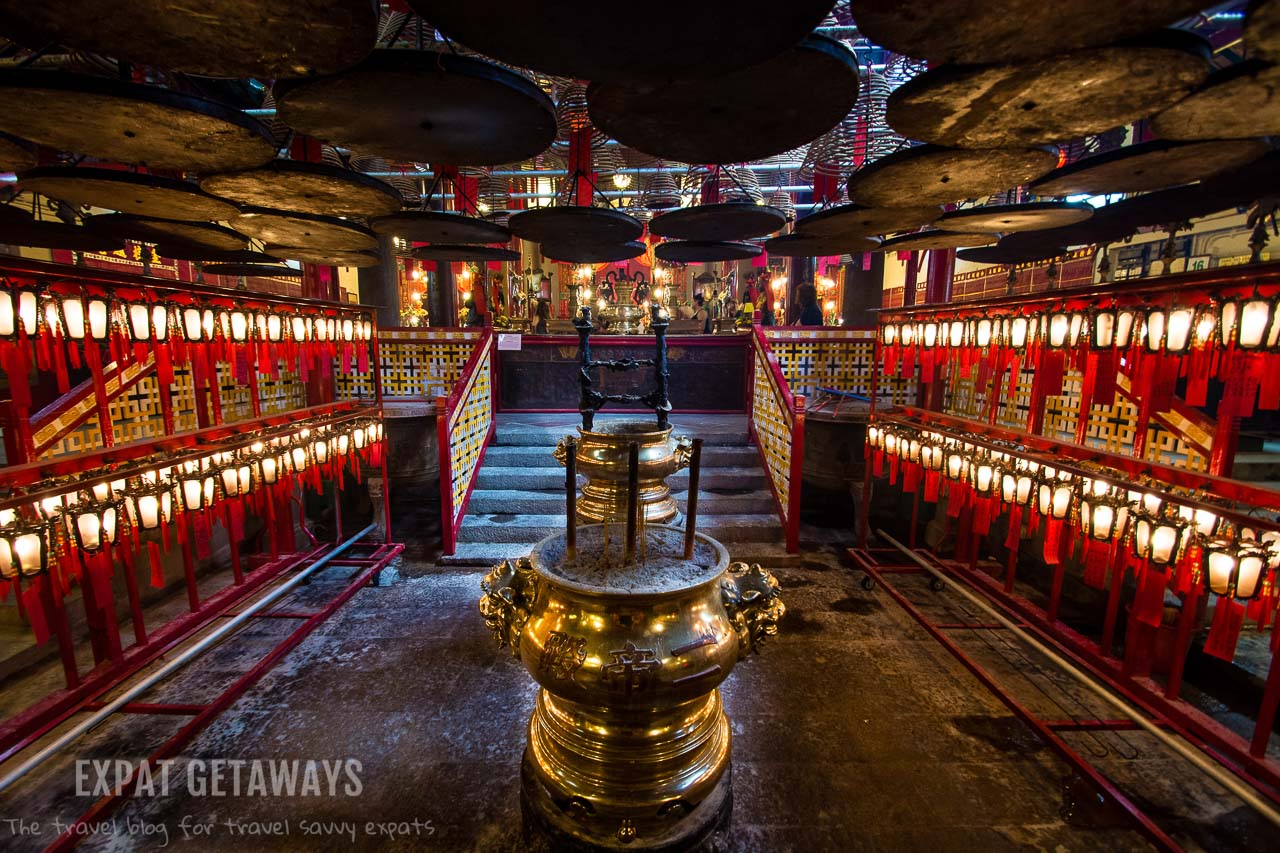 This temple should be on every tourists list. Man Mo was built in dedication to the Gods of Literature (Man) and War (Mo) in 1847. You will often see worshippers leaving offerings, shaking fortune sticks and lighting incense. The most dramatic and photogenic part of the temple is the huge incense coils hanging from the ceiling.
It is smokey here! There is an incinerator at the front of the building where red and gold paper offerings will be burned. Then you are engulfed with incense smoke as you enter the various halls.
Cross the street and walk down the stairs of Ladder Street to Upper Lascar Row. Turn left and browse the markets
8. Cat Street Markets
This is my favourite market in all of Hong Kong! You won't find mobile phone covers or fridge magnets here, but you will find every other knick-knack possible. I've seen everything from cameras and phones from the 1990s, beautiful photographs of colonial Hong Kong, Chinese pornography and used passports.
A few of the shopkeepers speak English, including my friend Mr Fu who will tell you all about his array of antique bayonets and knives.
This is the perfect place to pick up a quirky souvenir, a mahjong set, chopsticks or teapots.
You might notice that the market is not actually on Cat Street, but on Upper Lascar Row. There are few different versions of how the name came about, but they largely follow the same theme. A Lascar is a sailor from India and in the early colony many came out to Hong Kong to work in the police force. Thieves, or rats, needed to sell their wares quickly. The Lascar police officers were the cats doing their best to catch the rats! Eventually the name stuck and we have the Cat Street Market.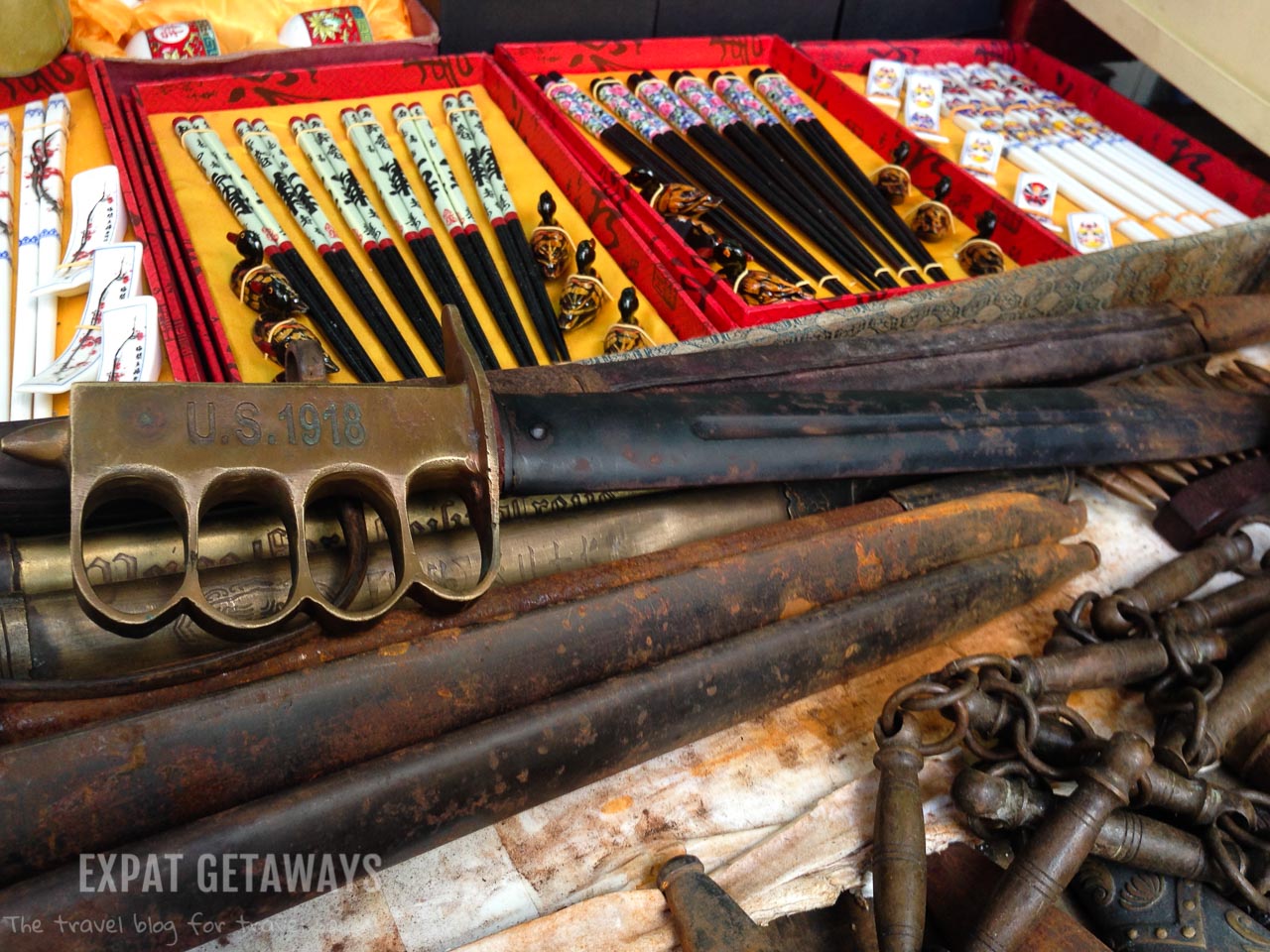 Walk to the end of the market and turn left to get back to Hollywood Road. Turn right on Hollywood Road (you will be backtracking briefly).
9. Hollywood Road Park/ Possession Point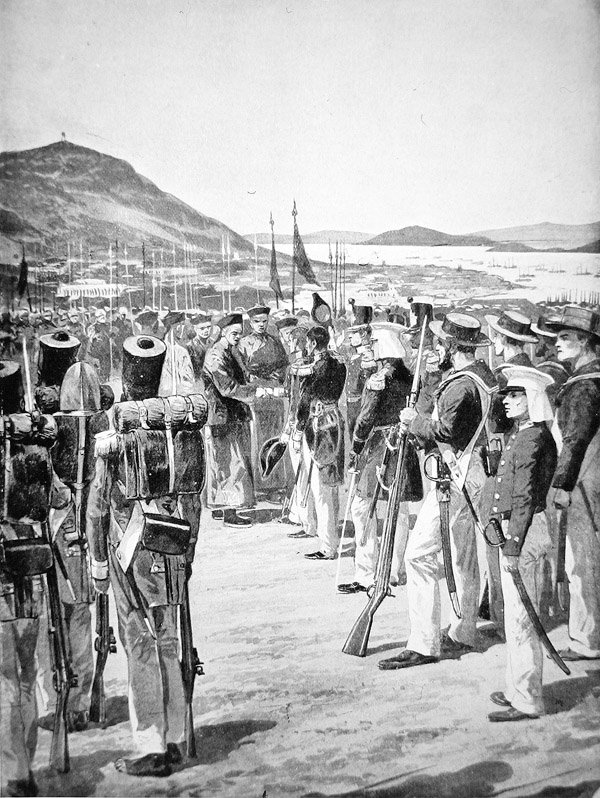 As you walk along Hollywood Road you will pass Possession Street and come to Hollywood Road Park otherwise known as Possession Point. This is where the British Navy gathered on January 26th 1841 to take possession of Hong Kong Island prior to the Treaty of Nanking.
Hollywood Road was the second road to be built in the colony (Queens Road was the first) and the first road to be completed in 1844. Historians aren't sure about how it got its name, but one thing they can agree on is that it definitely came before Hollywood in California!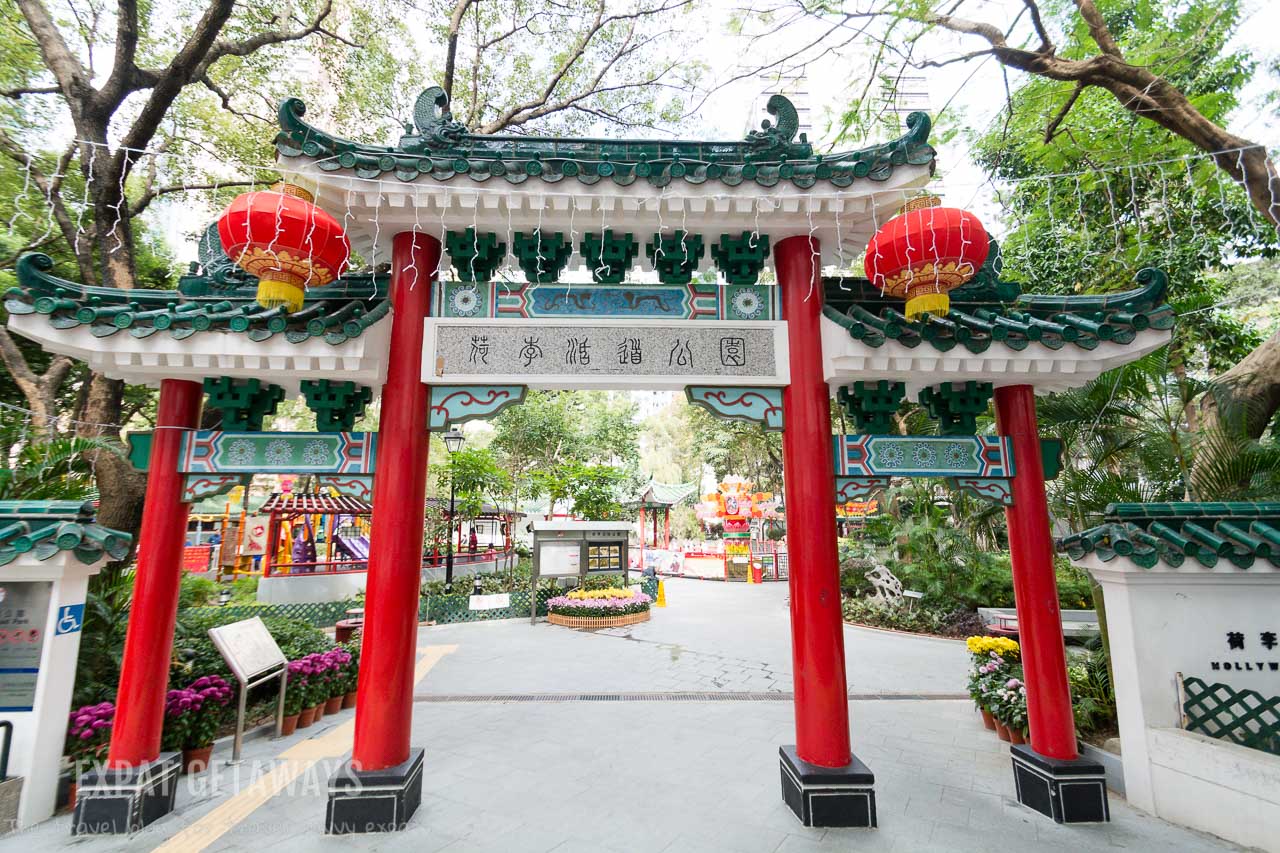 Continue down the hill to Queens Road and turn left.
10. Queen's Road West Joss Paper Offerings
Remember the incinerator at Man Mo Temple? It isn't just any old paper that gets offered! When someone passes away it is customary to send them off with joss paper offerings of things they might need in the afterlife.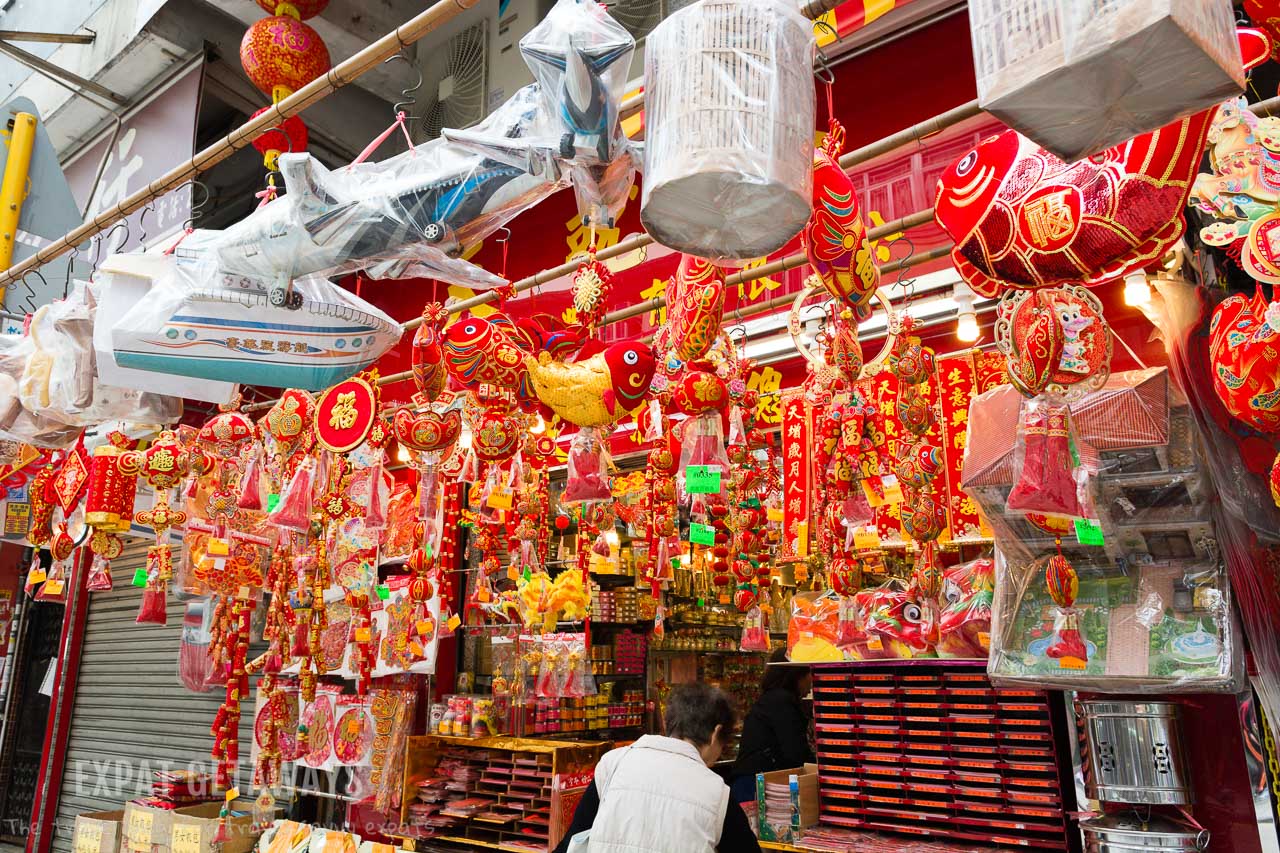 Some go for the traditional red and gold paper to symbolise money while others opt for the more extravagant yachts, houses and even iPhones all for sale! In fact Gucci threatened legal action in early 2016 when copies of their designer handbags started popping up as funeral offerings around Hong Kong.
These shops are great to visit all year round, but especially in the lead up to major festivals. Decorations will fill the streets before Chinese New Year, lanterns before Mid Autumn festival and the widest variety of joss paper offerings will start appearing right before the Grave Sweeping Festival or Ching Ming in April.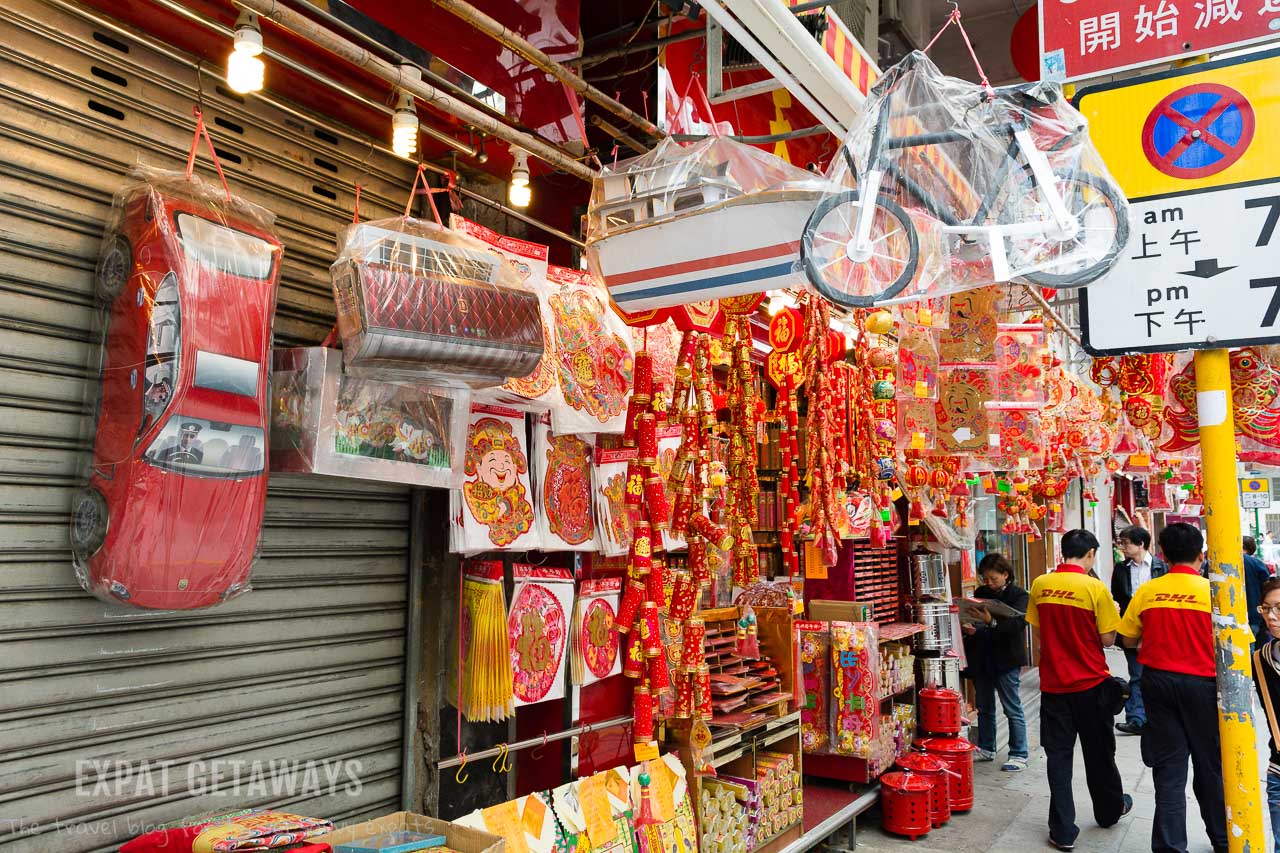 11. Dried Seafood and Chinese Medicine
As you've walked through this part of town you might have noticed a smell creep up on you. That is coming from all that dried seafood in the shops around you. In fact over 80% of the world's sharks fins pass through Dried Seafood Street.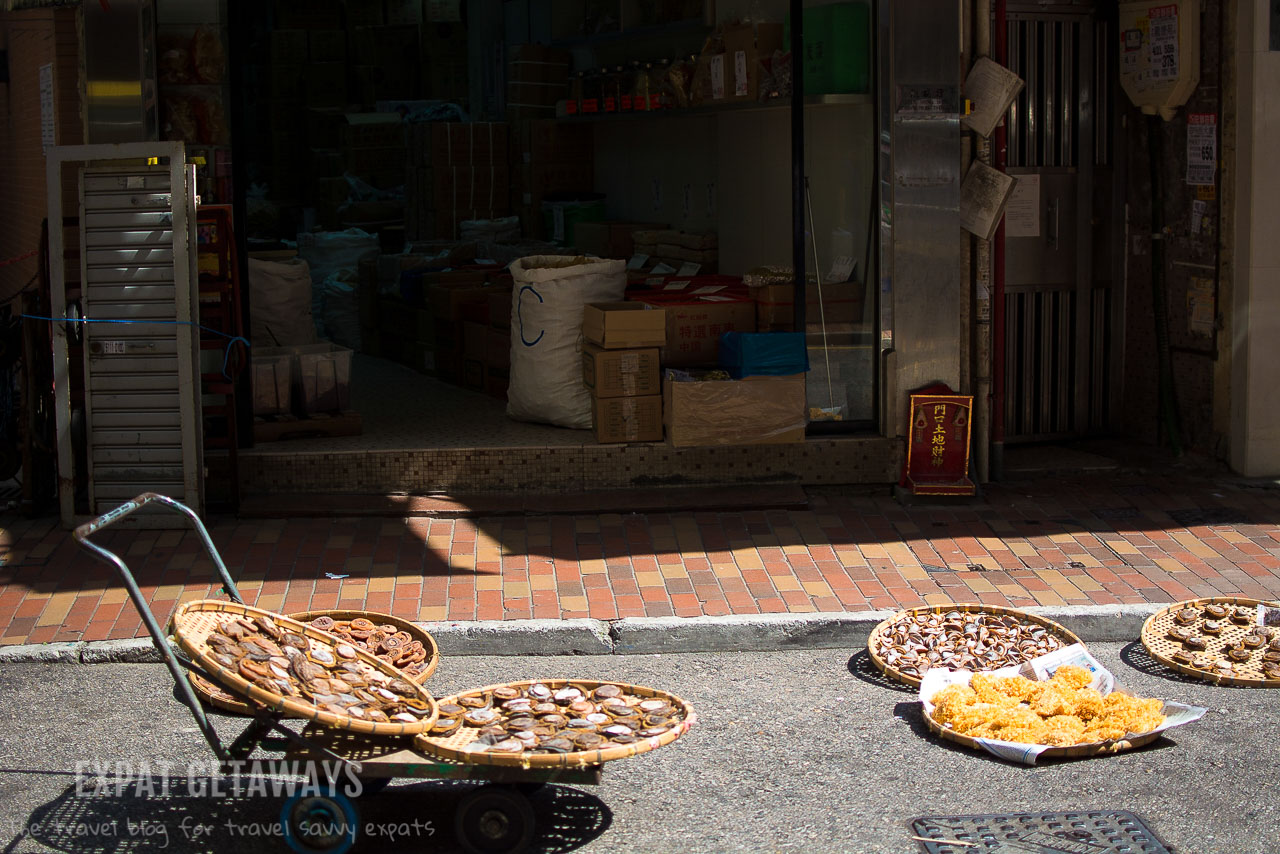 Really take the time to look at what is being sold. You will of course see the controversial shark fins for sale, but also dried oysters, abalone, sea cucumbers, sea horses and countless other creatures from the deep. Now take a look at the price tag… Items are usually sold by the catty (about 500grams). The most expensive abalone I've found come in at $HK30, 000 or $US3800!!! What's more, on a sunny day you'll see vendors drying their goods literally out on the streets.
Lots of the seafood has medicinal purposes and you will see a variety of Chinese pharmacies in the area as well. There are bird nests, ginseng roots, deer antlers, pearls, geckos, starfish. I've even seen a shop claiming to sell dinosaur teeth!
Continue along Queens Road West to Wilmer Street and turn right. Continue to Des Voeux Road West and turn left. Sai Ying Pun MTR Exit A2 will be halfway down the block on your left.
If all that sounds too hard on your own, or you'd like to hear more about Hong Kong's history and culture you can always book a tour with Jess.
Accommodation
Love it? Pin it!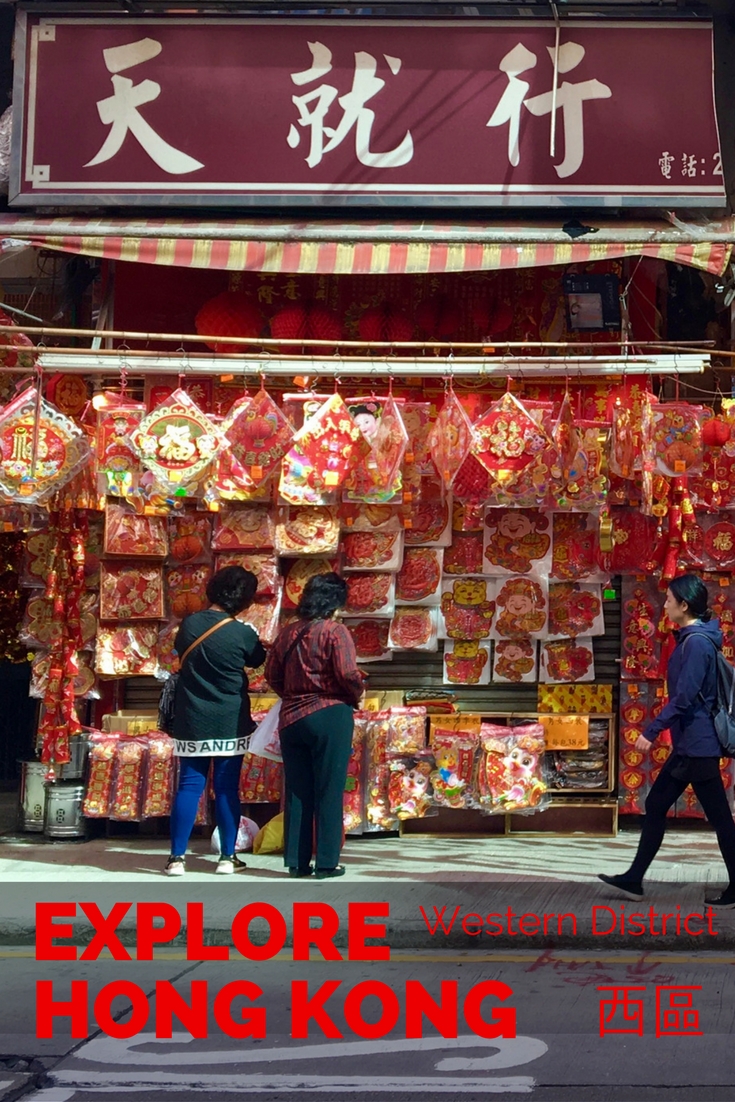 Expat Getaways endorses a policy of full disclosure.  This getaway was not sponsored or paid for by any company mentioned, and all views and opinions are solely those of the author. This post may contain affiliate links. This means that I may get a small commission at no extra cost to you. I only recommend products that I use and love myself, so I know you'll be in good hands.
Comments
comments