Macau is touted as the Las Vegas of the East and for good reason.
Gambling revenue accounts for 40% of their GDP and in 2014 the gambling revenue was $US45 billion compared to just $US6.5 billion in Las Vegas. Stanley Ho's monopoly was swept aside in 2001 big names like the Venetian, City of Dreams and newly opened Studio City have eclipsed the older Casino Lisboa and gaudy, gold Grand Lisboa.
However, there is more to this city than meets the eye and if you can tear yourself away from the bright lights and neon you will find a city with 500 years of colonial heritage.
History in a nutshell
The Portuguese first arrived in the area in 1513. They'd been busy expanding their empire into the Americas as well as around the Cape of Good Hope, into Goa and Indonesia. Getting into China was a huge deal and they were the first Europeans to do so.
In 1557 they made a permanent settlement on the Macau peninsula by paying an annual tribute to the Chinese. This continued until 1863 and set an important precedent for the British in Hong Kong who would later go onto to sign a 99-lease agreement with China over the New Territories.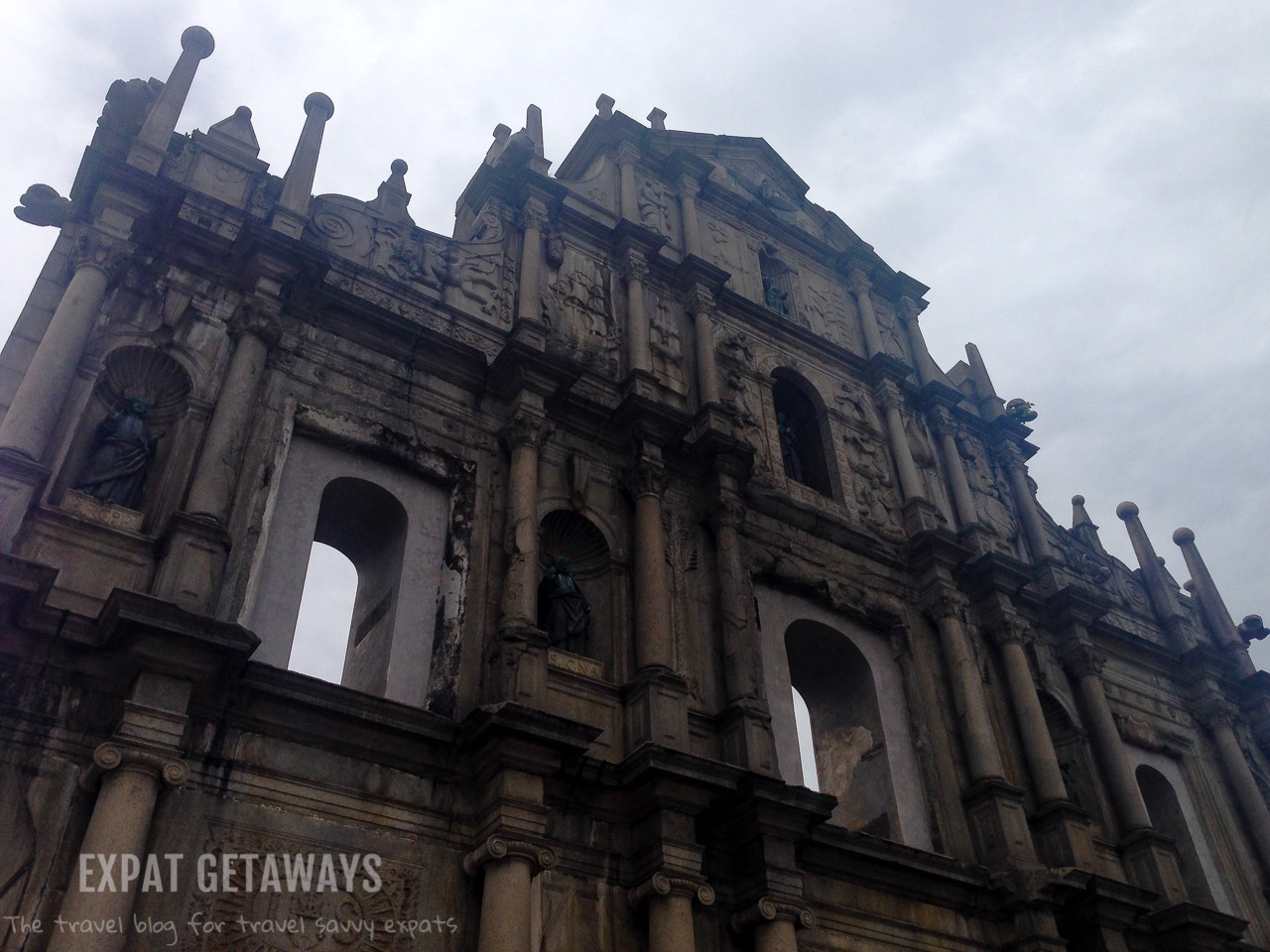 Fast forward to 1999 and Macau was formally given back to China under a similar agreement to that of Hong Kong, one-country, two-systems. European colonisation of Asia was then finally done and dusted, with the Portuguese the first in and the last out.
One Day in Macau
Itinerary
Morning: Arrive Macau, visit the Ruins of St Pauls and St Anthony's Parish.
Lunch: Time for some authentic Portuguese cuisine by the beach at Fernando's
Early Afternoon: Coloane Village
Late Afternoon: Macau historic centre
Dinner: Enter another era at the Clube Militar de Macau
Evening: Ferry back to Hong Kong
Morning – Ruins of St Paul & St Anthony's Parish – 10:00-11:30am 
To hit the ground running the easiest way to the centre of town is to jump in a taxi. There is a taxi rank right outside the ferry terminal and taxis are all on the meter. Have your driver take you straight to the Ruins of St Paul's Cathedral.
1. Monte Fort
Start here and take in the views over the nearby ruins, huge casinos and the maze of cobblestone streets below. The Monte Fort is the oldest fort in Macau and was originally built to protect Macau from pirates in the 17th Century. It also proved useful in keeping the Dutch out in the attempted invasion of 1622.
Walk the perimeter of the fort to see the city from all angles before walking downstairs to the Ruins of St Paul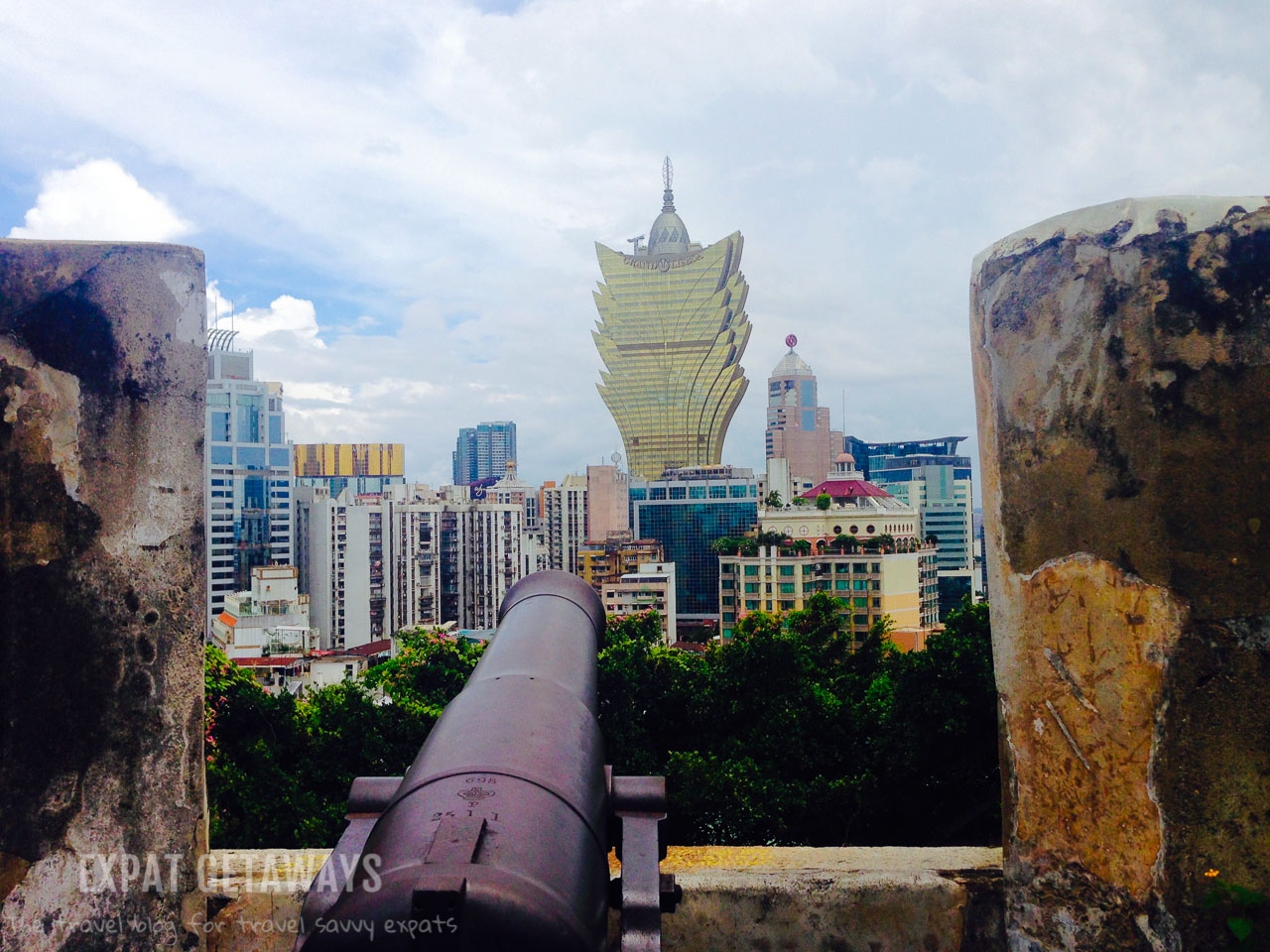 2. Ruins of St Paul
When most people think of historic Macau the image of the ruins is what they have in mind. St Pauls has had a terrible run of bad luck. It was completely rebuilt after catching fire in 1595 and 1601. The reconstruction was epic and took 32 years to complete. Once done, the Jesuits had created a beautiful church with details like Catholic saints and Chinese characters engraved into the façade. A perfect match of east meets west.
Fire again destroyed the church in 1835 leaving only the façade. UNESCO inscribed the ruins on their world heritage list and it has truly become the cultural symbol of the city.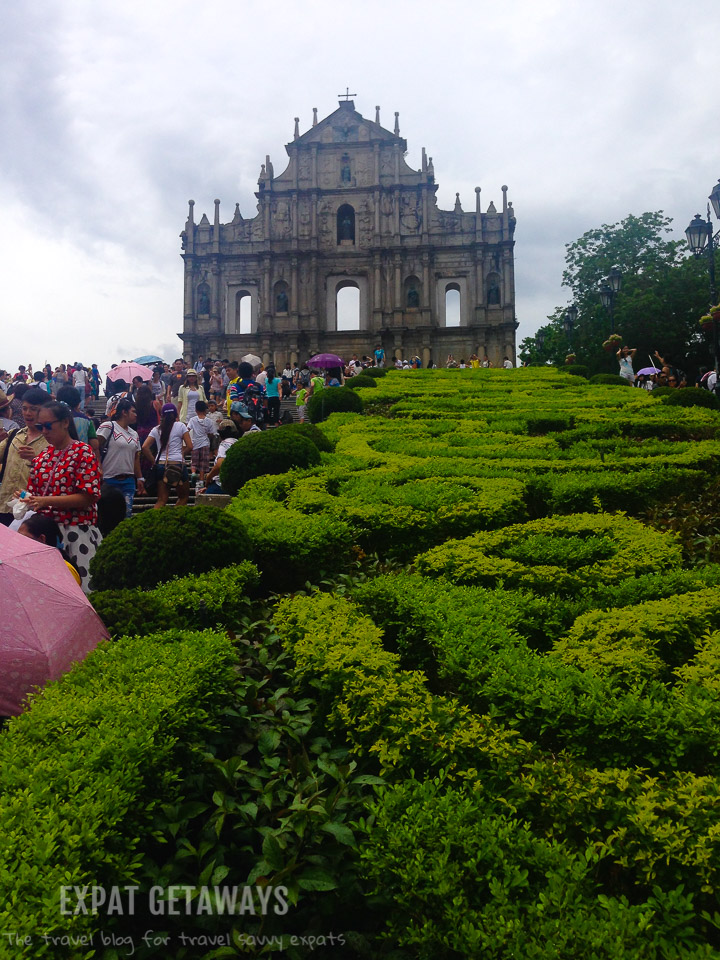 3. Na Tcha Temple
Just behind the ruins you will come across the small Na Tcha temple. It is relatively new (by Macau standards) and was only built in 1888 after a disease outbreak in the colony. The locals believed that if they built a temple they would put an end to the plague.
4. Travessa da Paixão – Love Lane
This pretty little lane will make you feel like you are out for a stroll in Europe rather than Asia. With cobblestone streets, flowers and yellow and pink houses lining each side it is no wonder that couples flock here for wedding photos. There is the added bonus that "paixão" has been misinterpreted to mean "love" rather than "passion" for religion which was the original intentrion. Whoops!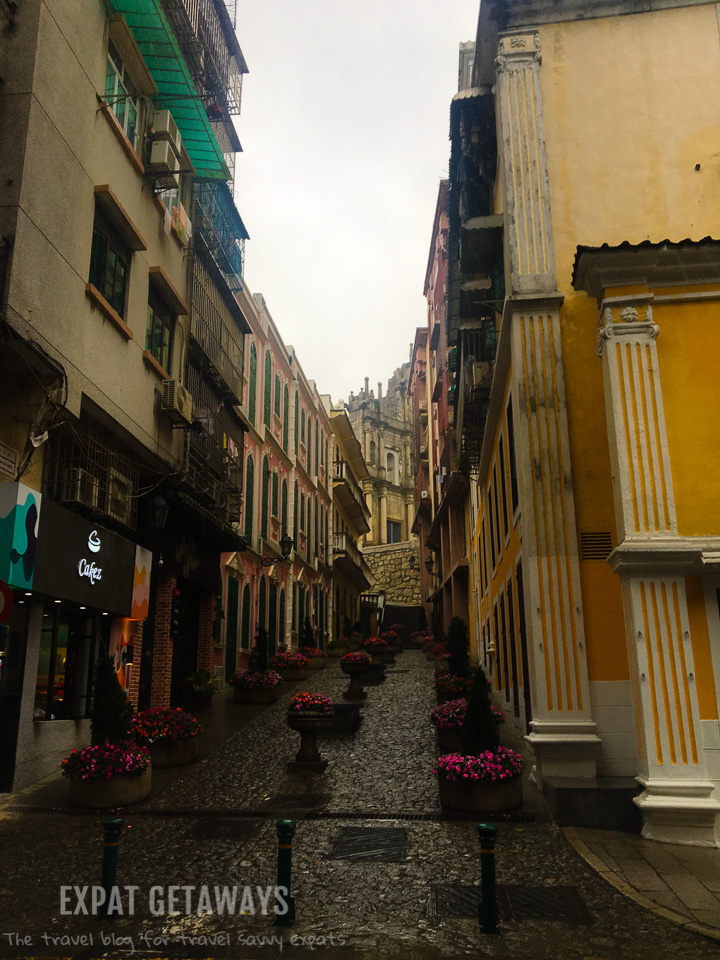 5. St Anthony's Church
This lovely little church is one of the oldest in Macau. Back in 1558, just after the founding of the Macau, it was built with bamboo. Not surprisingly it has been burnt down a number of times and is now built with stone.
6. Camões Garden, Casa Garden and Protestant Cemetery
This lovely little pocket of Macau is beautiful and green. The Casa Garden was once a residence to a Portuguese merchant and later rented to the British East India Company. By the 1800s there were many British Protestants and missionaries in Macau spreading the "good word". Some perished in this far away land and weren't allowed to be buried in the Catholic colony. The East India Company petitioned the Portuguese and bought this parcel of land so their people could be buried with dignity.
Jump in a taxi to Fernando's at Hac Sa Beach. The journey will take you about 30 minutes, over the bridge, past the casinos and onto Coloane.
Restaurante Ferndando is a Macau institution. Down by the black sands of Hac Sa Beach you'll find this little gem. Step inside and you'll be seated at a table with a red-checked tablecloth.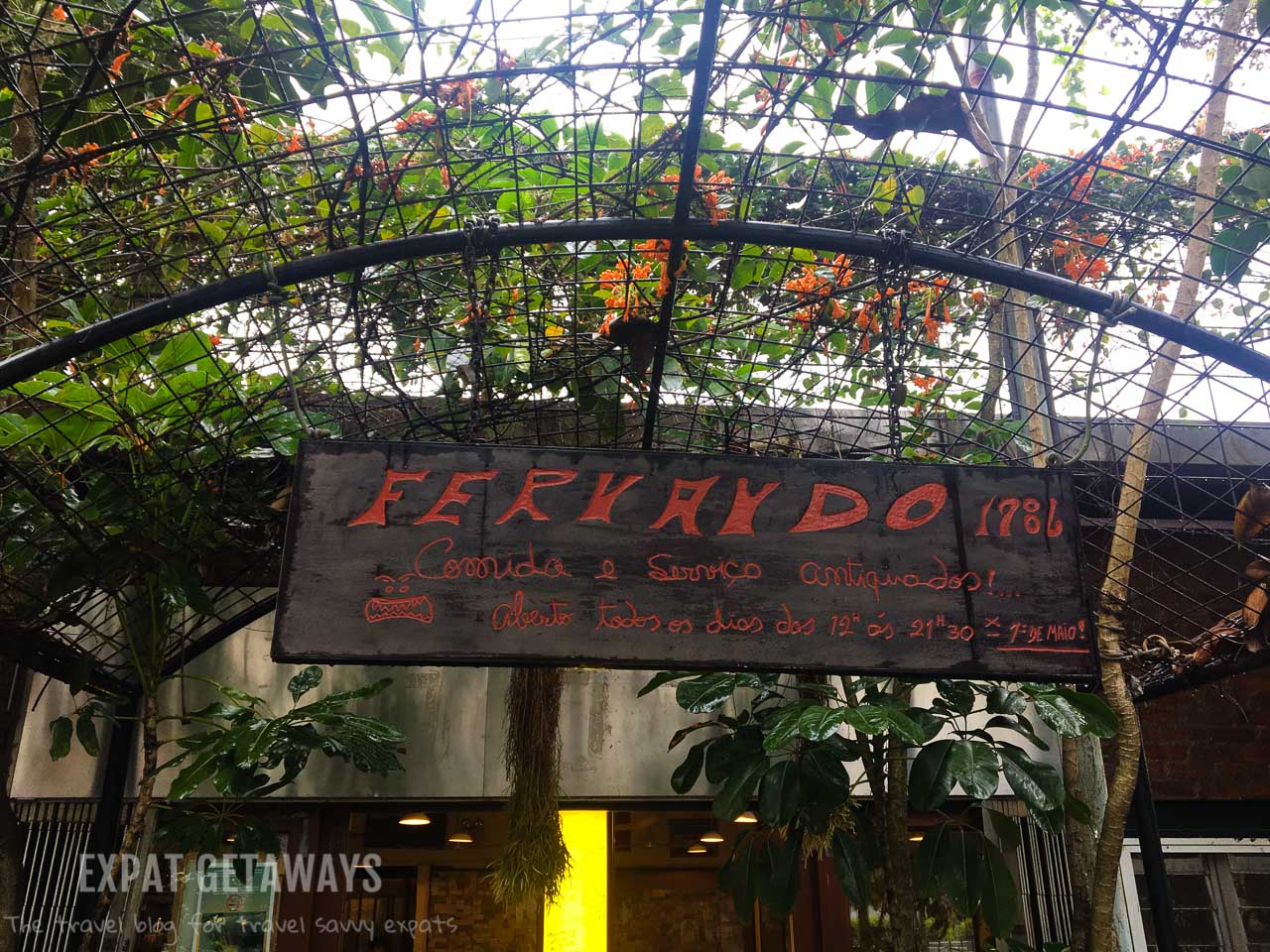 On asking for a drinks list we were told… "oh no we don't have one, but we have drinks!". Wine was served in a little carafe, the beer was one of the best my Dad's ever drunk and the menu was full of favourites which got us reminiscing about our holiday to Portugal last year. Think grilled fish, suckling pig and fantastic seafood served with crusty bread, chips and salad. Delicious!
Be warned- they only take cash and we almost thought we were stuck until we found some leftover Hong Kong dollars in our wallet
Taxi's are also scarce on your departure. Thankfully the bus stop is right outside and will whisk you off to your next stop.
Jump on the 26A bus for a 10 minute ride to Coloane Village. The stop you want is Coloane Village 2, although if you miss this jump off at the next stop and it is a short walk down the hill to town.
Early Afternoon – Coloane Village – 2:00-3:30pm
Coloane Village is a quiet little village far removed from the chaos of the Cotai strip. Go for a stroll along the waterfront, past the colonial pastel yellow Chapel of St Francis Xavier and Coloane Library. Return weaving your way through alleyways and pop into the Tin Hau, Kun Lam and Tam Kong temples.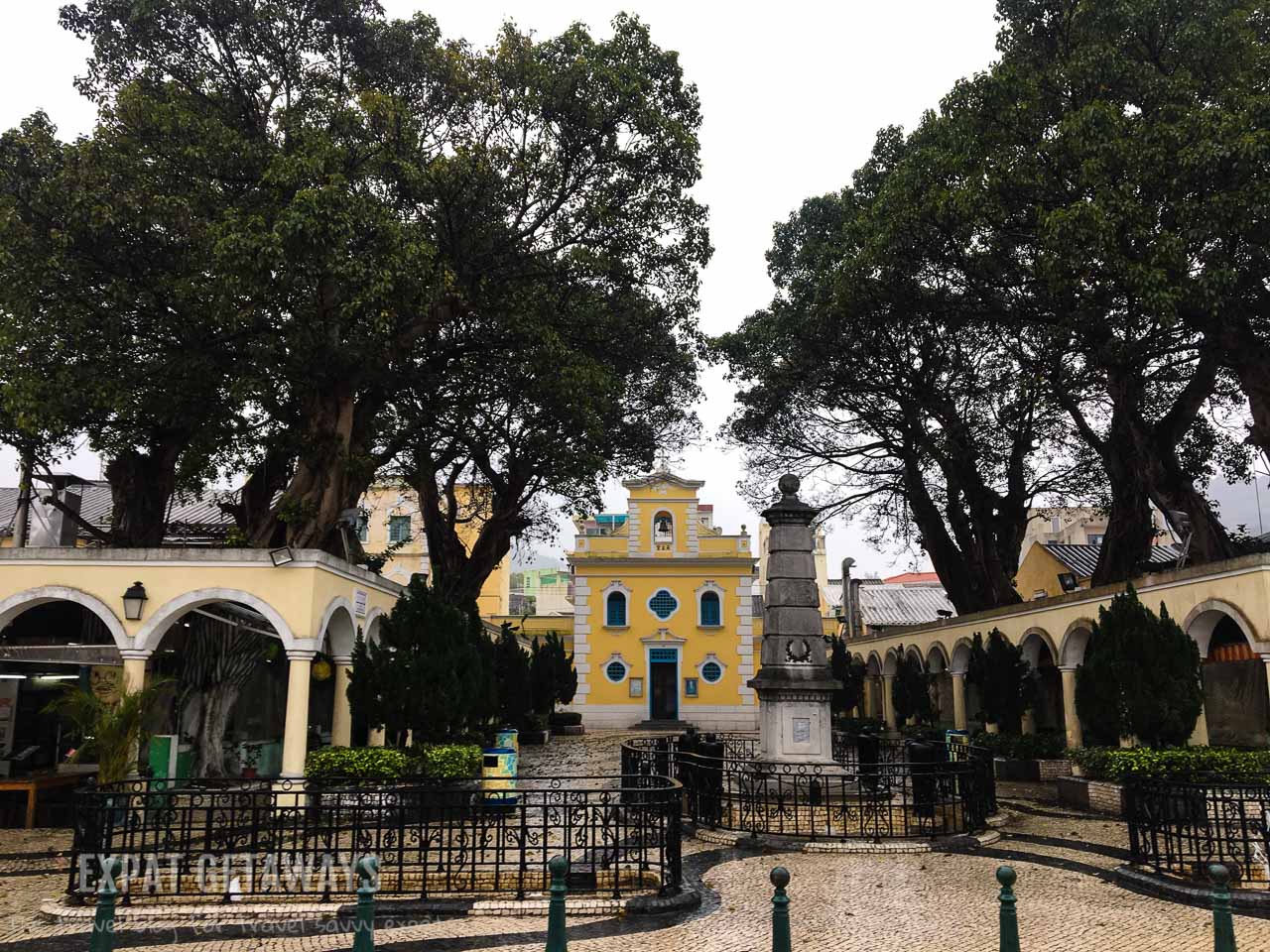 You can't leave Coloane without trying an egg tart from the famous Lord Stow's Bakery. There are branches all over Macau, but this little bakery in Coloane is the original.
Egg tarts are a hybrid dish that have evolved over time. In Macau they are similar to a Portuguese tart with their caramelised top and flakey pastry, but in my opinion a little less sweet and a little more eggy. You'll find egg tarts in Hong Kong too, but these are normally more like a British custard tart, set on top and with a shortbread crust.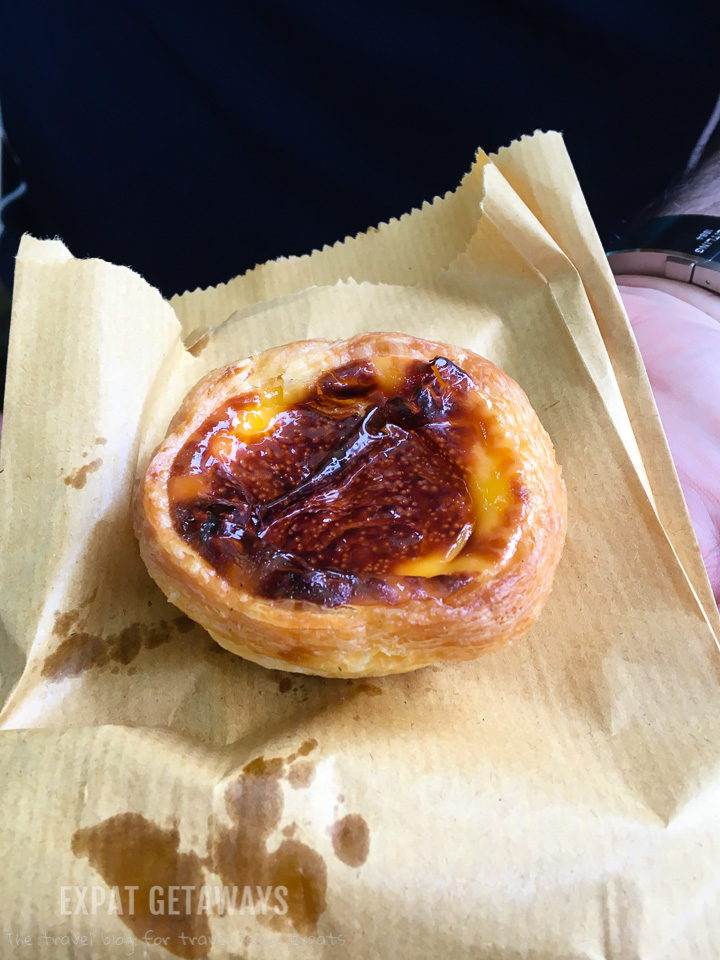 Jump in a taxi back to Macau Peninsula. Ask to be dropped off at Senado Square
Late Afternoon – Historic Macau Peninsula – 4:00-6:30pm
Back on the Macau Peninsula give yourself time to get lost in the maze of squares, lanes and back alleys. Start with the most famous, Senado Square and work your way around from there.
Senado Square
This has been the geographical and cultural centre of Macau for centuries. With gorgeous black and white cobblestones and beautiful pastel colonial buildings you wouldn't believe you were in Asia. Well, except for being surrounded by Chinese people!
If you are here on a weekend expect that something will be going on here. If there is a public celebration to be had this is the place! You'll find a lively buzzing atmosphere at the centre of the action.
Leal Senado Building
The Senate and Municipal Council Building has occupied this site since the late 16th Century, just after the Portuguese occupation of Macau. It has always been a public building serving as a court, prison, museum, health centre, post office and municipal office as time has gone by.
If you visit before 9:00pm you can walk through and check out some of the interior architecture including the elaborately carved library and the original courtyard garden at the back.
General Post Office
Take the time to look across the square at the beautiful General Post Office building. It was built in 1929 and still serves as the post office today.
2. St. Dominic's Church
I know you've seen a lot of Churches and temples today, but the claim to fame of St. Dominic's is that it was the first church in China. The original was built in 1587 out of wooden boards and of course there have been many renovations over the years. The current church was built in the early 17th Century and houses a small museum as well as the main chapel.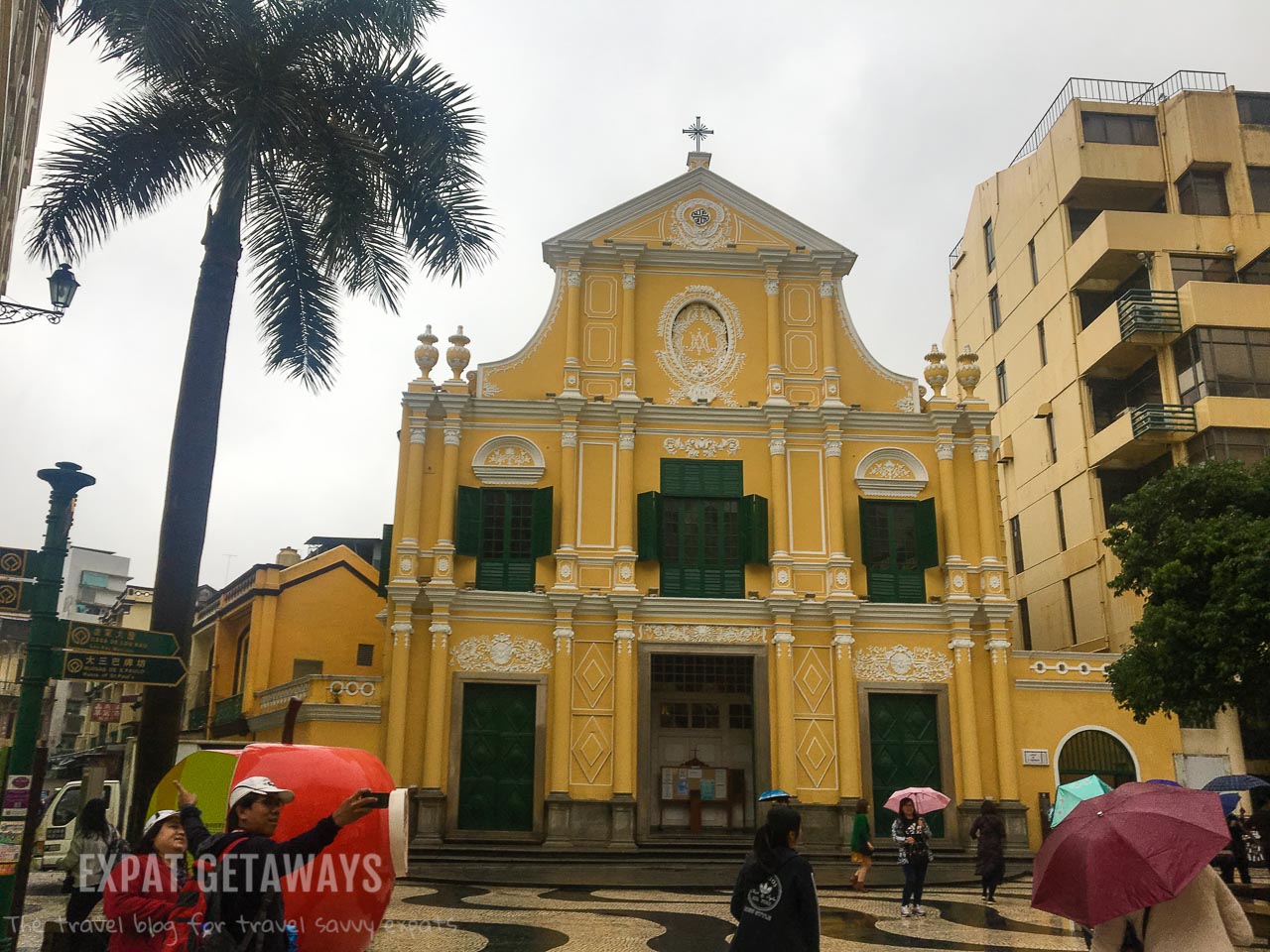 Take your time looking down little alleyways as you follow the route. Along the way you'll spot tiled murals dating back hundreds of years.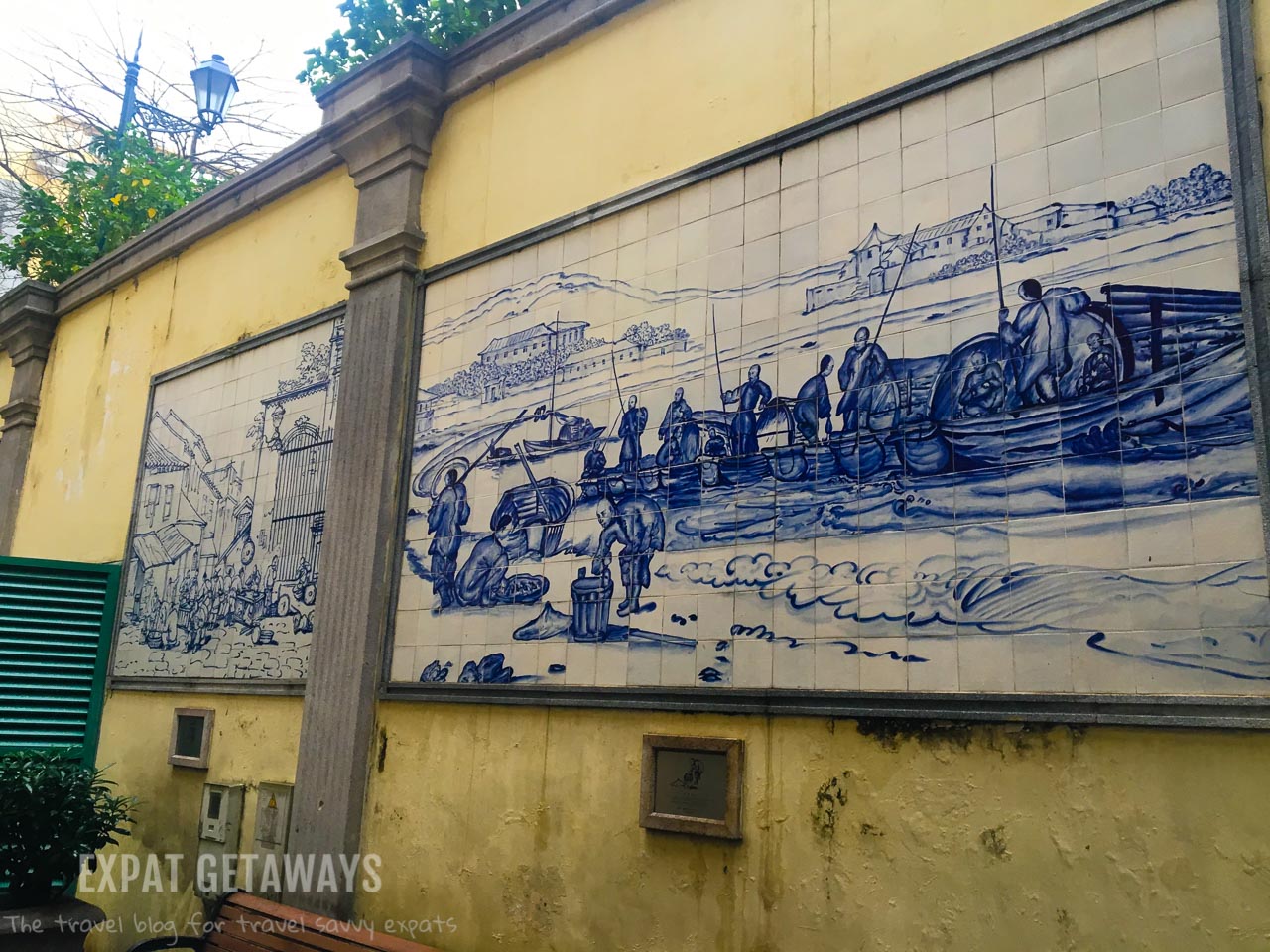 3. Heritage Pawnshop
All over Hong Kong and Macau you will see the famous pawnshop symbol hanging outside buildings. It isn't often however that you see one in it's original tong lau building. This shop was originally owned by a rich merchant and it has now been restored and converted to a museum. Pop inside and take a look at how these businesses were run in years gone by.
4. Happiness Street – Rua da Felicidade
Take a minute to glance down the appropriately named "Happiness Street". Of course with a name like this it would be home to Macau's seedy former red light district. I'm sure there were many happy customers.
5. Inner Harbour
The inner harbour mostly caters towards cargo now, but historically it was where the merchants had their piers. When the Portuguese first came to China, Guangzhou (or Canton as it was then called) was the only city open to foreign trade. Foreigners were barbarians after all and there was no way the emperor was going to let them too far into China. Macau was founded by the Portuguese and later used by the British as a springboard into Canton to trade. This harbour was at the heart of it all!
6. Opium House
The problem with the Chinese-European trade was that the Chinese demanded silver in return for their silks, porcelain and importantly for the British, their tea. Heard the saying "not for all the tea in China"? That comes from this era.
The British were buying too much when they'd rather trade. The Chinese didn't want anything the British had to offer. tThe British looked around their expansive empire and thought the Chinese might like a taste of opium growing in their Indian territories. The Chinese decided to declare their "war on drugs", sunk the British opium barrels in Canton and enraged the world's leading naval supremacy.
That is the nutshell version of the outbreak Opium Wars which would eventually lead to the British colonising Hong Kong. The Opium House here in Macau was an old waterside warehouse used to store the opium destined for China.
7. St Joseph's Church and St. Lawrence's Church
These beautiful churches are not to far away from one another in a fairly wealthy part of Macau, hence their scale. St Joseph's has been a pilgrimage site for many a missionary over the year and houses a precious relic- a bone from the arm of St Francis Xavier.
St Lawrence's sits on a hill overlooking the sea and is said to protect fisherman and sailors from storms. Pretty important when living in a port town and fishing hub like Macau!
8. Lilau Square
The name of this little square means "mountain spring" and this was the source of drinking water in Macau during the early Portuguese settlement. They say that "anyone who drinks from Lilau will never forget Macau".
9. Mandarin's House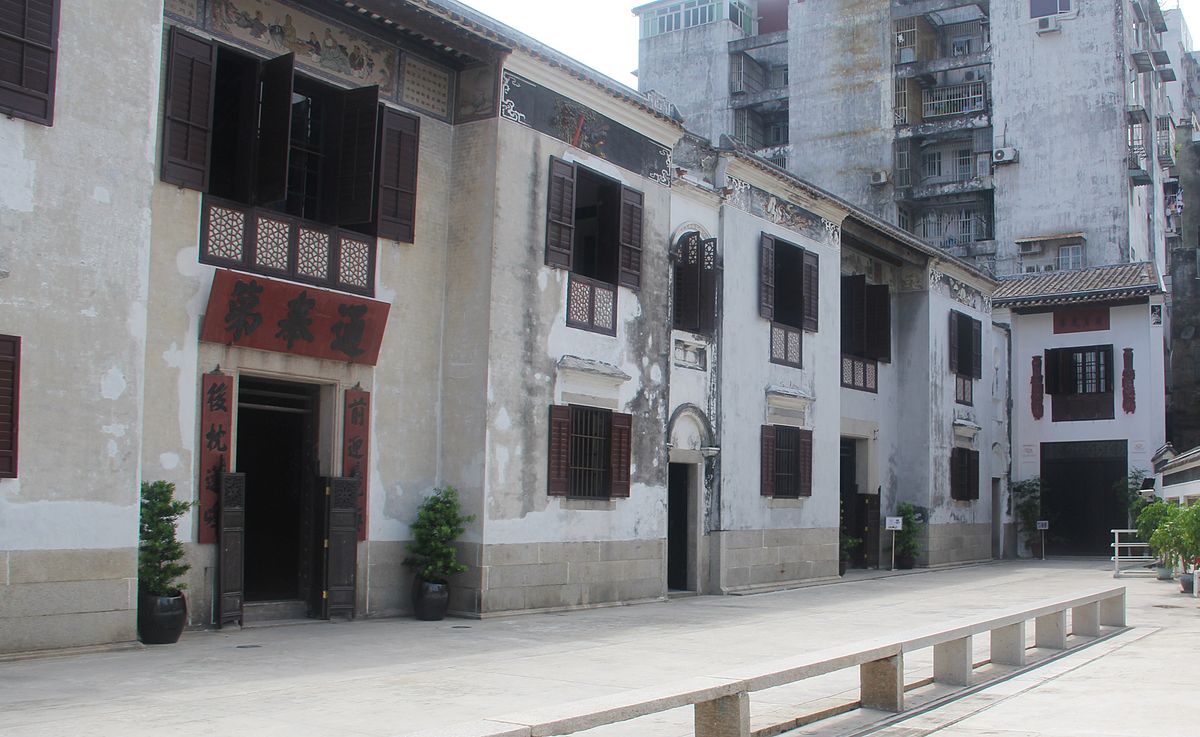 Your last main site to wander past was the home to Zheng Guanying, an ideologist who wrote several acclaimed masterpieces while living here. The building itself is unique in that it is predominately Chinese in style, with western influences creeping in.
Just as the Ruins of St Pauls are western with a little bit of eastern, this is the opposite.
After visiting the Mandarin's House make your way towards Rua da Praia do Bom Parto.
10. Waterfront, Lago Van Nam
The strolling along the waterfront of Van Nam Lake certainly puts Macau in perspective. Having spent the day taking in Portuguese churches, Chinese temples and the vast colonial history you'll now have a view of the modern Macau Tower, Grand Lisboa and Wynn Casinos.
Dinner – Clube Militar de Macau – 7:00 pm
Time to put your feet up and imagine a bygone era at the pink pastel Clube Militar de Macau. The service was average, the food was good and the wine fantastic.
As we ate I imagined the role of a club like this on daily life in years gone by. The club was founded in 1870 at a time when Macau was well and truly established, but was rapidly being overtaken in importance by Hong Kong. The club would have been the centre of social and political life for Portuguese in the colony.
Take the opportunity to use the downstairs bathroom facilities so that you can view all the historic photos on the way, and sneak a peak into the private clubroom.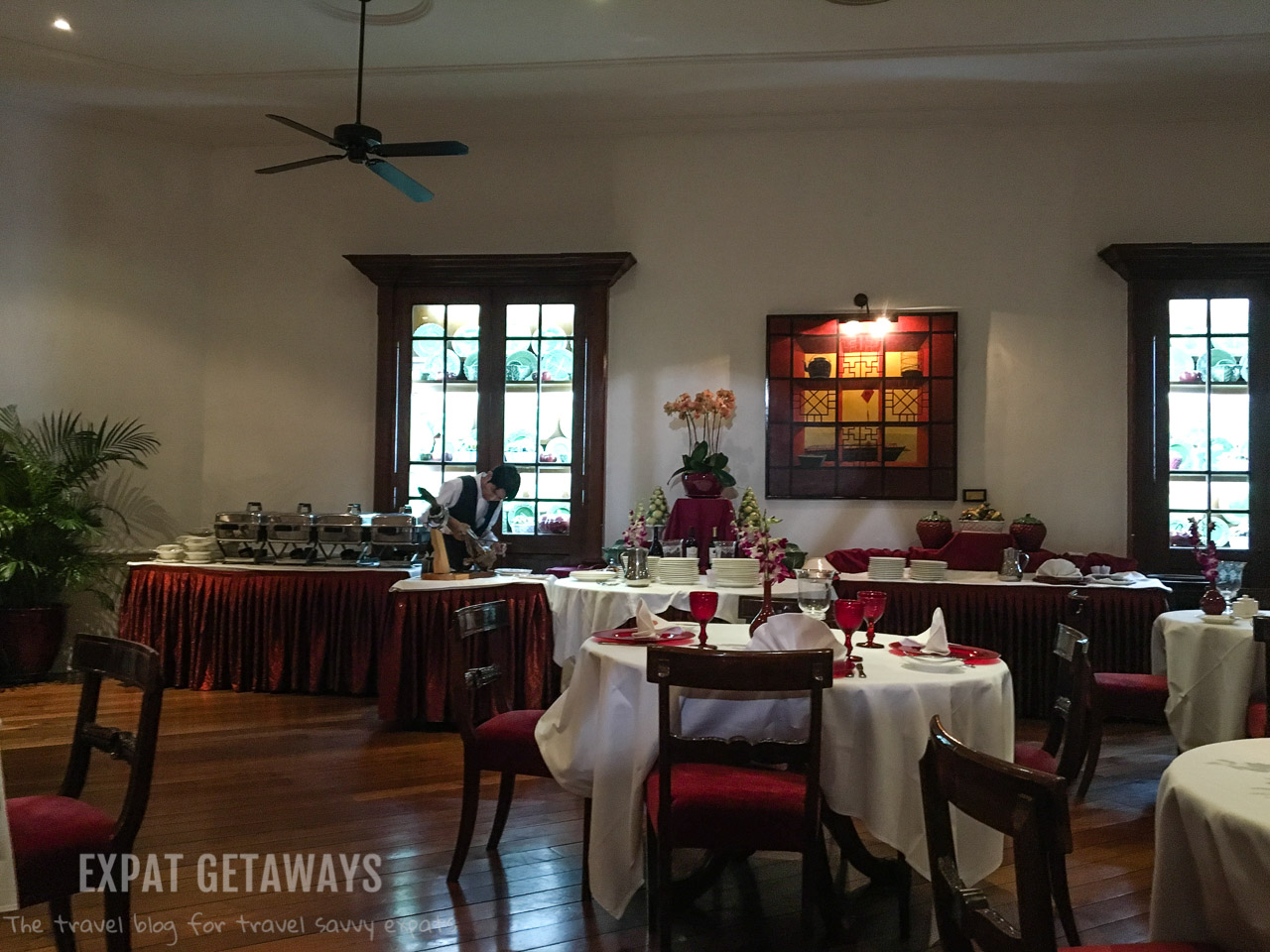 Make sure to reserve your table in advance. Phone: +853 2871 4009
After dinner take a taxi to the Ferry terminal for your return to Hong Kong. This should only take 5-10 minutes.
Know Before You Go
Extra Time
If you've got the time, plan a night or two stay in Macau. This way you can go at a more leisurely pace and take the time to take it all in.
There are also some fabulous shows. My favourite is the House of Dancing Water which combines ballet, diving, acrobatics and everything in between. For the best seats in the house book your tickets in advance.
Ferry from Hong Kong
There are two ferry terminals to Macau- one in Sheung Wan on Hong Kong Island and the other in Tsim Sha Tsui on Kowloon.
Start as early as possible and aim to be on a ferry no later than 8:30am. I always book tickets in advance, especially during peak periods, through Turbo Jet. If you arrive early you can always go standby for an earlier ferry. To arrive close to the centre of town book your ticket to Macau Outer Harbour (rather than Tapia).
Macau is not the same as Hong Kong (and neither are the same as China)
You will need your passport. Unless you are a Hong Kong resident you will need to fill in a departure card and hand to immigration before boarding the ferry. Likewise on the other end you will need to clear customs and immigration in Macau. Don't worry, most nationalities can enter visa free.
Even though everyone says "oh it's only an hour by ferry" you will need to allow at least two hours door to door once you throw in picking up tickets and immigration formalities.
Money
Again, Macau is not the same as Hong Kong! They have their own currency called the Macanese pataca or MOP. The exchange rate is similar to Hong Kong and many shops that cater to tourists will accept Hong Kong dollars. It is always good to have some local currency on hand just in case.
Avoid Weekends and Holidays (if you can)
Macau isn't just a popular day trip for visitors to Hong Kong, but also for locals. Weekends are especially busy with visitors from both Hong Kong and mainland China.
Weather
Ok so you can't control the weather. If it is raining all day this itinerary won't be very fun. It rained all day on our visit (as you can probably tell from some of the photos) and it didn't make for the most pleasant sight seeing.
Love it? Pin it!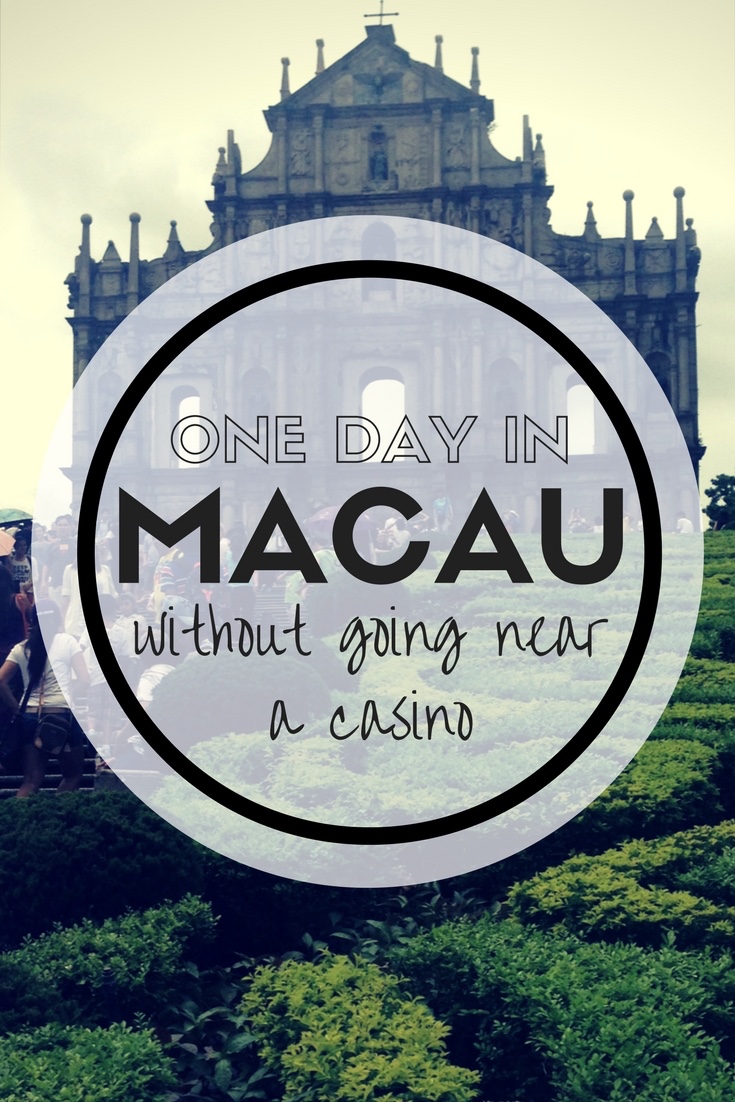 Expat Getaways endorses a policy of full disclosure.  This getaway was not sponsored or paid for by any company mentioned, and all views and opinions are solely those of the author. This post may contain affiliate links. This means that I may get a small commission at no extra cost to you. I only recommend products that I use and love myself, so I know you'll be in good hands.
Comments
comments