I've been looking forward to visiting George Town for a long time. With a world heritage listed old town I figured there must be something worth seeing. On hearing about the street food scene it moved quickly to the top of my must do list! Have you been to George Town? Let me know your favourite spots in the comments below.
Ideal Itinerary– 3 nights
Day 1: Arrive, explore the old town
Day 2: Food tour
Day 3: Seek out street art and heritage sites
Day 4: Depart
Thankfully Penang is a direct flight from Hong Kong perfect for a quick getaway.
Penang International Airport is small and easy to navigate so it wasn't long before we were in a taxi for the 45 minute drive up to George Town. As we drove further I was left wondering where this historic old centre that I'd heard so much about was hiding. Next thing we turned a corner and the streets were filled with gorgeous terraces. All date back to before WWII with most built in the late 19th Century. Some were shells, just their crumbling walls left standing, while others, like our beautiful hotel Seven Terraces have been stunningly restored.
Seven Terraces
I would recommend Seven Terraces to anyone travelling to George Town. Yes it is a bit on the pricier side for Malaysia, but comparable to what you pay around the world for a hotel of this standard. It was originally constructed in 1893 and now lovingly restored. We didn't have time to take the hotel's guided tour but I'm sure it would be fantastic. Even when relaxing with a cuppa (or cocktail) by the pool I felt immersed in the culture of the city.
Street Food
Our main goal was to spend our days wandering and eating so we booked a food tour with American expat Robyn Eckhardt who writes the blog Eating Asia. The food was nothing short of fabulous and we loved learning the lay of the land and her favourite street food vendors.
Most of the population in Penang have Chinese ancestry and I was a bit concerned about being served up the same food I eat daily in HK. I should have realised that with hundreds of years of history the fusion of Indian, Malay and Chinese foods is unique to Penang and the dishes incredible. My absolute favourite was the Hokkien Mee, a prawny broth with Hokkien noodles and fresh flavours. There were all kinds of dishes from noodles to soups to curries to sweets.
Street Art
Well fed we spent our afternoon exploring the street art scene. This is something I've not seen in other heritage areas around the world. Modern murals and 3D art alongside historic world heritage architecture. The juxtaposition is striking and really draws you in.
Photography
My husband is a budding photographer so I booked him time with the other half of the Eating Asia blog- Dave Hagerman. Dave has sussed out the best angles for shots, established relationships with local vendors so we could get behind the scenes and freely imparted his tips and tricks of the trade.
| | |
| --- | --- |
| | |
|  Andrew prepping for the shot.. |  And the end result! |
Andrew spent the afternoon editing photos and with all the walking I took myself off for a quick foot massage. By then it was time to work out where to eat again!
On Robyn and Dave's recommendation we headed to Tek Sen. This place certainly had a reputation to live up to and the queue out the door of locals and tourists was a good sign. Boy did it deliver! Double roasted sticky pork, giant prawns in tamarind, potato leaves with shrimp and chilli, fish in claypots – there was so much to choose from and it was all delicious!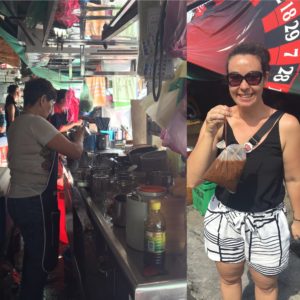 With so much on offer here are some of our favourite local specialties:
Kopi Beng- iced coffee sweetened with condensed milk
Hokkien Mee- hokkien noodles in a seafood broth
Curry Mee- a mix of yellow and white noodles, curry broth and fresh herbs
Char Kway Kak- thick noodles, eggs, pork fried up in a giant wok and served in a banana leaf
Tiffin- an Indian dish of sweet fried dough to dip in chutneys
Coconut tarts
Nasi lemak- rice with a variety of accompaniments
Accommodation
This is part of the George Town Heritage Hotels group with the other properties also being in restored heritage buildings
Food
Chinese/Malaysian: Tek Sen
Indian: Woodlands Vegetarian and Sri Ananda Bahwan
Malay/Indonesian: International House
Upmarket: Kabaya (at the Seven Terraces Hotel)
Tours
Eating Asia- Food and Photography Tours
Transport
From Hong Kong
Dragon Air- daily
From Singapore
Silk Air, Jetstar, AirAsia and Tiger all have daily flights
The rest of the world
Connect through Kuala Lumpur or Singapore to Penang
Photographs
Almost all photography is courtesy of my lovely husband over at Andrew Mizzi Photography. Be sure to check out his website for info on his camera kit, to purchase prints and of course more stunning photographs from this trip and our travels around the world. His Burmese series of photographs 'Mingalabar' is specifically from this trip.
Love it? Pin it!
Expat Getaways endorses a policy of full disclosure.  This getaway was not sponsored or paid for by any company mentioned, and all views and opinions are solely those of the author.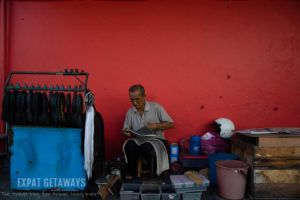 Comments
comments