Bangkok is a popular stopover for many tourists visiting Thailand and is the gateway to South East Asia. In fact, it was the first place I ever travelled to as a naïve teenager fresh out of high school! It can be overwhelming for the first time traveller and many leave remembering only the heat, chaotic traffic and questionable smells as they wander the streets.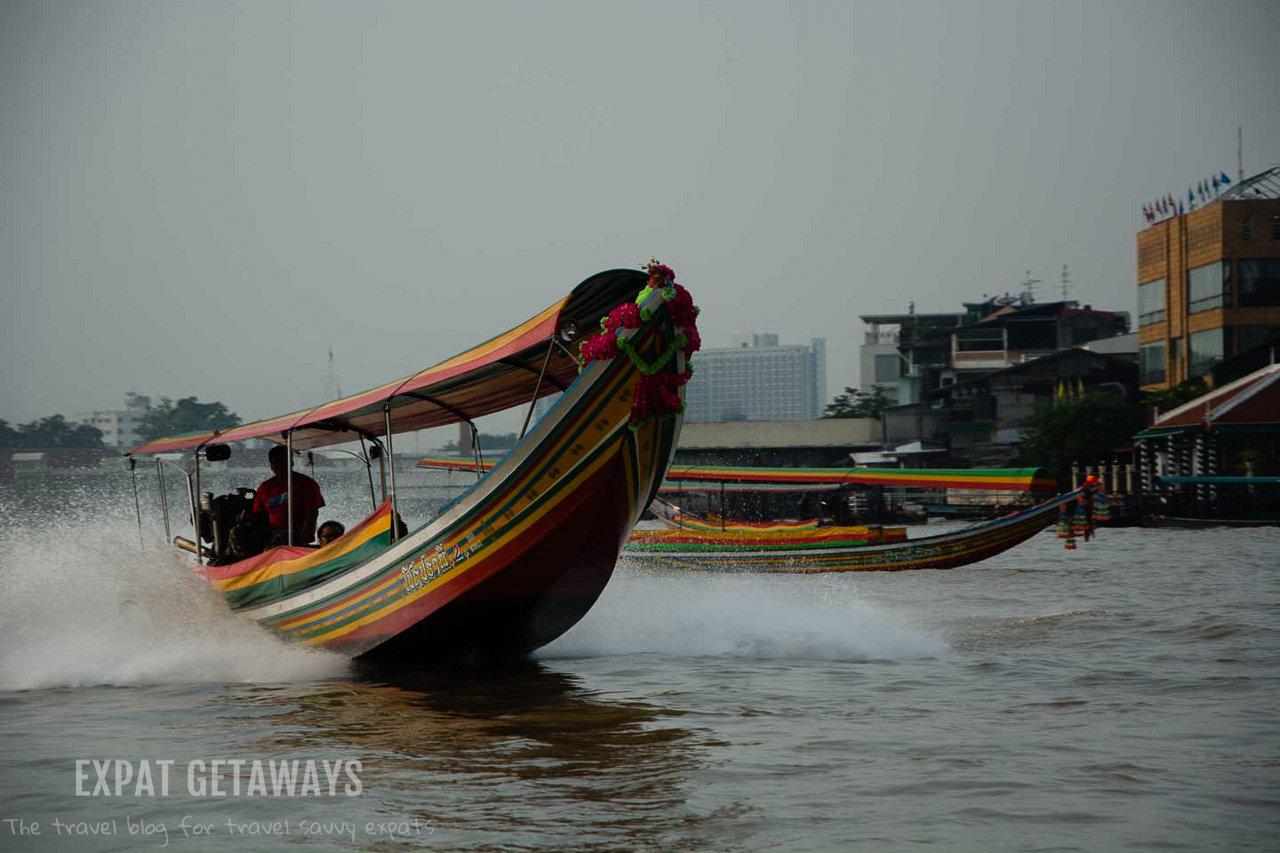 With this in mind I've come up with some essential boxes to tick for the first time visitor.
✓Grand Palace
✓ temples
✓drink cocktails with a view
✓eat amazing Thai food
✓markets
✓enjoy a Thai massage
What did I miss? Add your Bangkok must see places in the comments!
Itinerary – 2 days
Day 1: Grand Palace, Wat Pho, Wat Arun, Jim Thompsons House, and Bangkok Food Tour
Day 2: Chatachak Markets (or the Floating Markets if visiting during the week), Thai massage, sunset cocktails, Patpong Night Markets
Day 1
8:30am
Get an early start today. Get to the Grand Palace early and you will beat the heat and the crowds. The palace is probably the most important landmark to tick off in all of Thailand. Everyone should see it once in their life – it is an icon, it is impressive, it is covered in gold leaf. Do not make the mistake of going in the heat of the day surrounded by every bus tour in the city or you will be hating life and cursing Bangkok.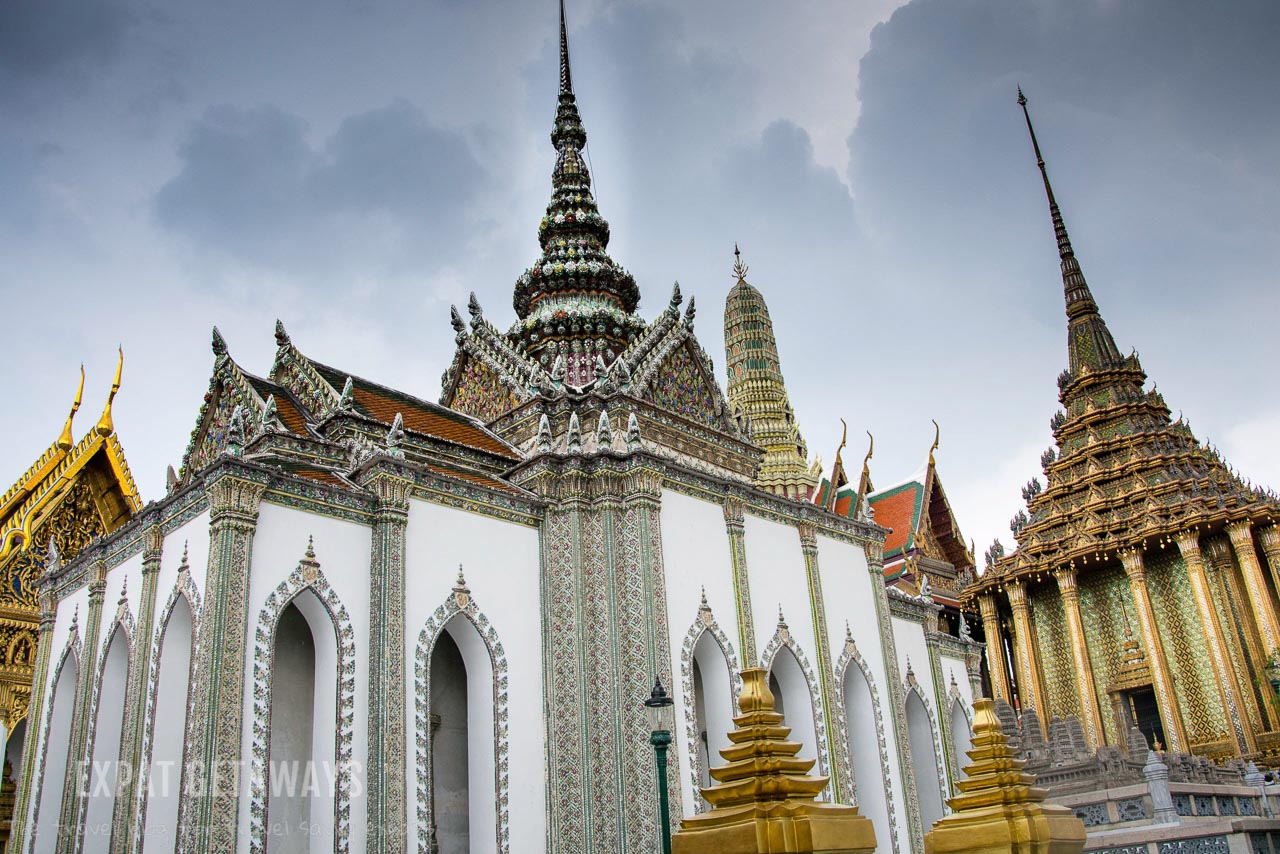 11:00am
Your next stop, Wat Pho is an easy walk from the Grand Palace. Here you will find the impressive 46 metre long, 15 metre high reclining Buddha. And it is indoors. Can you imaging building a shelter this big? It does beg the question of which came first…
12 noon
Head toward the river at Tha Tien. Stop on your way to pick up some lunch at the many street food vendors.
1:00pm
There is a little boat that will take you across the Chao Praya River to Wat Arun or the Temple of Dawn. Some will say that this temple is best seen at dawn like it's namesake, but if you are short on time it is easily slipped in while you are in the area.
** Don't forget to dress appropriately for the Grand Palace and the temples. Everyone must cover their knees and shoulders with loose fitting clothes. **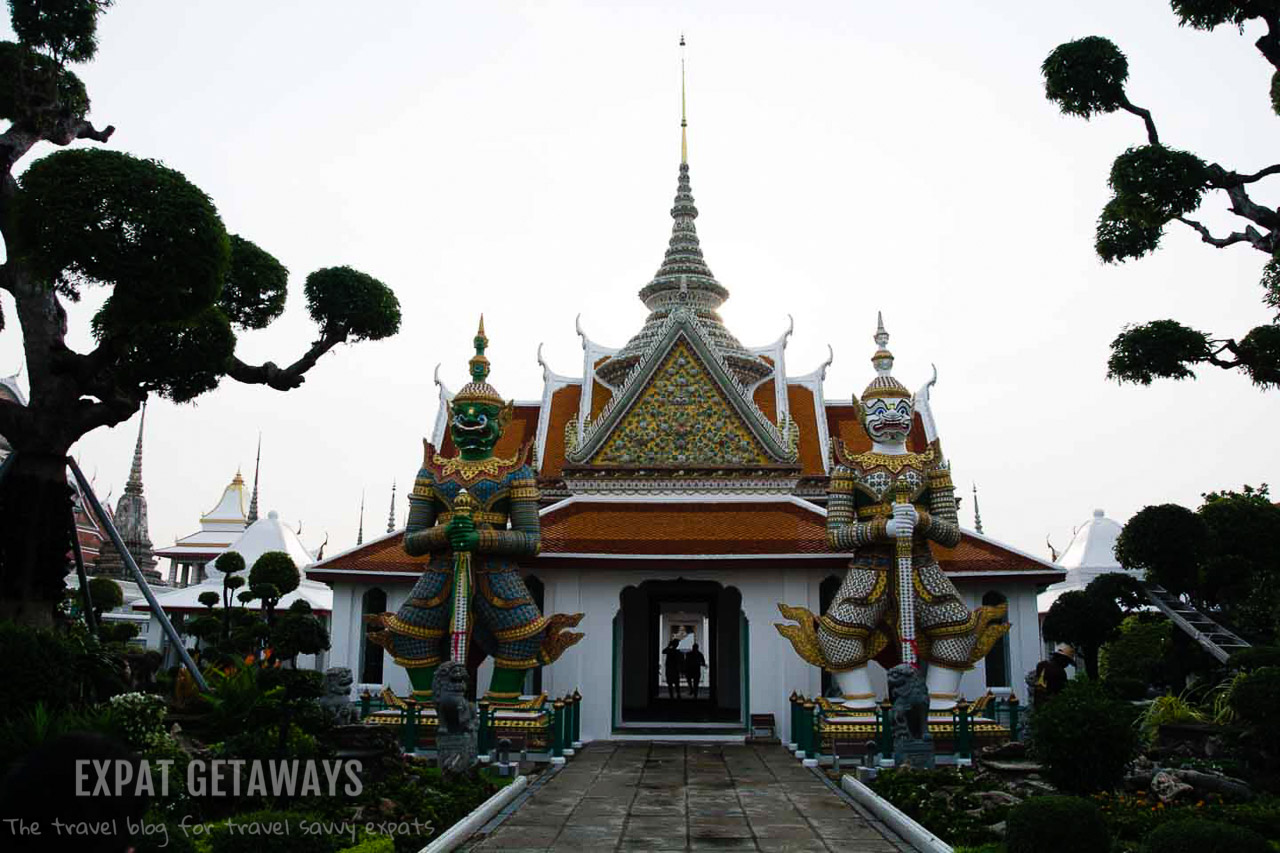 2:00pm
Back on the river do the budget version of a river cruise by taking the ferry down to Sathorn and then transfer onto the BTS Skytrain at Saphan Taksin on the Silom Line. Take this all the way to the last stop- National Stadium.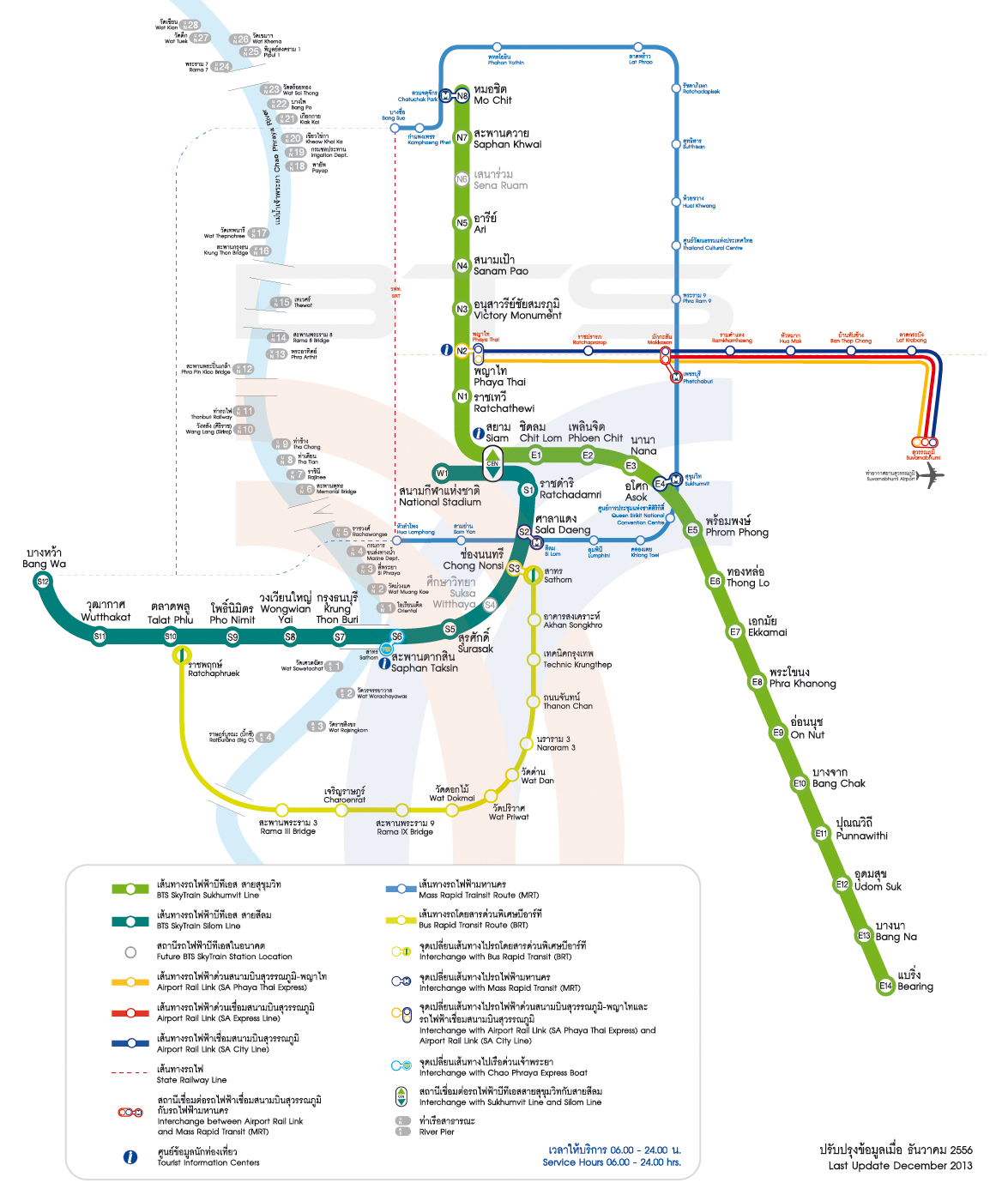 3:00pm
From National Stadium it is a short walk to Jim Thompson House. There are two key reasons to visit this historical landmark. The first is to see some absolutely stunning Thai architecture and gardens. The second is for history buffs interested in a good story…
Jim Thompson is a former American spy who settled in Bangkok after WWII. He is responsible for establishing the Thai Silk Company and introducing the industry to the world market. Then in 1967 he goes on holiday with his friends to the Cameron Highlands, Malaysia. He goes for a walk and never returns!
5:00pm
Head back to your hotel or a nearby bar to give yourself a little time to rest before your evening adventure…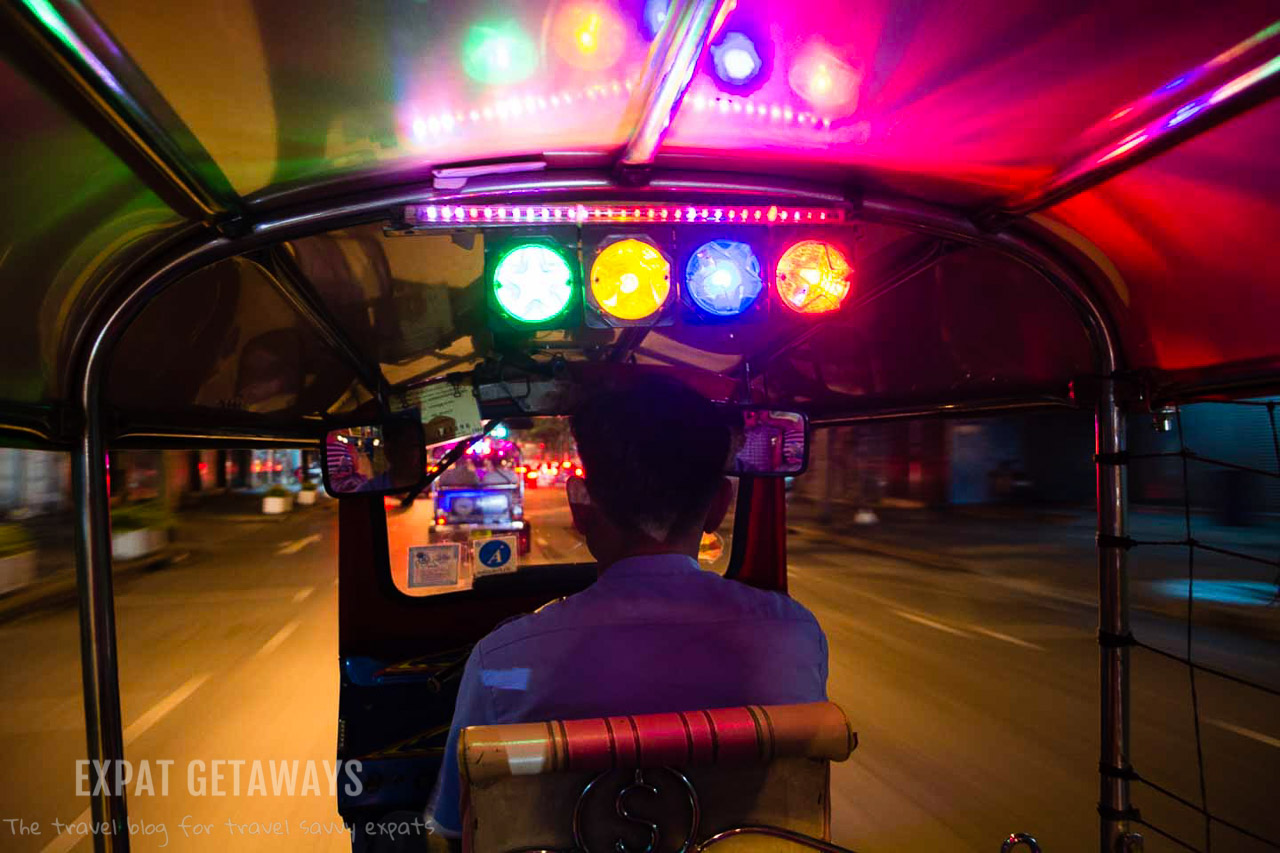 7:30pm
This was by far the best thing we did in Bangkok and I've been raving about it to anyone who will listen! After meeting the group we loaded into tuk tuks and zipped around the city trying the best street food on offer. My new favourite is the guay tiew kua gai, similar to a pad see ew. There were of course favourites like pad thai and mango sticky rice as well as some interesting snacks for the more adventurous in the group.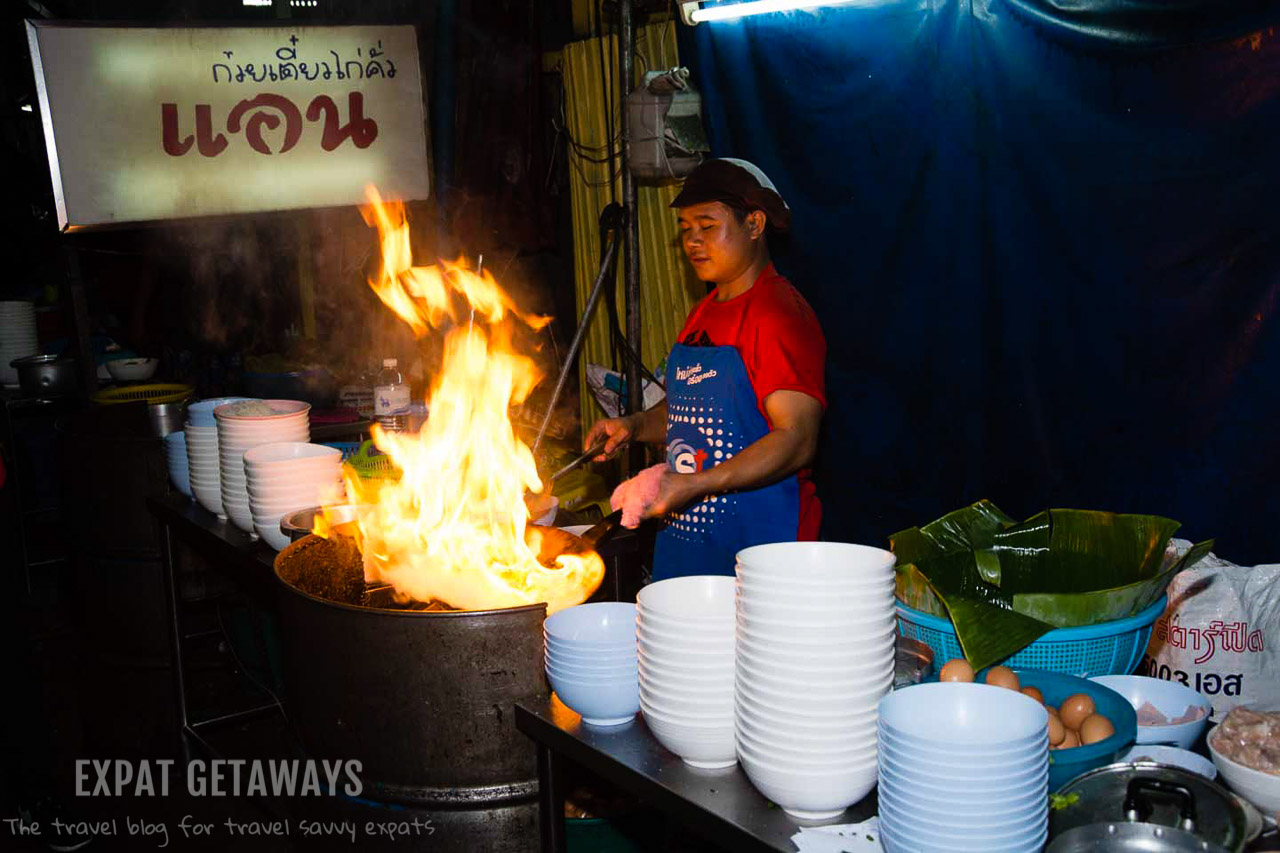 Your tuk tuk drops you back at your hotel at the end of the night once you are stuffed full (and I guarantee you will be).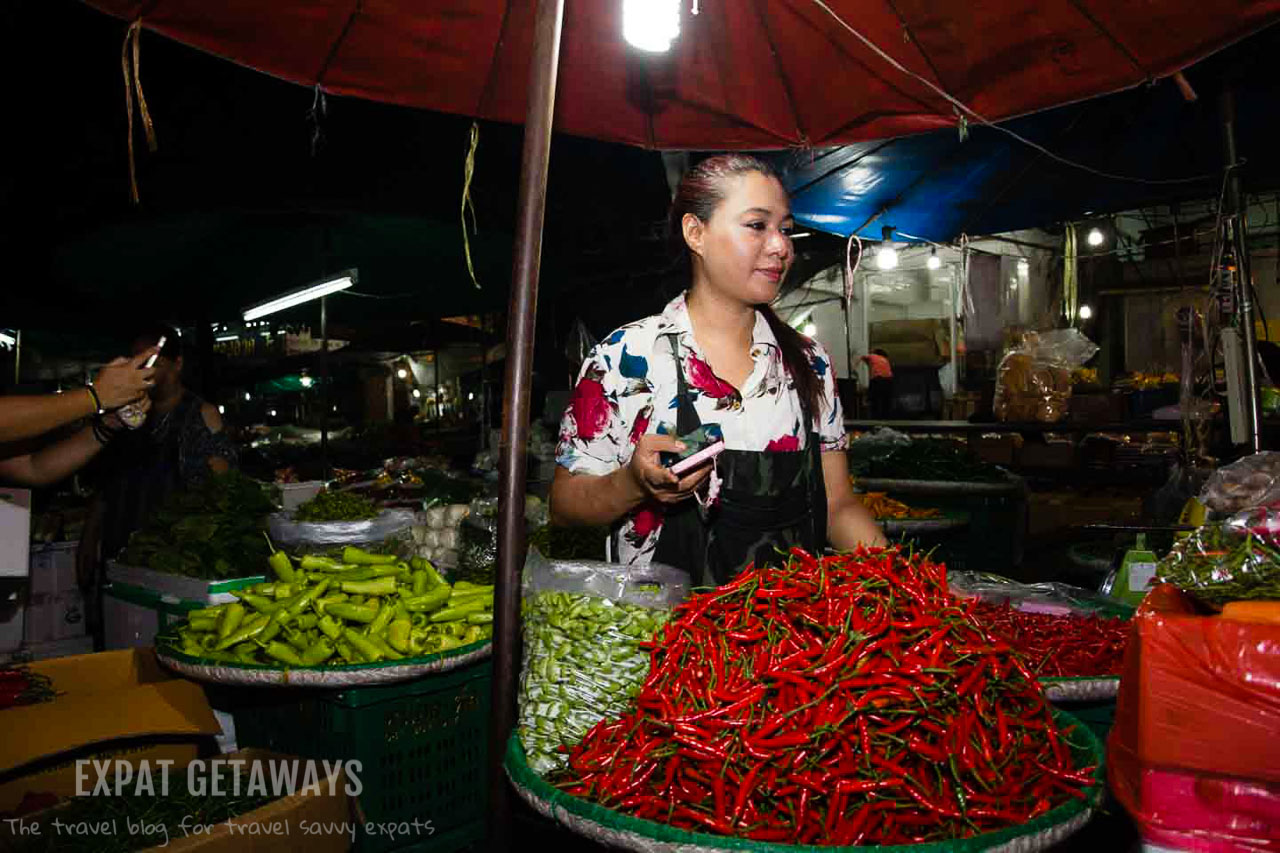 Day 2
Today is the day to shop til you drop!
10:00am
If you are lucky enough to be here on a weekend head out to the famous Chatachak markets. This shopping mecca is over 15,000 stalls spread over 27 acres! You will find wooden carvings, jewellery, clothes, ceramics and every souvenir you can think of from all corners of Thailand.
You could easily spend the whole day exploring the labyrinth of shops so pace yourself by stopping for lunch. There are some excellent food options to keep you sustained especially between sections 6 and 8.
Do yourself a favour by checking out a map of the markets and plan your visit depending on what you'd like to purchase.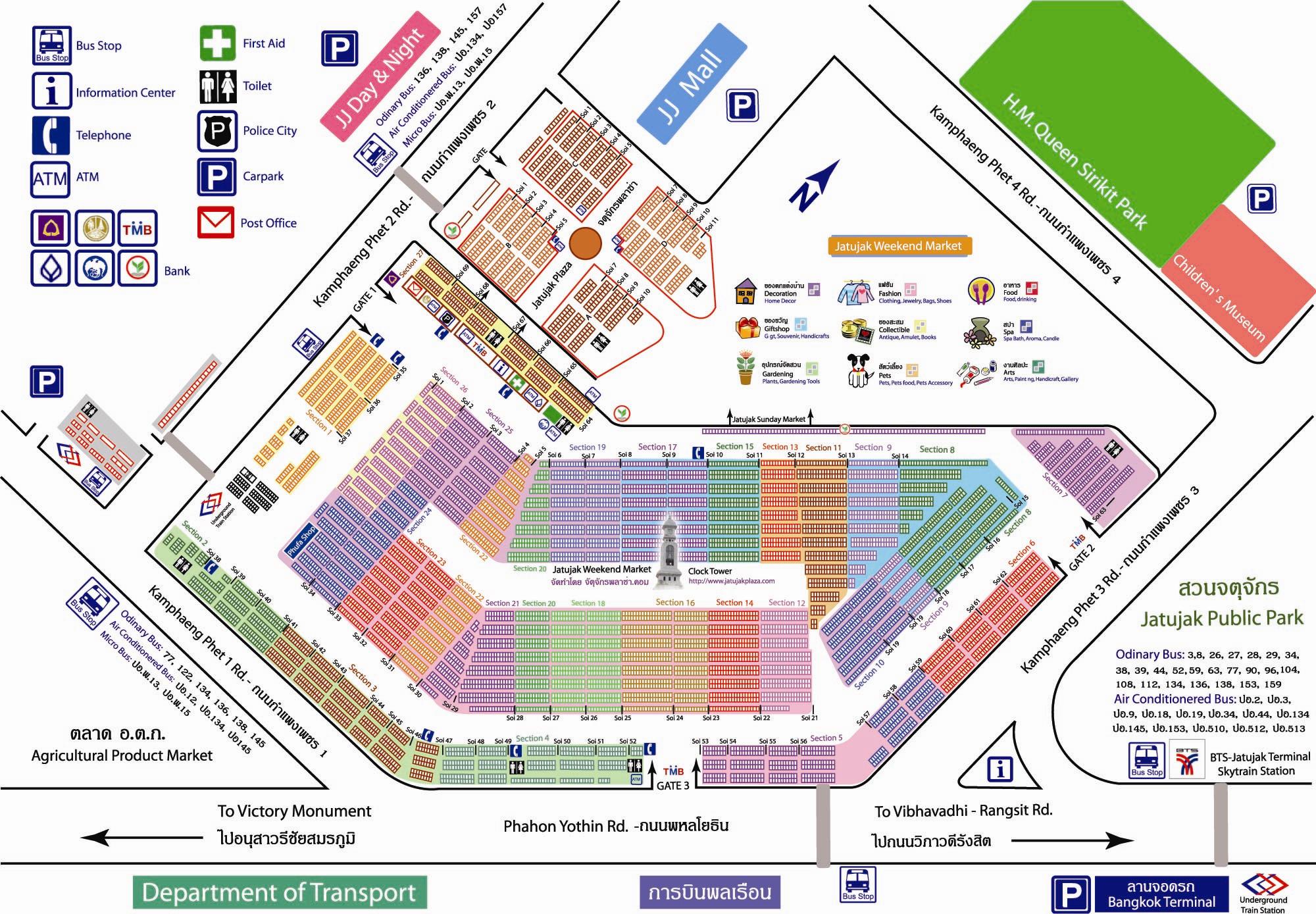 1: Amulets, books, collectibles, food shops, café
2 to 4: Collectibles, home décor, paintings, terra cotta
5 to 6: Clothes, adornments, miscellaneous products
7 to 9: Antiques, furniture, ceramics, handicrafts
10 to 24: Clothes, consumer products, adornments, household appliances, pets
17 to 19: Ceramics, fresh and dry food
22 to 26: Antiques, furniture, handicrafts
27: Books, food and dessert shops, collectibles
If you see something you like bargain hard but also be prepared to walk away. My rule of thumb is to drop the original price by about 60-70% and settle at about a 30-40% discount. If you find yourself haggling over a few Baht, just remember how much that couple of baht means to the shopkeeper and what you are likely to spend on a beer at the end of the day.
The easiest way to get to Chatachuk is to go to Mo Chit station on the BTS Skytrain. There is nothing worse than Bangkok weekend traffic!
3:00pm
Drag yourself away from the shops and get some well-earned relaxation. Book yourself a Thai massage. If you are used to a relaxing oil massage then you are in for something quite different. A tiny Thai will press, stretch and pull you in a variety of directions. It's not for everyone, but definitely something to experience at least once in your life!
6:00pm
It is time to frock up for a fancy night on the town.
Sky Bar at the Lebua State Tower launched to fame after being featured in the Hangover II. I think it is one of the best rooftop bars in the world and the perfect place to enjoy a cocktail in style as the sunsets over Bangkok.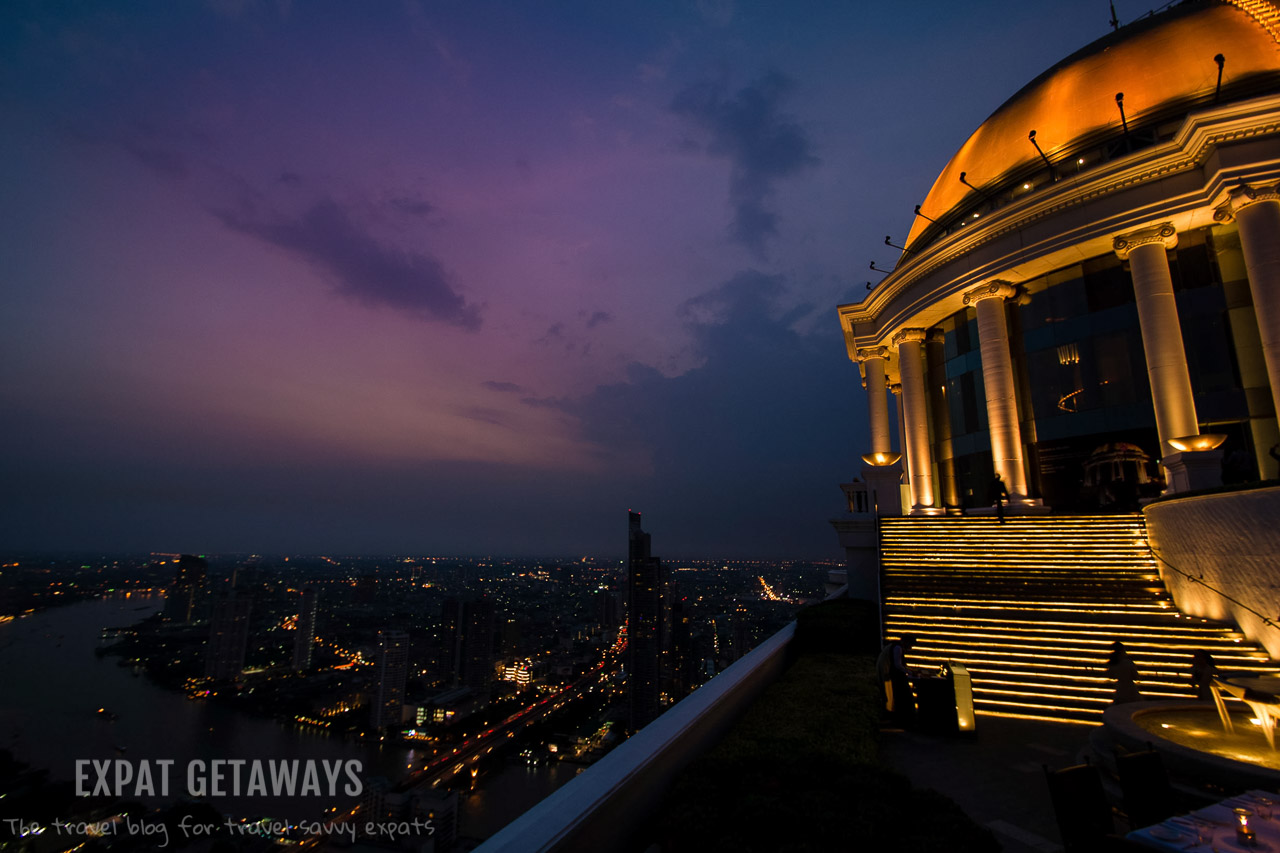 7:30pm
Dinnertime! Many people swear by Sirocco which takes the claim of being the world's highest alfresco restaurant. I prefer the Asian flavours and décor on offer a couple of levels down at Breeze. Make sure you book a table and if it is a special occasion be sure to mention it (or maybe make one up). We felt like the only diners in the restaurant with our own private balcony seat. They even treated us to an extra wine with our tasting menu and a special personalised dessert. All because we mentioned our honeymoon when making the booking!
Tours
Restaurants
$$$ Breeze 
$$$ Sirocco
Transport
Bangkok is an international hub with flights arriving from all over the globe.
From Hong Kong
Cathay Pacific, Hong Kong Airlines, Thai Airways and Air Asia all fly daily
From Singapore
Singapore Airlines, Thai Airways, Cathay Pacific, Jetstar, Tiger and Scoot all fly daily
The rest of the world
Thai Airways is the national carrier with direct flights to destinations including Australia, Canada, France, Germany, Italy, Japan, Malaysia, Netherlands, New Zealand, Russia, U.A.E, United Kingdom and U.S.A.
Expat Getaways endorses a policy of full disclosure.  This getaway was not sponsored or paid for by any company mentioned, and all views and opinions are solely those of the author. This post may contain affiliate links. This means that I may get a small commission at no extra cost to you. I only recommend products that I use and love myself, so I know you'll be in good hands.
Comments
comments