Dubai is perfect layover destination and with one of the world's busiest airports it's no surprise that many travellers find themselves spending some time in this incredible city.
We spent 48 hours in Dubai discovering everything it has to offer.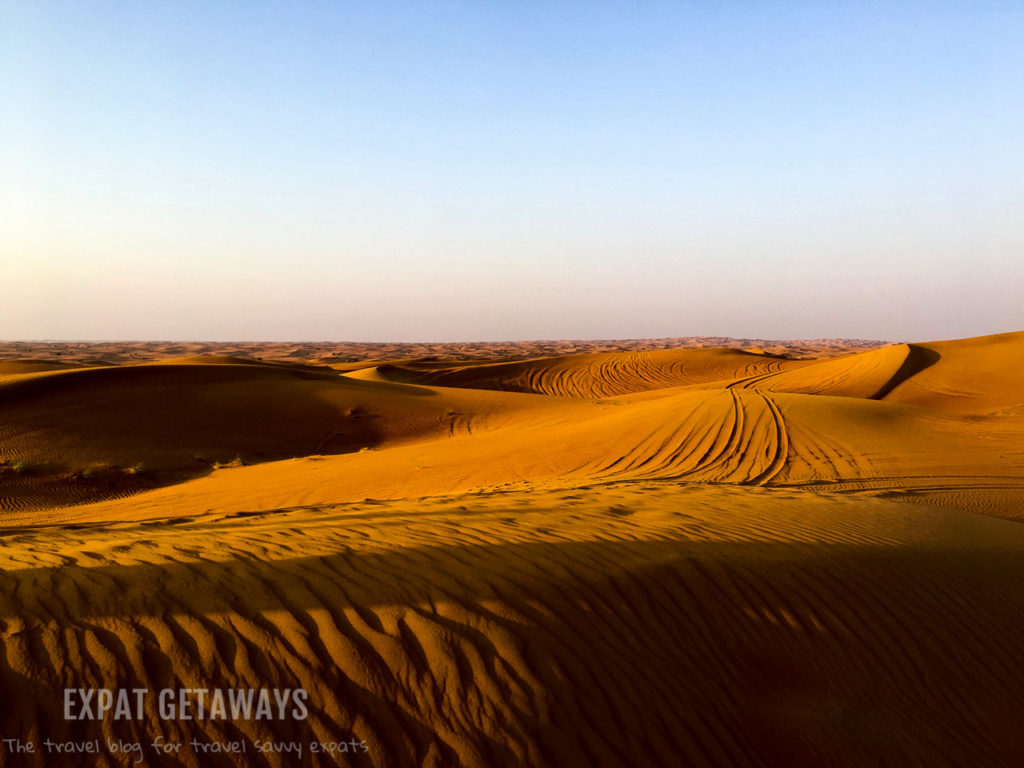 With only two days to spend I put together my must see/do list and came up with the following:
✓ shopping malls
✓ something ostentatious
✓ sand dunes/ desert landscapes
✓ taste Arabic food
✓ meet a local Emirati
✓ see the historic quarter/ gold souk
What did I miss? Add your Dubai must see/do places in the comments!
Itinerary – 2 days
First Day: Dubai Mall, Burj Khalifa and Desert Safari tour
Second Day: Heritage Tour at the Sheik Mohammed bin Rashid Centre for Cultural Understanding, ride an abra across the Creek, visit the gold, spice and fabric souks and finish with a cocktail by the pool.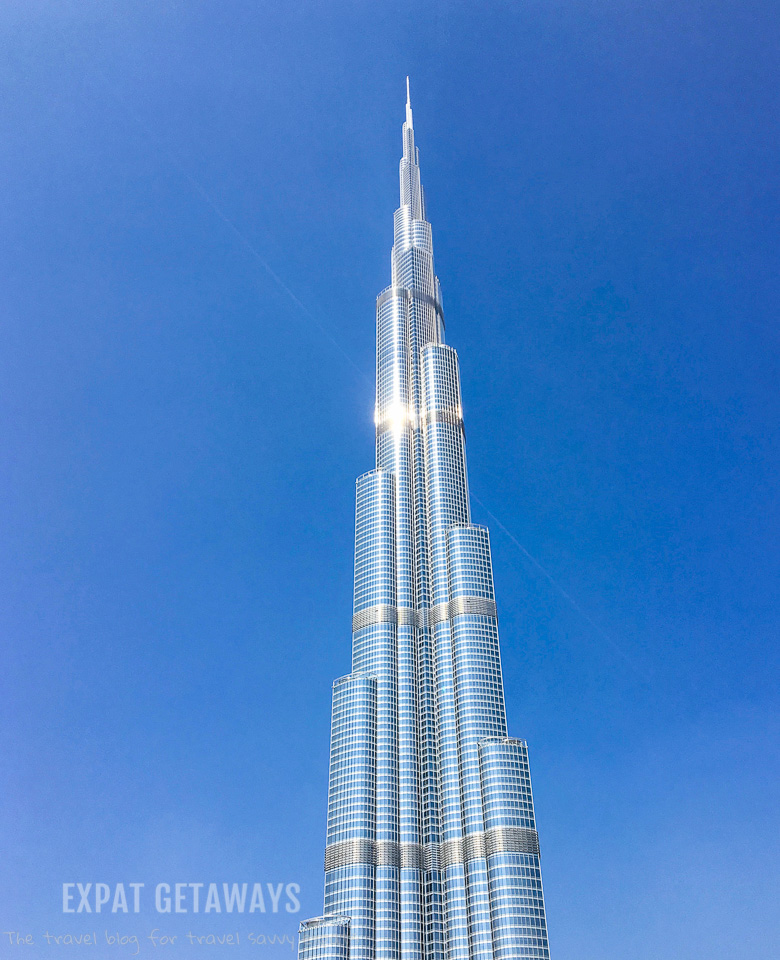 Day 1
8:00am
Take advantage jet lag and the hotel buffet! On day 1 my body was still on HK time so I felt like I had a sleep in and still managed to be up and dressed for a leisurely breakie by 8am.
10:00am
Shops are open and it was time to hit up the world's biggest shopping mall! Dubai Mall is home to over 1200 shops, an ice rink, an aquarium, a luxury hotel and a theme park. You go in knowing it is going to be big, but it truly is absolutely HUGE.
The mall also happens to be next to the world's tallest building – the Burj Khalifa so of course we needed to head into the heat to get a quick selfie. Only downside, the building is so tall you can't get it all in the picture!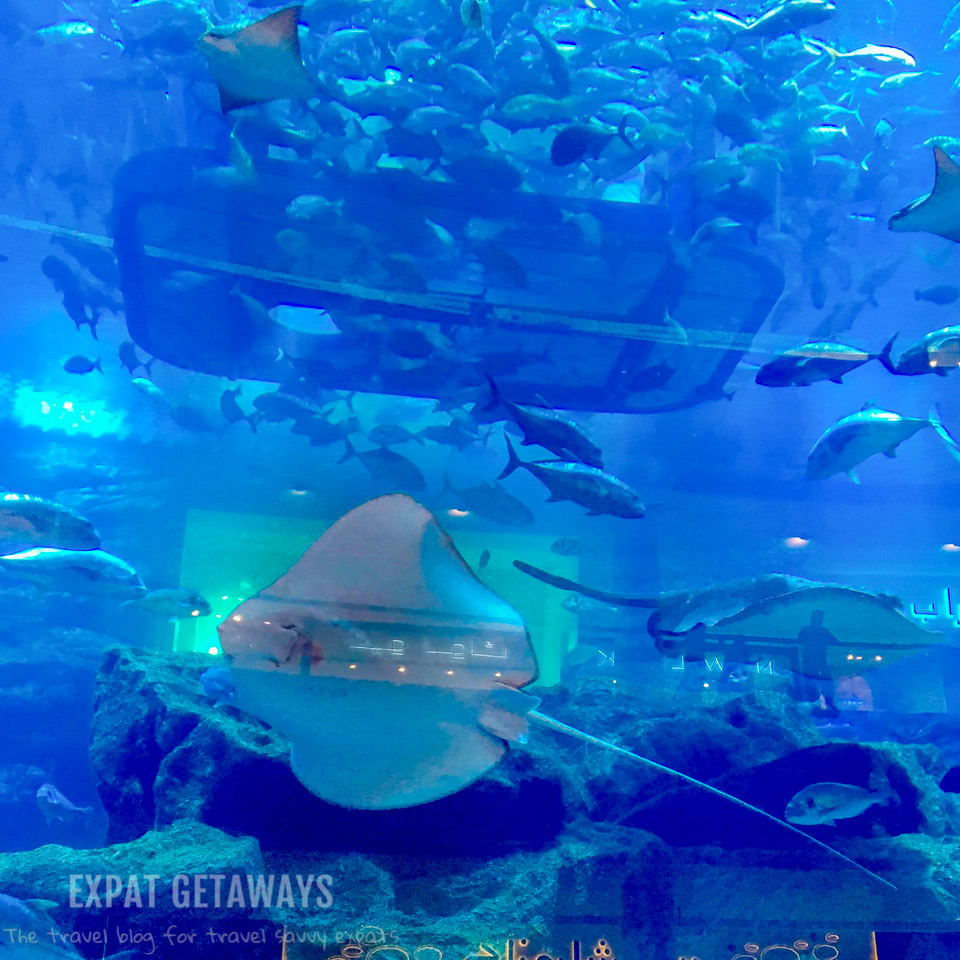 We spent three hours exploring the mall and only saw a fraction of what was on offer. The highlight for me was the Dubai Aquarium with over 300 species including my favourite sharks and rays. I could have watched mesmerized for hours.
2:30pm
Time for the next adventure – a desert safari! This seems to be the most popular tour on offer in Dubai and all companies offer a similar variation of the same theme. Essentially the program is to go see the sand dunes, do some dune bashing in the SUV and enjoy the evening in a desert Bedouin camp with dinner and all things Middle Eastern.
4:00pm
Time to hit the dunes. Seeing the incredible desert landscape was amazing and made for some perfect sunset photo opportunities. Thrill seekers will love the dune bashing but I found it slightly terrifying.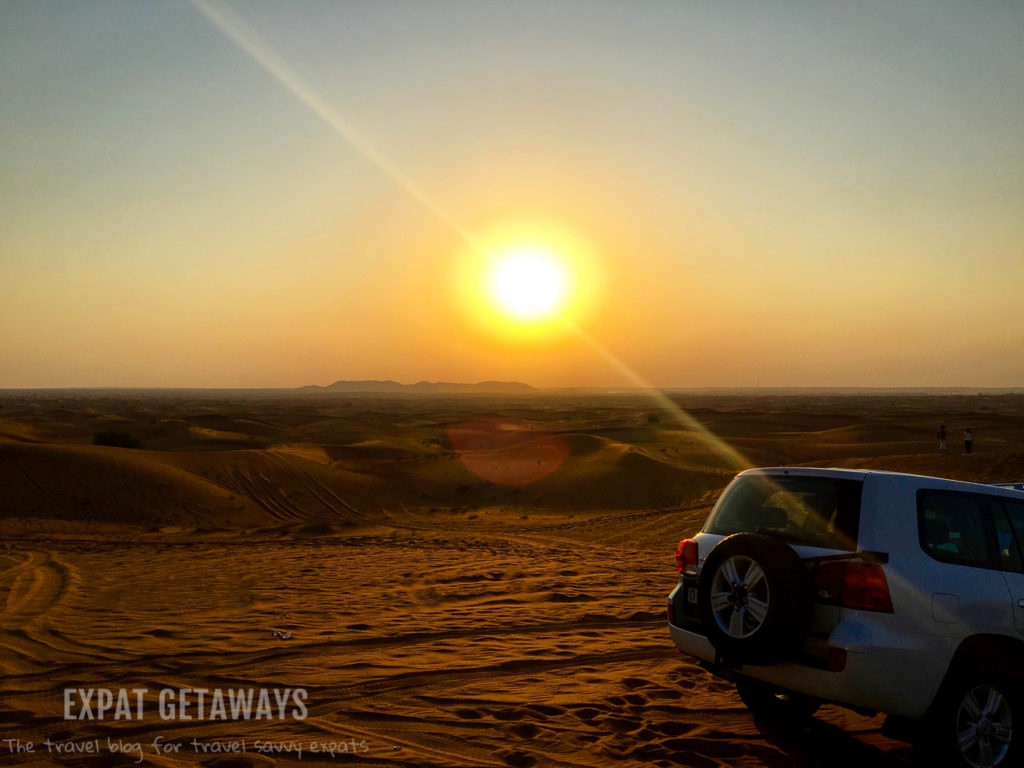 6:00pm
The desert camp was everything I expected it to be… touristy and a bit cheesy. BUT, it did offer an insight into traditional Arabic life. As you arrive there is time for a quick (literally 2 minute) camel ride, you can smoke some shisha, hold a falcon and be painted up with henna.
7:30pm
Dinner time. We opted to pay $US10 more for the VIP experience which meant the food was delivered to our table rather than buffet style. On offer was an array of grilled meats, dips and salads. As we enjoyed our meal it was time for the entertainment to kick off with a tanoura dancer followed by a belly dancer.
10:00pm
Home to bed…
Day 2
9:00am
We were up and out of the hotel early for our visit to the Sheik Mohammed bin Rashid Centre for Cultural Understanding (SMCCU). Andrew had taken their Heritage Tour on his first visit to Dubai and put it on the top of our to do list.
The centre operates with the philosophy "open doors, open minds". For the Heritage Tour this means being show around the Al Fahidi Historic District including inside the mosque followed by a Q & A with our Emirati guide.
10:30am
Saturday Brunch. We followed our tour with a traditional Middle Eastern breakfast with a lovely local host. No topic was off limits and we discussed religion, politics, law, married life, clothing and food. While our desert safari presented a stereotypical view of the Middle East, this cultural experience left us feeling like we had seen what modern life for an Emirati looks like.
12:00pm
After an enlightening morning we walked to the nearby waterfront area to stroll the souks. First up was the fabric markets, followed by a quick ride on an abra (small river boat) across the Creek to the spice and gold souks.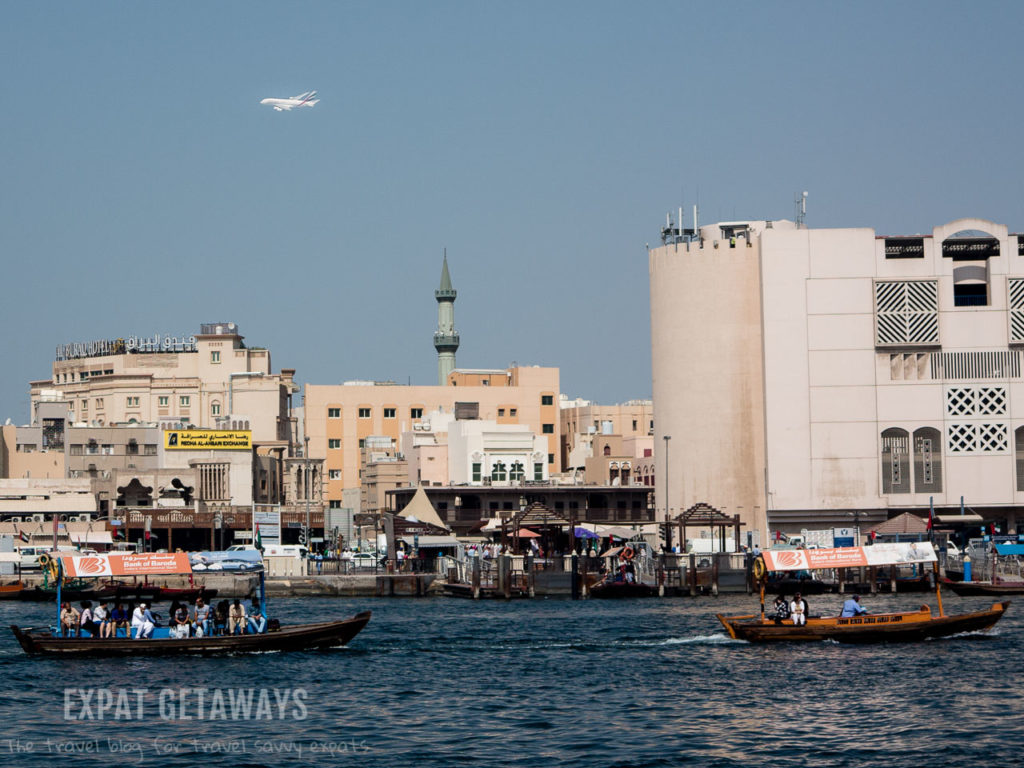 Like markets all over the world shop keeps try and lure you in for souvenirs. We saw everything from fridge magnets to packs of spices to 24-carat gold and sparkling diamonds. This is an easy place to wander and shop the afternoon away.
3:00pm
With our 48 hours nearing its end it was time to head back to the hotel for some last minute cocktails by the pool (at least that's what I did, Andrew had to get some sleep so he could go fly an aircraft at 2am).
8:00pm
Goodbye Dubai… I haven't seen everything on offer, but with 48 hours I've managed a quick snapshot into Arabic life.
Accommodation
There are no shortage of hotels in Dubai. My advice would be to choose something close to a Metro so you can get around avoiding the traffic.
JW Marriott Marquis – a lovely hotel fitting with the JW Marriott brand. Their claim to fame is that it is the tallest hotel in the world. They have a number of restaurants, bars and nightclubs as well as a pool and spa to relax.
Tours
Ocean Air Travels – we did the "Evening Desert Safari Dubai with BBQ Dinner- Falcon Experience and Sand boarding"
Sheik Mohammed bin Rashid Centre for Cultural Understanding – we did the Heritage Tour and the Cultural Brunch. Both were fantastic!
Next Time
Transport
Dubai is one of the most well connected airports in the world. Most flagship carriers fly here.
Cathay Pacific and Emirates fly daily from Hong Kong to Dubai.
Love it? Pin it!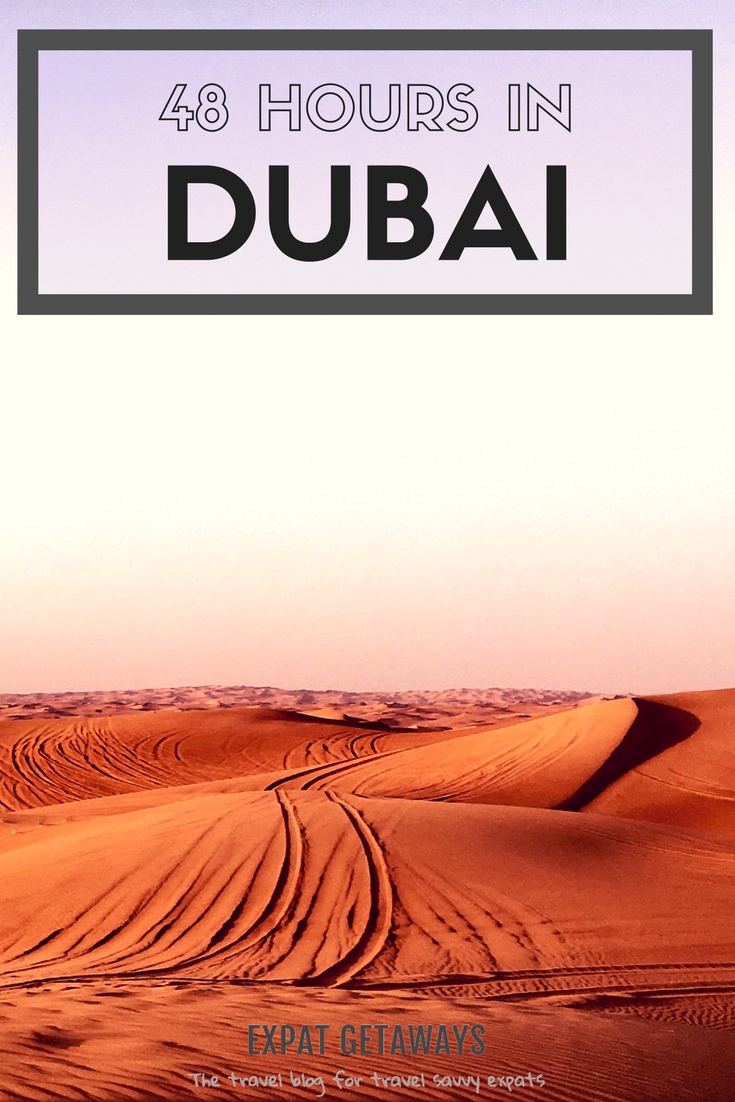 Expat Getaways endorses a policy of full disclosure.  This getaway was not sponsored or paid for by any company mentioned, and all views and opinions are solely those of the author.
Comments
comments