Pristine waters, warm temperatures, good food and great hospitality.  The perfect combination to a great diving holiday. I'm always looking for dive trip inspiration. Let me know your favourite scuba spot in the comments.
Ideal Itinerary- 4 nights
Day 1: Early flight to Manila in time for the lunchtime flight to Legazpi. Transfer to Ticao Island Resort and in theory you should be sipping a cocktail on the beach by 6pm!
Day 2: Dive, eat, sleep repeat
Day 3: Dive, eat, sleep repeat
Day 4: Transfer to Donsol. Whale Shark snorkel. Overnight Legazpi
Day 5: Fly to Manila and connect to Hong Kong (or the rest of the world!)
* We did this over 6 days, with a night in Manila before flying to Legazpi. It meant we were up REALLY early and pretty tired for our first whale shark snorkel.
*You could easily extend this trip and add in more dive days or one of the MANY other land based activities 🙂
*The best time to see whale sharks in Donsol is December-May
This was a bit of tricky trip and it took a bit of time organizing. I'd wanted to visit the Philippines for ages especially to do some diving, but we are always limited on time. Trying to match up the right time of year and enough days off to make it happen made planning and logistics a bit difficult. Finally all the pieces came together and we were off!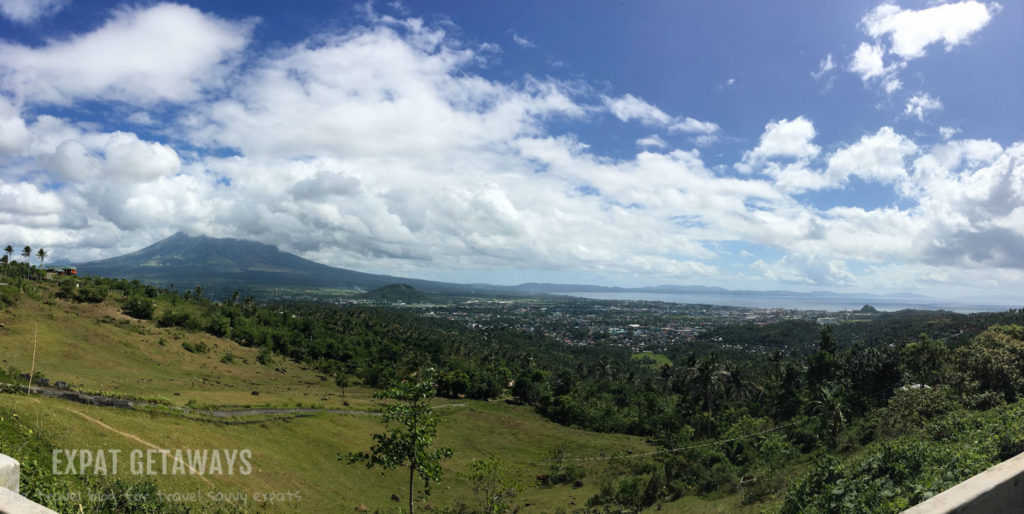 Donsol – Whale Sharks
After a night in Manila, a VERY early morning to flight to Legazpi and a one hour drive we were sitting by the beach in Donsol getting ready to snorkel with whale sharks!! We watched a short safety briefing – mostly about the whale sharks safety because we humans are the bigger threat to these giant plankton eaters, and then we were off. Within five minutes of leaving the shore we were in the water with an ocean giant! Not only just a glimpse and then gone… no, this one stuck around and let us swim alongside for a good AMAZING 30 minutes!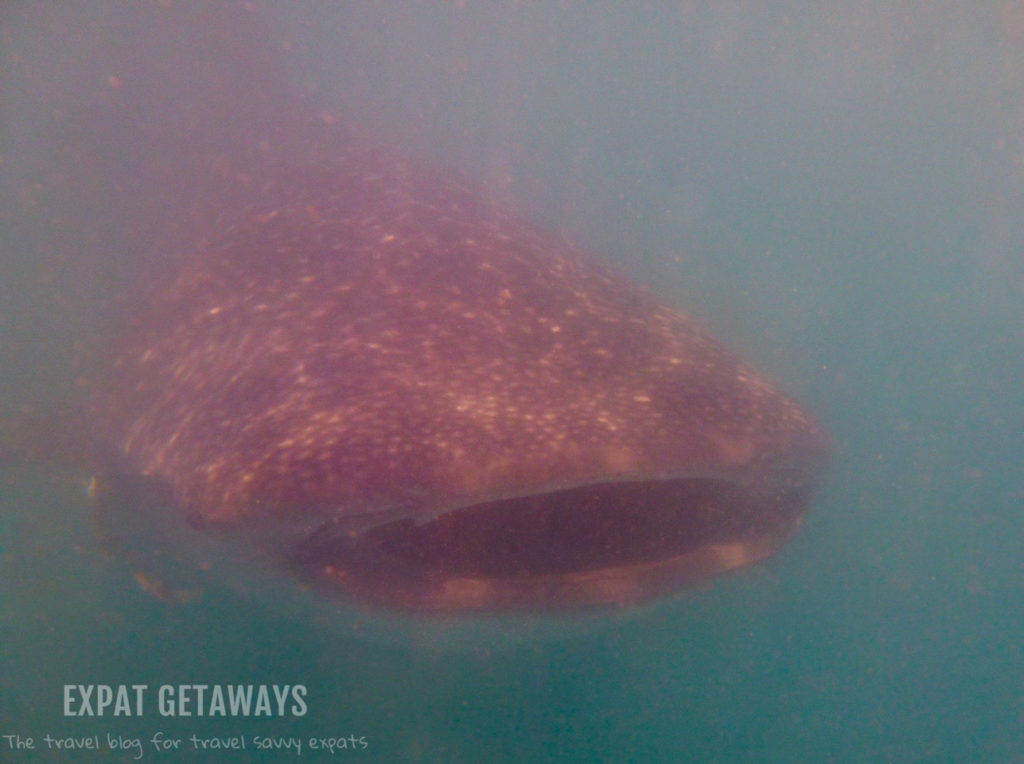 After a quick beachside lunch we chilled out on a 2-hour outrigger boat to Ticao Island Resort. Now for me this was paradise, but I warn you they do use the term "resort" a little loosely here. It's definitely not 5 * luxury however the rooms are comfortable, there is hot running water for when you return from your dives, air con for when the heat gets to you and a balcony looking straight to the beach. You are completely disconnected. No TV and limited internet so bring a book, pull up a hammock and relax in the sea breeze!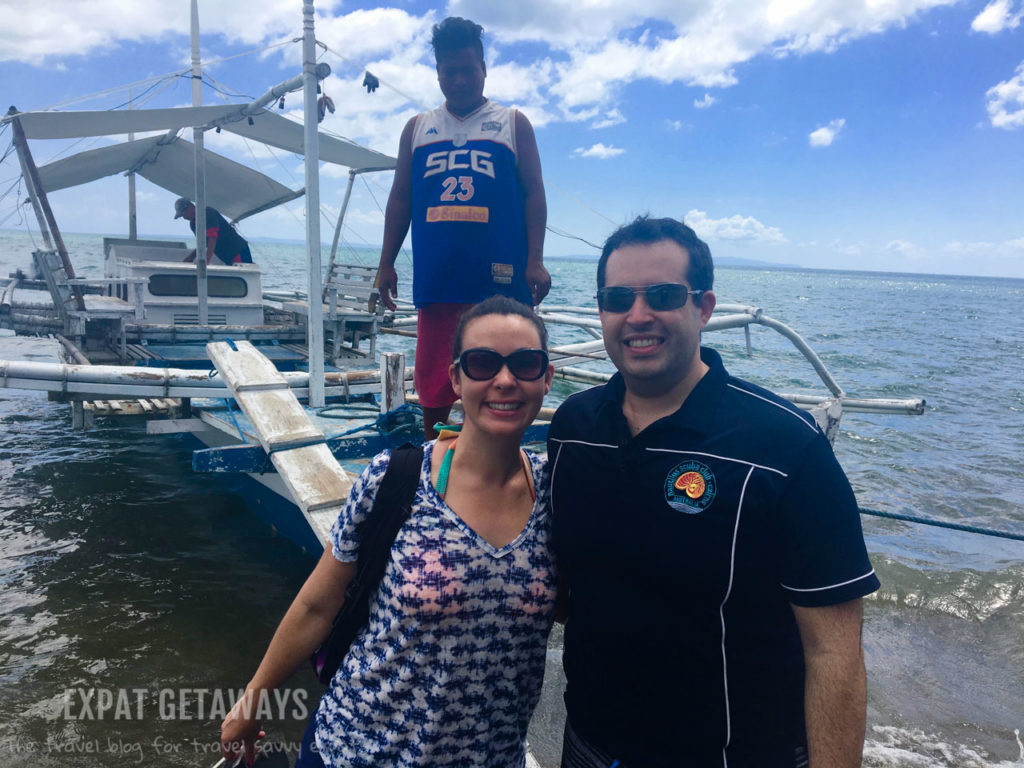 Ticao Island Resort
I would say 99% of guests are divers and by nature we're a pretty friendly bunch. We spent our afternoons and evenings sharing photos and dive stories from around the world.
There are a couple of small villages nearby and the resort employs a lot of these locals as kitchen, gardening and housekeeping staff to keep the money in the local economy. They also offer a number of local tours: you can go fishing with a villager or stay with a local family. We took the fire-fly river tour and it was a leisurely canoe ride up the river in the pitch-black with a local villager who wanted to practice his English. The tide was a bit low so we couldn't get too close, but for a few dollars we got the idea and loved learning about village life.
I'm a huge believer in community based eco tourism so this was a huge draw card for me. I wish I had known about this in the planning stages of the trip so I could have allowed more time to get in touch with the local culture.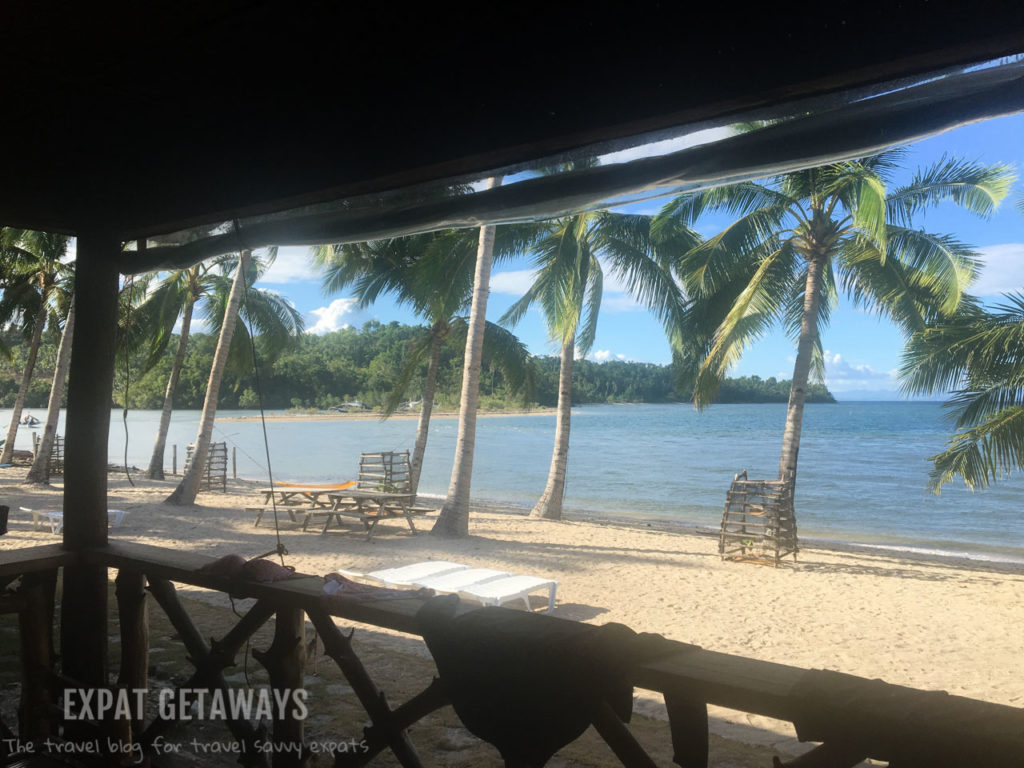 Scuba Diving – Manta Bowl
The famous site of the region is the appropriately named Manta Bowl. Way out in deep open water, it's a bit of a hit or miss place. When it's good it's AMAZING! Mantas and even whale sharks come here for the cleaning stations and to feed. When no big stuff comes out to play… not so much.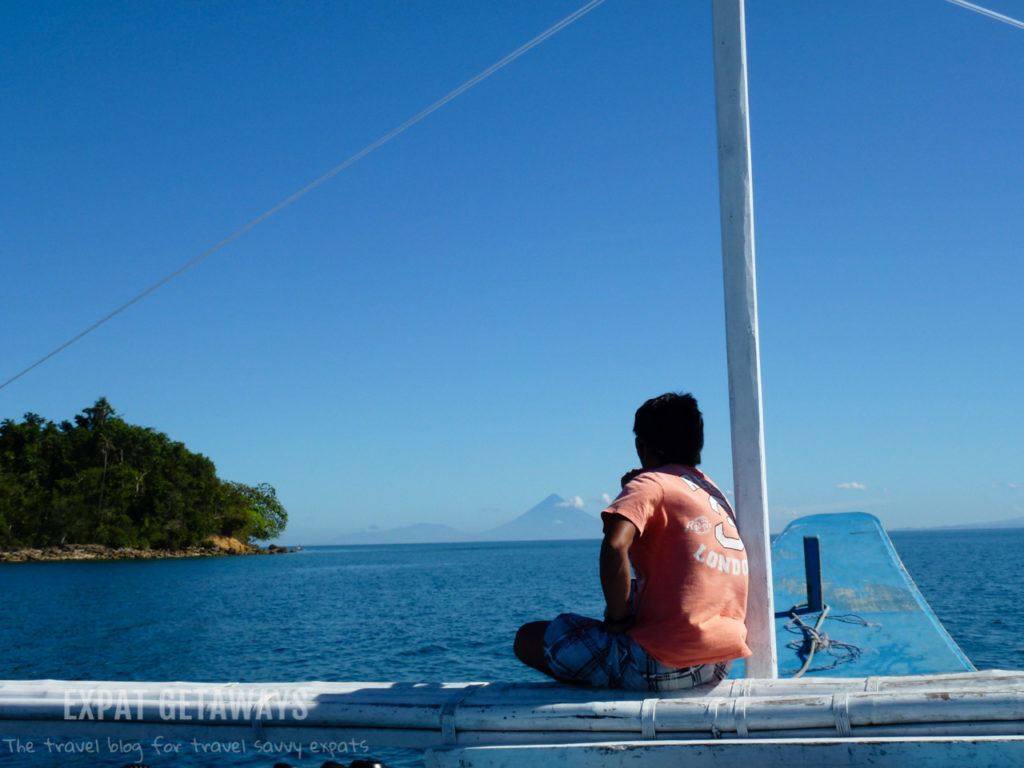 We did our 1st check dive on an island fringing reef then headed to the bowl for dives 2 and 3. It's not a site for beginners, as you descend with strong currents into the blue, hook on the bottom and wait…
On our first dive we waited until the 1st person in our group was low on air without seeing a thing. Andrew was starting to feel his sinuses blocking so he skipped dive 3 and of course… Murphy's Law, this was when the magic happened.
Immediately when we hit the bottom a gorgeous manta cruised straight for us. After spinning a few circles over a cleaning station it glided away at a pace that let us follow and admire in awe. Just when we thought it had disappeared it came back for one last sweep by before we ran out of time.
Whoops…
Ecstatic was an understatement and I was trying to tone it down for Andrew's sake. Little did I know his day was about to go from bad to worse as he slipped on deck, stubbed and dislocated his little toe 🙁
With the prospect of cutting our trip short, missing dives, a 2 hour boat ride and a 1 hour car ride to get to a questionable regional Filipino hospital he decided to suck it up and take matters into his own hands – popping it back into place while still at sea. Talk about taking one for the team!
Scuba Diving – Fringing reefs
The following days dives we stuck to the island's fringing reefs. As great as Manta Bowl was, we preferred the guarantee of an interesting dive to the possibility of getting lucky again. The reef diving was fantastic! Loads of nudis, soft and hard corals, all manner of dancing shrimp and sea snakes. We got in 3 great long dives plus a couple of snorkel sessions as surface intervals.
More Whale Sharks!
The package we had booked included a hike up Mt Mayon volcano but with Andrew's toe saga, the heat and humidity and coming to the realisation that we don't really like hiking we decided to switch to another whale shark snorkel.
We discovered how lucky we were the first time around on this snorkel trip. This time we scoured the bay for almost an hour with no luck. Just when I thought this was our karma for not fully appreciating our first experience the sharks appeared. Yes SHARKS! We saw seven different sharks ranging in length from 5-9 metres over the next two hours. I was in heaven. Could not wipe the grin off my face! (Until my camera crashed losing all my videos and most of my photos from the trip 🙁 Thank goodness Andrew has some techy skills and recovered some for me)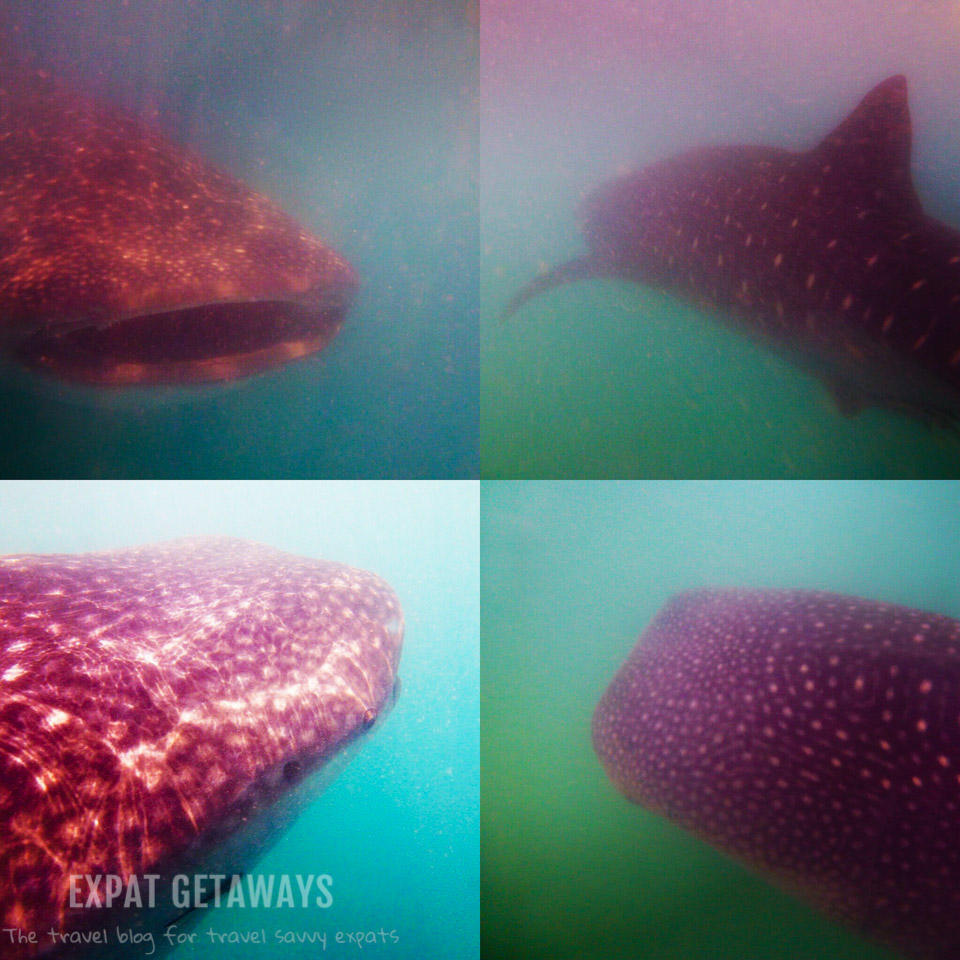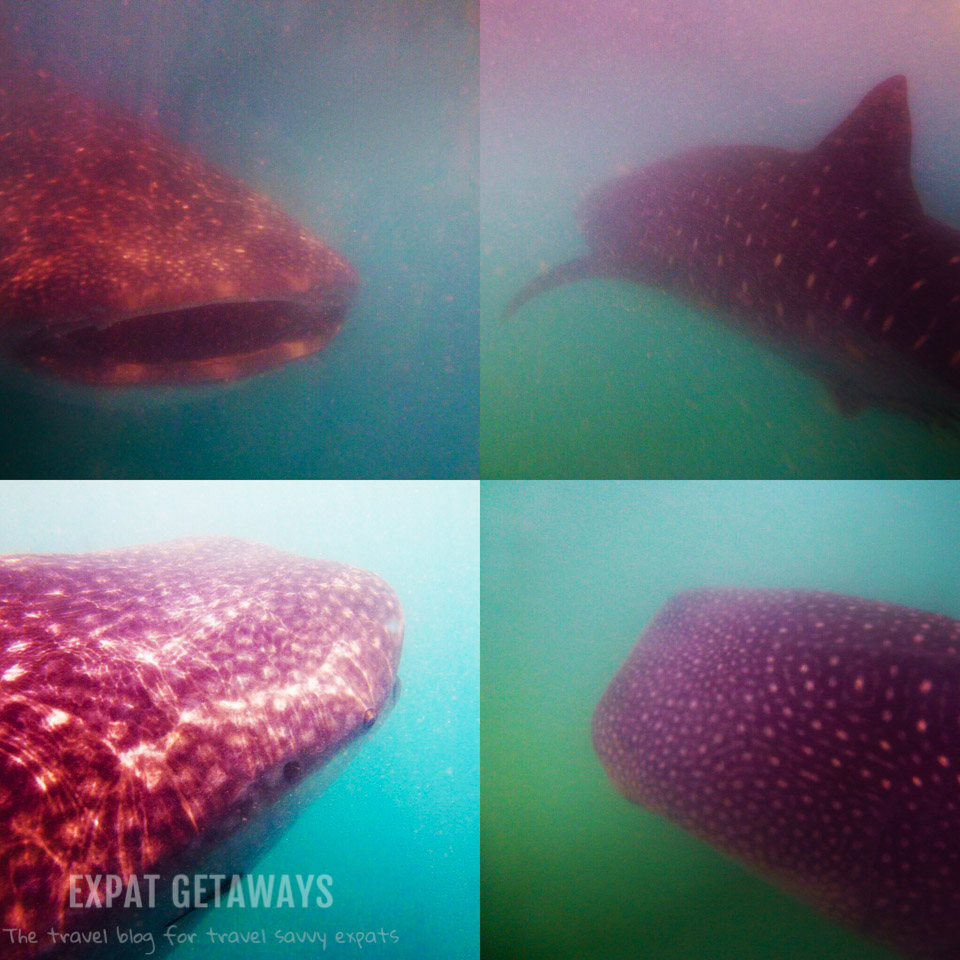 Ethics of Whale Shark Encounters
Like many I chose the Philippines because you are very very likely to see these awesome creatures. However on doing a bit of research I found that my first choice (and more convenient) destination, Cebu, wasn't particularly eco-friendly. Locals know that whale sharks attract tourists and tourist spend up big, so they feed the whale sharks. These gentle giants have now altered their natural migration patterns because of the human intervention. With so few left and the constant threat of illegal fishing I just couldn't be part of the problem.
Tourism operations in Donsol are somewhat regulated and guests are made to watch a briefing before their boat departs. Volunteers from the WWF joined us on both trips to collect valuable research data.
Do the boats and tourists always follow the rules… well no. At least there are rules and an element of education is happening.
Accommodation
Tours
Donsol Eco Tours– These guys organised our package and it was great that everything was taken care of from the time we landed in Legazpi.
Transport
To Manila
From Hong Kong
Cathay Pacific, Philippine Airlines, Cebu Pacific and Air Asia all fly daily
From Singapore:
Singapore Airlines, Philippine Airlines, Cebu Pacific, Tiger Airlines and Jetstar all fly daily
From Manila to Legazpi
Philippine Airlines fly once a day and Cebu Pacific has four flights daily
Love it? Pin it!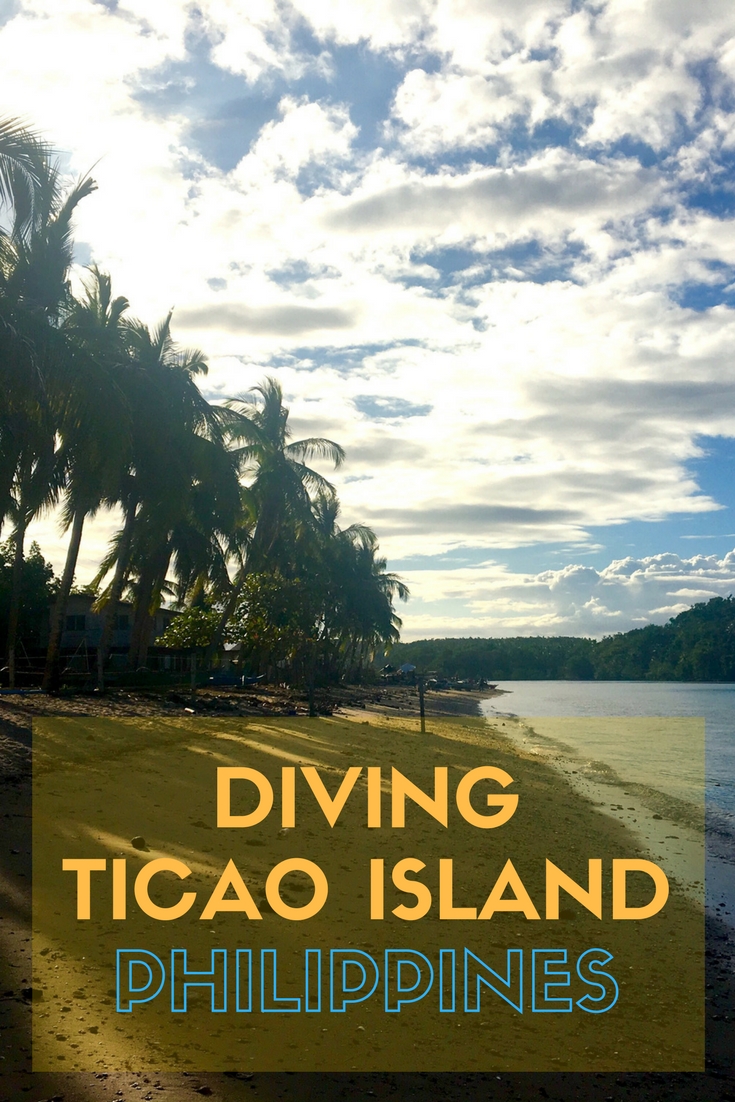 Expat Getaways endorses a policy of full disclosure.  This getaway was not sponsored or paid for by any company mentioned, and all views and opinions are solely those of the author.
Comments
comments