Why should you visit Battambang, Cambodia? At first glance, this city may not seem as impressive as Siem Reap or Phnom Penh. Once you get off the tourist trail you gain a more authentic glimpse into local culture and get rid of inconvenient crowds and tourist traps.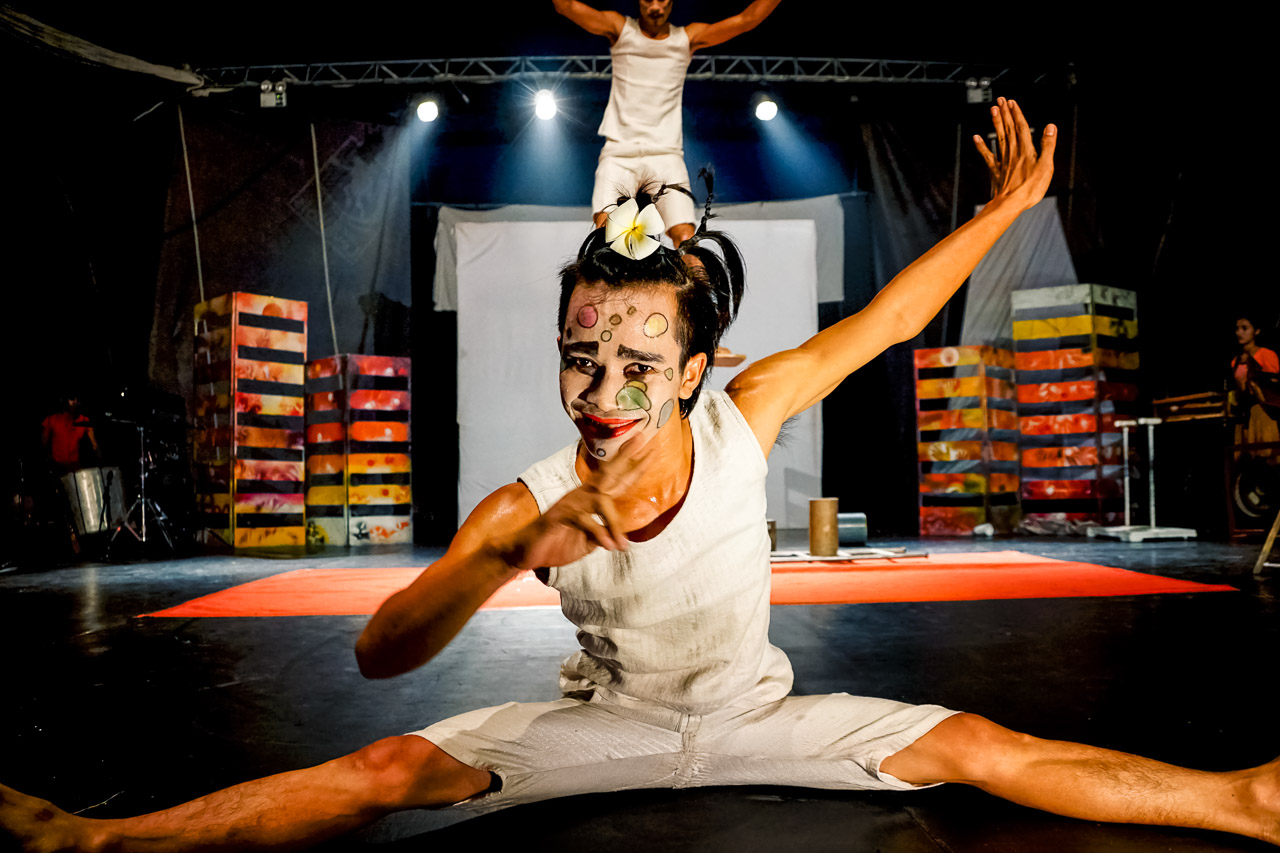 The city is an art and cultural hub filled with remnants of French Colonialism mixed with beautiful temples and ancient Khmer ruins. Expect to find a plethora of charming cafes that double as art galleries as you wander the alleyways and city streets.
Here is my list of the top five tourist attractions to make the most out of your stay in Battambang.
1. Phare Ponleu Selpak – Battambang Circus
The highlight of any visit to Battambang is a visit to the unmissable circus. This circus is run by Phare Ponleu Selpak, otherwise known as "Brightness of the Arts", a nonprofit organization providing free arts education to over 1000 students in the Battambang region.
Their circus school trains students for international circus tours as well a show in Siem Reap. The campus at Battambang has a big top venue hosting 2-4 shows each week depending on the tourist season. Right now they have five different shows in rotation, each with a unique plot or theme.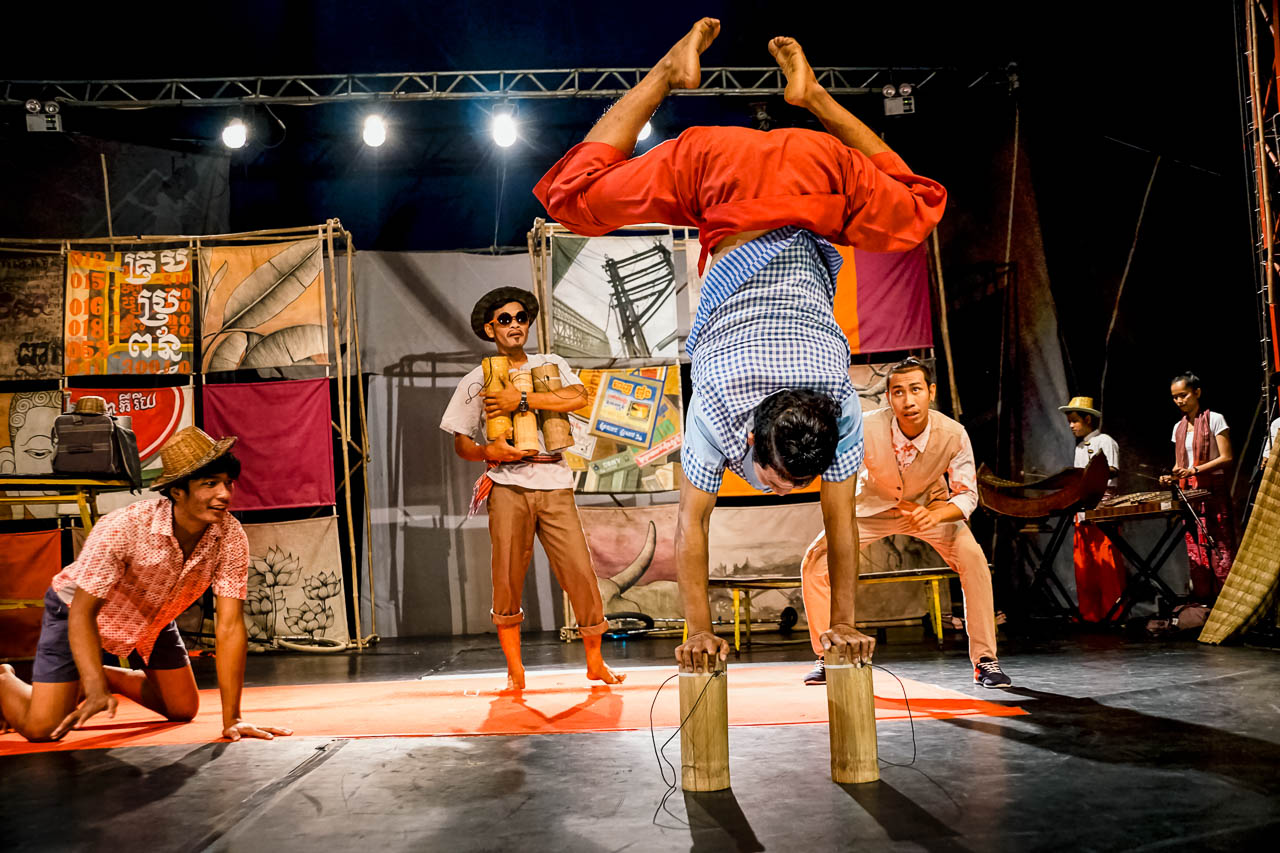 The shows are outstanding, with heart stopping acrobatics done to live music.
Cambodian culture is reflected in the storylines so not only will you be in awe of the performers tricks, but you will also get a theatrical perspective of Cambodian customs and life. Plus your circus ticket is directly supporting local Cambodia kids and their education.
The great thing about Phare Ponleu Selpak is that they welcome guests to take tours of their campus and they offer workshops in visual arts, circus arts, traditional instruments, modern instruments, traditional dance, and breakdance. Both the tour and workshops offer a deeper perspective into Cambodian life, culture, and the arts.
Show Tickets: $14 adults, $7 children
Campus Tour: $5 adults, $3 children when purchased with circus ticket. Tours are offered Monday-Friday at 8:30am, 9:30am, 2:30pm, and 3:30pm.
Workshops: price varies depending on the size of the group, and needs to be booked well in advance.
Getting There: Take a tuk tuk from your hotel. It is popular with tourists so most drivers will know how to get there.
2. Cooking Classes at Nary Kitchen
Nary Kitchen is a family owned restaurant offering cooking classes in English. They offer two classes a day, one for lunch and the other for dinner. For each class you will cook a total of four delicious courses all for $10.
The class starts with a trip to the local city market. The market tour was one of my favorite parts of this activity, because markets are the heart of any city as there is nothing more genuine than watching the locals barter and go about their daily shopping.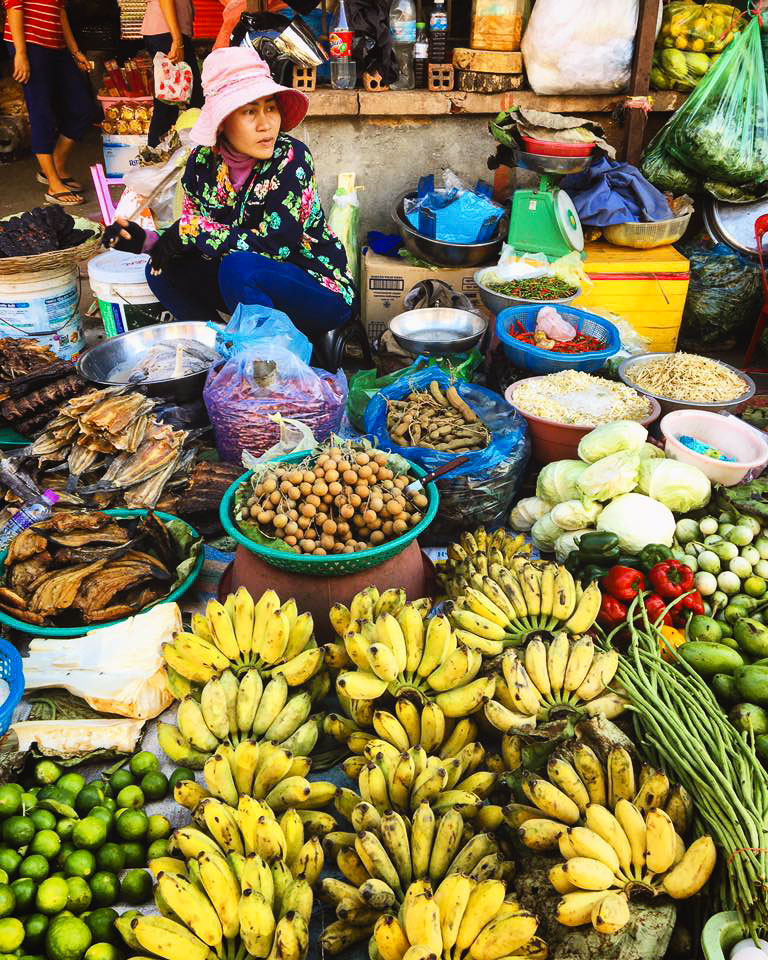 Your guide introduces you to ingredients such as galangal and kaffir lime leaves along with lemongrass and turmeric to make the Fish Amok curry paste. After buying the herbs and spices, the guide also introduces a lady making fresh coconut milk. When I took this tour, we observed how a machine extracts the coconut milk, while also shaving the inner coconut into a dry pulp.
After gathering all of the ingredients we went back to the kitchen to cook. On the menu were four dishes:
Fish Amok—snakefish steamed in a banana leaf and marinated in a lemongrass, coconut curry paste
Beef Lok Lak- stir-fried beef topped with fried egg
Fried Vegetarian Spring Rolls filled with Taro and Carrot
Banana Tapioca with fresh coconut milk.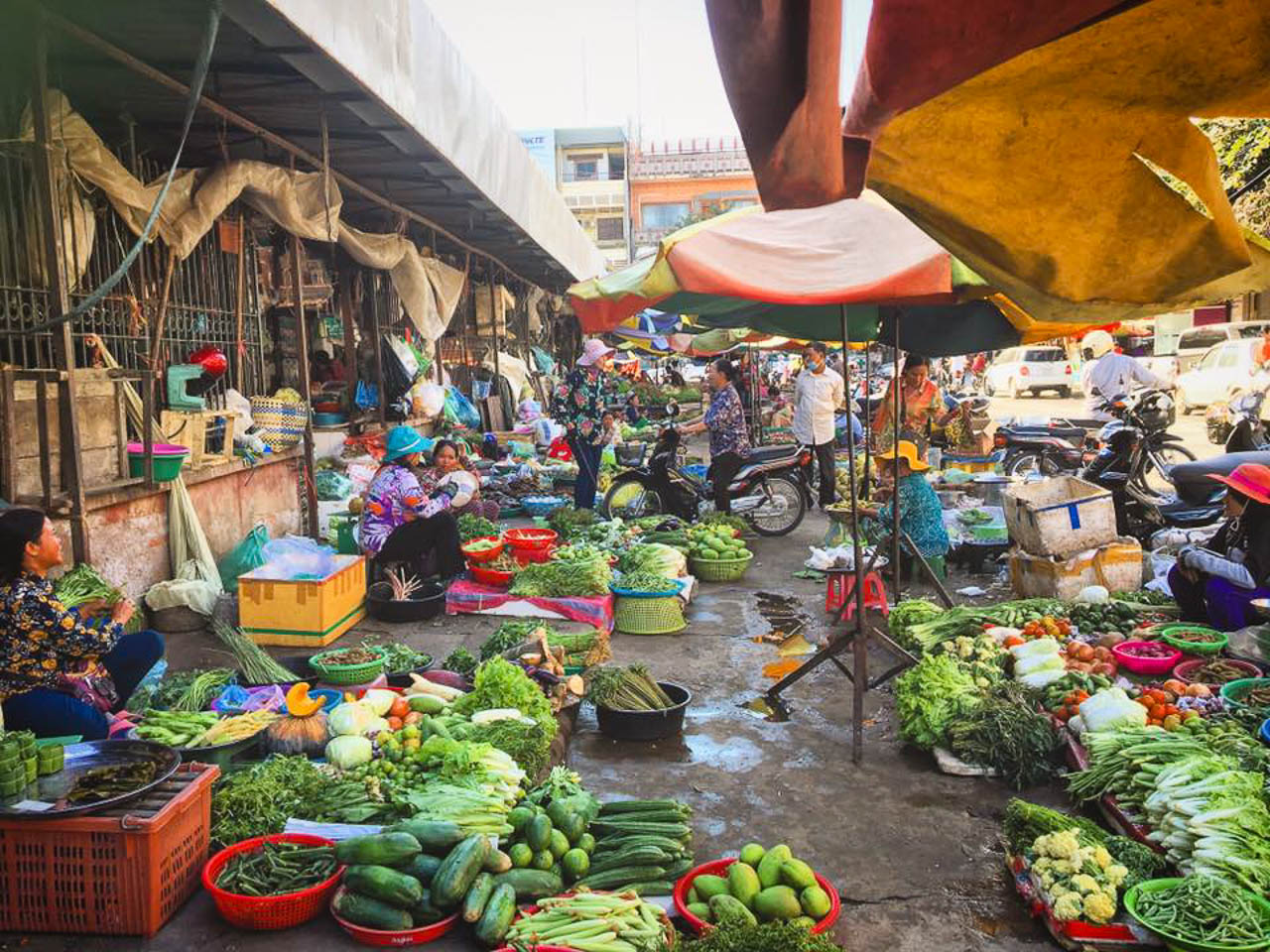 As we cooked these dishes, the chef shared many stories about his life. He told us about how he learned English during the post-war era driving a tuk tuk, and he described how his family came to Battambang. There is something about cooking and meals that stimulates interesting conversations. I highly recommend taking this class, even if you don't have much cooking experience. The market tour and conversations with the chef are motivation enough, and the food is absolutely delicious.
Cost: $10 per person
There are vegetarian options or they can modify the menu to different dietary needs.
Getting There: The restaurant is located in the city center, about one block from the central market. If you walk along Road 3, you can spot their corner sign easily.
3. Banan Temple
Just 25km outside Battambang is the Angkor-era Banan Temple where you can explore without the hoards of tourists at Angkor Wat!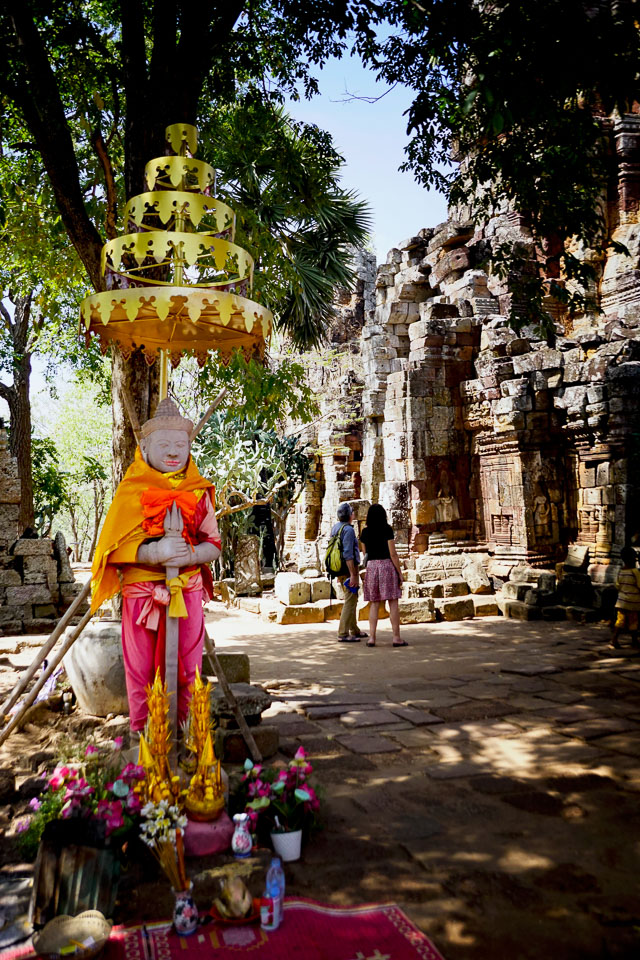 The stairs are a bit steep, so climb with caution. Children may approach you trying to fan you as you climb. If you engage with them, then they may expect a tip when you reach the top. My friends and I decided to have fun with the kids, and we raced them up the stairs. However, they still haggled us a bit, so we ended up giving in and giving them $2-3.
At the top of the mountain are stunning views of the winding Sangker river set amongst the backdrop of rice fields, sugar palm trees, and local villages. There are five temple structures total, and they are all mostly intact. There are also Buddhist shrines where you can light incense and make offerings. We saw more locals there than tourists!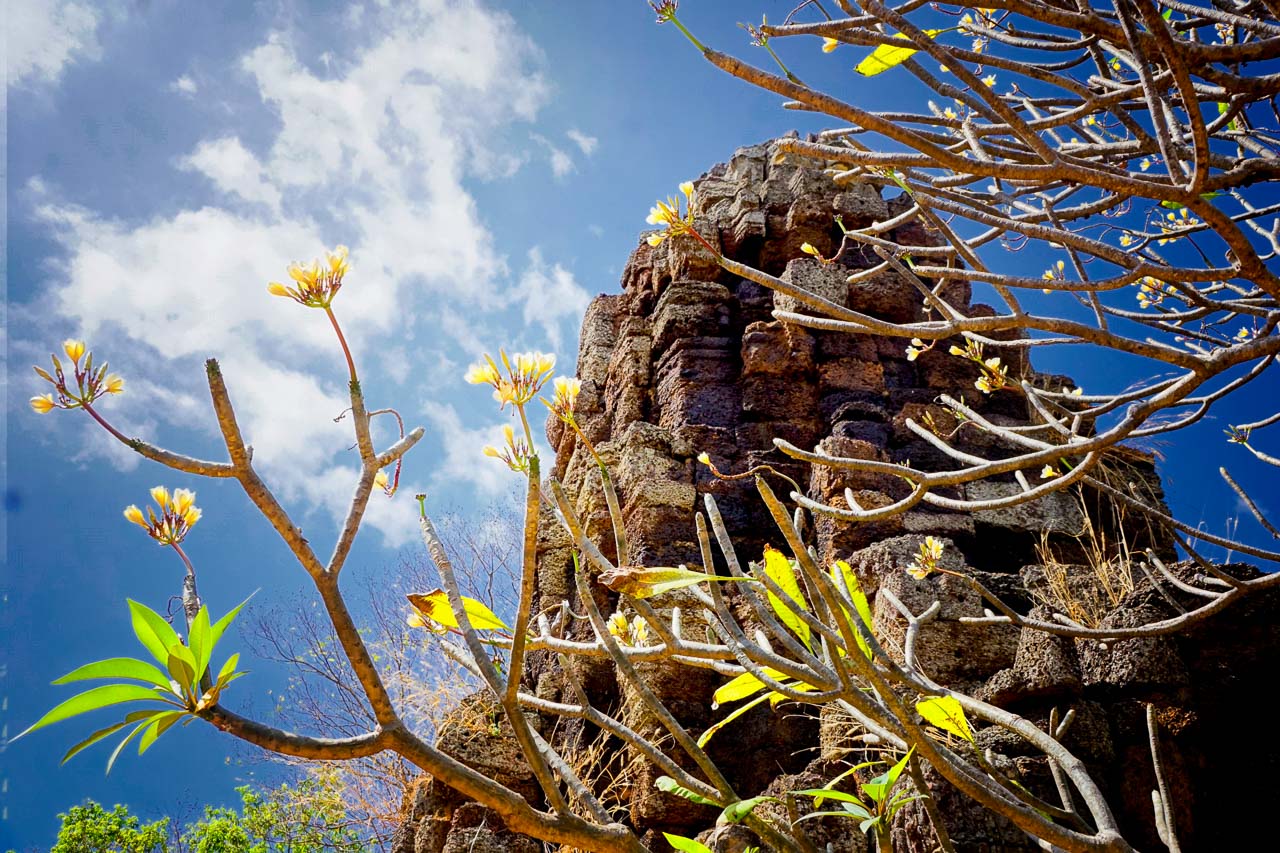 After hiking to the bottom head left and follow the signs to a local cave. At this cave there is sacred water that drips from the rocks. The local people bless you with this water. The locals will also let you borrow a flashlight or headlamp to make exploring this cave easier. When you get to the shrine, someone will pour the cave water over your head and offer you blessings for your future. They do speak English, so you will be able to understand what they are saying. This is a common activity of locals, yet they have learned to accommodate tourists.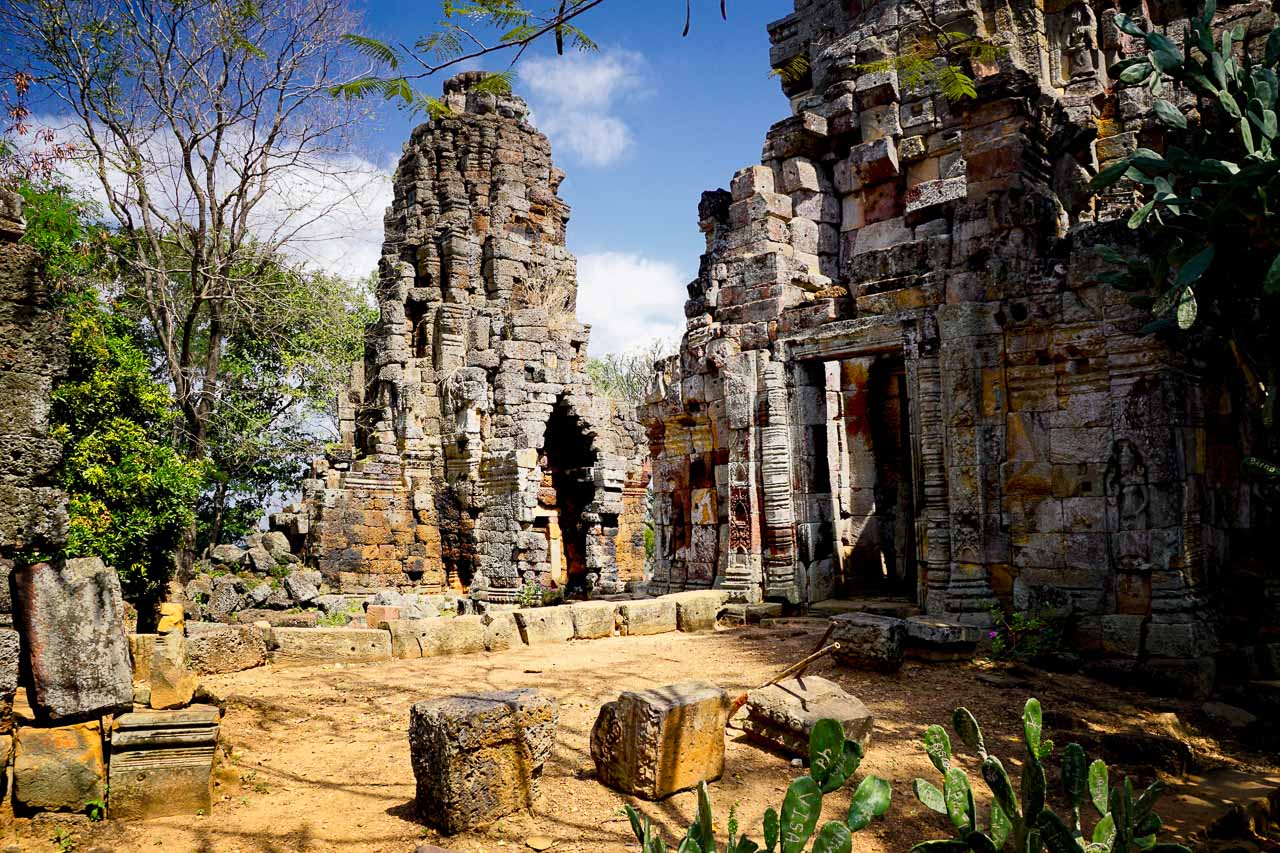 After exploring the temple and surrounding areas I highly recommend eating at one of the food stalls. I had the best papaya salad I have ever tasted, and my friends raved about their delicious stir-fry dishes. Pull up a hammock in the nearby huts and you can hang out and eat by the lotus filled pond. It's a pretty nice way to pass an afternoon.
Important Information
Cost: $2
Hours: Temple is open 7am-7pm
Getting There: The easiest way is to rent a motorbike of hire a tuk tuk.
4. Bamboo Train
Get out into the Cambodian countryside and see a unique side to the culture by hopping on the bamboo train. In the past these trains were used to transport goods and livestock, but with the development of better roads the tracks are now mostly used by tourists. Running at about 15-20km/hr, the train zips along a single track, zooming by cows grazing, rice farmers preparing their harvest, and local children frolicking along the tracks.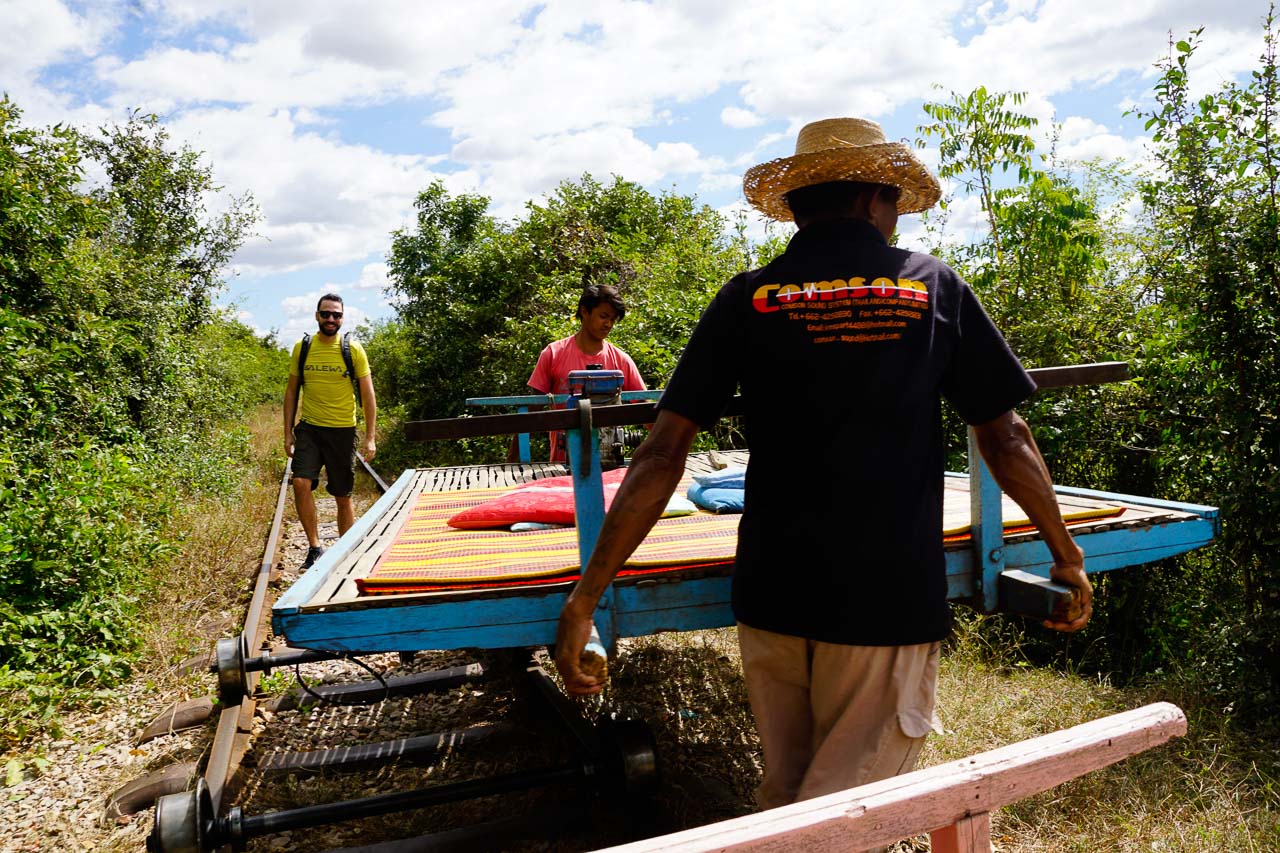 The train seats about four people on a bamboo mat that sits on steel wheels and two axels. A motorcyle engine powers your carriage. It is like flying on a magic carpet as you hover through the air. Though the train is a bit rickety but the ride is thrilling!
The train moves along a single track, so it has to make frequent stops as oncoming trains approach one another. The rule is that the train with less people has to disassemble the train while the other train may continue. It only takes a matter of seconds for the train to be dismantled and removed from the tracks, and it is actually an amusing sight to watch. The train-ride lasts about 20 minutes each way, and it makes one stop at a local village at the end of the tracks.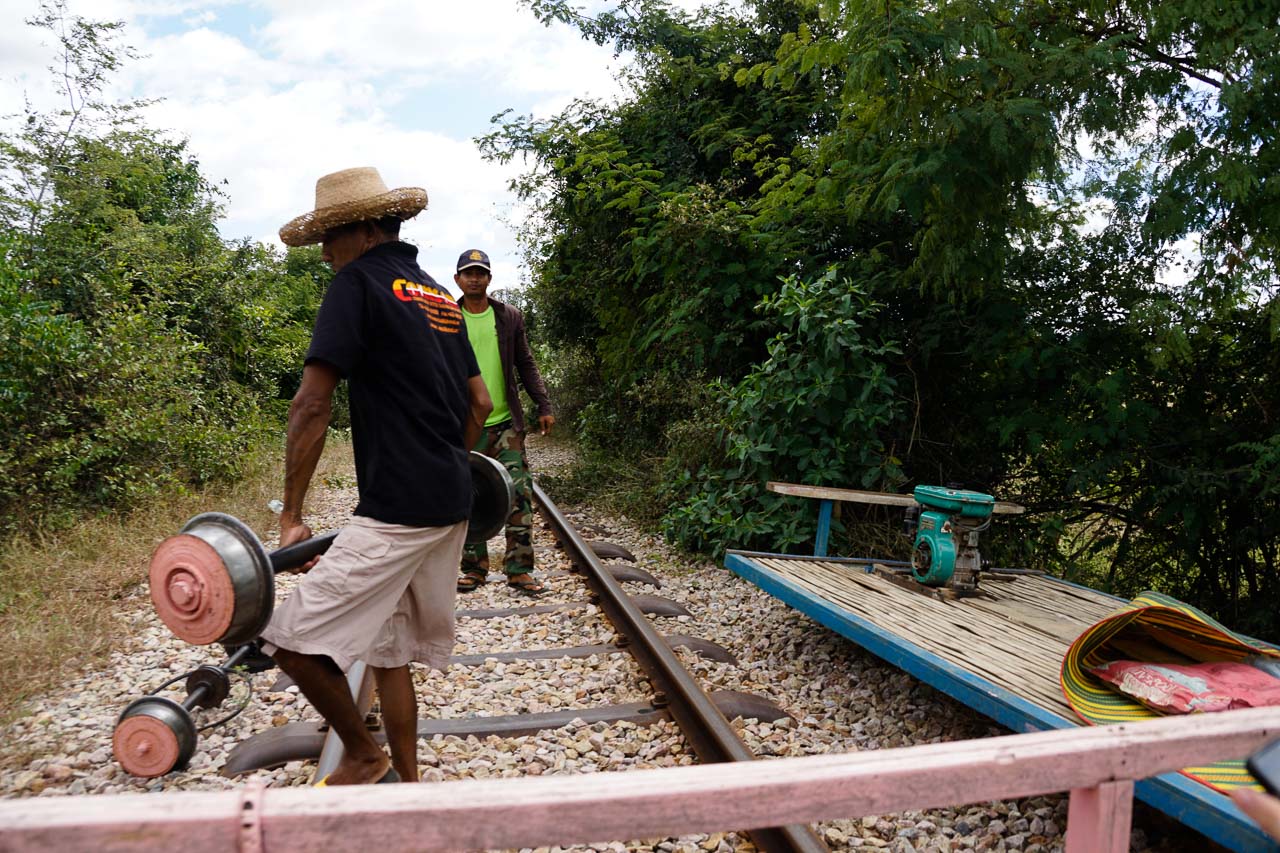 The local village has souvenirs and refreshments for sale. Though the locals can be rather persistent with their sales pitch, have an open mind, as their prices are much cheaper than in the city. I bought beautiful, original painting for only $5 as well as a cheap pair elephant pants. I was told that families take turns in running the shops, and this is their only livelihood. Understandably, if souvenirs are not your thing, just be firm in your decline, but if you do like shopping, take the opportunity to support this local community.
Important Information
Cost: $5 plus tip if you enjoyed the ride.
Hours: 7:00am-dusk
Getting There: Hire a tuk-tuk from your hotel or the city center.
5. Soksa Bike Tour
Soksa bike is a cycling tour that thrives on giving tourists a meaningful and authentic view into Cambodian life. The company is affiliated with Kinyei, an organisation that promotes social entrepreneurship among Battambang's local university students. They provides vocational training opportunities to young graduates, educate tourists on the real way of Cambodian life and contribute to promoting sustainability and positive development in impoverished parts of Cambodia.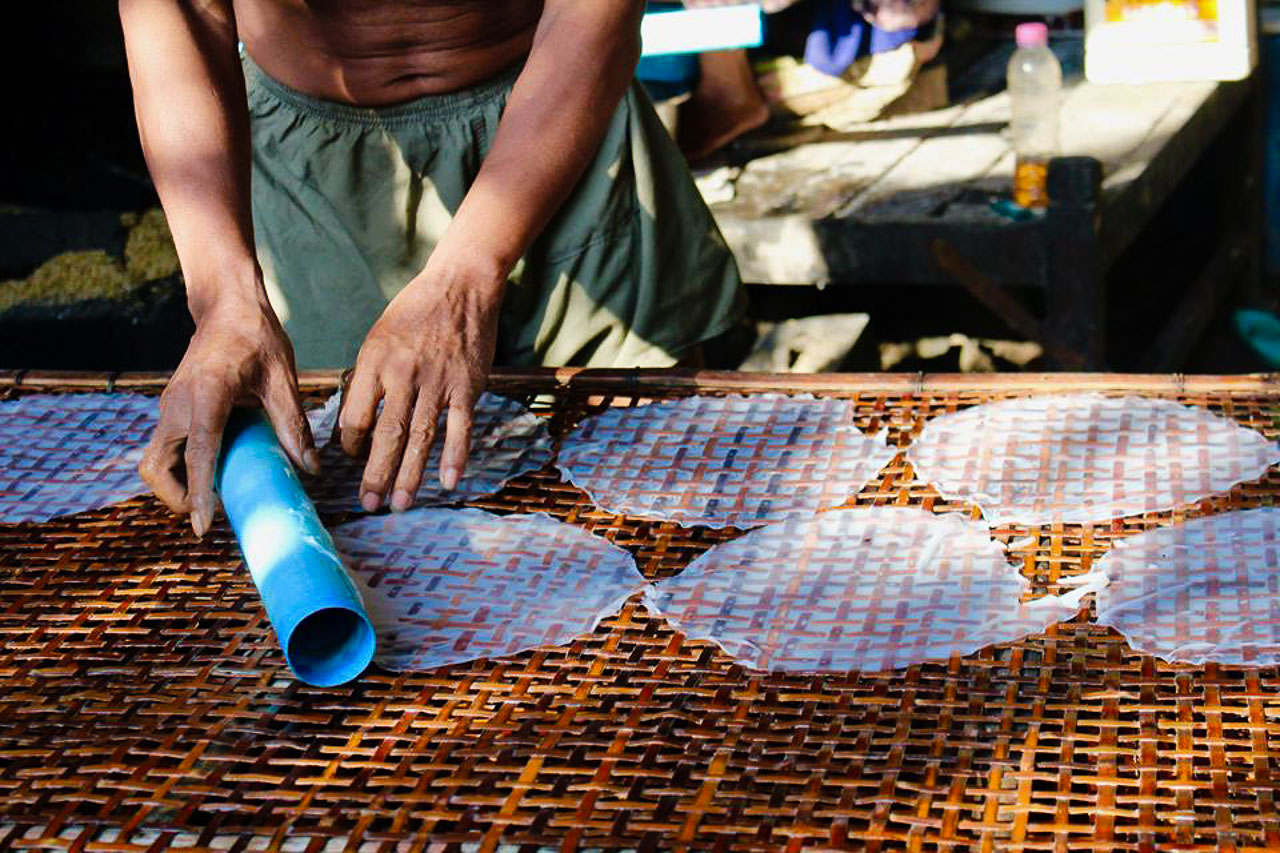 I took the "Local Livelihood tour" and spent the morning the homes of local Cambodian families who produce traditional wares such as rice paper, dried bananas, bamboo sticky rice, and rice wine. It is quite incredible to see how these people have been producing these goods in the same way for generations. The half-day tour ends at a memorial site for the victims of the Khmer Rouge. On the full day tour you eat a local lunch in a Cambodian home and visit a local Buddhist temple. The ride is about 25 km for both tours and it is suitable for all fitness levels.
Other tours on offer are the "Customs and Culture" tour which focuses on the ethnic diversity existing in Battambang and the "Ride in the Countryside" which is longer and recommended for those who exercise regularly.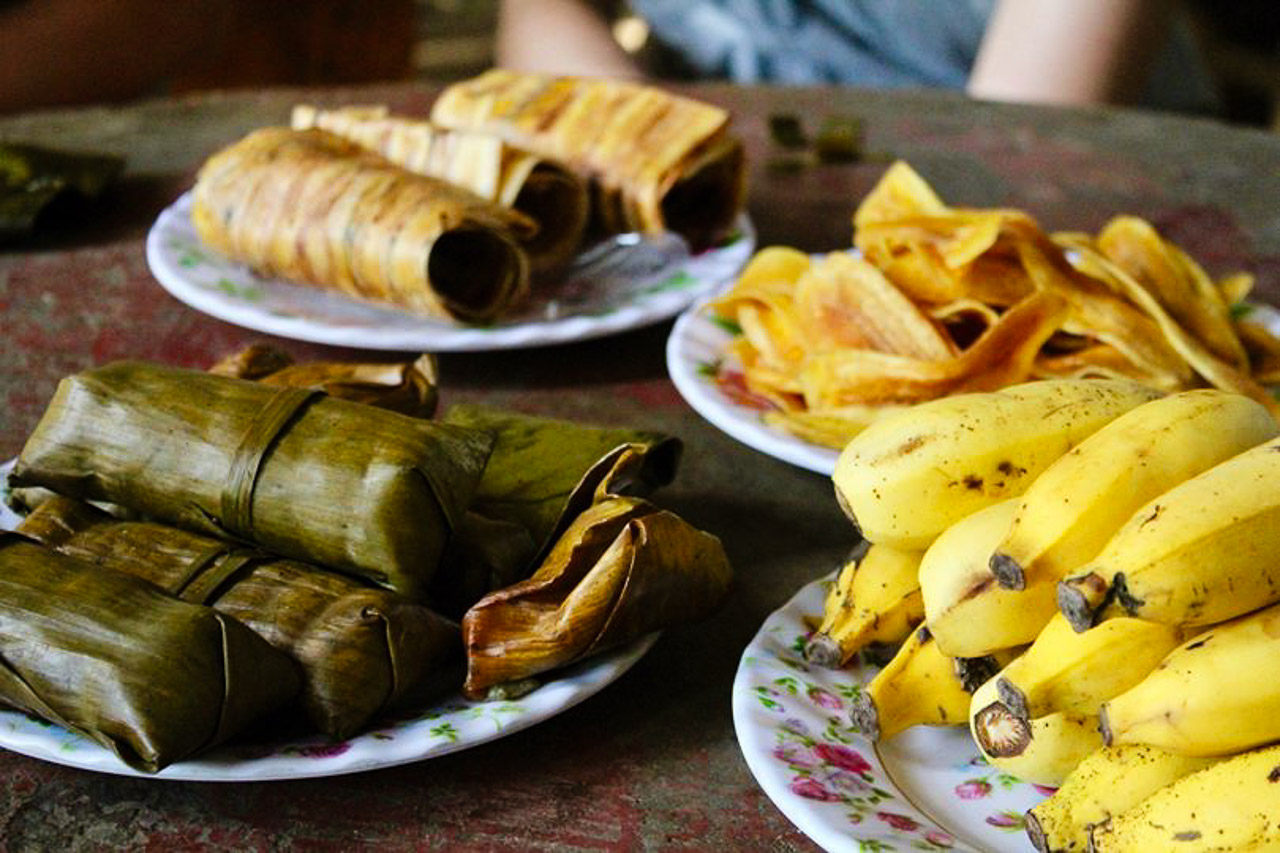 Important Information Soksa Bike 
Cost: from $23 half day and $34 full day. Price is dependent on group size and tour chosen.
Includes: tuk tuk pick up from the hotel, one drink at Kinyei Café before or after the tour, English speaking guide, mountain bike rental, helmet, a short Khmer (Cambodian language) lesson, and seasonal fruits and coconut water.
Getting There:
There are no flights to Battambang so you will need to fly to either Phnom Penh or Siem Reap.
From Siem Reap the Mekong Express Bus will get you to Battambang in 3-4 hours.
From Phnom Penh Golden Bayon Express will take you 6 hours.
Accommodation:


Love it? Pin it!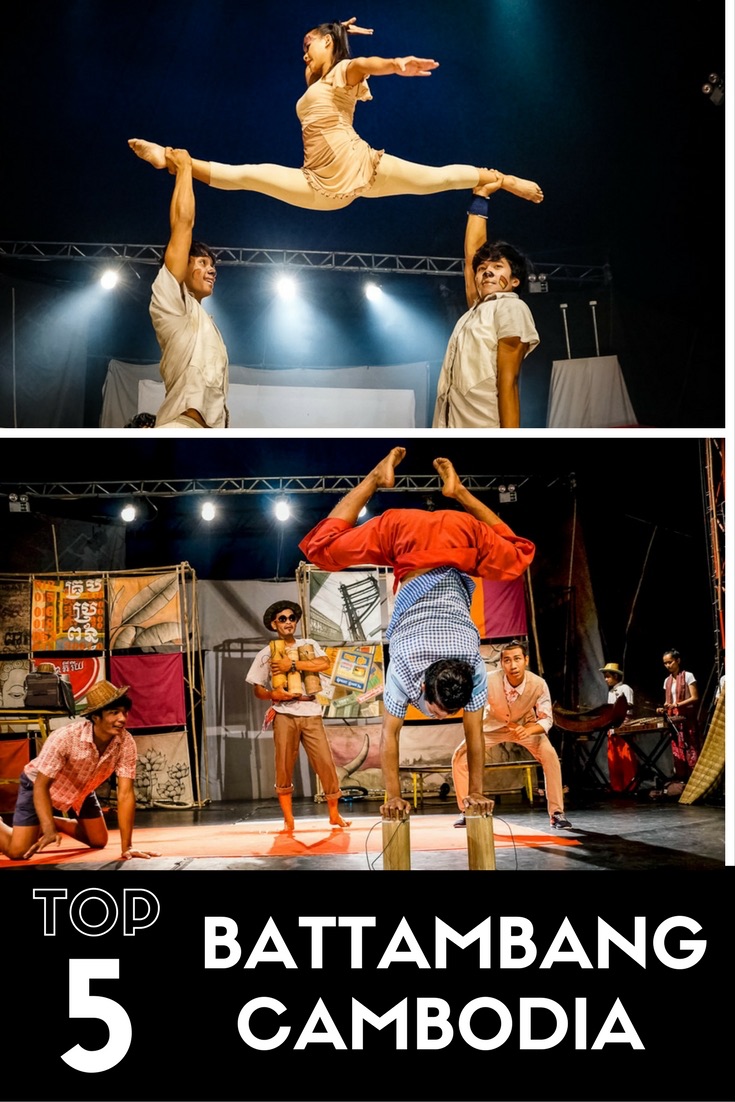 Comments
comments