There is so much to see and do in Cape Town. It is a city like no other that will win you over the minute you glimpse Table Mountain.
A whole week can seem like a long time to dedicate to one destination. You might be trying to cover a lot of ground on your big African holiday (check out Expat Getaways Two Weeks in Southern Africa for more inspiration). Trust me, anything less and you will be wishing for more.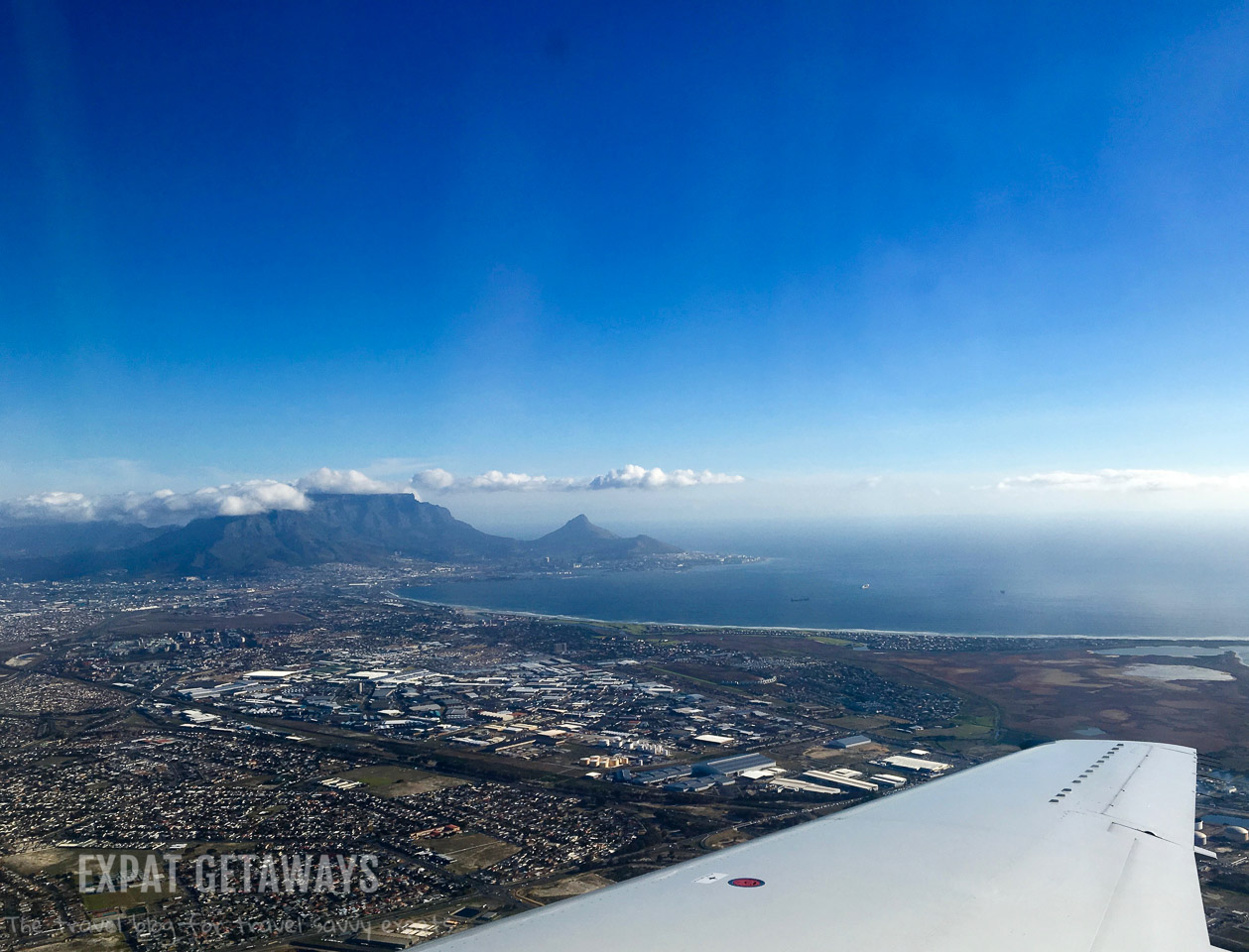 Cape Town offers up a cosmopolitan, vibrant city scene, stunning beaches, spectacular coastal drives and a gourmet food and wine scene. What more could you want in a holiday destination?
One Week Cape Town Itinerary
1: Arrive
2: Table Mountain and Cape Town City
3: Robben Island and the V & A Waterfront
4: Stellenbosch Wine Region – stay overnight
5: Franschhoek Wine Region
6: Cape of Good Hope
7: Depart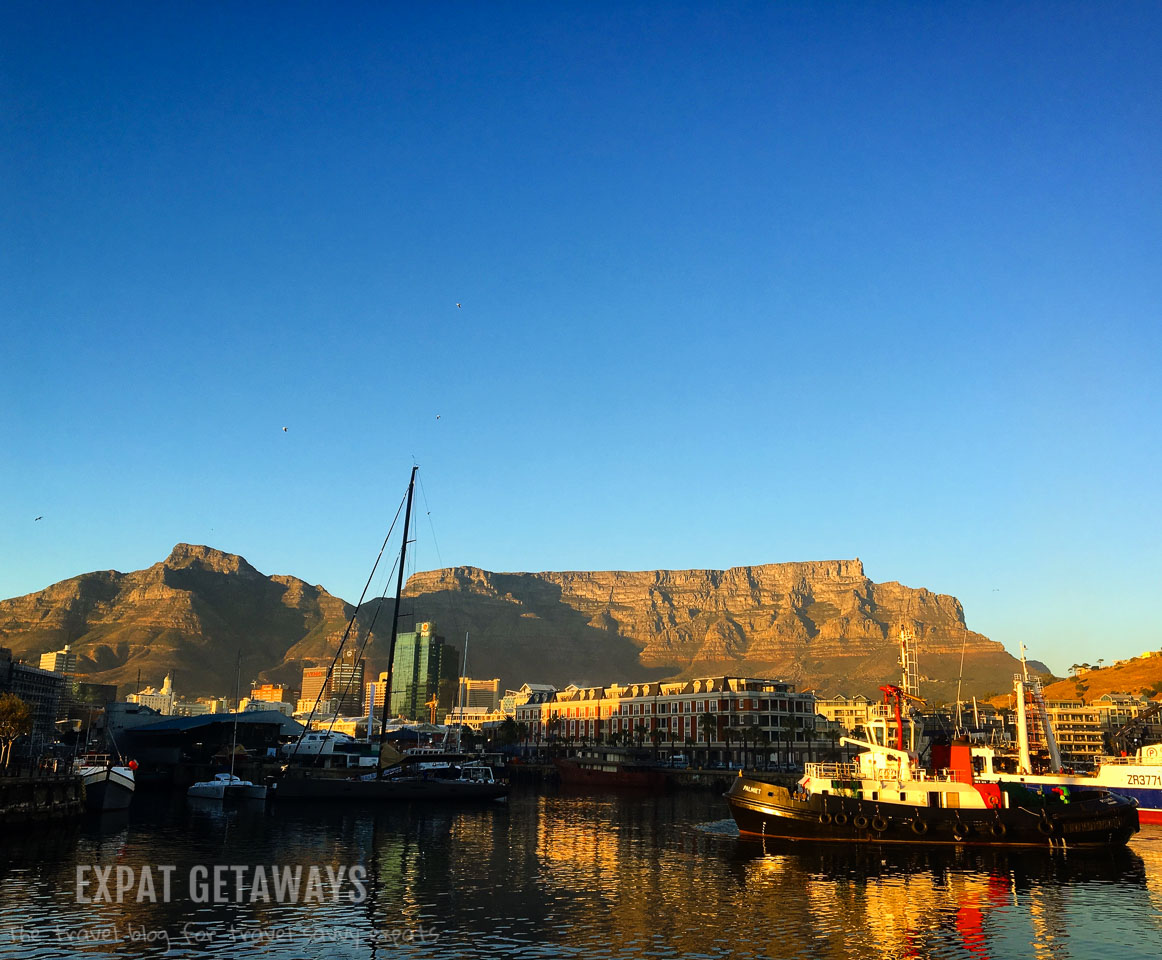 Day 1 – Arrive Cape Town
Depending on where you are arriving from you will need a day to settle in.
Day 2 – Table Mountain and Cape Town City
Table Mountain
Kick-start your Cape Town adventure with the best views in town. Table Mountain is the icon of Cape Town and not to be missed. Be warned though – she can be very shy and is notoriously covered in the "table cloth" of clouds. Plan to go on your first day and if there is cloud coverage you will have more days up your sleeve for a visit.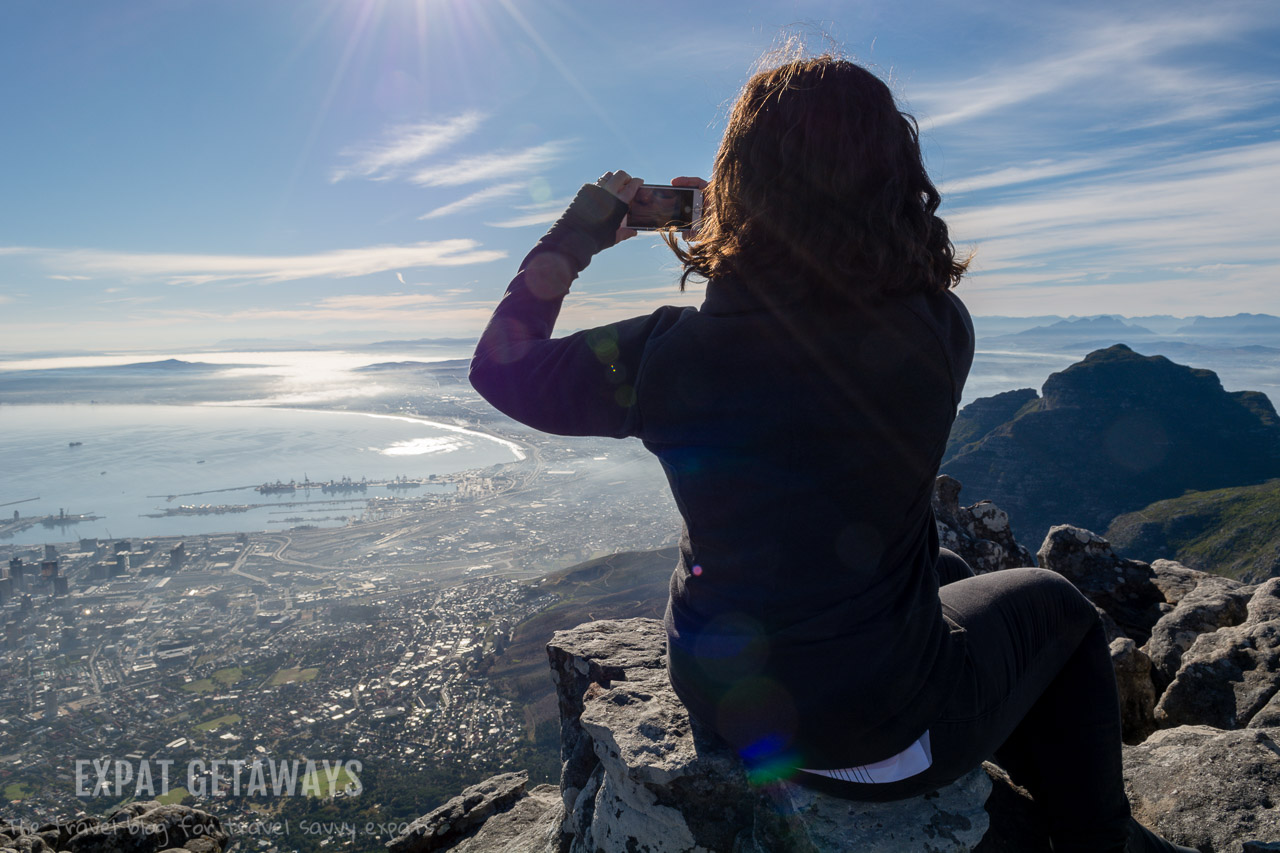 Book your tickets online for the Table Mountain Cableway. Set off early and arrive when it opens to be one of the first on the mountain. The cable car is a quick few minutes rising to the peak, but what I really loved was that the floor rotated to give everyone a clear view. Don't worry if you miss the perfect photo op, there will be plenty more at the top!
Once at the top you can grab yourself a coffee and go for a leisurely stroll. If you are feeling energetic you could take the 5.5km hike over to Maclear's Beacon, the highest point on Table Mountain, for a view 360-degree views from the mountain. Otherwise meander along the stone paths for breathtaking views to Lions Head, Table Bay, the city and Camps Bay.

If you are an avid hiker there are numerous hiking trails that take you up the mountain and around the national park once you are there. Don't forget to wear appropriate footwear and clothes for the conditions. In the winter it can be quite cold at the top and in summer roasting hot in the sun.
Cape Town City
In the afternoon give yourself time to explore the city centre. There is a wealth of interesting architecture representing the blending of cultures. You can explore the Dutch and English history, learn about the vibrant Cape Malay culture in colourful Bo Kaap and of course further your apartheid understanding in District Six.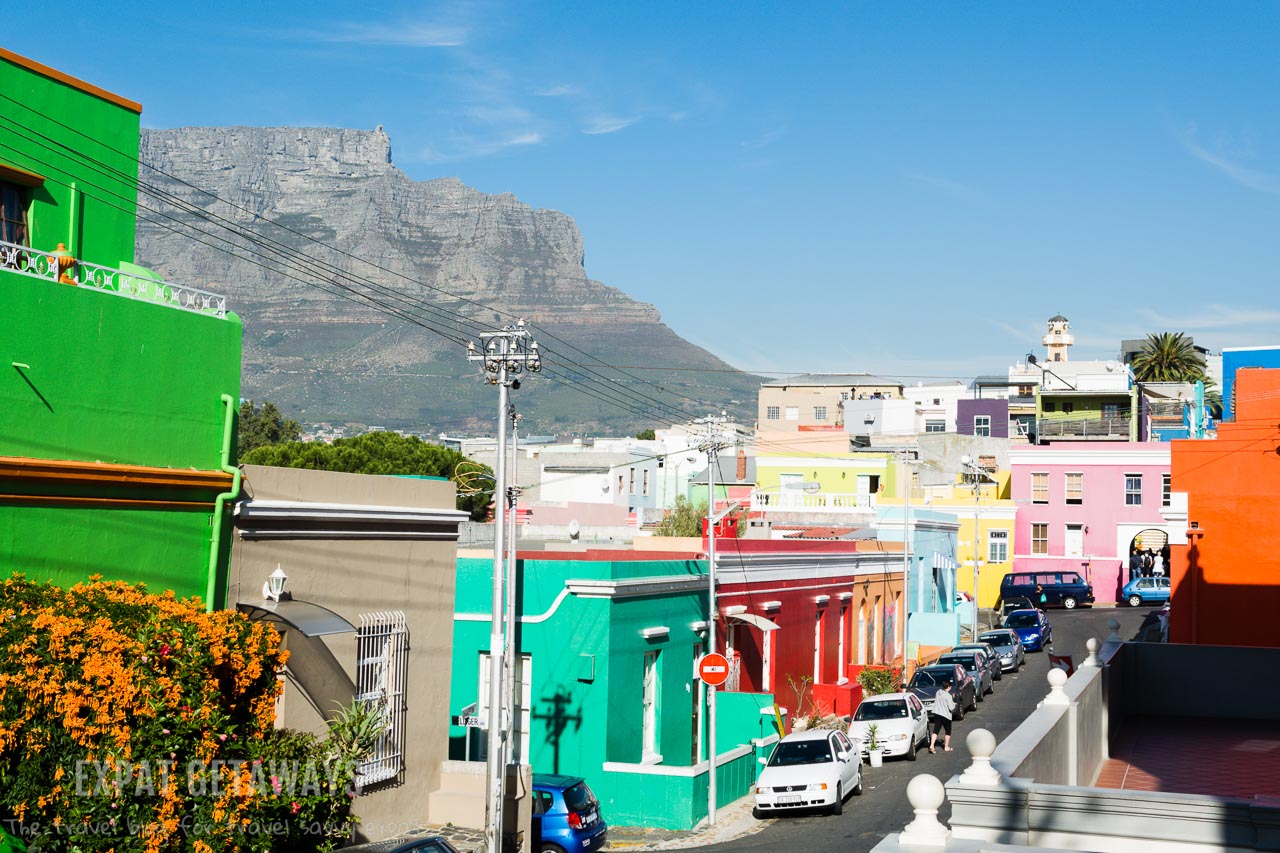 Cape Town Free Tours  have a number of tours departing in the afternoon if you don't feel like navigating the streets for yourself.
Day 3 – Robben Island and the V & A Waterfront
Robben Island
Book your tickets in advance to Robben Island. You'll be treated to some lovely views and it will be quite the history lesson on apartheid in South Africa. It is incredibly moving being shown around the maximum-security prison by a former inmate and learning the tales of those who were imprisoned.
The standard half-day tour is incredibly worthwhile, but from an organization standpoint could be better. You are herded from the ferry to a huge coach, bussed around the island and then dropped off for your walk (with 50 others). The result was people being separated from the group, not hearing the guide and not having enough time to really let the gravity of the situation sink in.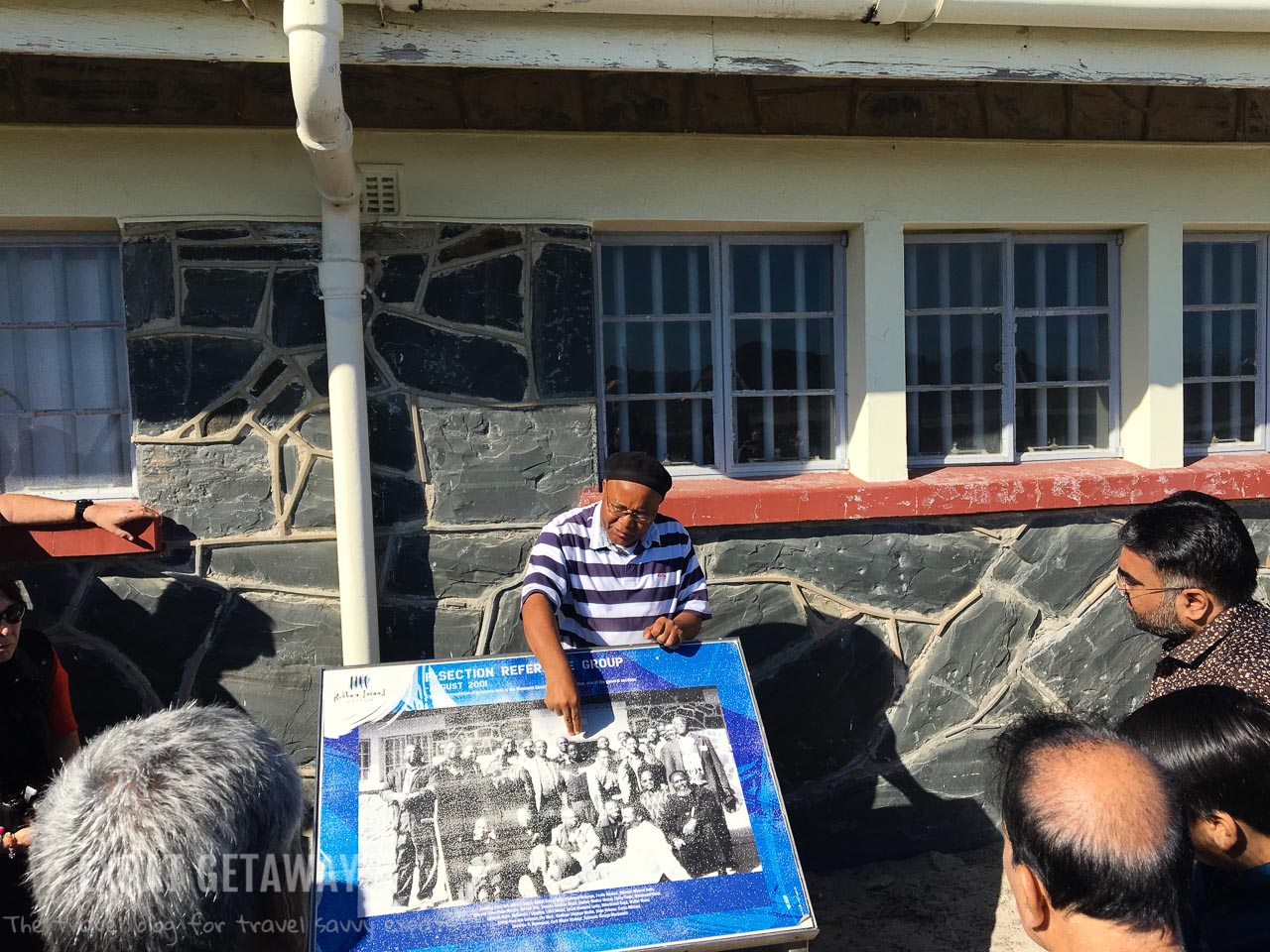 Do yourself a favour and read up a little on South Africa's history of apartheid before your travel. You don't have to go into the depths of historical and political study, but if you have a modest understanding of the political struggles of Nelson Mandela you will get more out of your trip to Robben Island. You could try reading The Power of One by Bryce Courtney or if you are into something a bit more weighty Nelson Mandela's Long Walk to Freedom (both have a film adaptation).
If you have the time and a bit more of a budget I'd highly recommend enlisting the services of Big Blue Sky. They have a private guide who is a former political prisoner who will show you around privately, without the same constraints as the large tour group. I only wish I'd known about this before our visit!
V & A Waterfront
Spend your afternoon strolling the touristy V & A Waterfront. There are loads of restaurants, souvenir shops and a vibrant atmosphere. For those looking for a bit more there is the Cape Wheel (seriously does every city have one of these now?), the aquarium and plenty of interesting street life.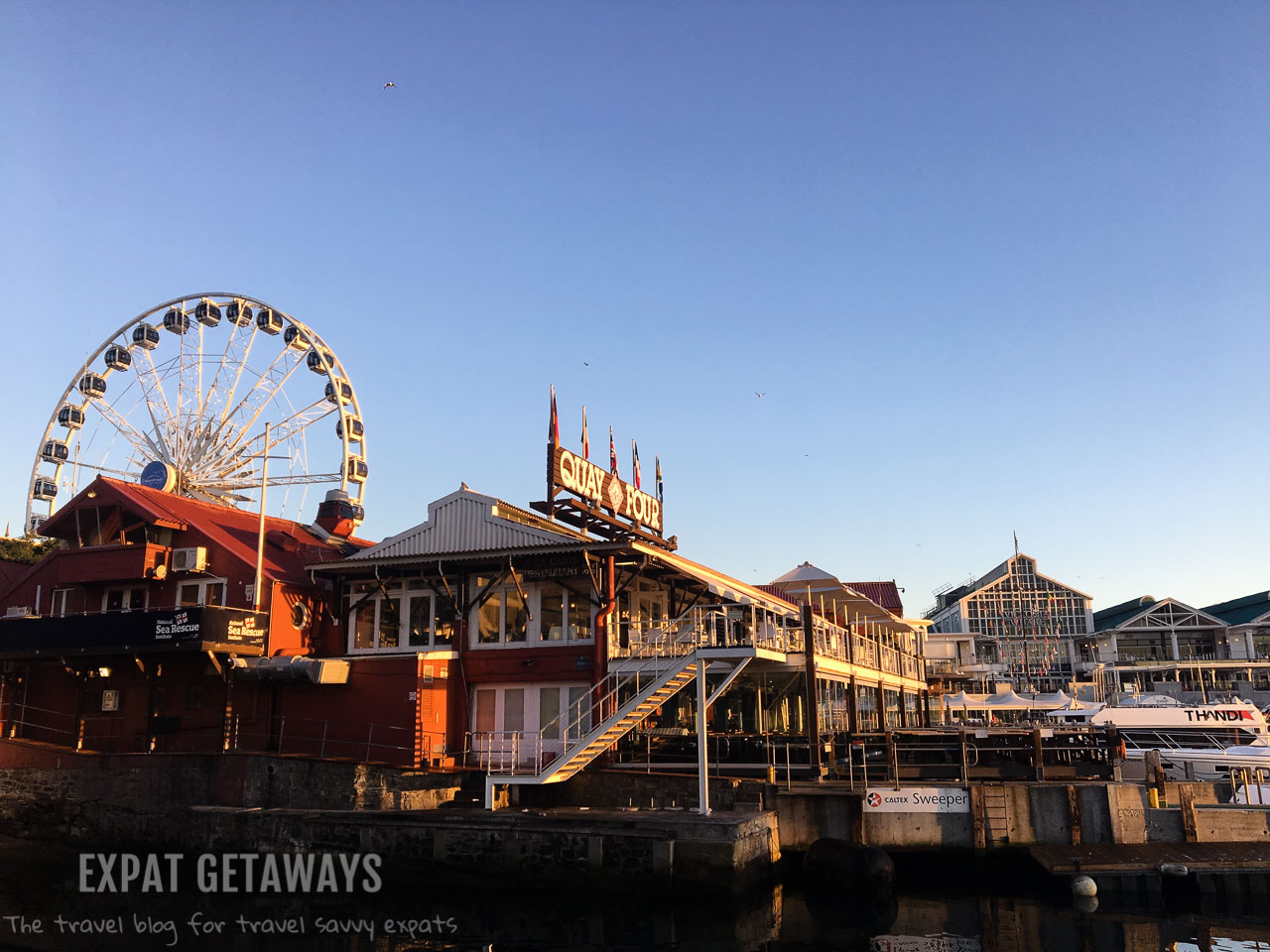 Day 4 & 5 – Cape Wine Regions: Stellenbosch & Franschoek
From Cape Town city centre you have the wine regions of Stellenbosch, Franschhoek and the Constantia Valley all on your doorstep.
Our initial plan was to hire a car and take ourselves off on a little adventure. That was going to create the problem of needing a designated driver so it made much more sense to enlist local expert John from Big Blue Sky tours to show us his favourite wineries.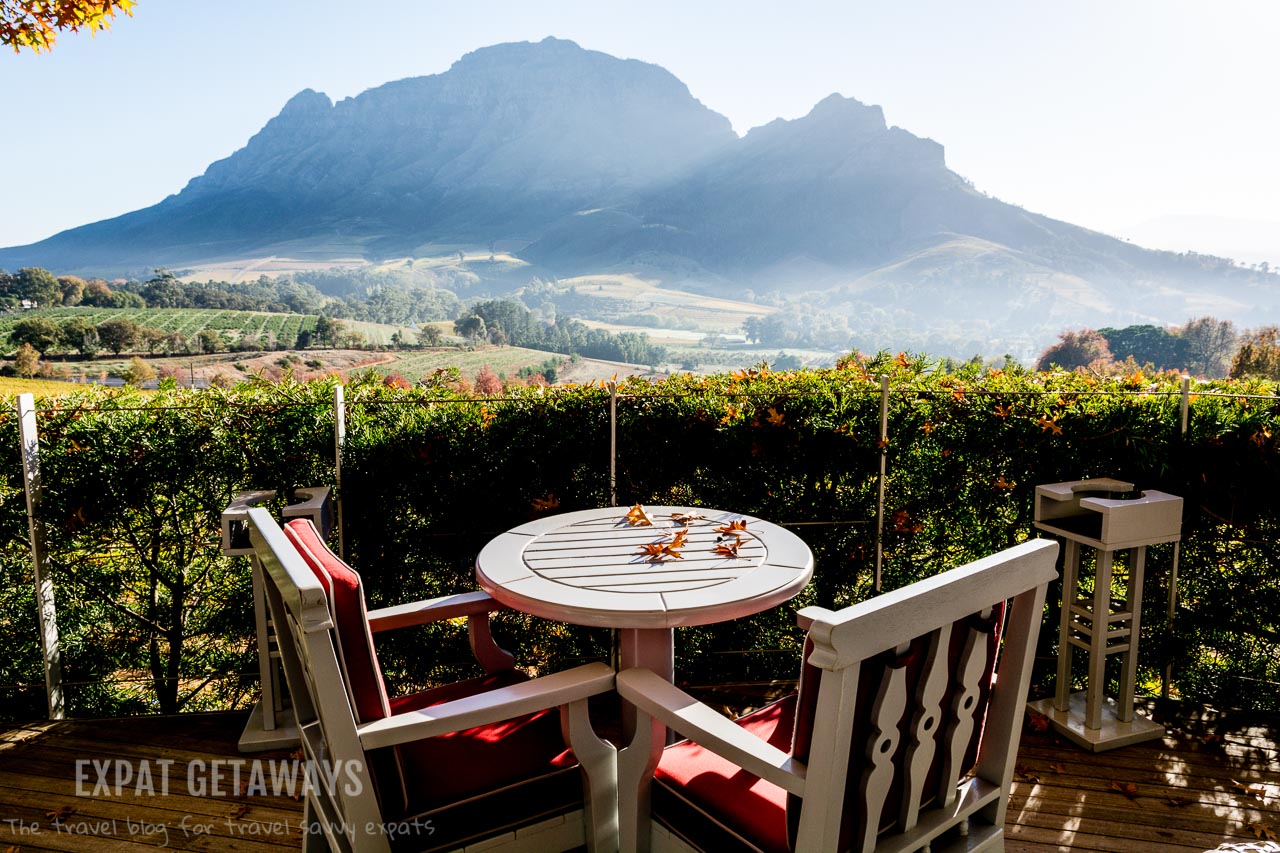 With John as our private guide we were treated to local intel and the ability to get off the beaten track to some truly superb South African plonk. Two days with an overnight stay in either Stellenbosch or Franschhoek is the perfect amount of time to just get a taste (pun intended) of what this growing wine region offers.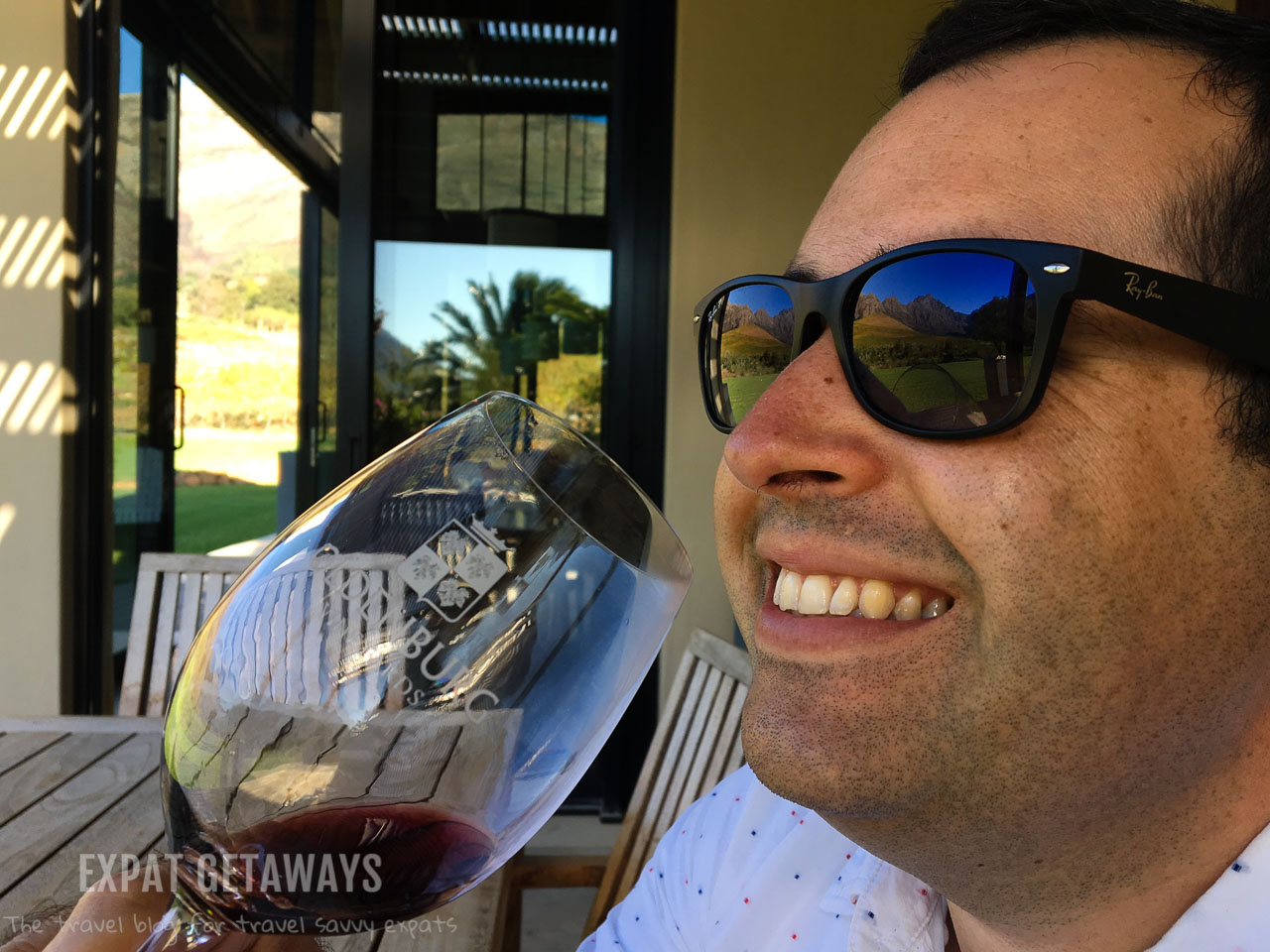 Over the two days we stopped at six wineries for tasting plus another two for lunch. With two full days we could go at a leisurely pace and enjoy the surroundings as much as the wine. Each stop had at least five tasters of everything from local varietals chenin blanc and pinotage to traditional favourites (of mine at least) cabernet sauvignon and merlot.
Coming from Hong Kong, the best part for us was how cheap the wine was! We bought one of the more expensive bottles at Anthonj Rupert (a 2012 Syrah if you were wondering) for R500 (HK$300). Living in HK where you will easily pay HK$500+ for a bottle in a restaurant this was an absolute steal. I'm getting thirsty just thinking about it!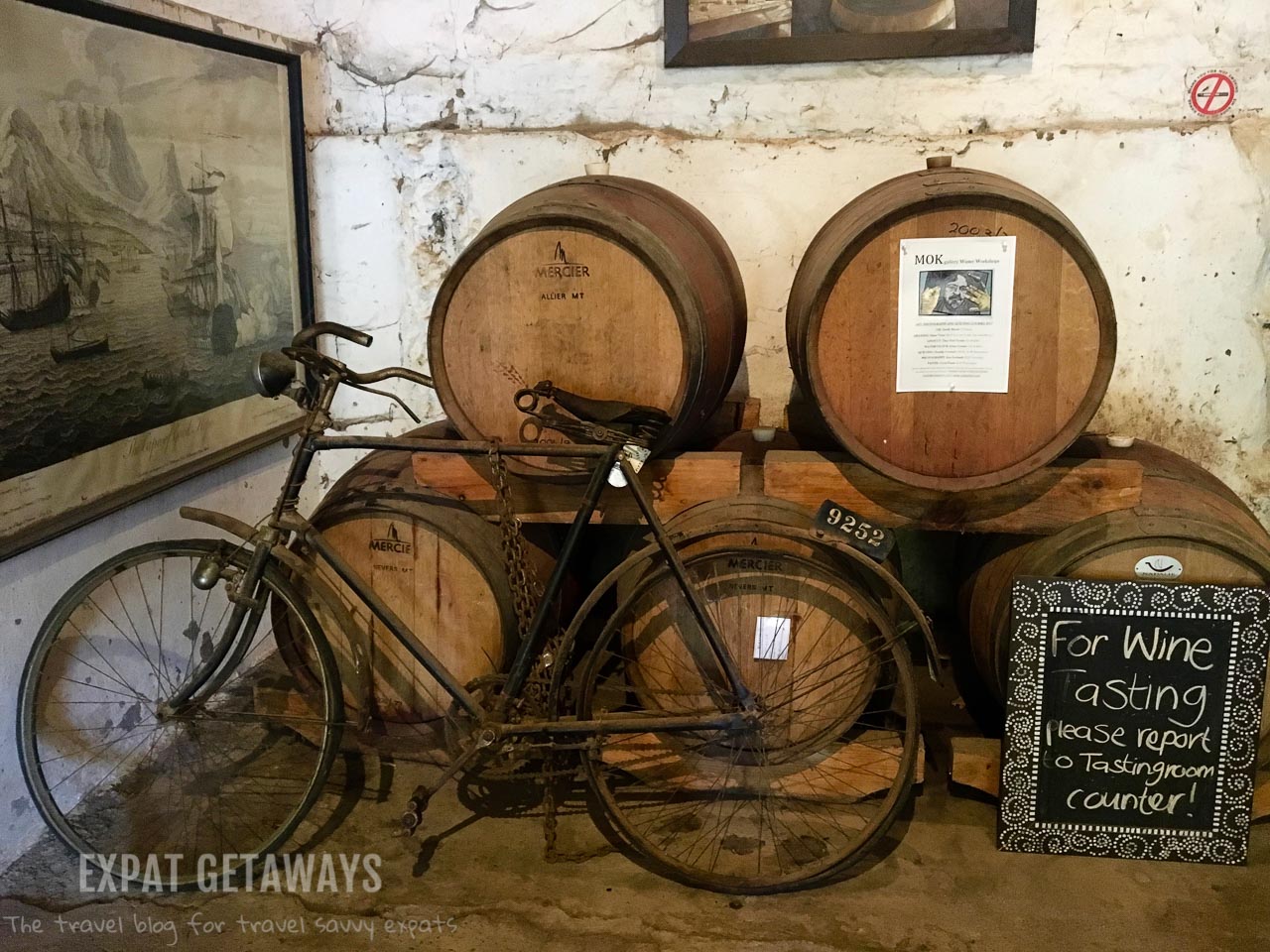 Day 6 – Cape of Good Hope
The Cape of Good Hope is the most southwestern point of continental Africa and an easy day trip from Cape Town. Take the stress out of your day and book a driver- guide to do the hard work for you. As with Robben Island and the cape wine regions Expat Getaways highly recommends Big Blue Sky tours.

Start your day with an easy drive down the west coast, calling in at Hout Bay. Just off the coast is an island where you can watch hundreds of playful seals sunbaking on rocks and playing in the sea. The whole trip will take about an hour and is the perfect place to break up your drive.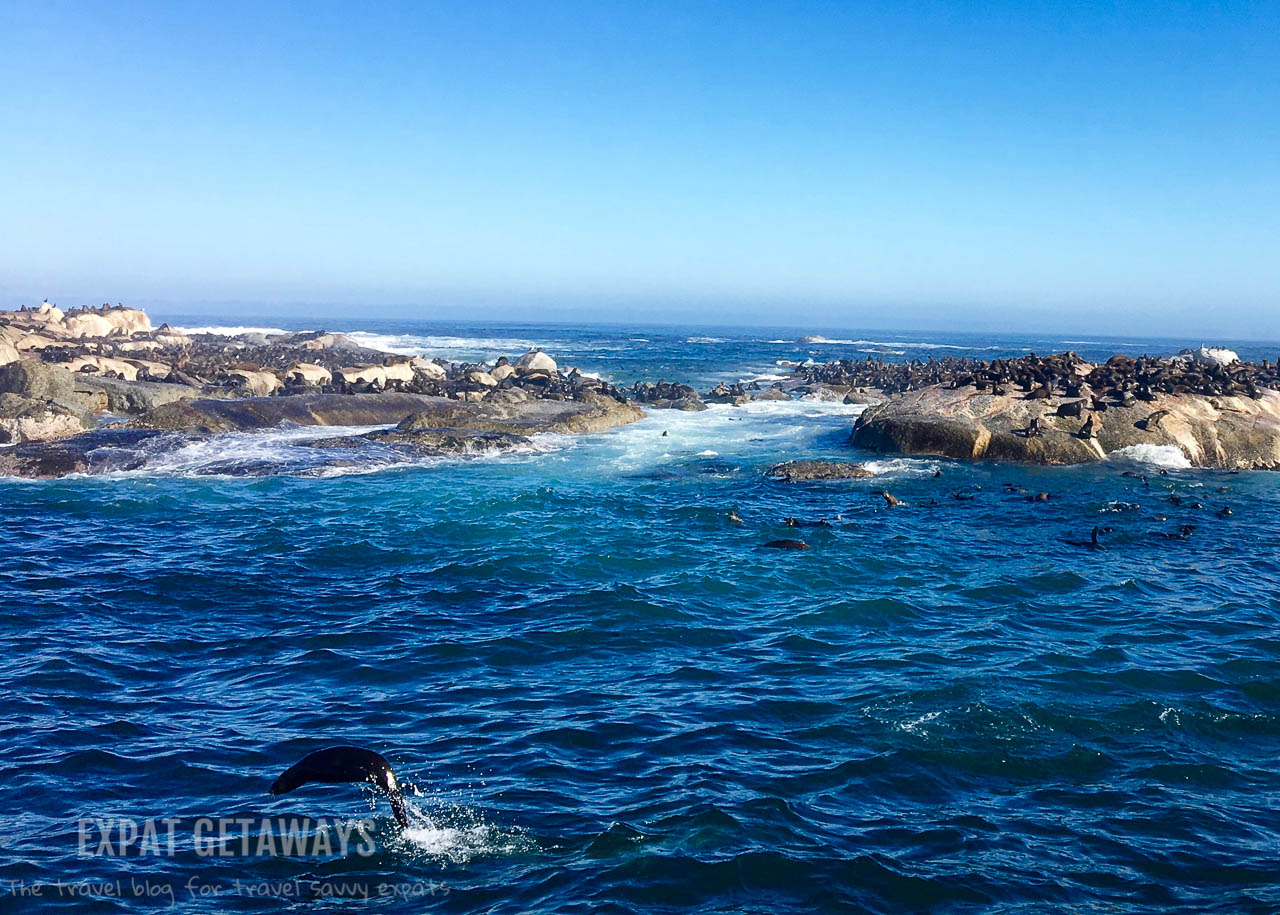 Continue south and you will enter the southern area of Table Mountain National Park. The drive is impossibly scenic and if you are lucky you'll spot wild ostriches and baboons along the way. Follow the signs until you reach Cape Point and stop for the obligatory photo and then call in at the Flying Dutchman funicular. From the top you look to the east towards the Indian Ocean and the west towards the Atlantic.
If you are getting hungry there is a restaurant called Two Oceans where you can sit and soak up the spectacular views.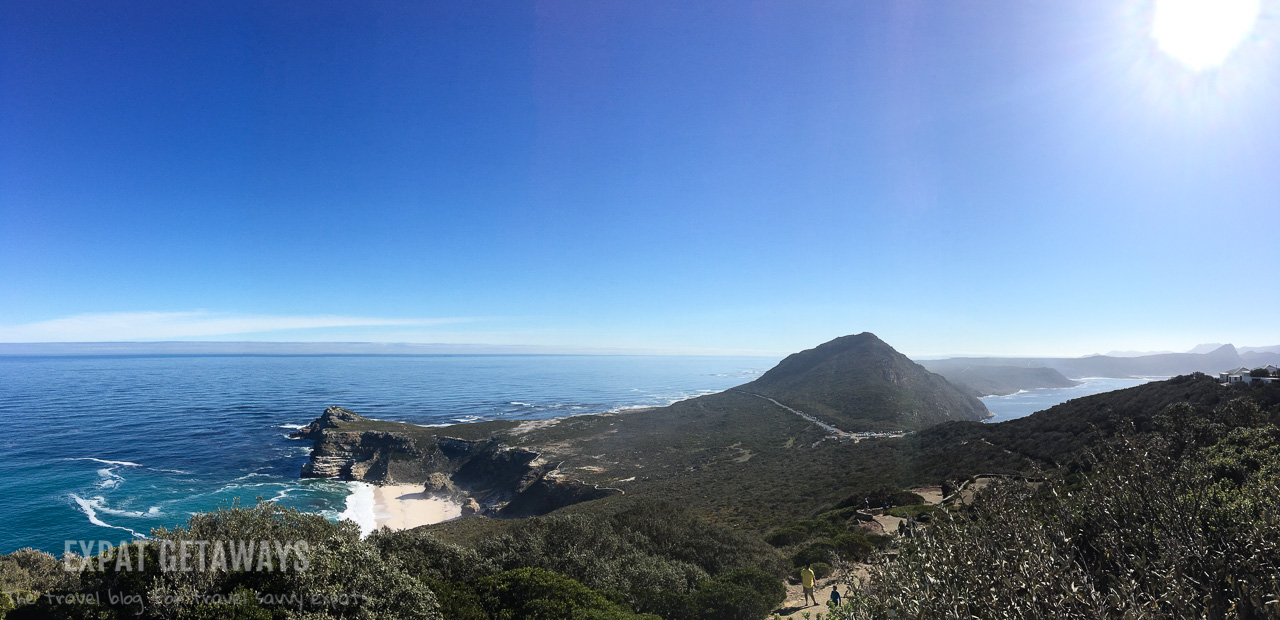 On the way back to Cape Town follow the east coast of the peninsula up to Simon's Town. If you hadn't got enough animal cuteness watching the seals play then this is your stop. Boulders Beach at Simon's Town is home to a large colony of African penguins.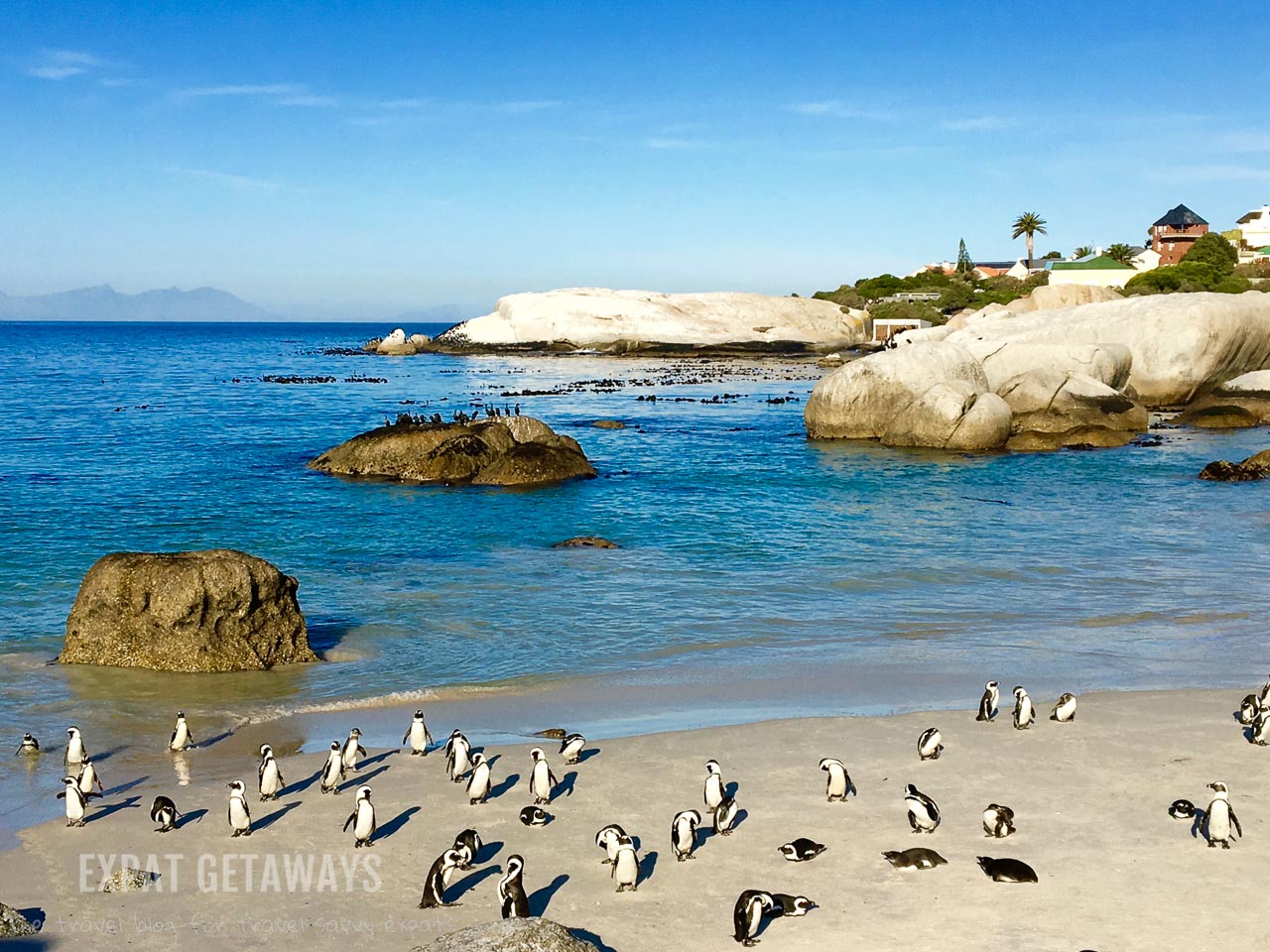 You can stroll down the elevated boardwalk, through the nesting area and down to the beach. Depending on the time of year you will see nesting mothers protecting their eggs or young. In the evening you can hear the females calling their mates back from the water and watch as the males waddle up the beach towards their partner. Absolute cuteness!
Make your way back to Cape Town as the sunsets and pick a spot for your last night in town.
Day 7 – Depart
All good things must come to an end. One week is enough to see the Cape Town Highlights, but if you are like us it won't be enough. I'm determined to get back to Cape Town one day and I'm certain that I've left a little bit of my heart there.
Top Insider Tips for Cape Town
Book in advance! This goes for attractions and restaurants. Tours like Robben Island fill up so you can't rely on just showing up on the day. Likewise many of the cities top restaurants take reservations and fill up months in advance.
Uber is a cheap, safe and reliable way to get around the city. You shouldn't walk in some areas come nightfall.
You need to be cautious in any city, but definitely keep your wits about you in South Africa. We saw a tourist get pick pocketed the second he walked out of his hotel in the city centre (the culprit was half-way down the street and around the corner before we could get the victims attention).
Mix it up. With a week you have the flexibility to stay in different locations around the city. On our trip we stayed near the V & A Waterfront for our city centre sight-seeing and then moved out to an awesome AirBnb in Camps Bay to relax by the ocean for our last few nights.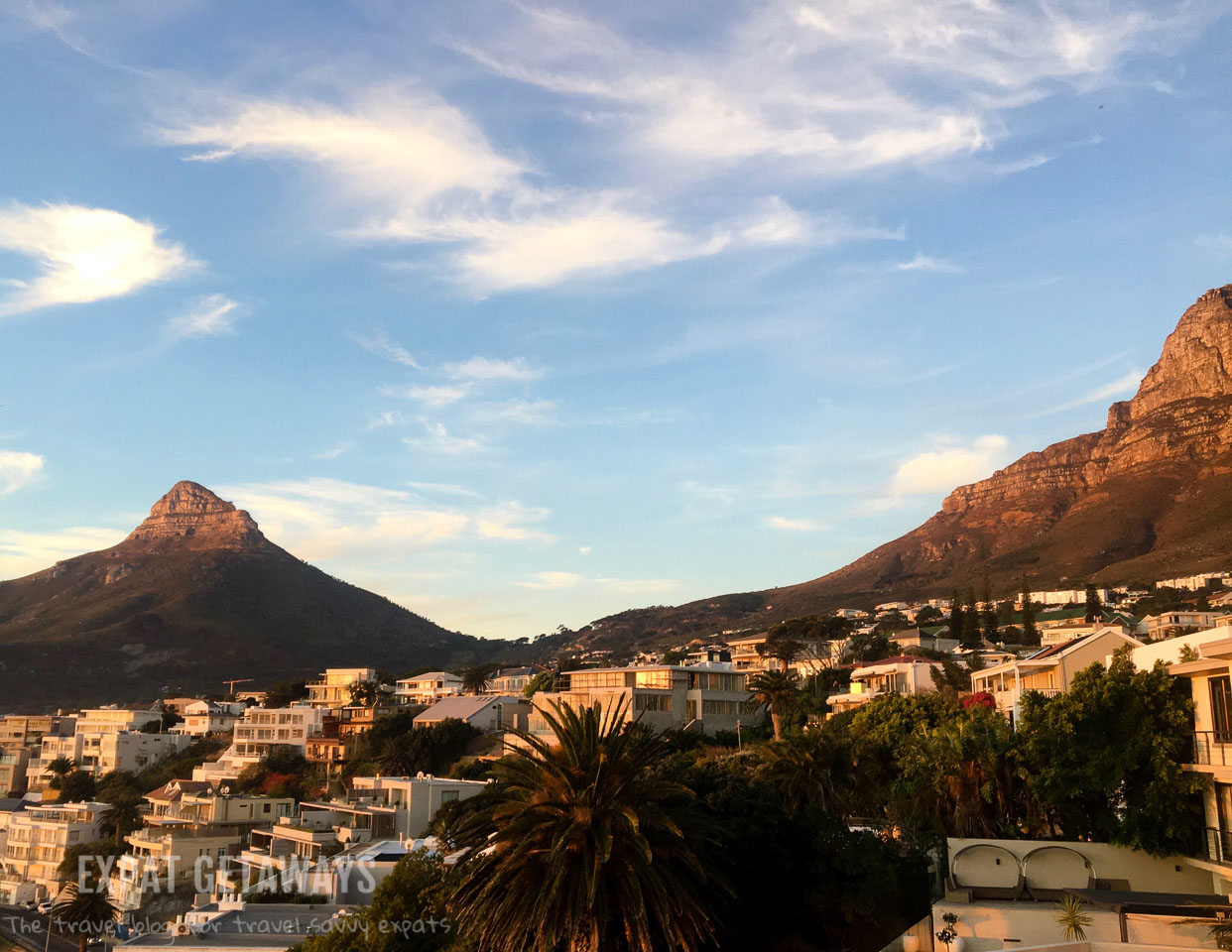 Restaurants
Cape Town is the perfect place to indulge in a little fine dining, especially if you have been off exploring the more remote parts of Southern Africa.
We personally tried:
La Colombe, Constantia Valley
AMAZING! This is up there with the best fine dining I've ever had. It was the perfect mix of wonderful food and wine pairings with the excellent service you expect from fine dining. The food was sometimes unusual, but not pretentious.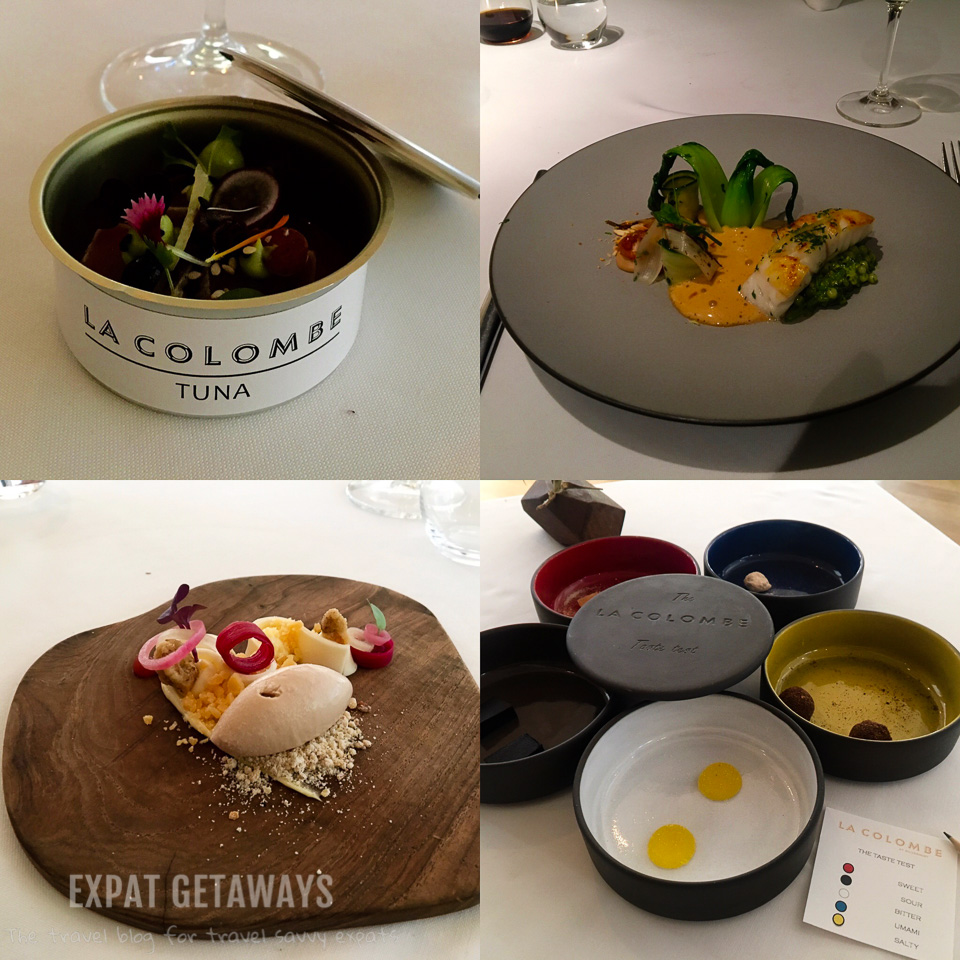 Harbour House, V & A Waterfront
I had this restaurant on my list to visit in Kalk Bay and then wandered by completely by accident at the V & A Waterfront. It had a nice setting on the harbour, good seafood and service. You can't go wrong.
Two Oceans, Cape of Good Hope
You eat at Two Oceans for the stunning views. We enjoyed some great sushi as well as cooked seafood, but mostly enjoyed our surroundings.
Overture, Stellenbosch
I'll preface this by saying that we had been to a few wineries by the time we stopped for lunch. Even after a few I seriously enjoyed the food and wine on offer at Overture. Featuring fresh, local ingredients and a stunning setting, it was the perfect place to enjoy lunch.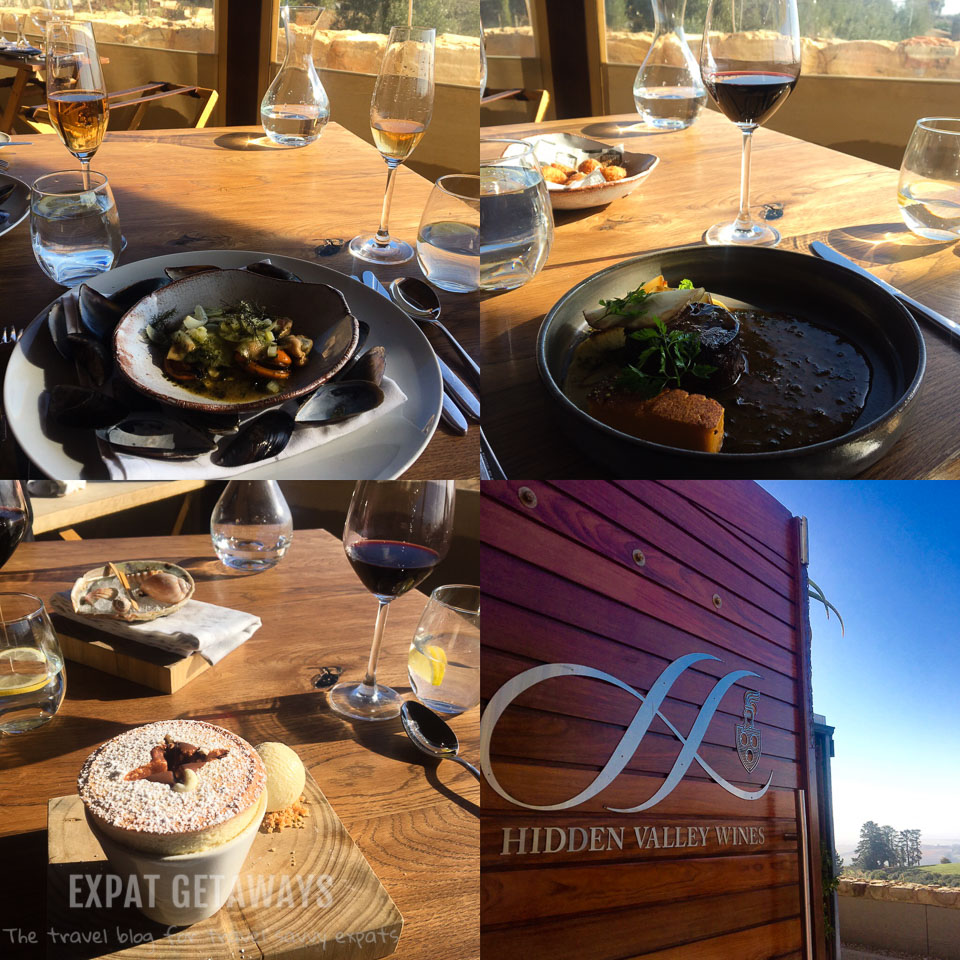 Bread and Wine, Franschhoek
We enjoyed a lovely alfresco lunch at Bread and Wine. They had a great menu featuring local charcuterie and I loved that you could order a tasting flight of wines. We didn't do an official tasting here, but between the two of us we sampled a variety over lunch and picked our favourite.
We would have loved to have tried the following, but either couldn't get a reservation or ran out of time.
The Test Kitchen, Cape Town
The Pot Luck Club, Cape Town
The Bungalow, Cape Town
The Round House, Cape Town
Tours
Big Blue Sky Tours – You can't go past John and his team. We had the perfect mix of local knowledge, history, culture, humour, friendliness and professionalism.
Transport
Cape Town has international connections to Duabi, Doha, London, Amsterdam and Paris. For the rest of the world you will need to transit through Johannesburg.
Photographs
Almost all photography is courtesy of my lovely husband over at Andrew Mizzi Photography. Be sure to check out his website for info on his camera kit, to purchase prints and of course more stunning photographs from this trip and our travels around the world.
Love it? Pin it!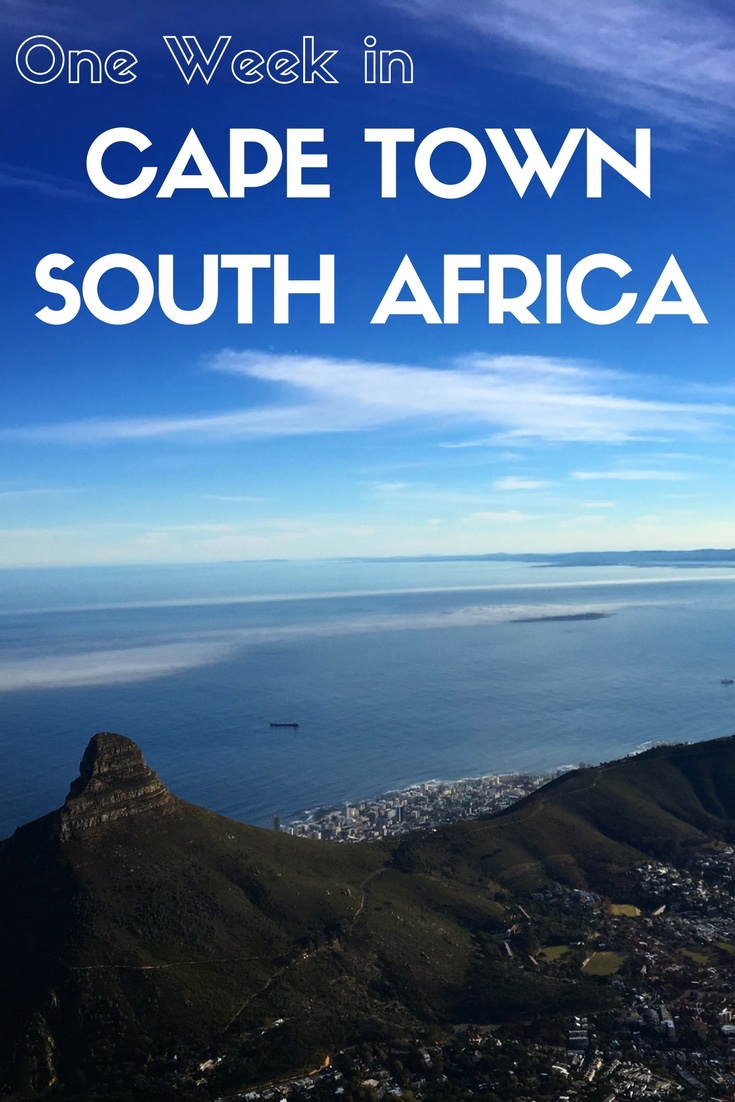 Expat Getaways endorses a policy of full disclosure.  This getaway was not sponsored or paid for by any company mentioned, and all views and opinions are solely those of the author. This post may contain affiliate links. This means that I may get a small commission at no extra cost to you. I only recommend products that I use and love myself, so I know you'll be in good hands.
Comments
comments