Victoria Falls, Mosi oa Tunya – "the smoke that thunders", one of the seven natural wonders of the world and depending on how you look at it, the biggest waterfall in the world.
How long do you need to spend in Victoria Falls to really appreciate this natural wonder? Should you visit from Zimbabwe or Zambia?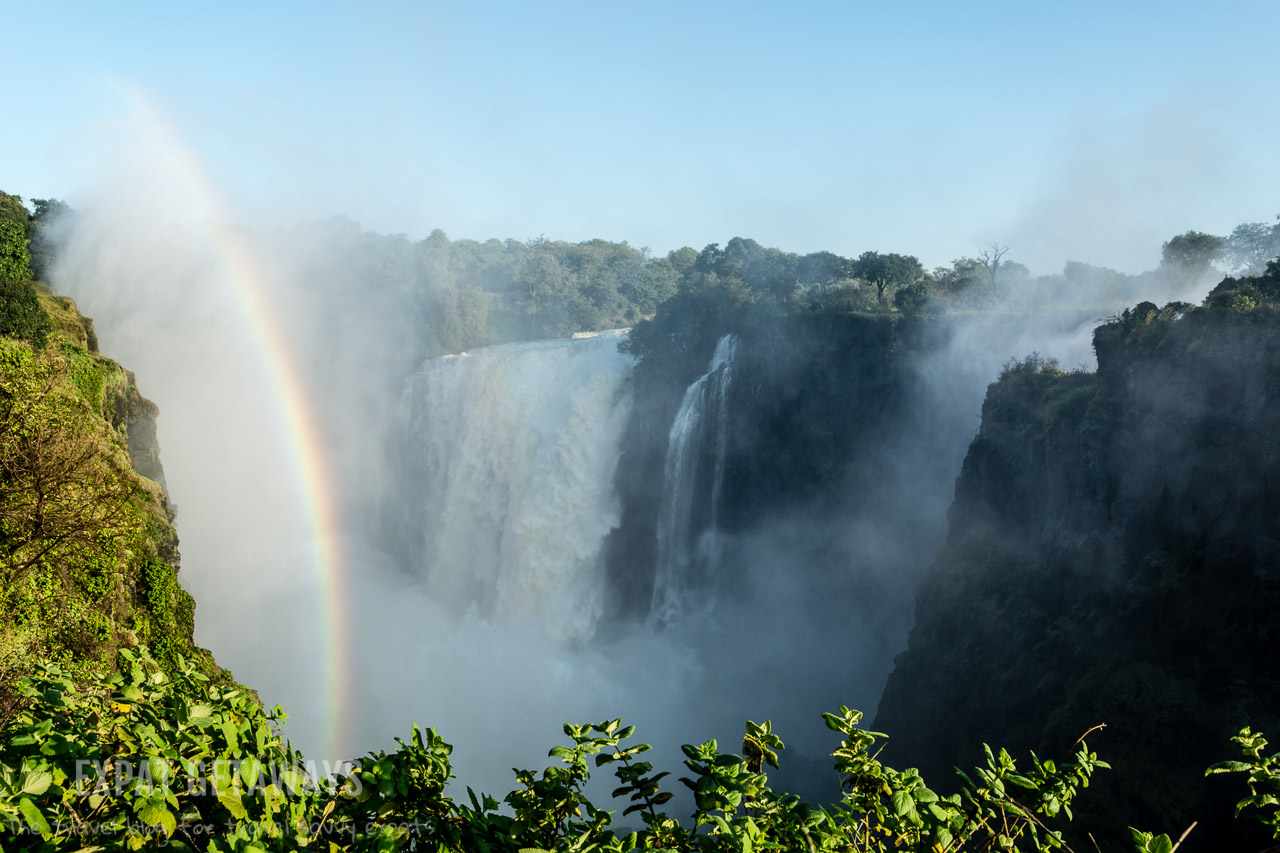 The main reason to visit Victoria Falls town is of course to see the falls themselves, but there are loads of other activities on offer for adventure seekers and wildlife lovers.
On our 2017 African Adventure we spent three nights in Vic Falls giving us two and a half days to explore (arriving 2pm and departing first thing on our final morning). In hindsight because we travelled in the wet season we could have just spent two nights here. Likewise if you travelled in the dry season, or if you have money to burn you could easily spend 3 days or more exploring the area.
Wet Season Itinerary
1: Arrive Vic Falls, sunset dinner cruise on the Zambezi
2: Sunrise on the Zimbabwe side of Victoria Falls, cross to Zambia side for view and return for afternoon helicopter flight.
Departure Day
Dry Season Itinerary
1: Arrive Vic Falls, sunset dinner cruise on the Zambezi
2: Sunrise on the Zimbabwe side of Victoria Falls, helicopter flight
3: Livingstone Island, Devil's Pools and sunset on Zambia side.
Departure Day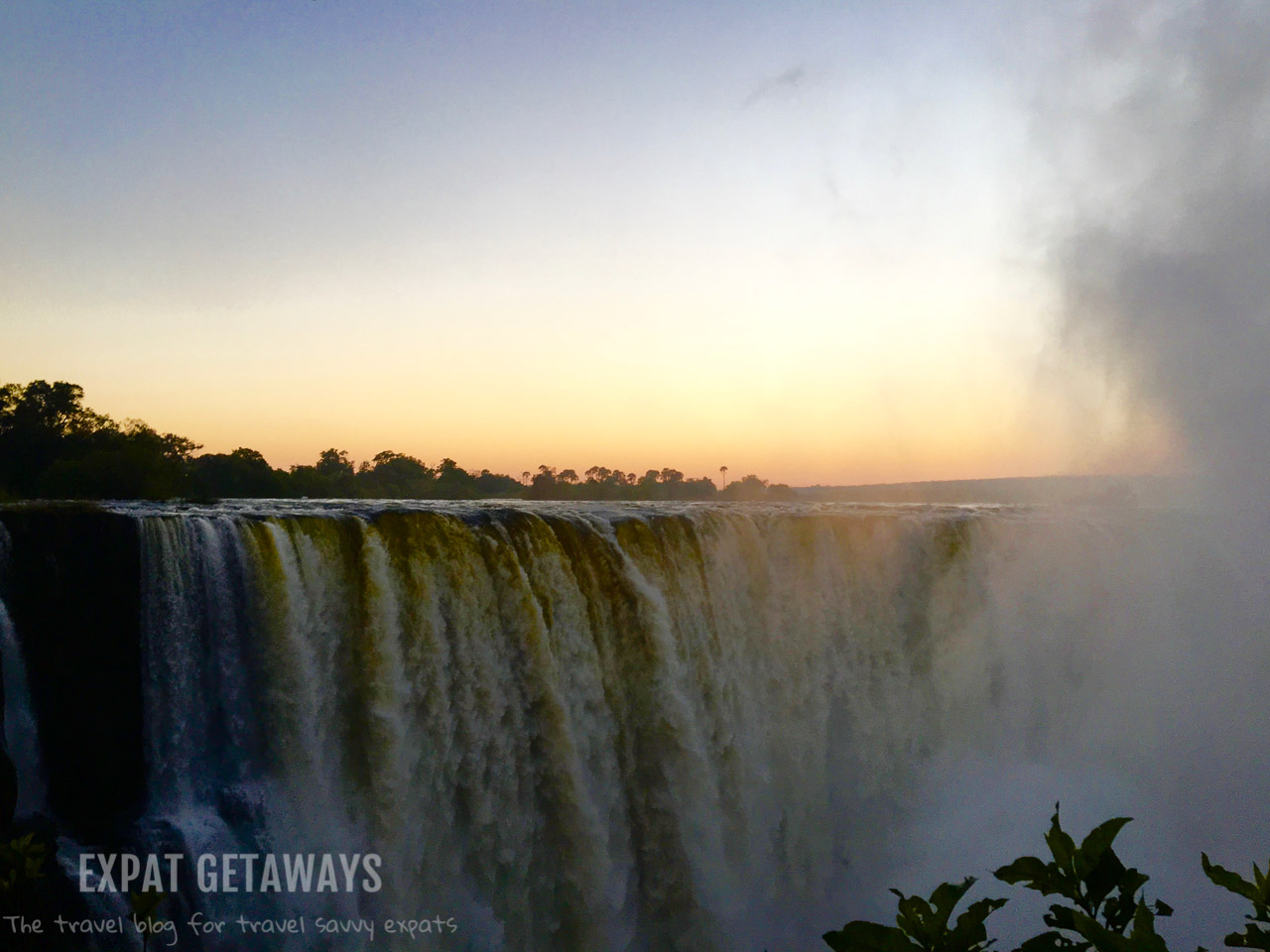 Day 1: Arriving into Victoria Falls
There are direct flights from Johannesburg, South Africa directly to Victoria Falls with South African and British Airways which arrive 12:30-1pm. Alternatively if you are going to Zambia there are direct flights to Livingstone which similarly arrive 12:20-12:45pm.
Most people disembarking your plane will be purchasing a visa on arrival so be prepared to wait around. We arrived 12:30pm and got to our accommodation by 2pm. We were told that most don't get through that quickly and arrive closer to 3pm.
Visas
Always check the official visa entry requirements before you travel. At the time of travel (May 2017) we were able to purchase a Kaza Visa on arrival. This gave us multiple entries for 30 days to both Zimbabwe and Zambia for $US50. Perfect for staying in Victoria Falls and taking a day trip to Zambia side. It looks like this program will be extended to include other African countries in the future.
Sunset Dinner Cruise on the Zambezi River
Hit the ground running with a scenic cruise on the upper Zambezi. There are numerous options for cruises and initially we were just going for sunset. Thankfully the lovely Lorrie from Lorrie's Bed and Breakfast suggested we spend a little more and go for the dinner cruise with Zambezi Explorer. A decision we definitely don't regret!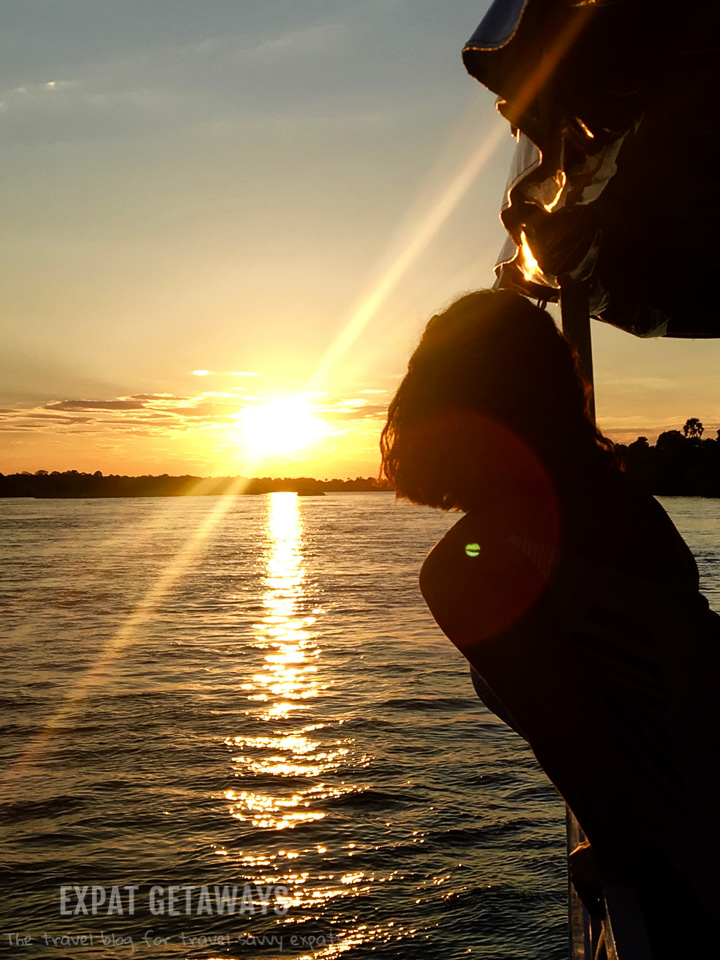 After a short bus ride to the boat we boarded our vessel, the Zambezi Reflections. A single level boat set up with private tables. There wasn't a bad seat in the house!
We were quickly given our drink options and then, with a glass of wine in hand we set off. I didn't want to get my hopes up, but the website said we'd definitely see hippos. I'm always skeptical when using the word definitely in relation to wildlife.
Sure enough though, just five minutes in we were face to face with a group of hungry hungry hippos!*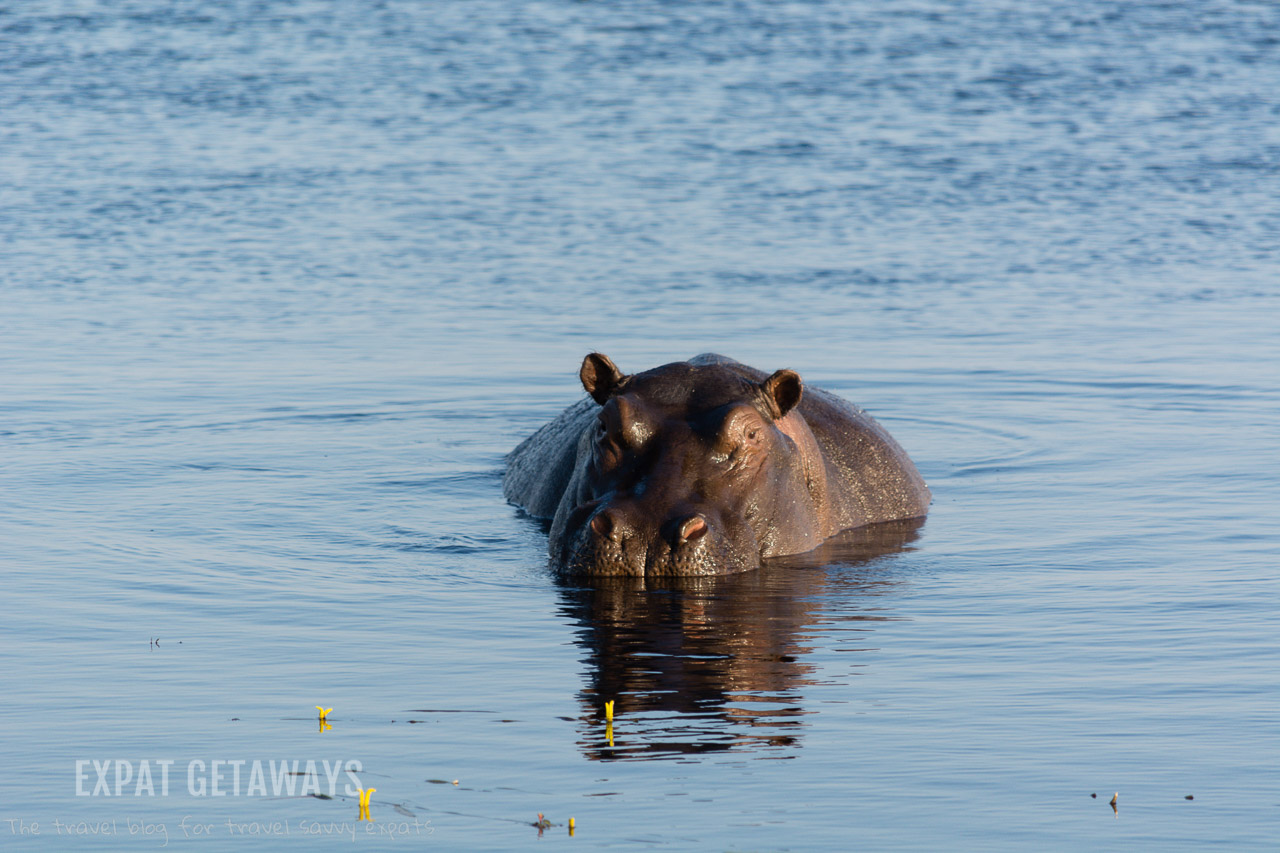 * I might be remembering a childhood filled with a rather loud and annoying board game but still…Andrew's memory is a children's book called "There's a Hippo on the Roof Eating Cake" so in my mind Hungry Hungry Hippos is a far more likely scenario to see!
The great views just kept coming as the sun dipped below the horizon. I was so captivated by the shades of orange and pink that I almost forgot to look out the other side where the full moon was rising.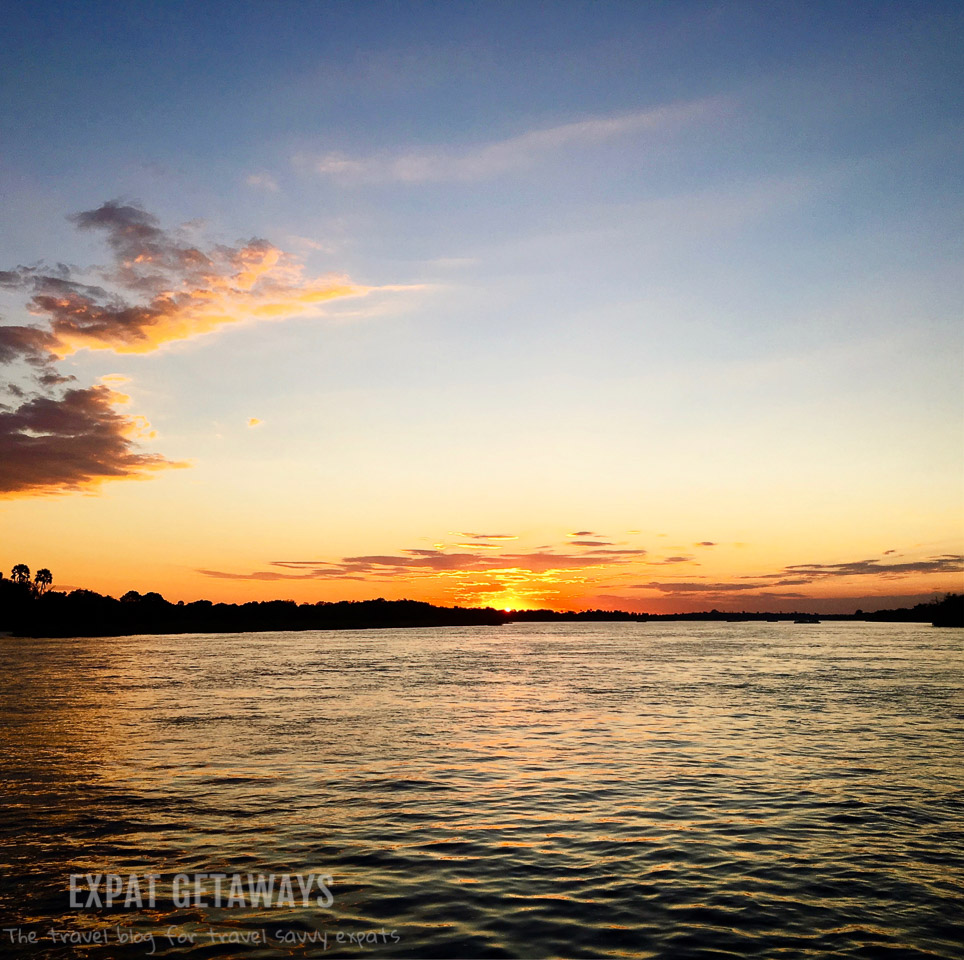 As we cruised in the dark we heard more hippos, saw a crocodile swim up to investigate our boat and glimpsed some giraffes eating by the waters edge.
Dinner
On an activity like this (and on a small floating boat no less), you don't really go with high expectations of the food. Well I should have because the food was fantastic!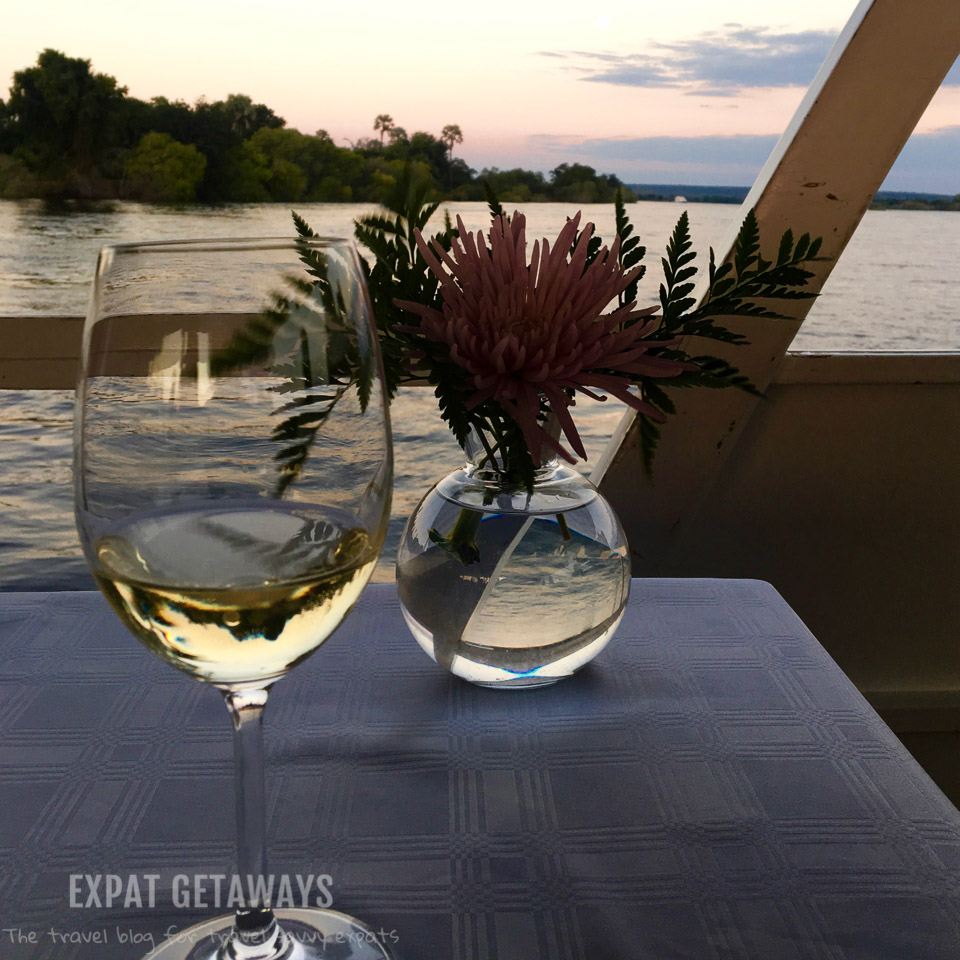 The starter was salami, cured ostrich and hummus followed by a carrot or cauliflower soup. For mains there was a choice of perfectly barbequed steak or a Zambezi bream and dessert (although by then I was stuffed) was a mini cheesecake, pudding and cookies. To finish everything off was a small sabayon – a mixture of egg yolk, cream and champagne.
Day 2: Exploring Victoria Falls from Zimbabwe and Zambia
6:00am Sunrise at Zimbabwe side of Victoria Falls
By far the best decision we made was getting up early to see Victoria Falls at sunrise. This is definitely an activity for the Zimbabwe side as you are facing east so the sun comes up over the falls.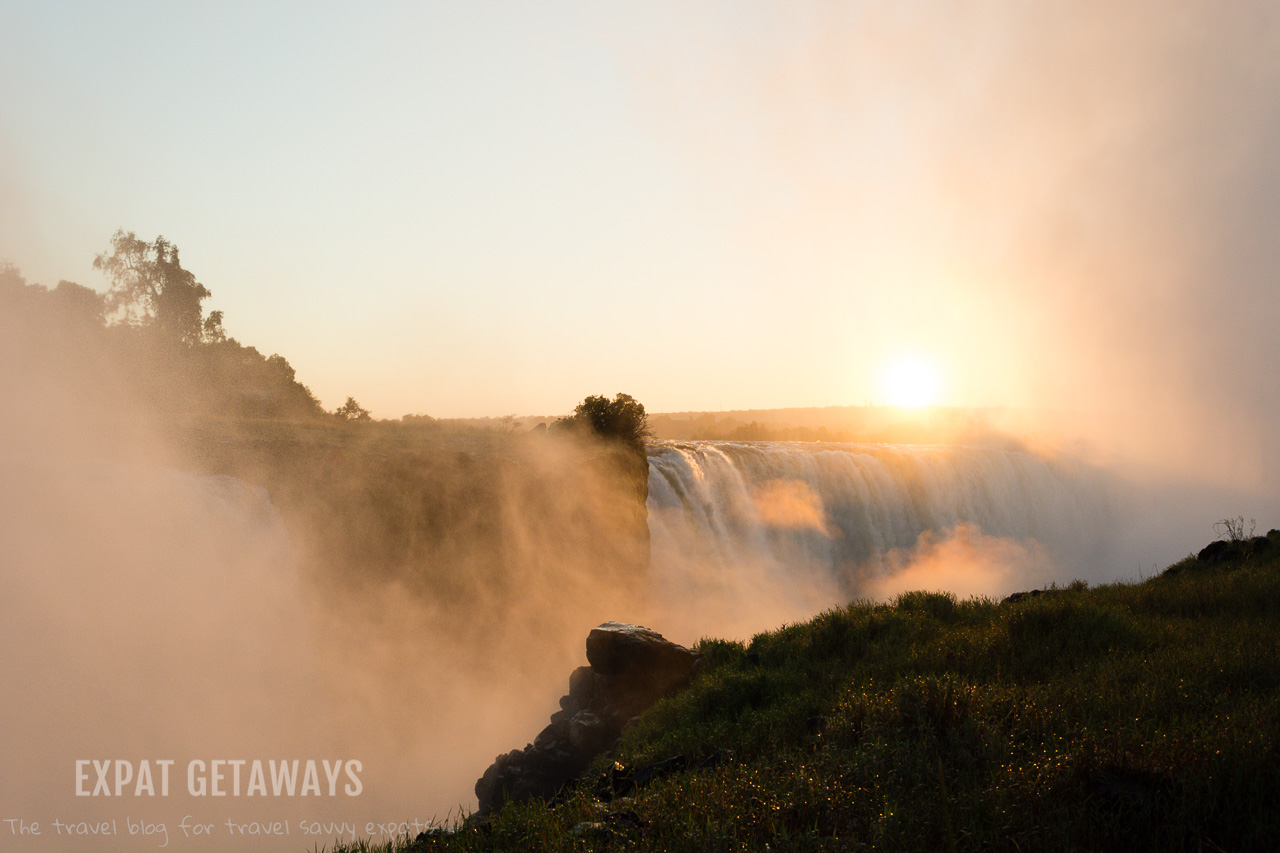 Book a taxi the night before and aim to arrive at the National Park as it opens. I'm pretty sure we were the first people through the gate! What's more we had the park pretty much to ourselves. We only saw four other visitors by the time we got to lookout point 16 and only a few others on our way back.
After paying our $US30 entry fee (yes $US30 each for a single entry!) we wandered in the darkness to lookout point 4. We made our way to lookout point 12 just as the sun started to come over the horizon and this is where we got the best photo opportunities.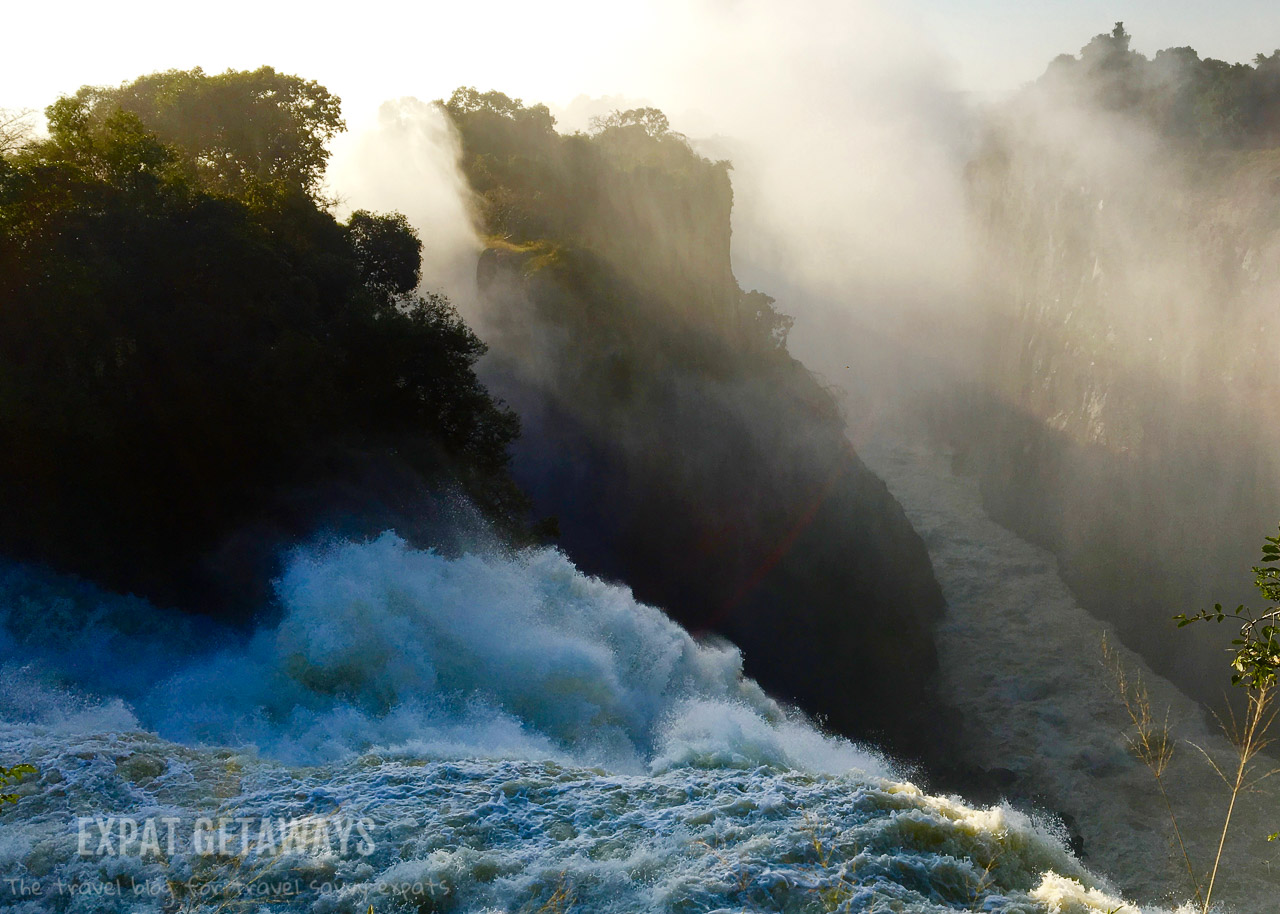 There are 16 lookout points on the Zimbabwe side of the falls. We started by heading straight for number 4 and working our way towards 12 by the time the sun was peaking over the horizon. That's where we got the best sunrise photographs. Once the sun was fully up we continued along to point 16 where you can see the bridge that crosses the Zimbabwe/Zambia boarder and then backtracked all the way to point 1 so we could see the spots we'd only seen in the dawn light.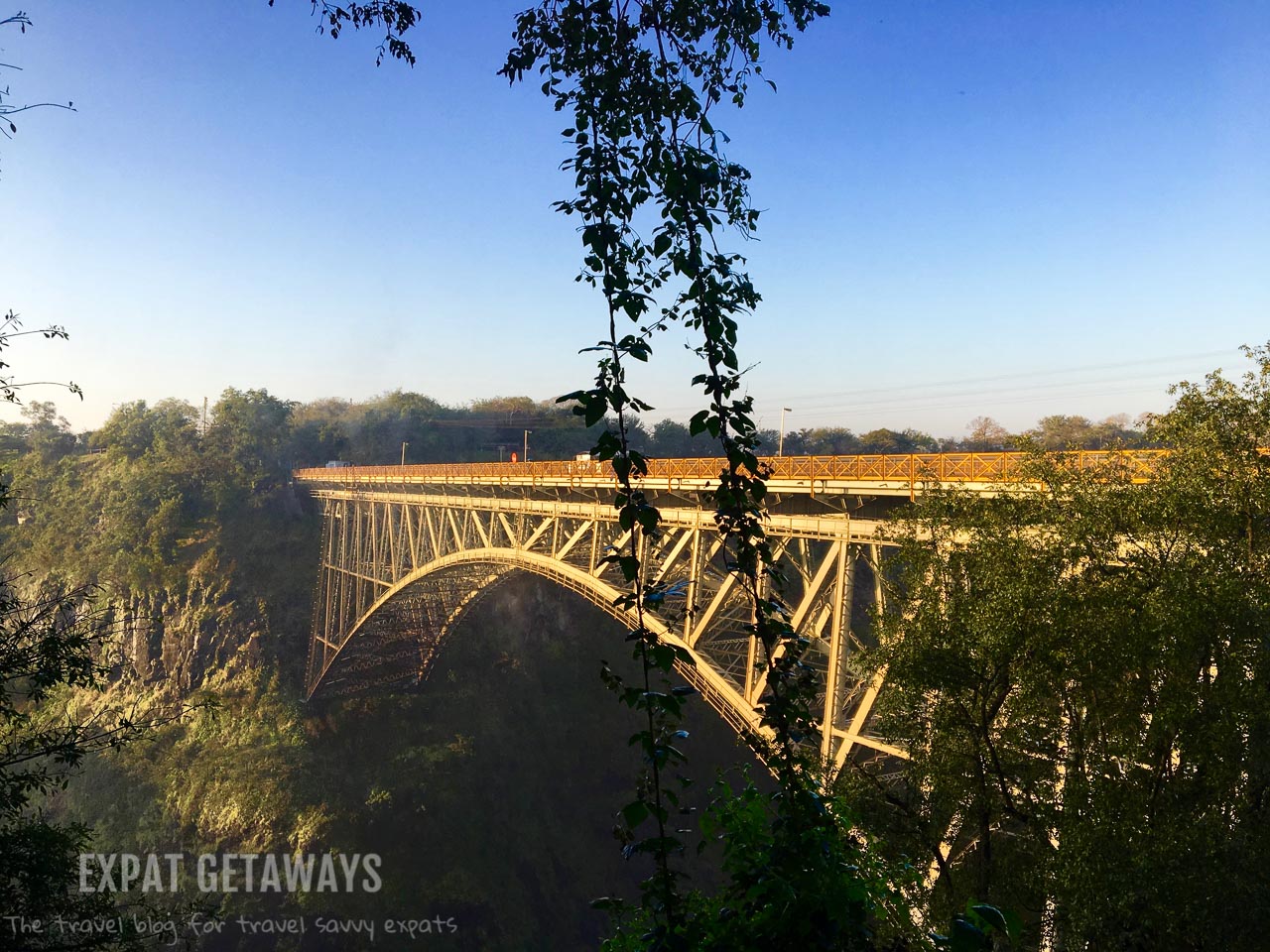 We spent about 2 hours in total in the National Park.
8:30am Cross the boarder
While 75% of Victoria Falls are in Zimbabwe, the 25% that are in Zambia are pretty special and well worth the visit especially if you already have your Kaza Visa.
The Zimbabwe boarder facilities are just beyond the entrance to the national park. Walk out of the N.P, turn left and you will see the entrance. From there you walk into a small immigration office and stamp out of Zimbabwe and start your walk across the bridge.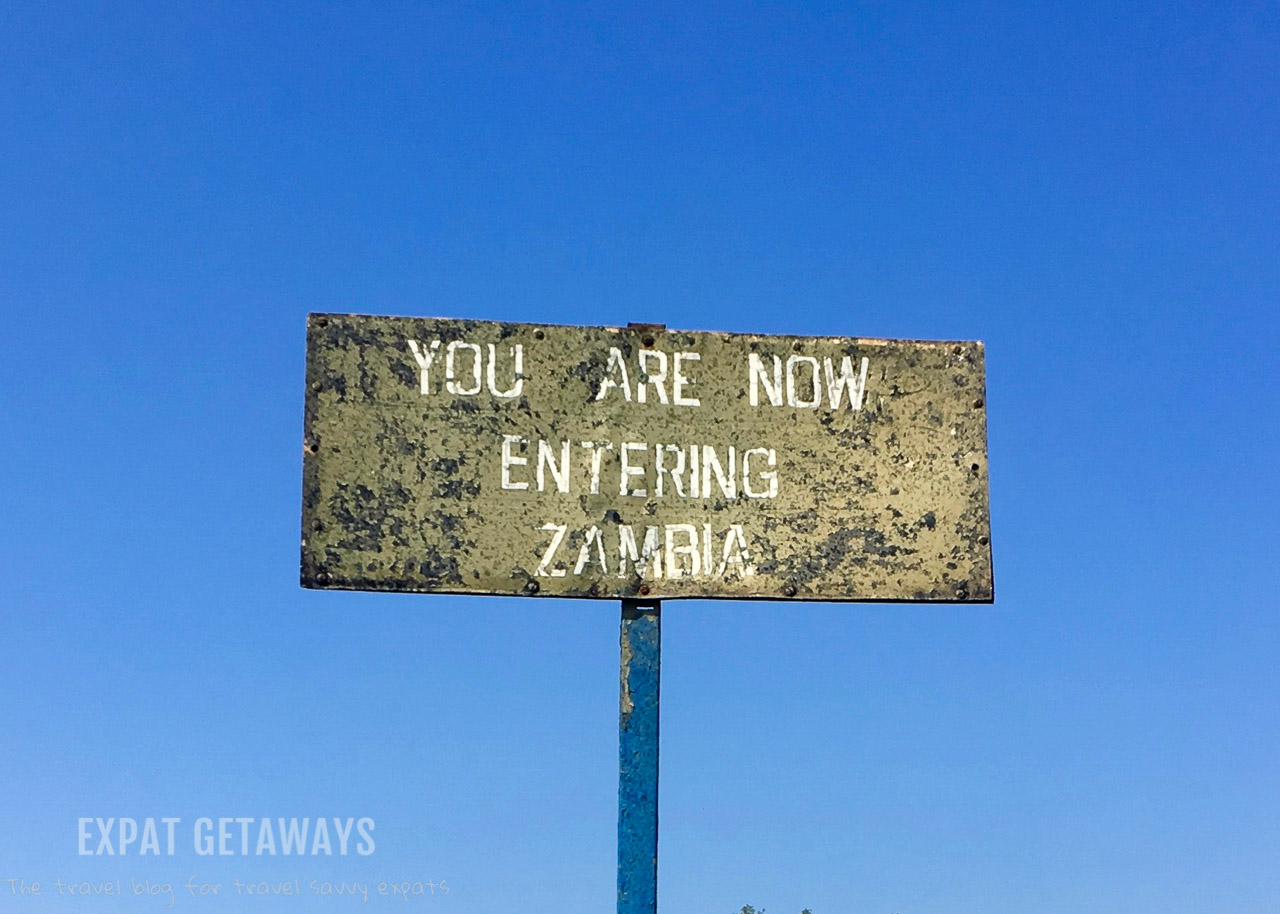 From the bridge you will see the bungy jump spot and start to feel the spray from the falls. You'll also get a great view across to Knife Edge Bridge which you will walk across later.
At the other end you'll find the Zambia boarder control. Walk in, get your visa stamped and on your way. There are toilets here and a money exchange in case you need to get any Zambian kwacha*.
*The national park office takes $USD and all the tourist shops also accepted USD and Sth African Rand so unless you are going further into Zambia you shouldn't really need to change much. We didn't exchange any at all.
9:30am Mosi oa Tunya National Park, Zambia
Just next to boarder control is the national park office. Here you pay your $US20 and enter the national park. Before you reach the actual park entrance you'll come across a number of souvenir shops before reaching the actual park gate.
From here there are a few options of where to view the falls. The most popular is to head out across the Knife Edge Bridge to Danger Point. You can also walk down to the "Boiling Point" or up to the upstream viewpoint.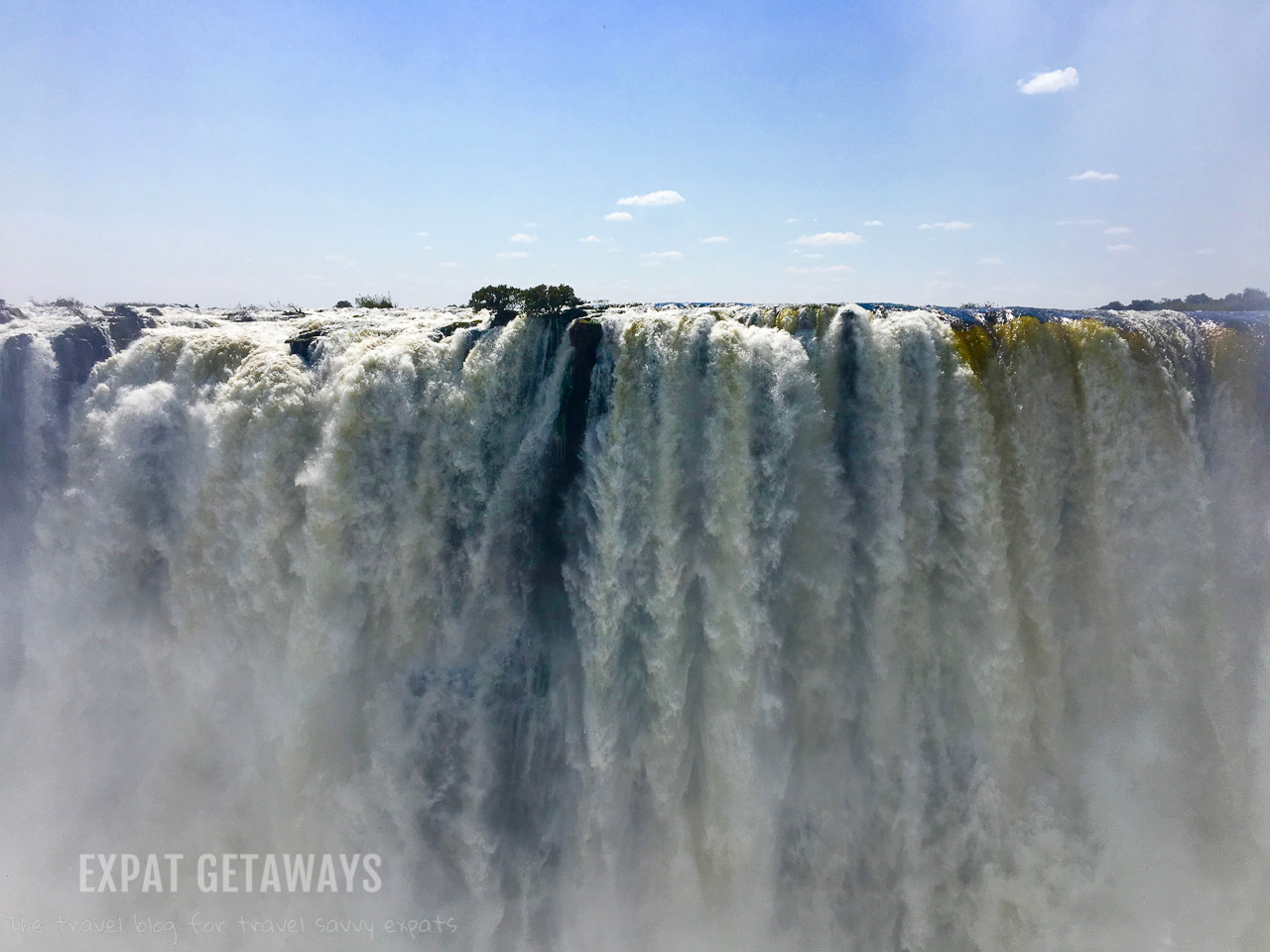 Knowing that we'd seen most of the falls on Zimbabwe side we didn't really have high expectations for this side. We made a beeline for the Knife Edge Bridge and followed the sounds of the water. As the falls came into view we were blown away by how close we were. It was phenomenal! It felt like if we reached out we could have touched them.
We quickly put on our rain jackets and headed for the bridge. We'd been warned – it's a narrow, slippery old bridge leading out to the appropriately named Danger Point. We got absolutely drenched and loved every second!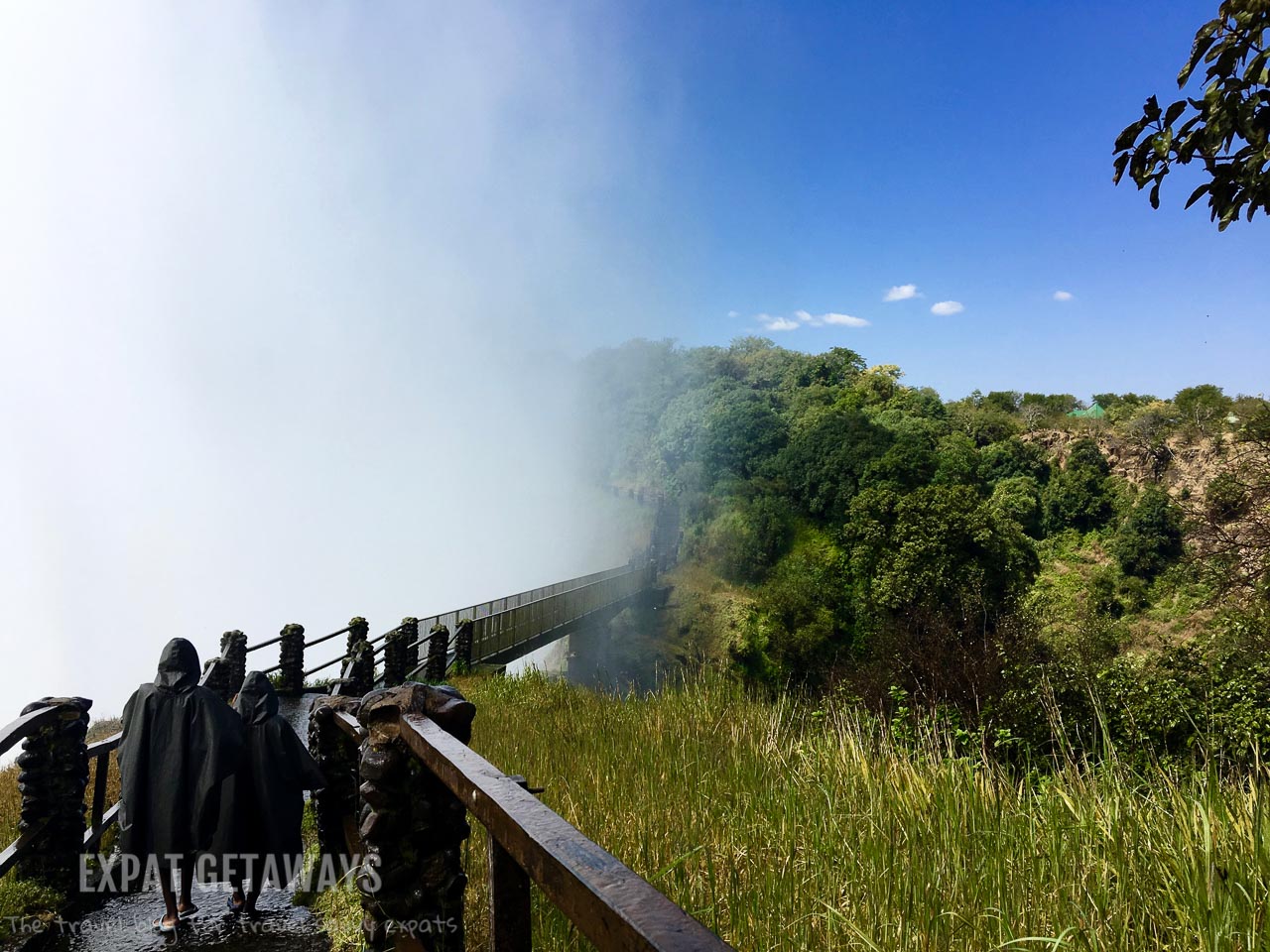 Some things to know
There is a $US30 fee to enter the national park in Zimbabwe and $US20 in Zambia. This only covers you for a single visit.
You will get wet, especially if visiting when the water is at its peak. Pack a rain jacket and waterproof covering for your camera.
Mist surrounded us and it was difficult to get a clear view through to the falls. If you visit during the dry season there would be less spray and a clearer view.
The path is slippery. All that mist makes for moss and the while the path was excellent it did get slippery. Make sure you wear suitable footwear.
11:30am Cross back to Zimbabwe
There are taxis waiting next to the boarder post and for a few dollars you can get a ride up the hill to town. Otherwise it is not far to walk.
12:30pm Lunch in Victoria Falls
You could try the Three Monkeys (look for the I love Vic Falls sign), Shearwater Café or Carnivores.
2:00pm 15-Minute Helicopter Flight
If you have the funds to splurge on one activity, this is the one to do! A scenic flight is the only way to truly grasp the scale of Victoria Falls 1708m width and the sheer volume of water pumping down the Zambezi River.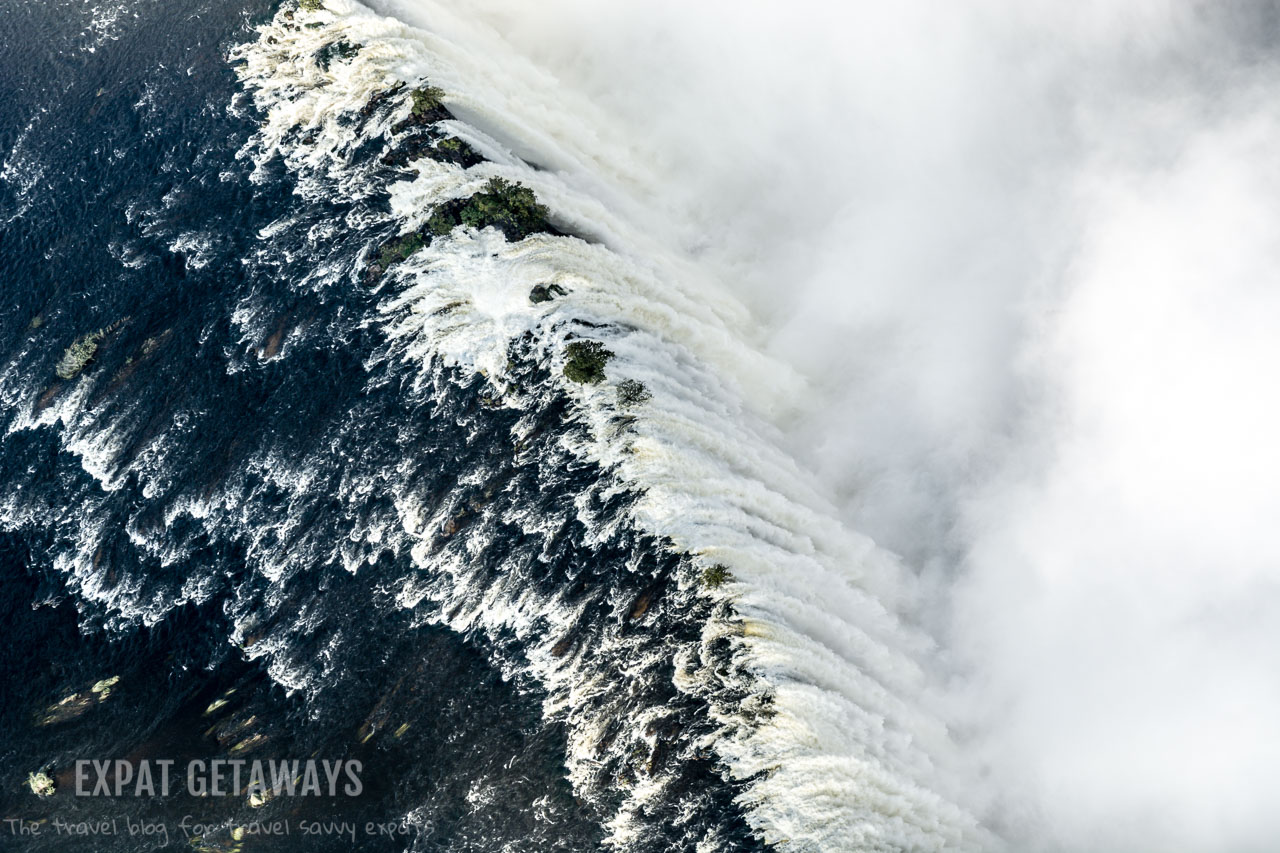 You can either choose a 15-minute and a 22-minute flight, the difference being (apart from the price) that the longer flight does a loop of the upper Zambezi and the Batoka Gorge. If this is your only scenic flight in Africa, go for the longer flight. Our main objective was to see the falls from the air so the 15-minute loops over the falls was perfect for us.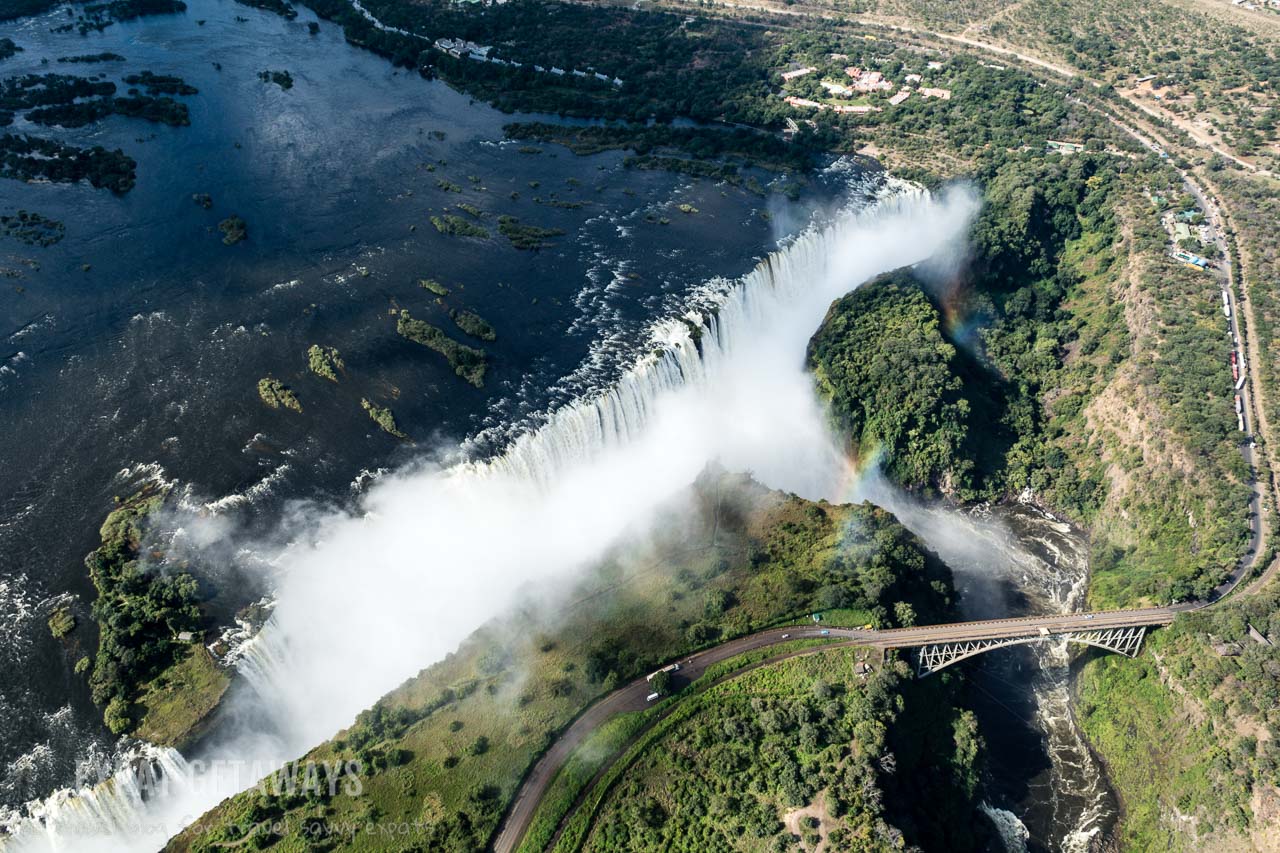 You start with a safety brief and then it is time to fly. In no time at all you are over the mighty Victoria Falls. Andrew and I sat on opposite sides of the helicopter and for a brief moment I thought he was going to get the all the good views. I shouldn't have worried because we soon turned in a figure eight to give everyone 360-degree views.
I thought 15-minutes might be too quick, but we did multiple loops around the falls and both of us had time to get amazing photos as well as sit back and take it all in.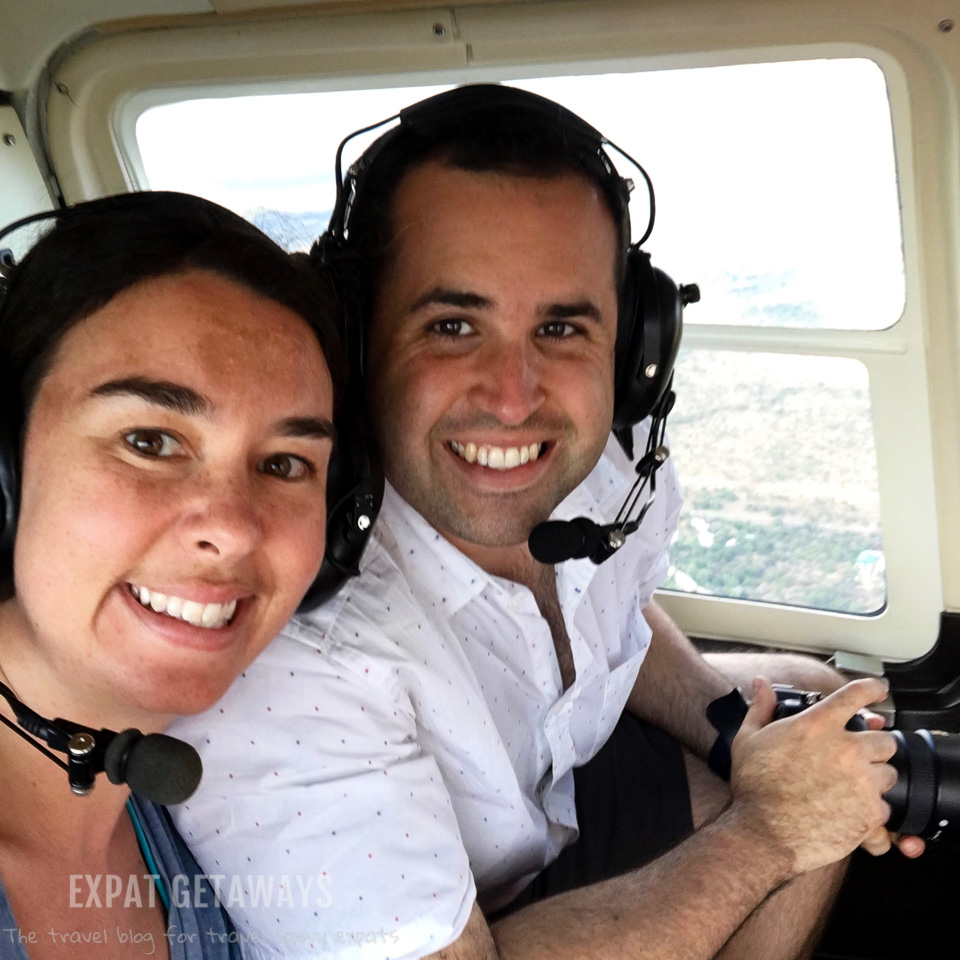 4:00pm kick back with a drink and toast to an awesome day in Victoria Falls.
Dry Season
We visited in May and the water was peaking. I would have loved to have swum in Devil's Pools and visited Livingstone Island, both on Zambia side. All accounts from friends who have visited and local intel say that these are both not to be missed.
There are so many other activities on offer at the Falls. For thrill seekers you can bungy jump from the bridge connecting Zimbabwe and Zambia, there is some of the world's best white water rafting, canoe trips down the river, zip lining and gorge swings. For those looking for the scenic option there are excellent wildlife safaris on offer in nearby national parks.
You could really stay as long as your budget allowed!
We first spotted this from the air and when our B & B host mentioned that you could go in for lunch we jumped at the chance. The Royal Livingstone Hotel has prime position on banks of the Zambezi River in Zambia and five star facilities.
We enjoyed a lovely cheese platter and sipped cocktails on the deck while watching the mist blow up from the thundering falls nearby. As an added bonus there are giraffes and zebras wandering around the grounds, which makes for some great close up game viewing.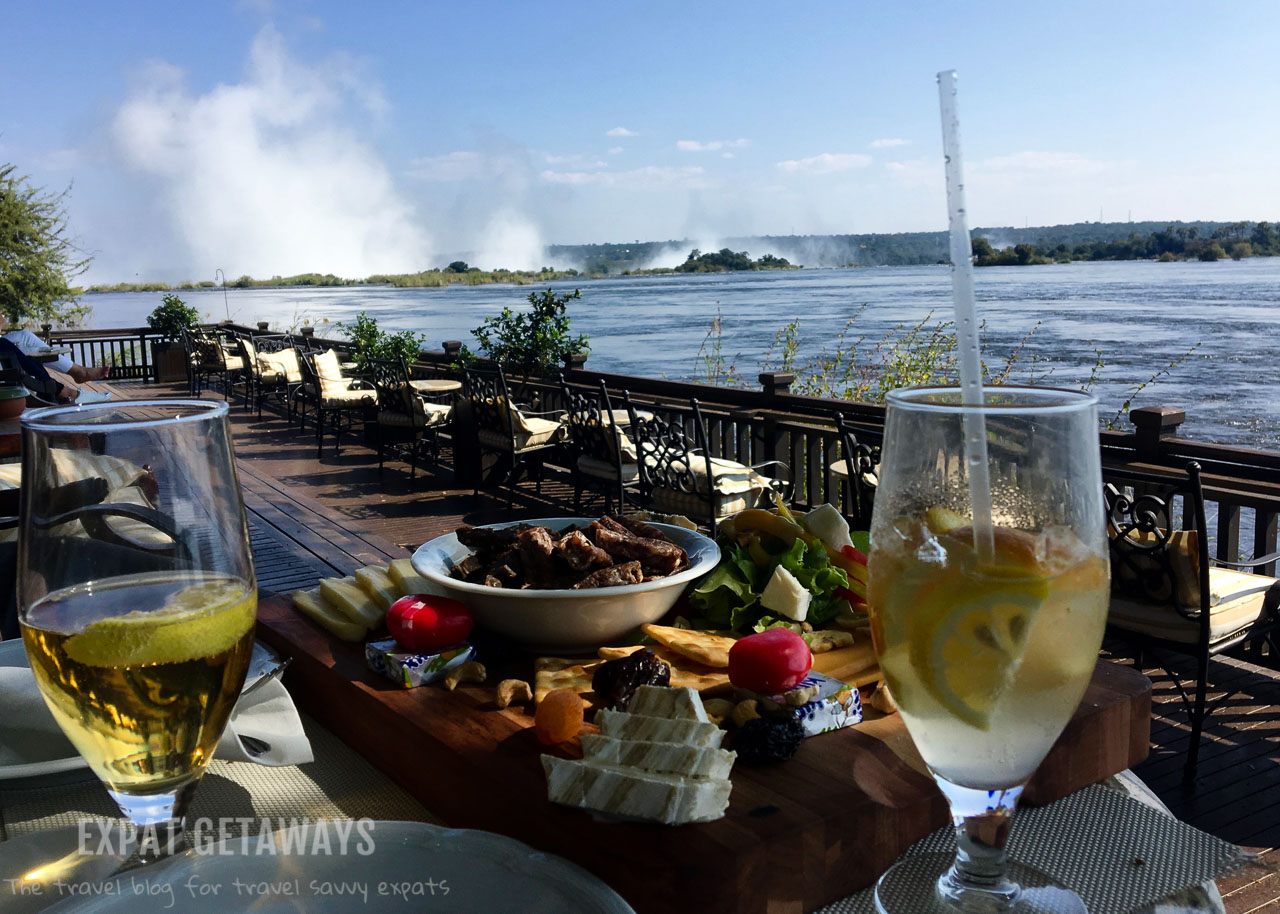 Transport
There are international airports at Victoria Falls in Zimbabwe and Livingstone in Zambia. Botswana is an 80km drive to the west.
Taxis are cheap and plentiful, although you do need to negotiate a price in advance.
Tours
Zambezi Explorer Dinner Cruise 
Bonisair Victoria Falls Helicopter Flight 
Accommodation
Photography
Almost all photography is courtesy of my lovely husband over at Andrew Mizzi Photography. Be sure to check out his website for info on his camera kit, to purchase prints and of course more stunning photographs from this trip and our travels around the world.
Love it? Pin it!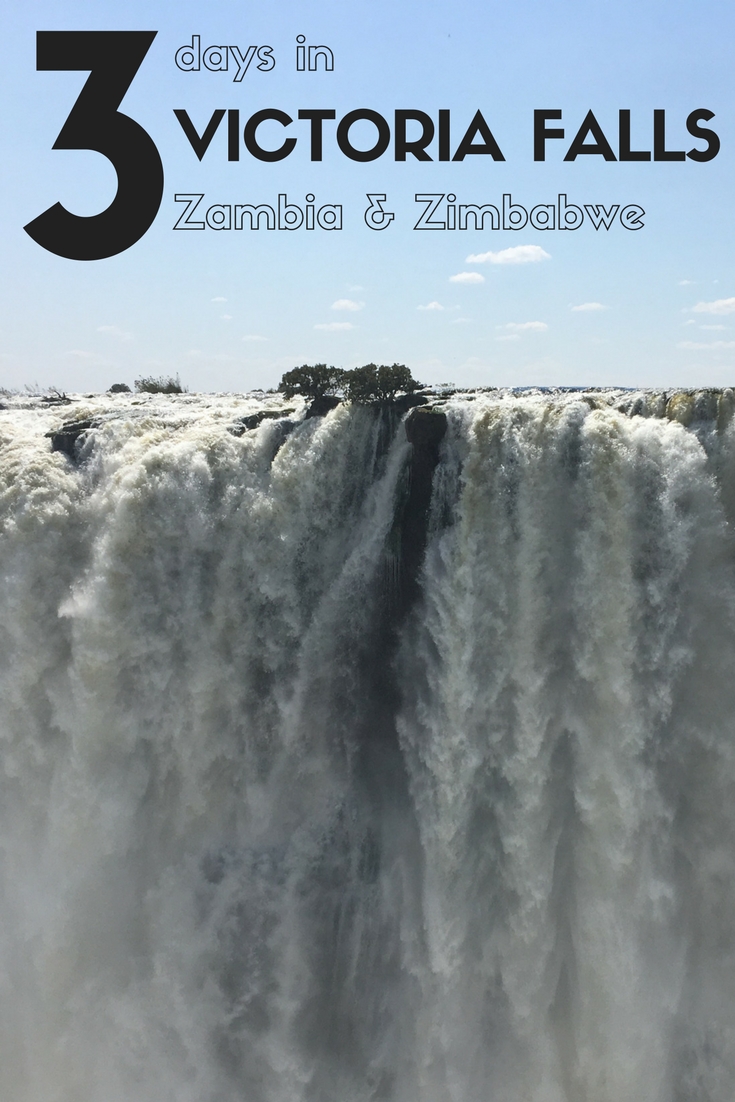 Expat Getaways endorses a policy of full disclosure.  This getaway was not sponsored or paid for by any company mentioned, and all views and opinions are solely those of the author. This post may contain affiliate links. This means that I may get a small commission at no extra cost to you. I only recommend products that I use and love myself, so I know you'll be in good hands.
Comments
comments