Everyone who visits Myanmar comes back saying the same two words: "go now". The name hints at the exotic, off the beaten path adventures. After a little research it became very clear. I did need to "go now", but I also needed more than a couple of days to really do the country justice. In an ideal world you want at least two weeks to really explore. We found a week long break in the schedule and decided to make the most of it!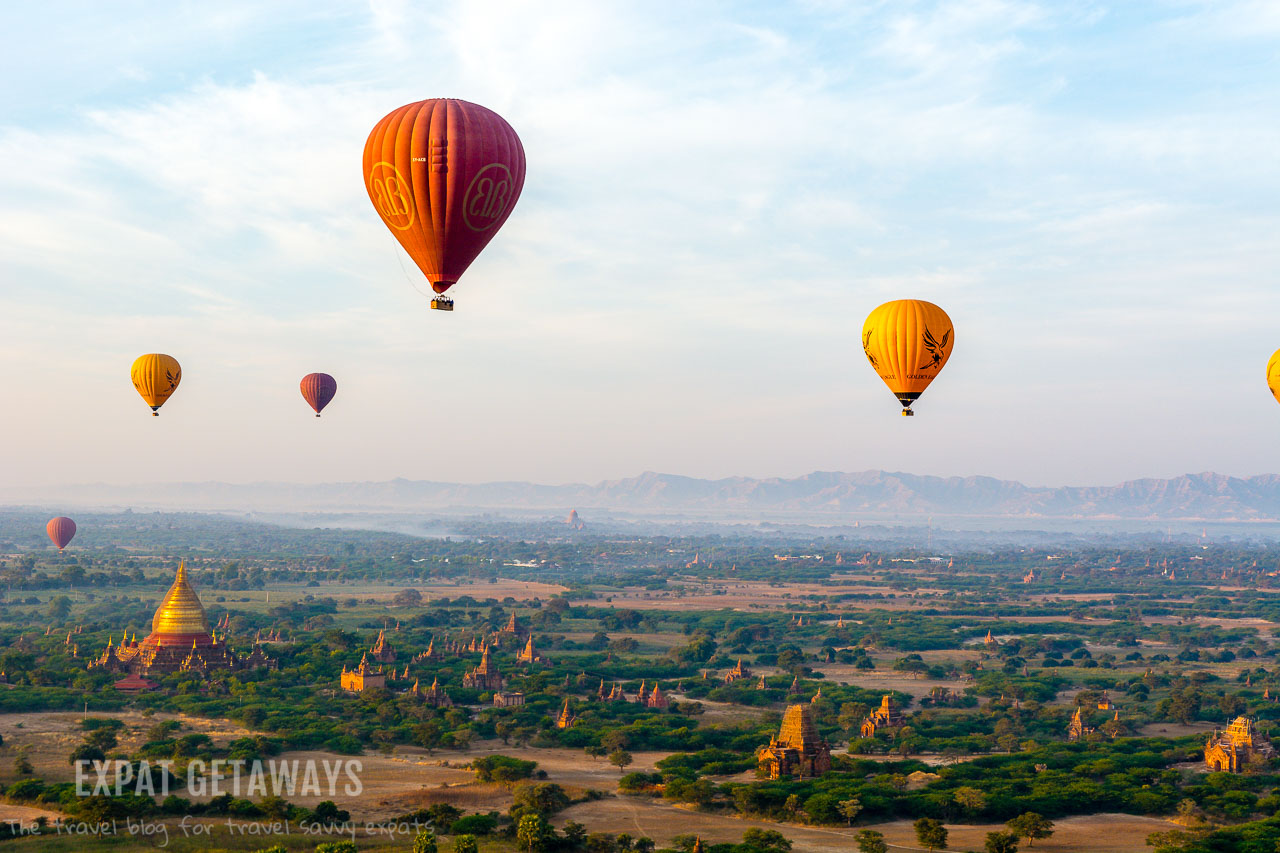 One Week Myanmar Itinerary
Day 1: Arrive Yangon
Day 2: Yangon- Shwedagon Pagoda, Bogyoke Aung San Markets
Day 3: Inle Lake
Day 4: Inle Lake- full day lake trip
Day 5: Bagan- Afternoon and sunset temple exploration
Day 6: Bagan- Sunrise balloon flight
Day 7: Depart
** we did a slight variation of this, staying only one night in Yangon and adding in one night in Mt Popa just outside of Bagan.
Yangon
I wasn't sure what to expect when we arrived at Yangon International Airport. I had absolutely no idea what Yangon was going to look like.
The first thing that struck me was how many cars there were with a distinct lack of motorbikes. Unusual in a developing Asian country. As we drove out of the airport something felt a little off… then Andrew pointed out we were driving on the right hand side of the road, and the driver was also sitting on the right hand side of the car.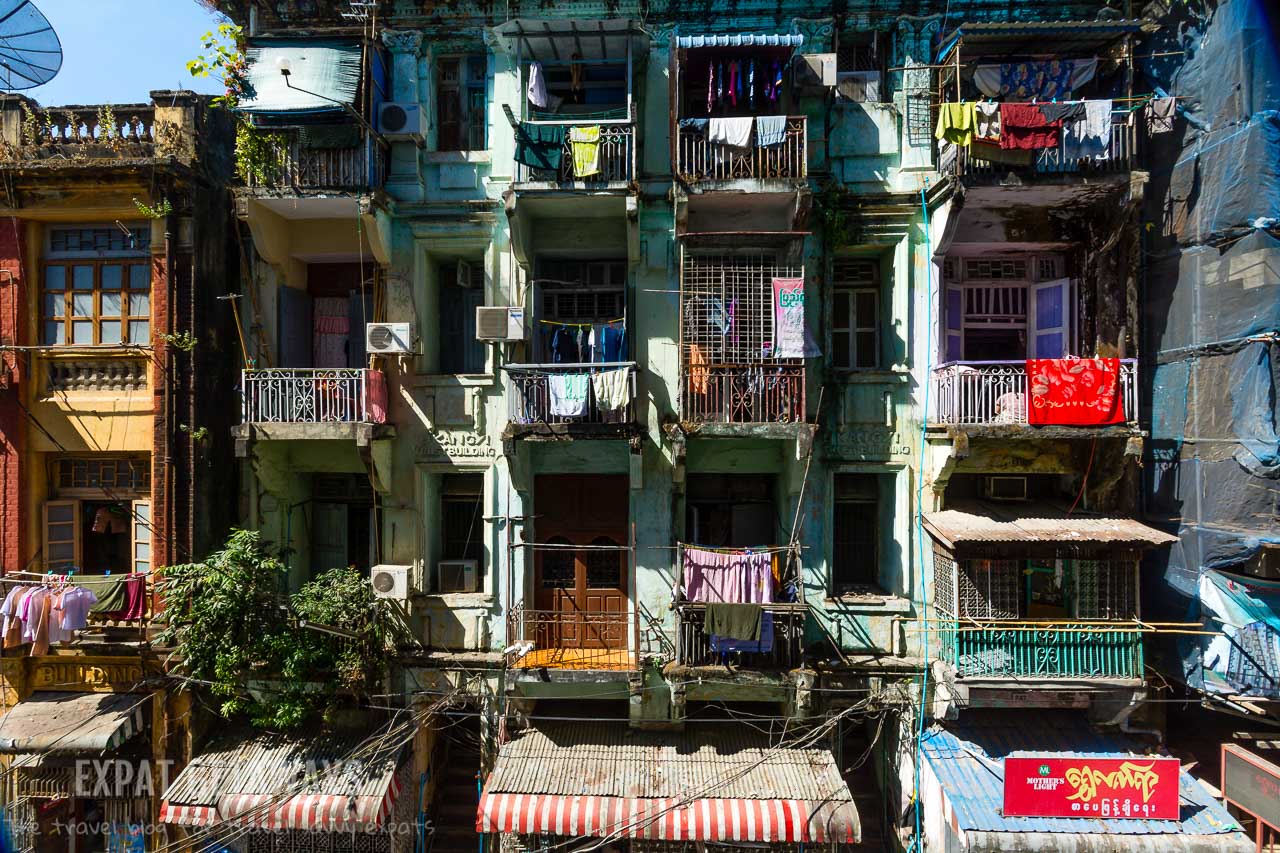 The story goes that the dictator who ruled over Myanmar used to take his dreams and horoscopes very seriously. He was worried that politics were leaning left so he decreed that the people had to drive on the right from then on! Despite being over four decades ago, there's still old traffic signs facing the wrong direction if you keep an eye out!
As you head into the centre of Yangon you will see signs of development everywhere. There are shopping centres and luxury apartments popping up all over the place. It is clear that Myanmar is catching up to the world at a record pace. It starts to become clear why everyone says "go now". Who knows what Yangon will look like in twelve months let alone five years from now.
Shwedagon Pagoda
You cannot miss in Yangon is the Shwedagon Pagoda. It is 110 metres tall, covered in gold plates and the top of the stupa is covered with over 4000 diamonds- the largest is 72 carats! You will catch glimpses of it as you drive around the city, but nothing beats getting up close.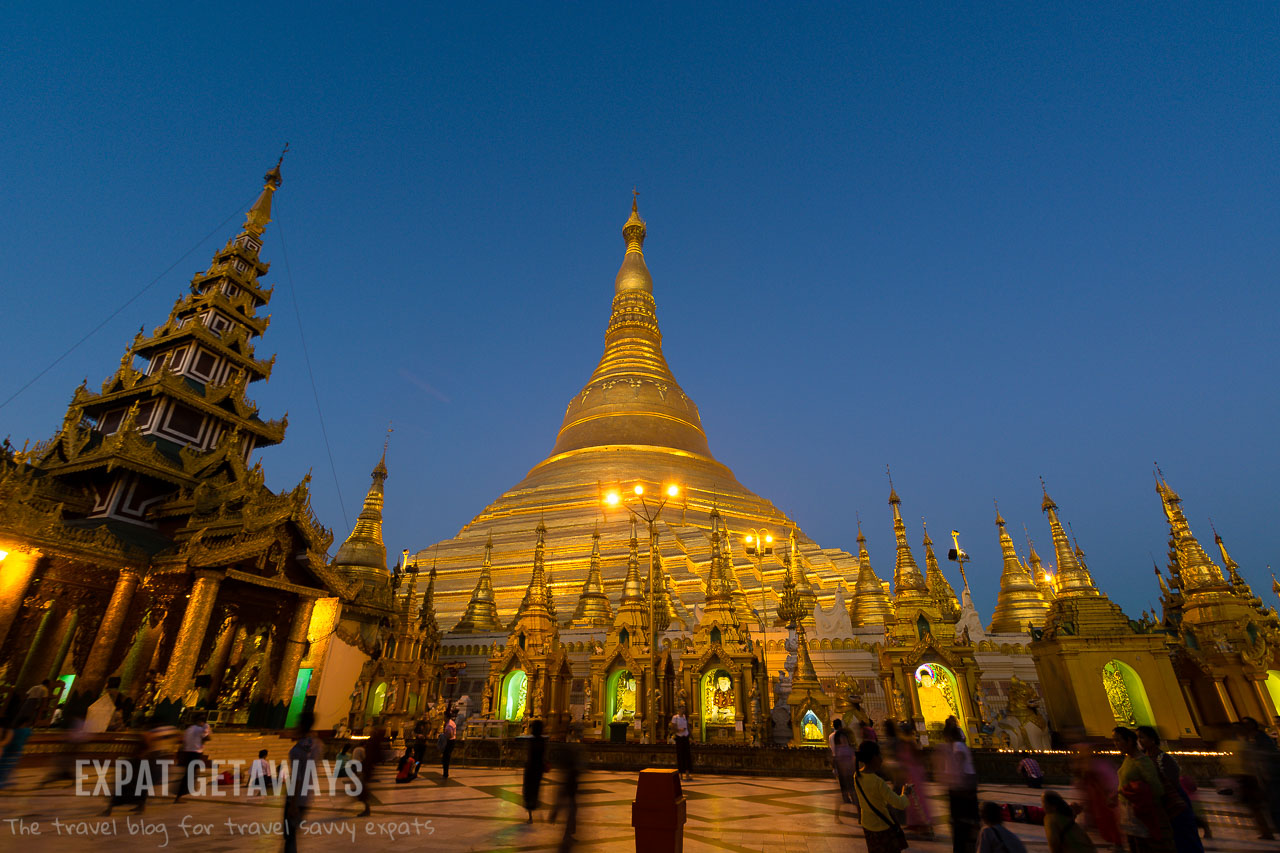 The temple is open to visitors all day, but for the best experience time your visit for an hour or so before sunset. At this time there is beautiful light to explore the 114 acre complex and have enough time to pick you best spot to see the stupa in all it's golden glory with the last light of the day. Lamps are lit once the sun has dipped below the horizon transforming the temple into a photographers dream.
Things to know:
Entry fee- $US8
Opening Hours- 4:00-22:00
Clothing- like many religious sites you will need to remove your shoes and ensure your knees and shoulders are well covered. Store your shoes at the entrance for a 1,000kyats.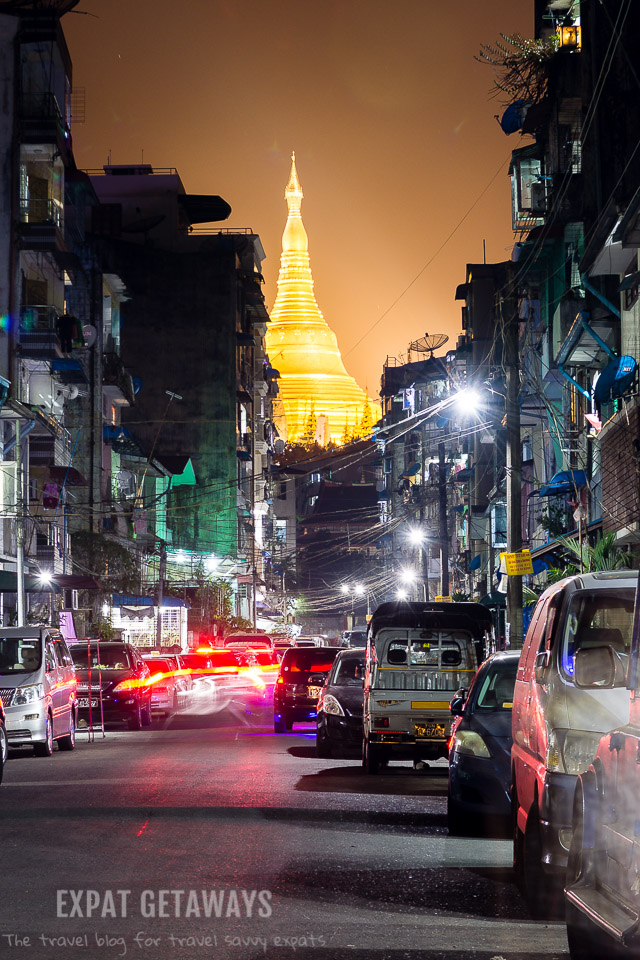 Bogyoke Aung San Markets
I'm not normally one for markets. I find them cheesy and selling the same old fridge magnets and postcards. I LOVED the Bogyoke Aung San market and wished I'd had more time to properly explore. The front of the market has a beautiful colonial façade and the inside cobblestone streets selling everything from lacquarware, artworks to rows and rows of Burmese jade and gemstones.
Just enjoy getting lost in the maze of shops and stalls.
Things to know:
Opening Hours- 10:00-17:00 Tuesday-Sunday. Closed Monday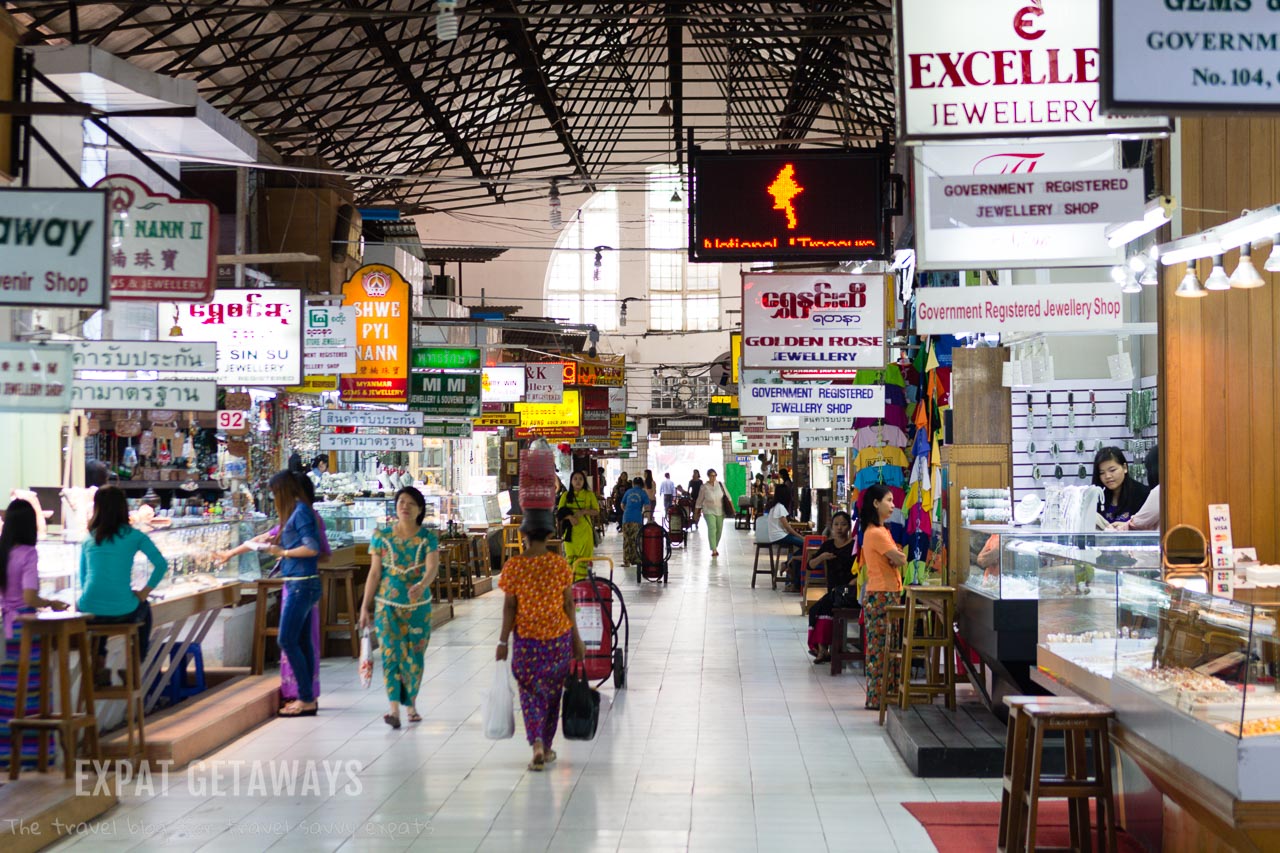 Chinatown
Every city in the world has a Chinatown and Yangon is no exception! The Hokkien, Hakka and Cantonese moved in during the British colonial days and glimpses of those days can still be seen in the temples around town.
For travellers the most popular destination is 19th Street for some fantastic street food! Visit at night and gorge yourself on skewers of BBQ. Some you'll recognise and others will be less familiar. The restaurants have regular menus as well, but if in doubt you can always just point at the food you want to try.
Get yourself on a morning flight bound for Heho. The short flight will transport you to Shan State, another world away from the hustle and bustle of Yangon. From the airport it is a 45-minute drive to the town of Nyaungshwe where you will find cheaper guesthouses. We opted for a lake front hotel and did not regret the decision. At Nyaungshwe we boarded a long boat and zipped off to the stunning Inle Lake Resort.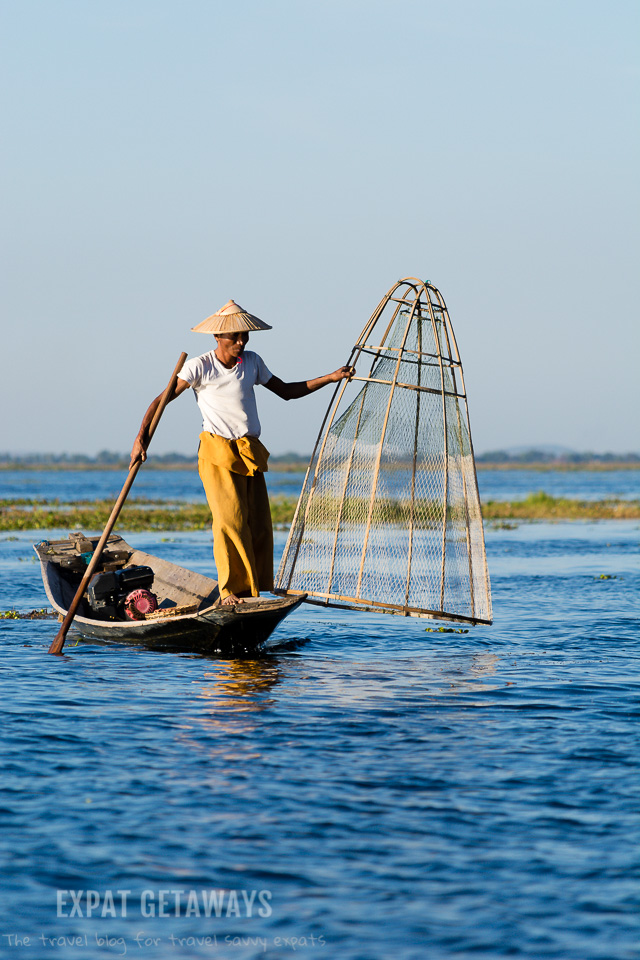 This was our first glimpse into the life on Inle Lake and made us very excited for the days to come! On our short boat ride in we passed waving school children and fisherman gathering the last catch of the day. We arrived just in time to catch the sunset over the water. I've seen a lot of good sunsets over the years, but this one is certainly up there with the best of them.
Villages of Inle Lake
The villages surrounding Inle Lake are each famous for different handicrafts. We visited a silversmith, a boat builder, cigar maker and a lotus weaver over the course of our day.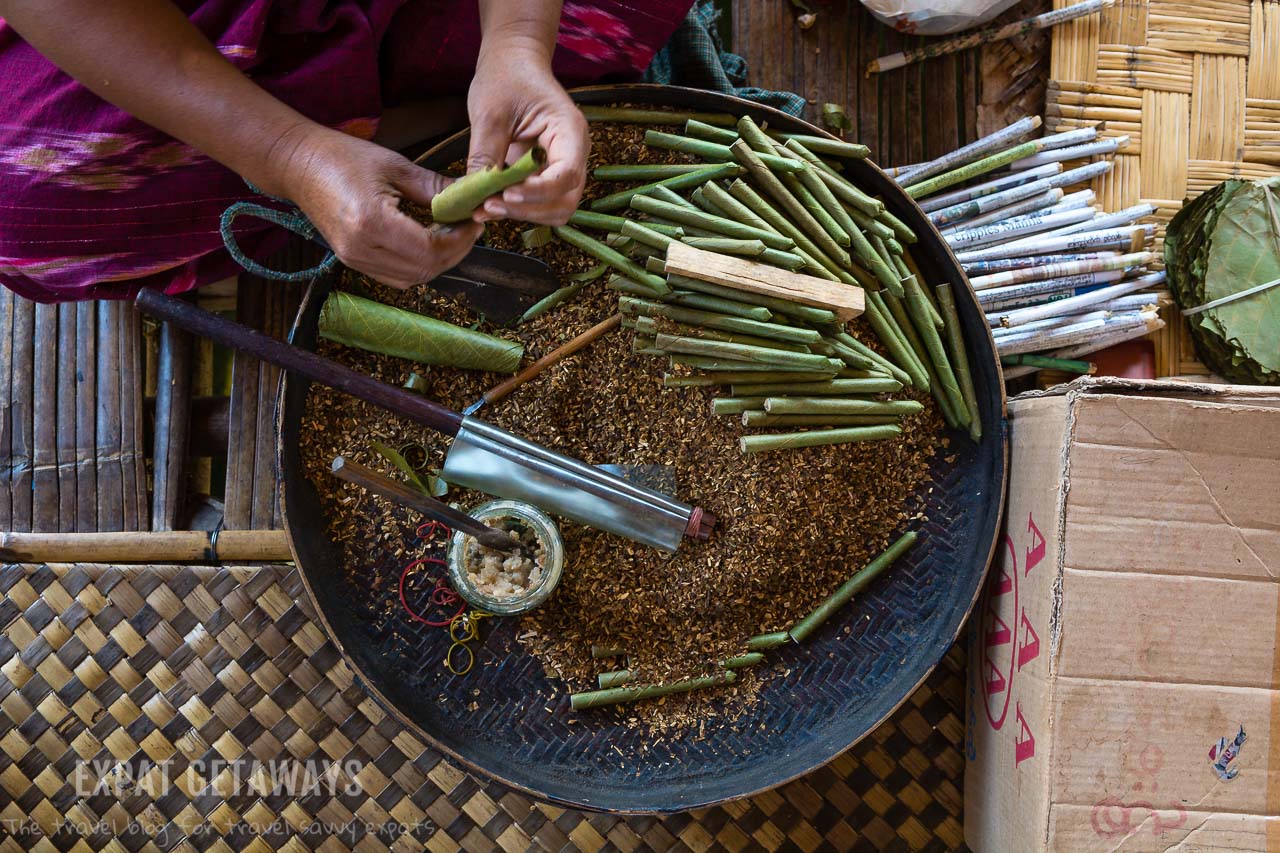 The real highlight of our day was a visit to the local market. Sounds straightforward enough. This market was a little different though. The market rotates daily between 5 locations around the lake. There was a small area of souvenirs for tourists, but the rest was local fruit and vegetables from the surrounding farmland.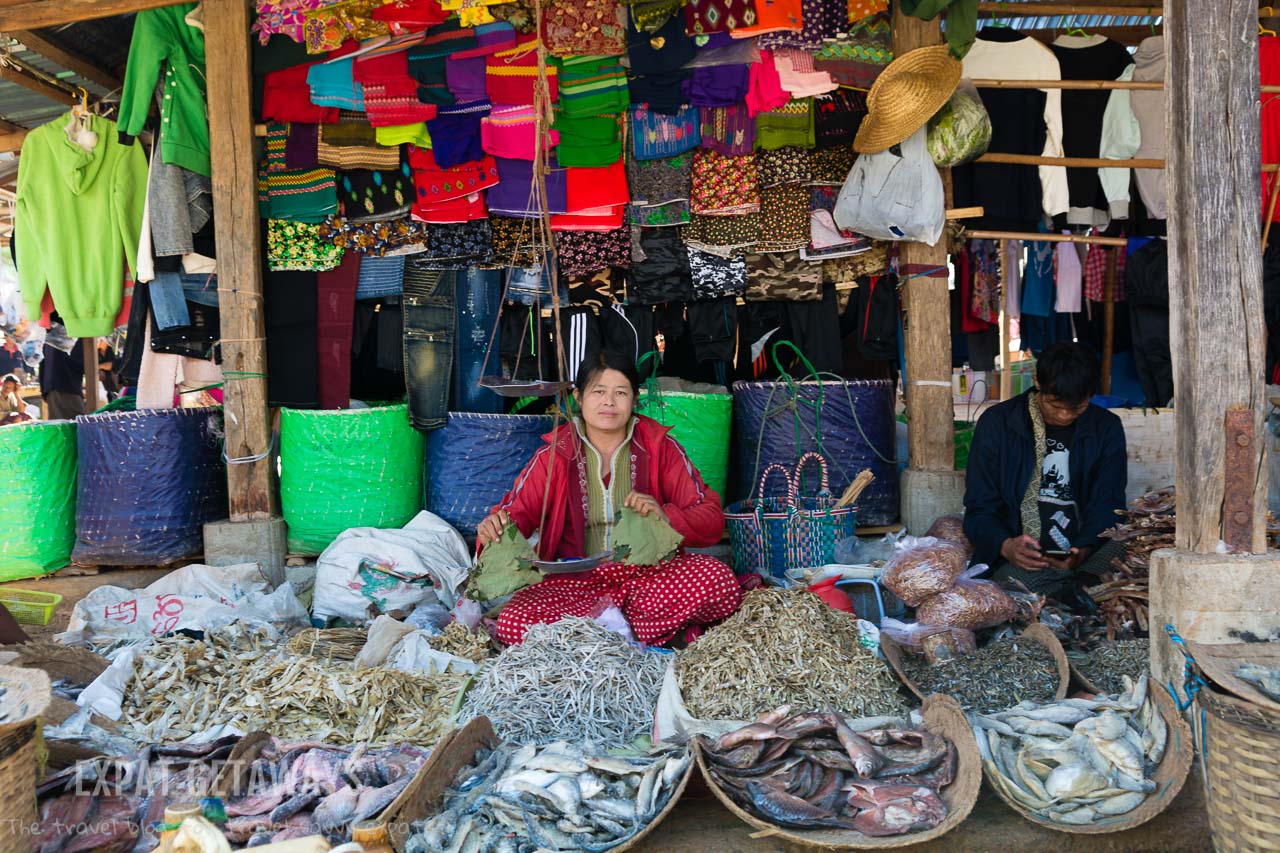 Villagers from the hill tribes of Shan state will venture down the mountain to the lakeside markets every five days to stock up for the week ahead. This is a time to socialise as well as shop and we thoroughly enjoyed sitting in a local teahouse to watch the locals go about their lives.
Our guide made our day so special and really gave us an insight into local life. He spends five months of the year living in Nyauangshwe away from his family to make money during the tourist high season. I asked them how often he gets home. "Oh every day, I'm taking you to my village this afternoon to see the lotus weavers". Sure enough as our boat pulled into the village a smiling four year old ran out to give her dad a big hug.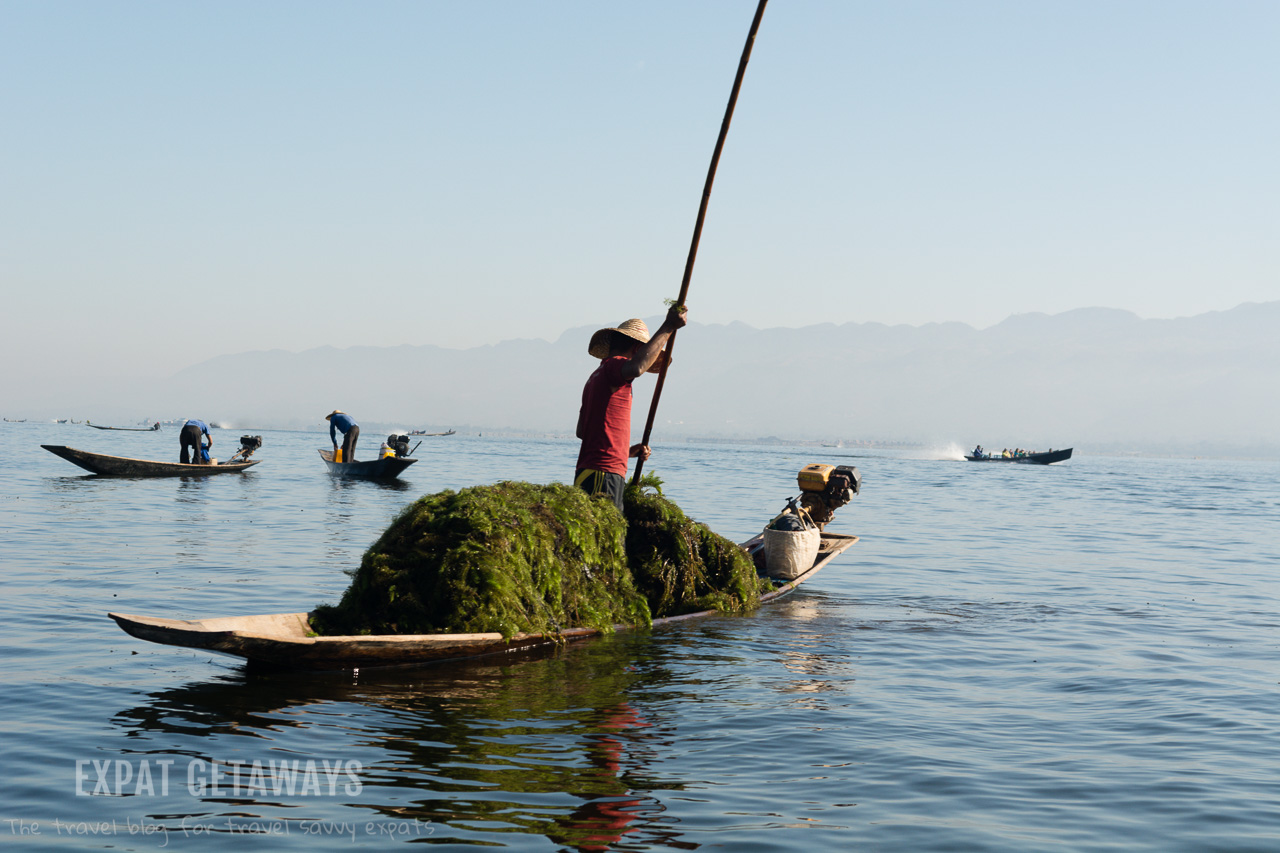 Go Now
"Go now" really resonated with me in Inle Lake. During our visit we found the perfect balance of experiencing local culture while also having comfortable tourist infrastructure; semi-reliable domestic flights, nice hotels and perfect service. Our guide pointed to a construction site out on the hills. I asked him what was going to be built. "Fifty new hotels" he said. There are currently about thirty surrounding Inle Lake. I don't want to think about what this place will look like in a few years time with double the tourist numbers.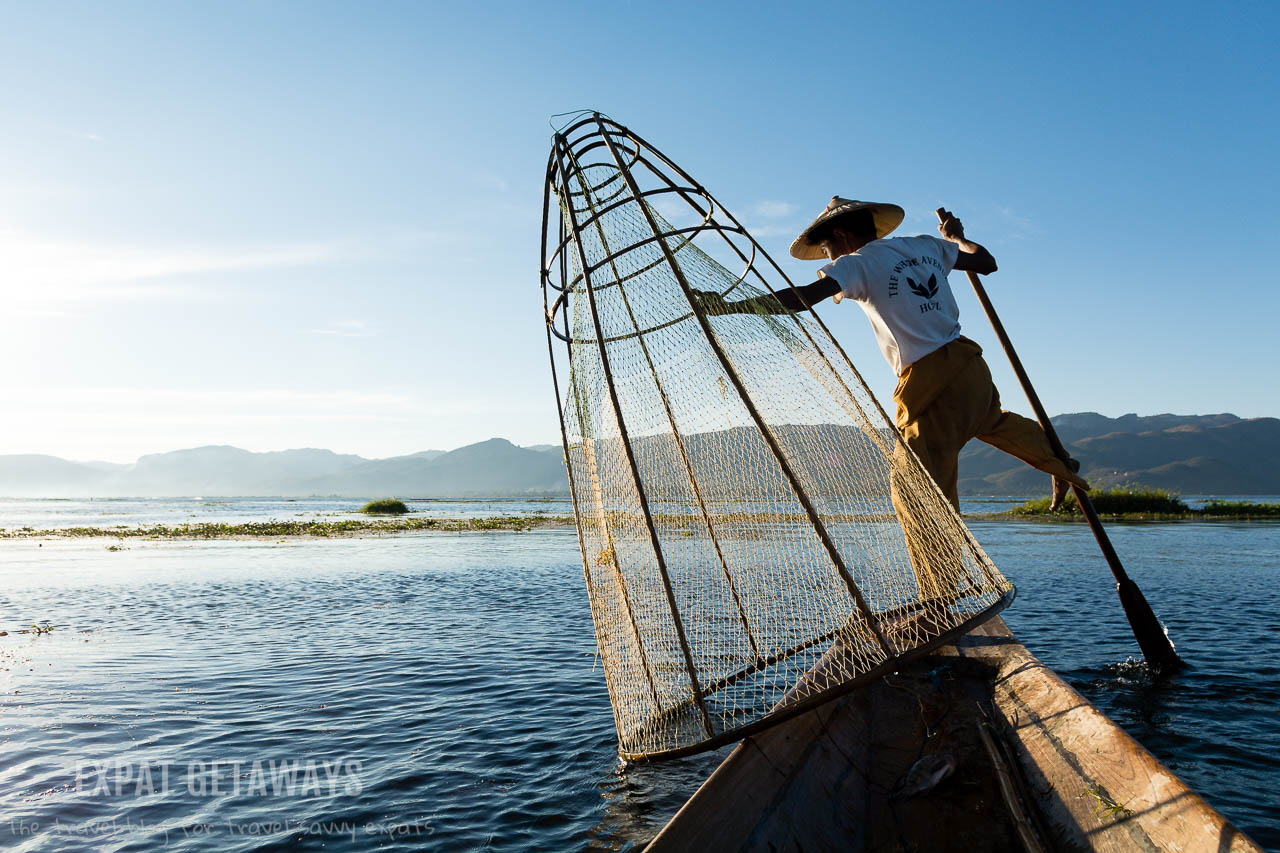 Inle Lake Resort
I loved our accommodation on the lake. As our boat motored towards the bungalows I could only hope that this is where we were staying. Turns out it was! If you've been reading Expat Getaways for a while you'll know I love places that support the environment and local culture. Our hotel made use of solar panels, chemical free fertilisers on the garden, recycling and even giving food scraps to local villagers to feed their pigs. The produce served at the restaurant is all sourced locally as well. All the staff were friendly and warmly greeted us everywhere we went. Over dinner the manager did the rounds checking on our stay and genuinely made us feel like welcome visitors.
My only regret is only staying two nights. If you have longer to spend in Myanmar, definitely give yourself an extra night at Inle Lake.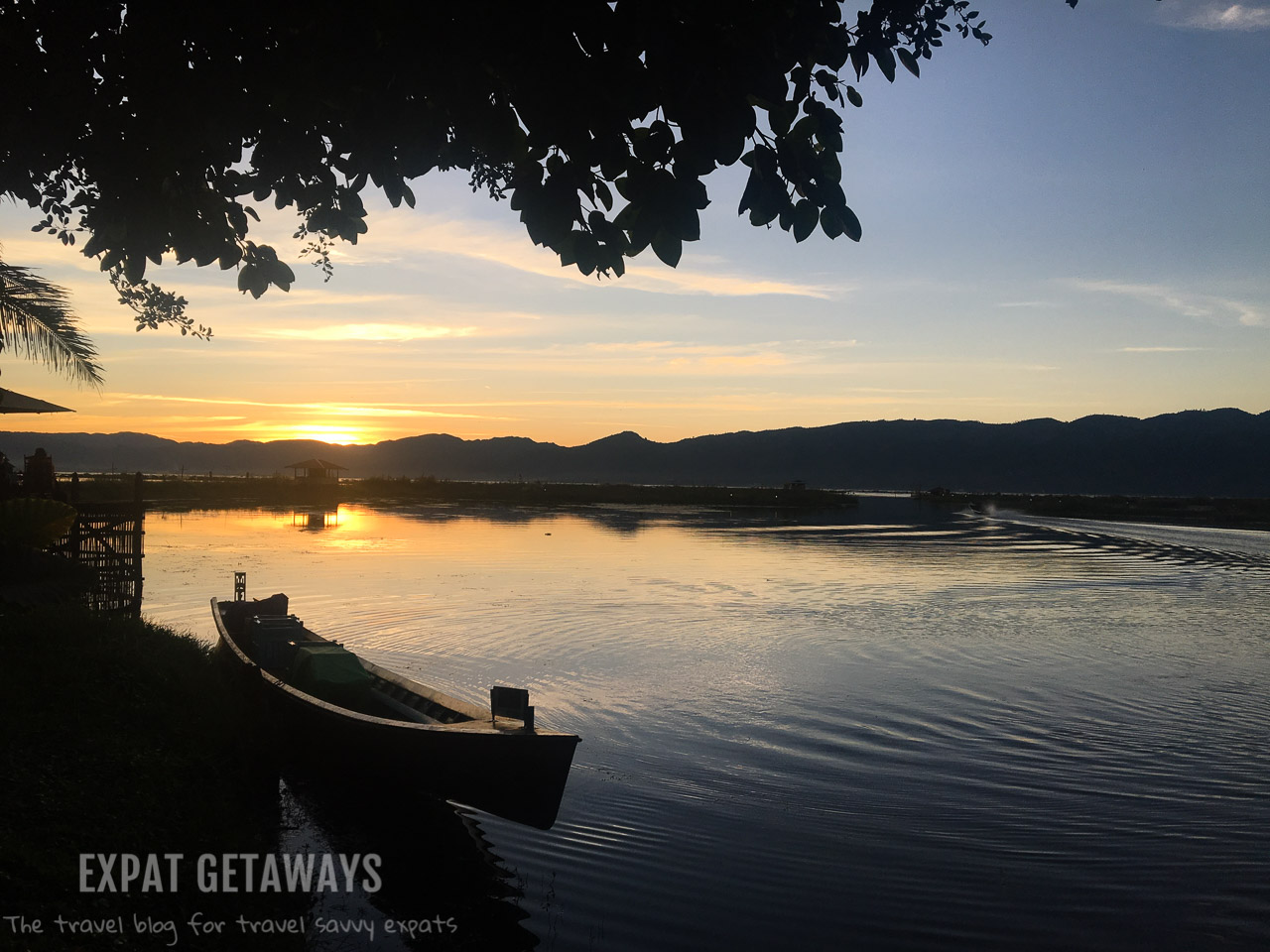 Bagan
After an early morning departure through the clearing mists on the lake we boarded our flight from Heho to Bagan. We couldn't have landed in a more different place! Where Inle Lake was lush and green, Bagan was a dry and dusty plain. Of course it is a dry dusty plain, covered with over 2,000 temples!
Sunrise and Sunset
When visiting Bagan you essentially plan your visit around sunrise and sunset. This is the best time to get photos and you will also avoid the harsh heat of the day. Our driver and guide whisked us around the major temples telling us stories along the way. From the prettiest Ananda temple with its smiling Buddha's to the largest temple Dhammayangyi and not forgetting the most popular Shwezigan Pagoda.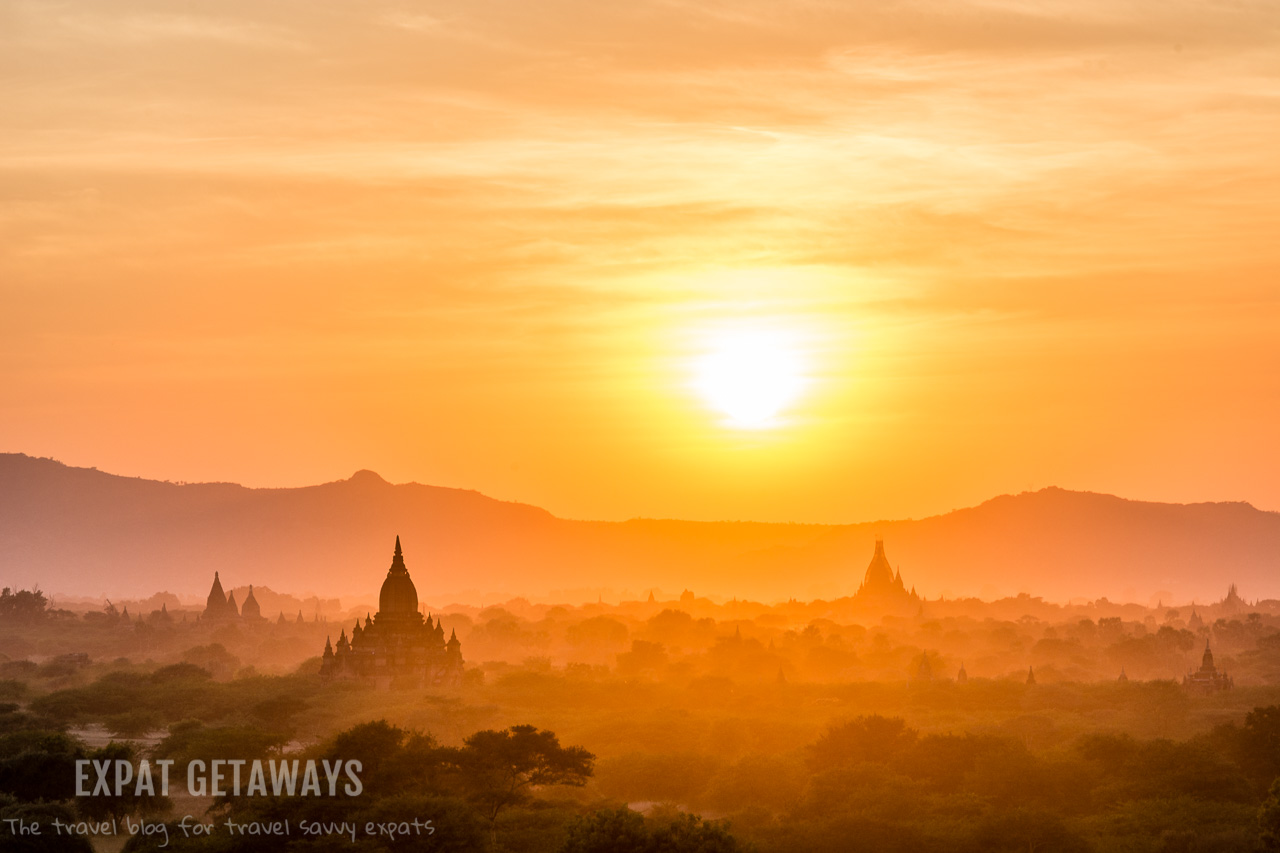 With a two night stay we had two opportunities for sunset and tried out the very popular (and crowded) Shwesandaw Pagoda and the slightly quieter (or was there just more space) Pua Tha Da. The trick is to get there well before sunset to stake out your place, and to stay for half an hour or so afterwards when the sky really turns on it's best colours.
We visited the small Low Ka Oushang for sunrise and had fantastic views over the plains. This is also the perfect place to watch the balloons cruise across the skyline.
There are a lot of arguments for and against ballooning in Bagan. The most common reason not to go is the price tag- ballooning starts at $US320.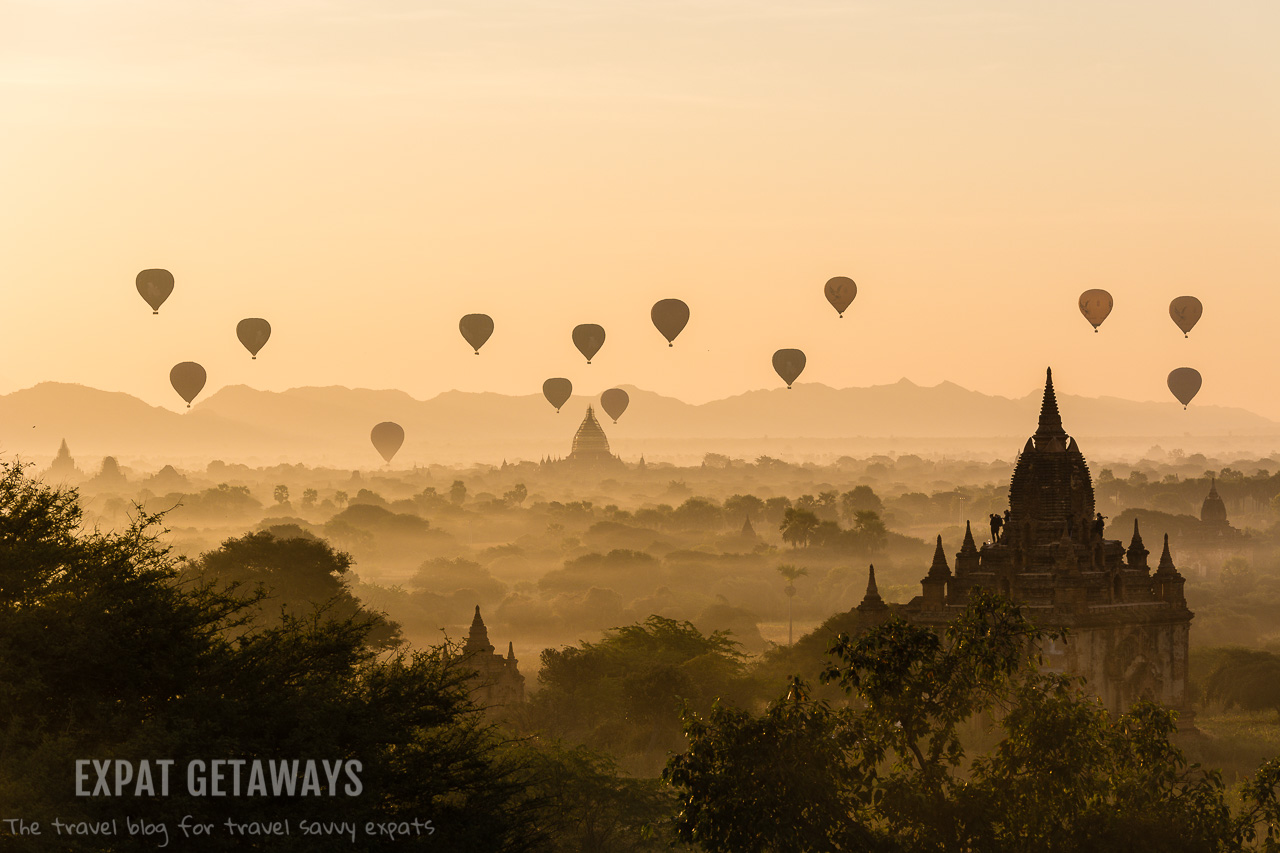 IT WAS THE BEST THING WE DID IN MYANMAR.
For all the details check out our post- Should You Balloon Over Bagan. The short version is yes, just do it. In a few years time when you think about your amazing holiday in Myanmar you won't remember the price tag.
Once you are all Templed Out 
If you are well travelled in South East Asia it is fair to say that you might get templed out in Bagan. Thankfully there are other places to keep you amused.
Lacquerware is particularly popular in this part of Myanmar so you can visit one of the many workshops around town to see how the craftsman make such masterpieces.
We visited a local market which was much like other wet markets around Asia, but still nice to see local village life.
My other favourite stop was a little shop called MBoutik. A social enterprise supporting artisans in villages around the area. You can buy jewellry, clothing, bags and kids toys knowing that you are supporting a good cause.
Speaking of good causes the place to eat in town is Sanon, a training restaurant for marginalised youth. The food and cocktails were great and all in the name of a good cause. We didn't get time to try their free guided E-Bike and Boat Tour which runs on Monday, Wednesday and Friday. If you are in the area be sure to get in touch and reserve your place.
Friendly Locals
We saw friendliness from our tour guides who shared their family stories with us, from our chef at breakfast who delivered our omelette and stayed for a chat, from families looking after temples who let me join their games while Andrew was busy taking photos.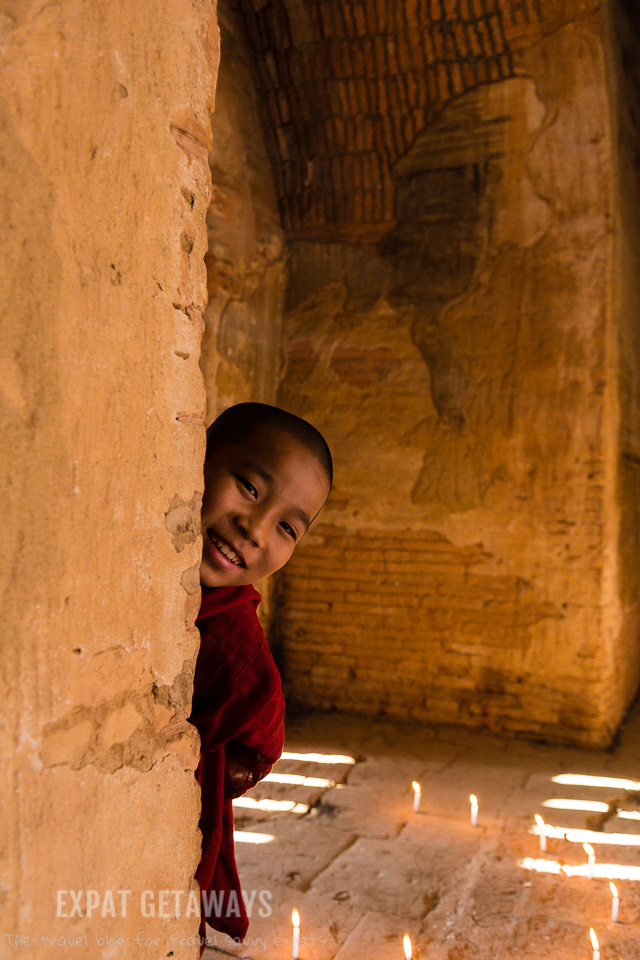 One afternoon showed us this more than any other. Our guide learned that Andrew loves taking photos (maybe all the camera gear gave it away!). He showed us a picture of a boy in a temple and said "do you want a photo like this?" Of course the answer was yes!
He took us to a nearby temple where two boys in monks robes were being photographed by a Chinese tour group. When the boys took a rest from posing for photos I sat down with them. After a bit of sign language I learned their names were Gedi and Dobida and they were both 8 years old. They were orphans living in a nearby monastery. These kids had nothing to give, but before they left Gedi ran over and gave me the biggest smile and some berries that he'd picked.  I still think about those boys and the future they have in store. At least we were able to put down the cameras and see the kids as people not just as props for a tour group.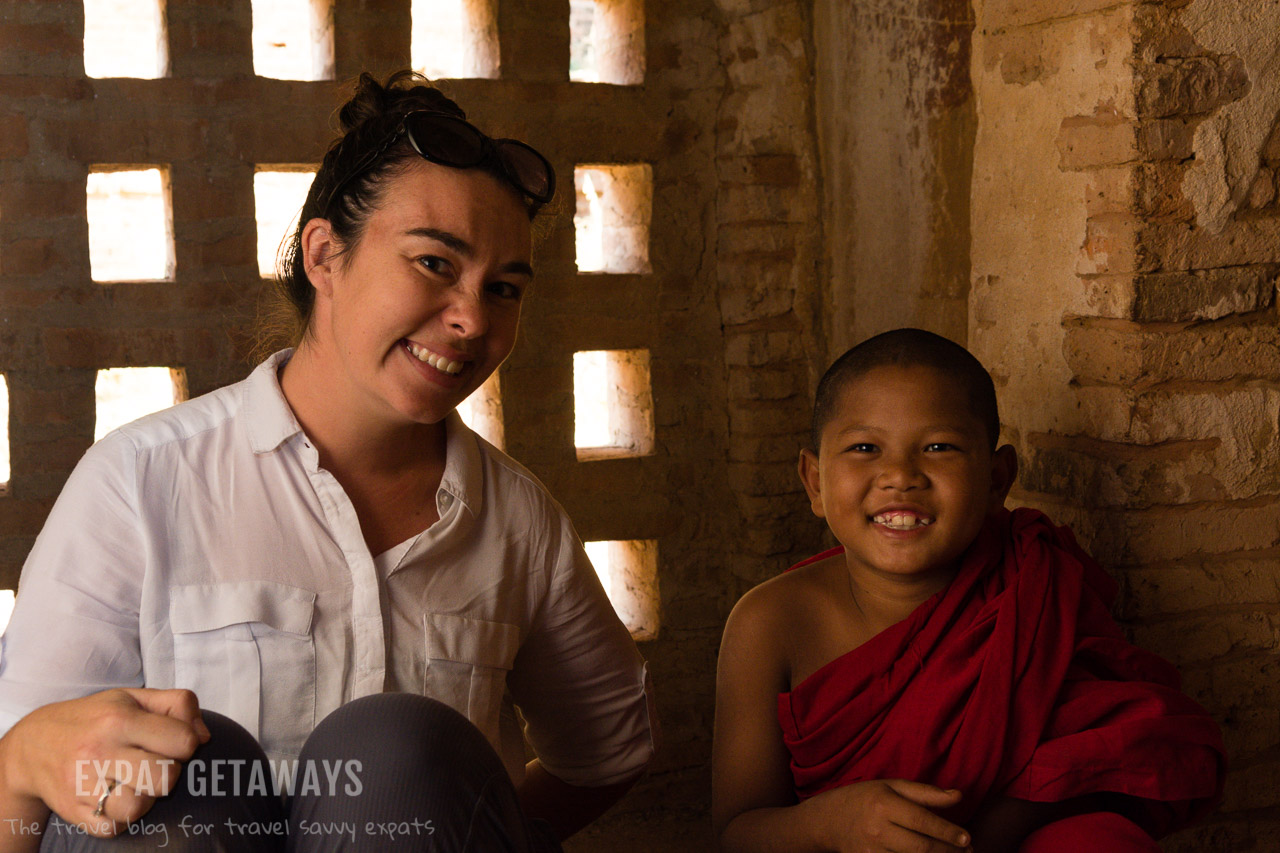 Outside a family was watching over the temple. A lady who looked to be in her thirties, a teenage girl and a young boy. The boy wanted to see the photos on my phone. I turned the camera on he quickly he realised which button to press to take a selfie. This is Dedu's handiwork, under the watchful eye of his sister Sinze and their aunt. The trouble was getting my phone back from him!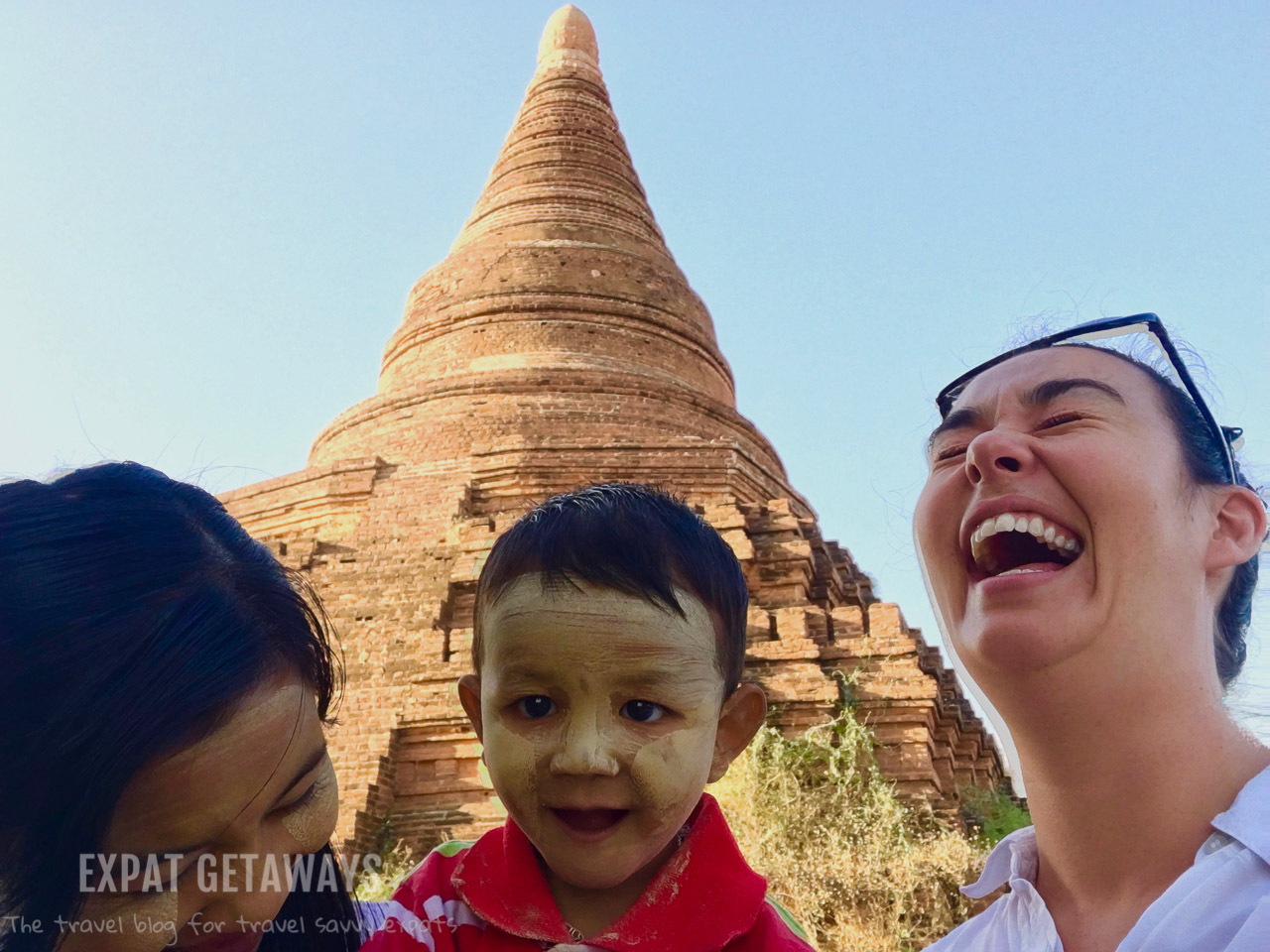 Next Time
One week was not enough. We barely scratched the surface of Myanmar and we were racing around the country full ball. If time is on your side allow yourself three nights in Inle Lake and add Mandalay into your itinerary. I would have loved to have taken a boat down the Irrawady River and watched the world go by. Mandalay also has an international airport so you could arrive Mandalay, boat down the river to Bagan and then run this itinerary in reverse, going to Inle Lake and finishing in Yangon.
Our itinerary included one less day in Yangon and we spent the night in Mt Popa. It was relaxing and picturesque at the end of a hectic week and made for some spectacular photos. However, I'd only recommend this if you have the time as I wished I'd spent the extra time in Inle or Yangon.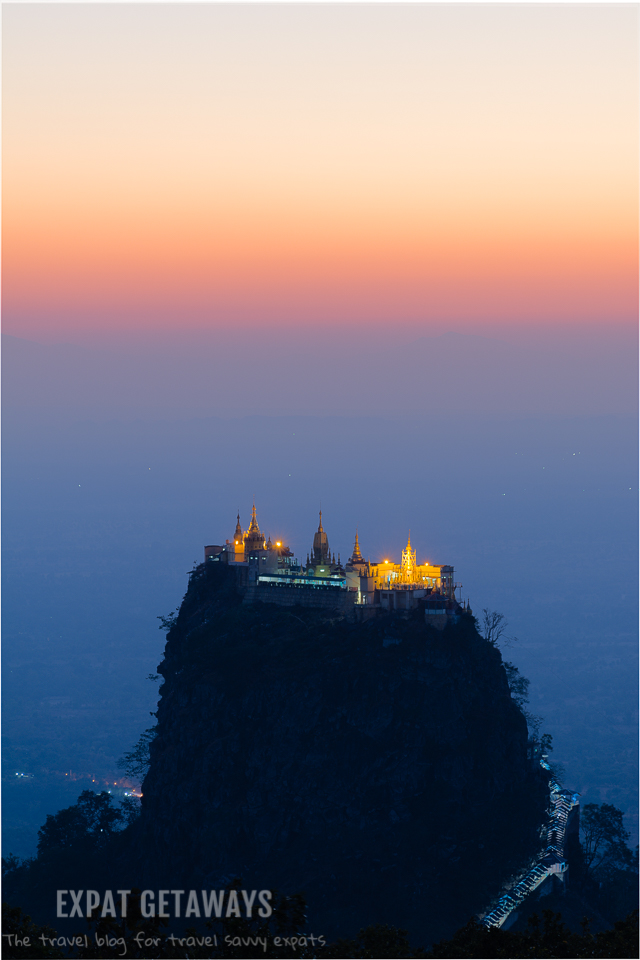 Need to Know
Visas
Check the visa situation for your nationality. Many nationalities can purchase their e-visa online. Click here for all the details.
Money
I read loads of forums about the money situation in Myanmar. I read so much conflicting advice, some saying that we needed pristine bills only and there were no ATMs and no credit card facilities. Others said it would be fine. I decided it was better to be safe than sorry and took cash, brand new $US100 bills. At the airport I changed over a few hundred into local Kyats but I found the exchange rate similar everywhere we travelled. I certainly did see plenty of ATMs, especially in Yangon and Bagan. All our hotels accepted both currencies.
Accommodation
Tours
One Stop Myanmar organised all our domestic flights, accommodation, transfers and tour guides. They did a fantastic job of putting together our itinerary and I wouldn't hesitate to use them again.
Ballooning: Oriental Ballooning
Transport
From Hong Kong– Cathay Dragon flies daily to Yangon. Hong Kong Express and Myanmar Airlines fly several times a week.
From Singapore– Singapore Airlines, Silk Air and Myanmar Airlines fly daily. Tiger and Jetstar fly several times a week.
From Bangkok– Bangkok is the easiest international connection. There are multiple direct daily flights with Thai Airways, Bangkok Airways, Air Asia, Nok, Myanmar Airlines and Lion.
The rest of the world- there are direct flights from Doha, Guangzhou, Seoul and Kuala Lumpur.
Photographs
All photography is courtesy of my lovely husband over at Andrew Mizzi Photography. Be sure to check out his website for info on his camera kit, to purchase prints and of course more stunning photographs from this trip and our travels around the world.
Love it? Pin it!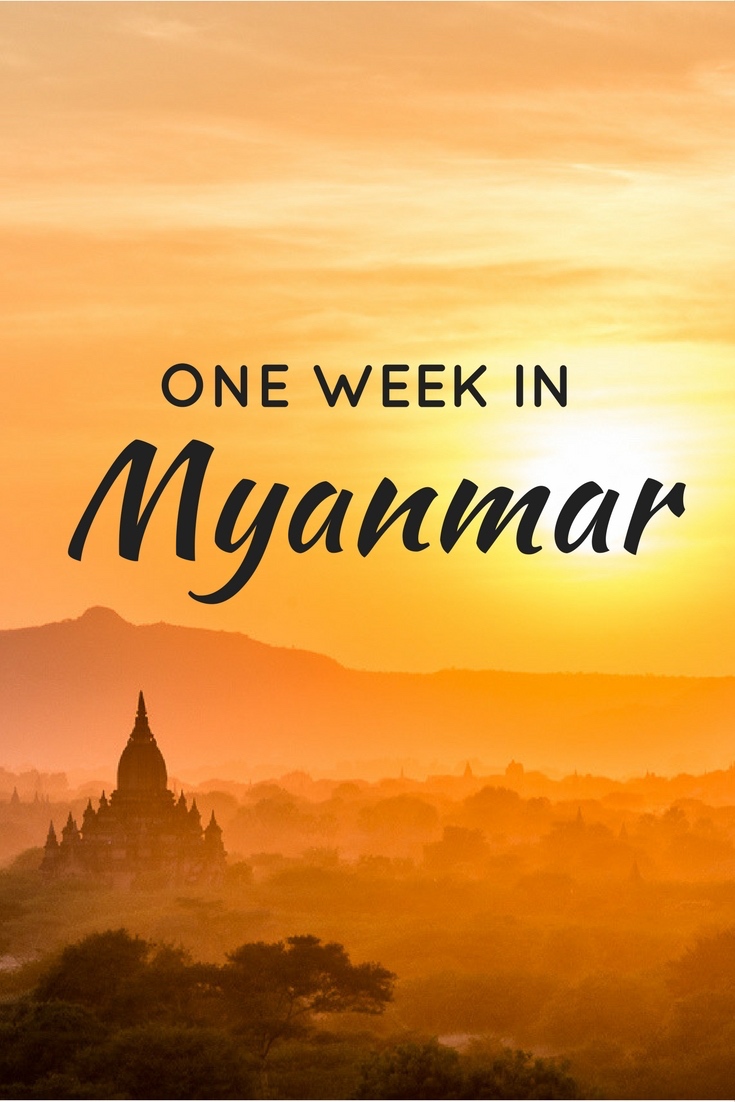 Expat Getaways endorses a policy of full disclosure.  This getaway was not sponsored or paid for by any company mentioned, and all views and opinions are solely those of the author. This post may contain affiliate links. This means that I may get a small commission at no extra cost to you. I only recommend products that I use and love myself, so I know you'll be in good hands.
Comments
comments