Tropical North Queensland is paradise. The Great Barrier Reef and world heritage rainforests are right on your doorstep. With direct international flights to Hong Kong, Singapore, Japan, the Philippines and New Zealand, Cairns is the perfect gateway to start your exploration.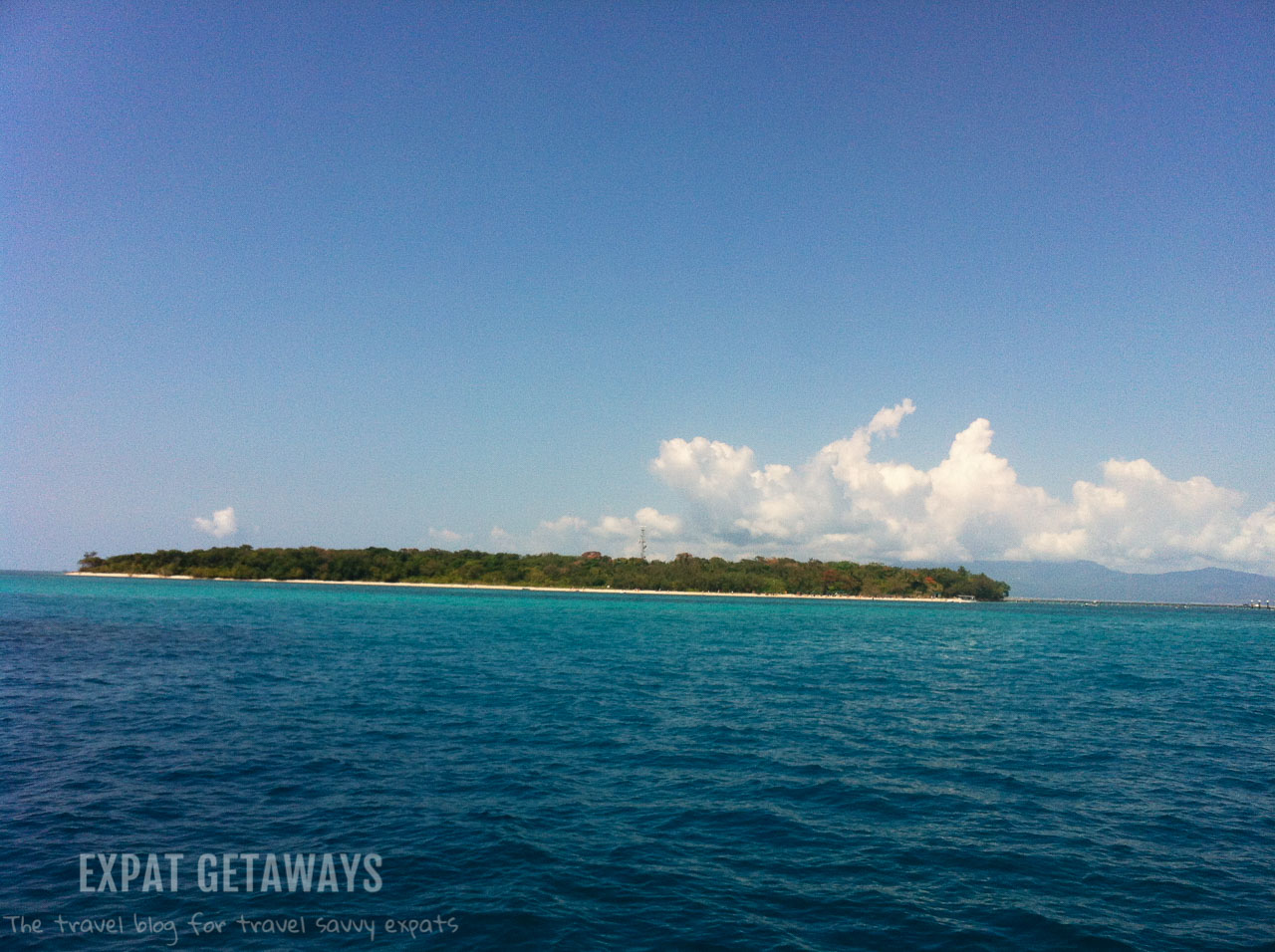 Lets be clear – three days is not enough. Hell, one week, one month, one lifetime is not enough!
If it is your first time to Australia and you are planning a bigger itinerary, 4 nights might be all you can spare.
Itinerary
1: Arrive- Cairns City
2: Great Barrier Reef
3: Mossman Gorge and overnight Cape Tribulation
4: Cape Tribulation and Port Douglas
5: Depart
Arrive and explore Cairns City
Cairns is a regional town packed full of action. It is big enough to have world-class hotels, restaurants and activities, but small enough to get around easily.
If you've hired a car, spend your afternoon exploring close to town. The Copperlode Dam lookout is about a 20-minute drive from the city centre and will give you panoramic views from the sugar cane fields, the rainforests and out towards Green Island.
On your way back stop in at the Cairns Botanic Gardens in Edge Hill. In this lush oasis you will get a glimpse of what is in store on your up coming trip into the Wet Tropics. There are free guided tours everyday at 10am and free audio tours which can be downloaded here.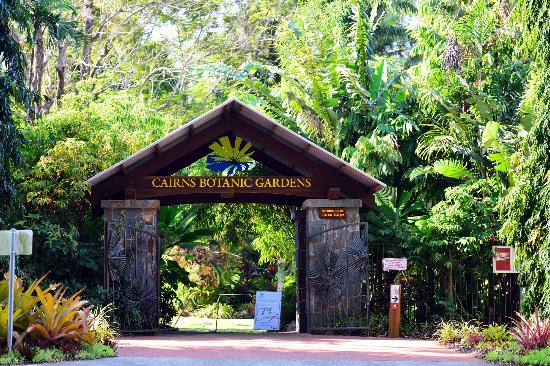 In the afternoon visit the Cairns Aquarium. Once it opens this three-story icon will house more than 5000 creatures from the open ocean, coral reefs, wetlands and rivers. Between the gardens and the aquarium you will have a great teaser for what is in store for the next couple of days.
Finish your day with a walk along Cairns Esplanade. This 2.5km walk takes you along the waterfront and out towards the marina. If you want to really get into the swing of things, pick up some supplies and cook yourself a BBQ dinner at the free facilities. Cool off afterwards with a dip in the lagoon and you'll be in the holiday spirit in no time. If you don't feel like cooking take your pick of one of the restaurants along the way. My favourites are Salt House and Mondos.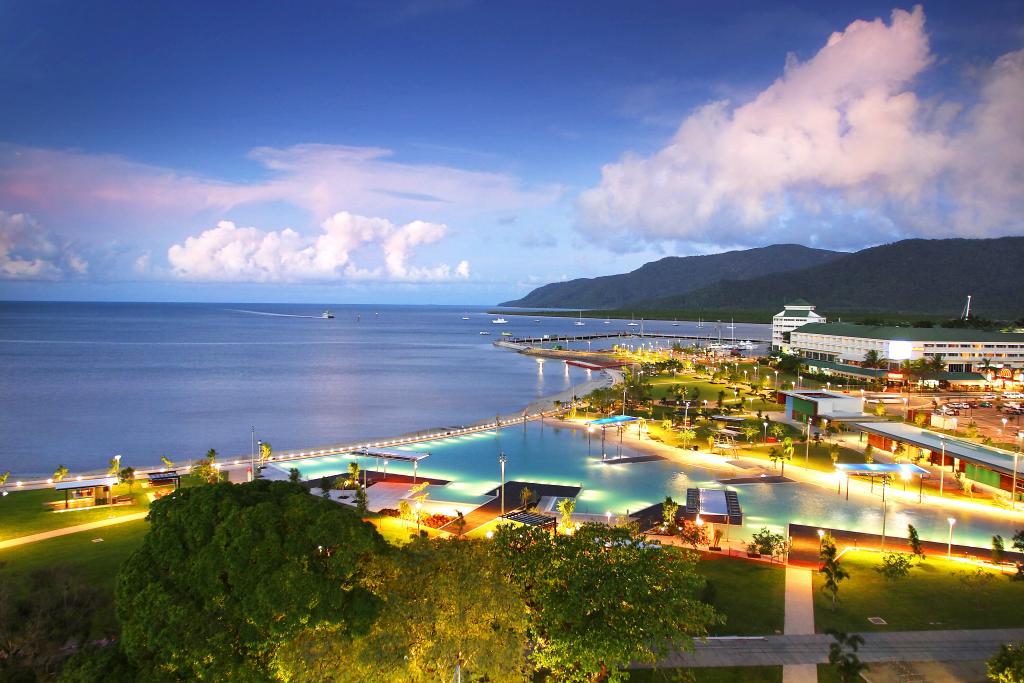 Opposite the Esplanade you'll find the Cairns Night Market (open from 4-11pm). It is fairly touristy but a good place to pick up a souvenir or unwind with a cheap massage.
Great Barrier Reef
The first thing you need to know about visiting the GBR is that it involves a boat ride. That might sound obvious, but the number of times I've had to explain that no you can't take a bus/ visit in an afternoon/ see it from the city. The key word is "barrier" and the reef forms a barrier way offshore that protects the coastline.
There are two main ways out to the reef on an outer reef trip or on a trip to one of the islands. If you can add an extra day to itinerary and visit both!
Option 1 – Outer Reef Trips
An outer reef trip takes is mostly about the in water activities like snorkeling and scuba diving. You will typically take a 1.5-2 hour boat ride and then use the boat or a pontoon as your base for the day. All full day trips will have lunch and snorkel gear included with optional extras like introductory scuba dives (for those who have never dived before), certified scuba dives, glass bottom boat rides, semi-submersible boats, guided snorkel tours and even helicopter rides depending on the operator you choose.
For all the best tips on how to choose your day trip check out Jess's Guide to the Great Barrier Reef – Snorkelling.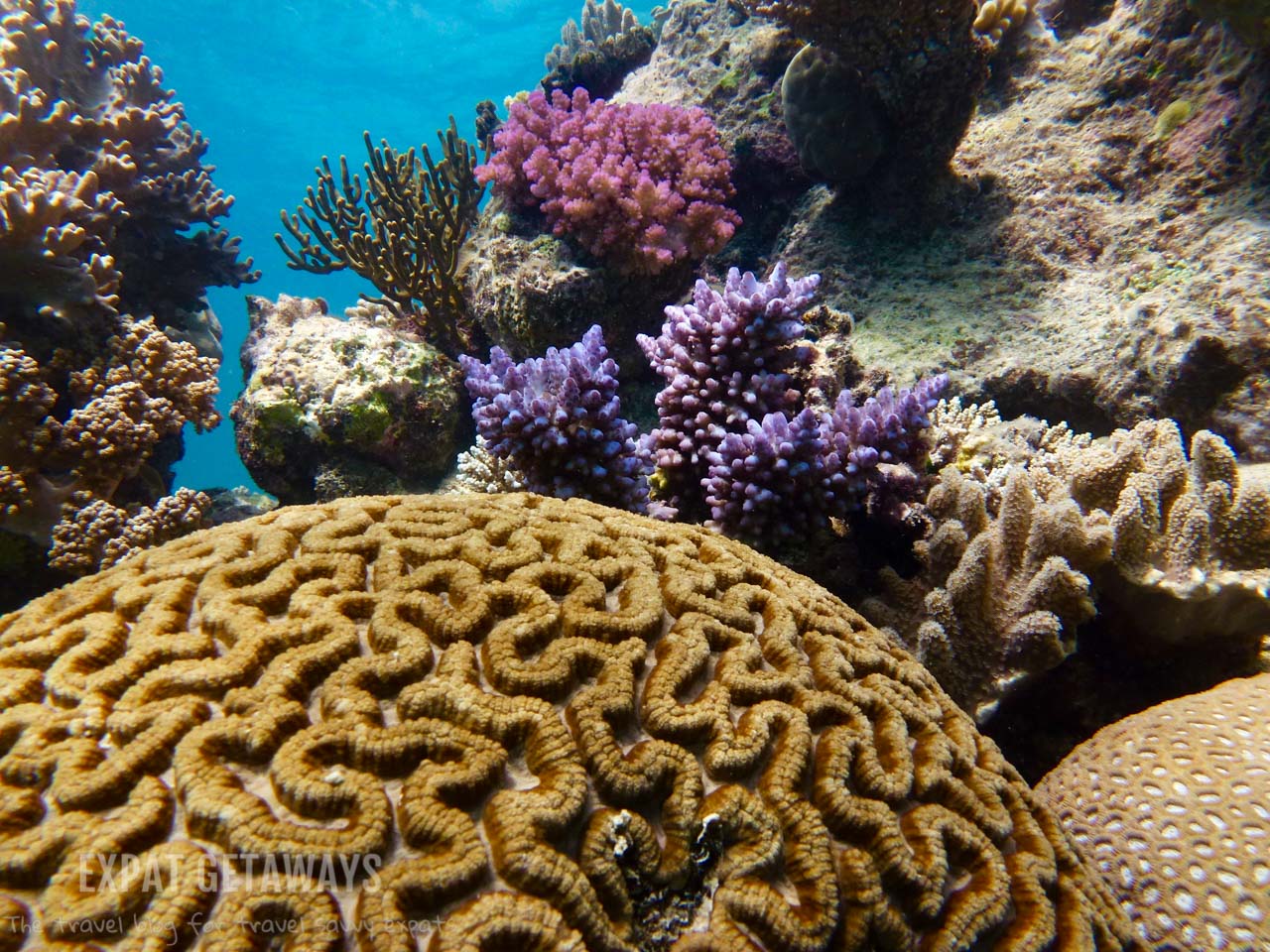 Option 2 – Visit an Island
If you aren't so great on a boat you might like to snorkel the fringing reefs surrounding one of the coastal islands nearby. The most popular are Fitzroy Island and Green Island although Frankland Island is a great choice for those looking for something a bit more off the beaten path.
Green Island
Green Island is a coral atoll, so it is very flat and sandy. There are white sandy beaches, a resort and Marineland Melanesia – a small croc park home to Cassius, the largest saltwater crocodile in captivity. The snorkeling is fantastic and there are also options for scuba diving, helmet diving and glass bottom boat rides.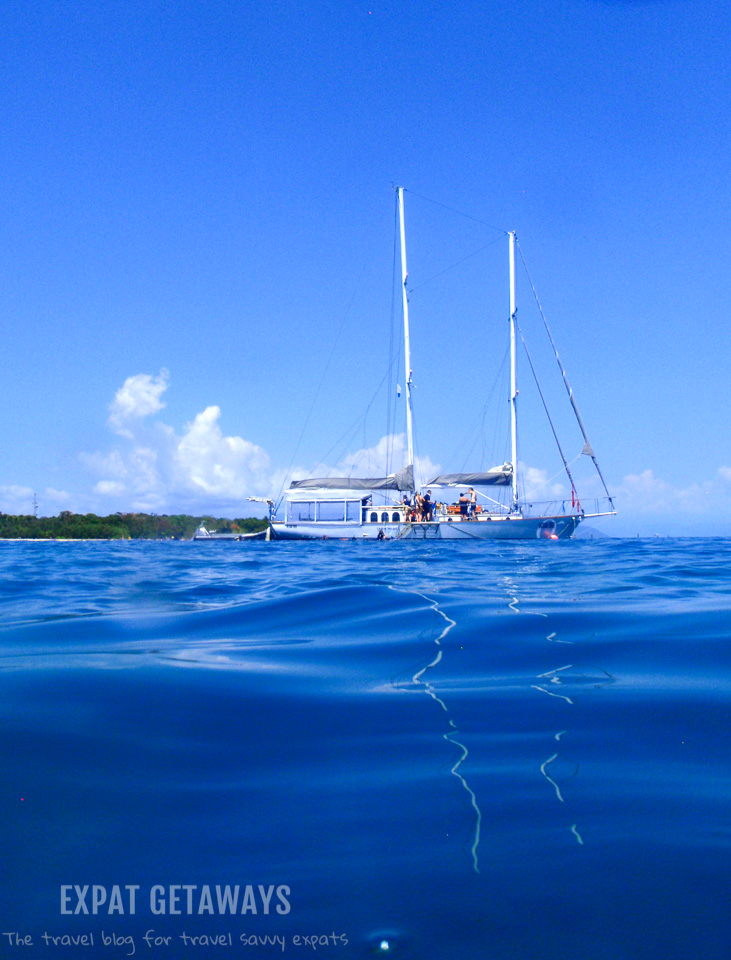 Be warned, this trip is usually marketed to package tourists limited on time. You could even squeeze it into a half day if you really wanted to. If you do choose Green Island my pick would be to book yourself a place on the Ocean Free sailboat. You can see my full review of their sister boat here but essentially you get the same fantastic crew, some awesome snorkeling and some sailing in.
Fitzroy Island
Fitzroy is a continental island (as opposed to Green Island which is a coral atoll). The biggest difference from Green Island is that the beaches are made of coral rubble and there are mountains to climb if you feel adventurous!
Fitzroy Island is just a 45-minute ferry ride around Cape Grafton and on to paradise. The water is crystal clear and the snorkeling is fantastic. As well as snorkeling you can hire kayaks, stand up paddleboards and go hiking up to the old lighthouse for spectacular views.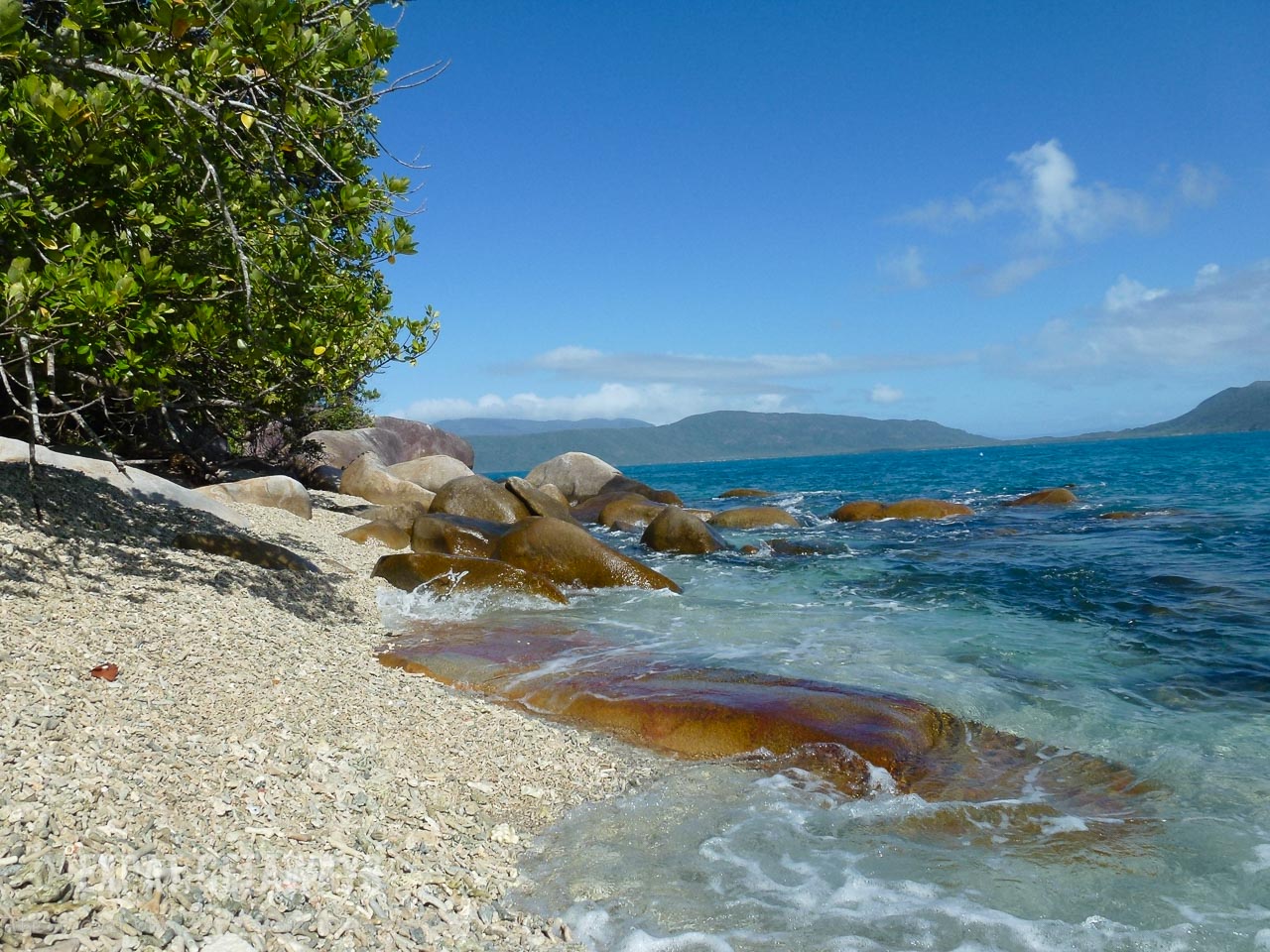 The big draw card for me is that you can visit the Sea Turtle Rehabilitation Centre and see the awesome work their volunteers are doing to release injured turtles back into the ocean.
There are two companies organising ferries and activities on Fitzroy – Raging Thunder and Fitzroy Island Ferries.
Frankland Island
If you are looking for something away from the package tourists you might like to try a day trip to Franklin Island. With only 100 visitors a day and the shortest open water crossing around this is a great option for those looking to get to a more untouched snorkeling destination as well as those who easily get seasick. It truly was some of the best island snorkeling I've done and I loved walking in the tidal zone for a close up look at the sea creatures lurking in the shallows.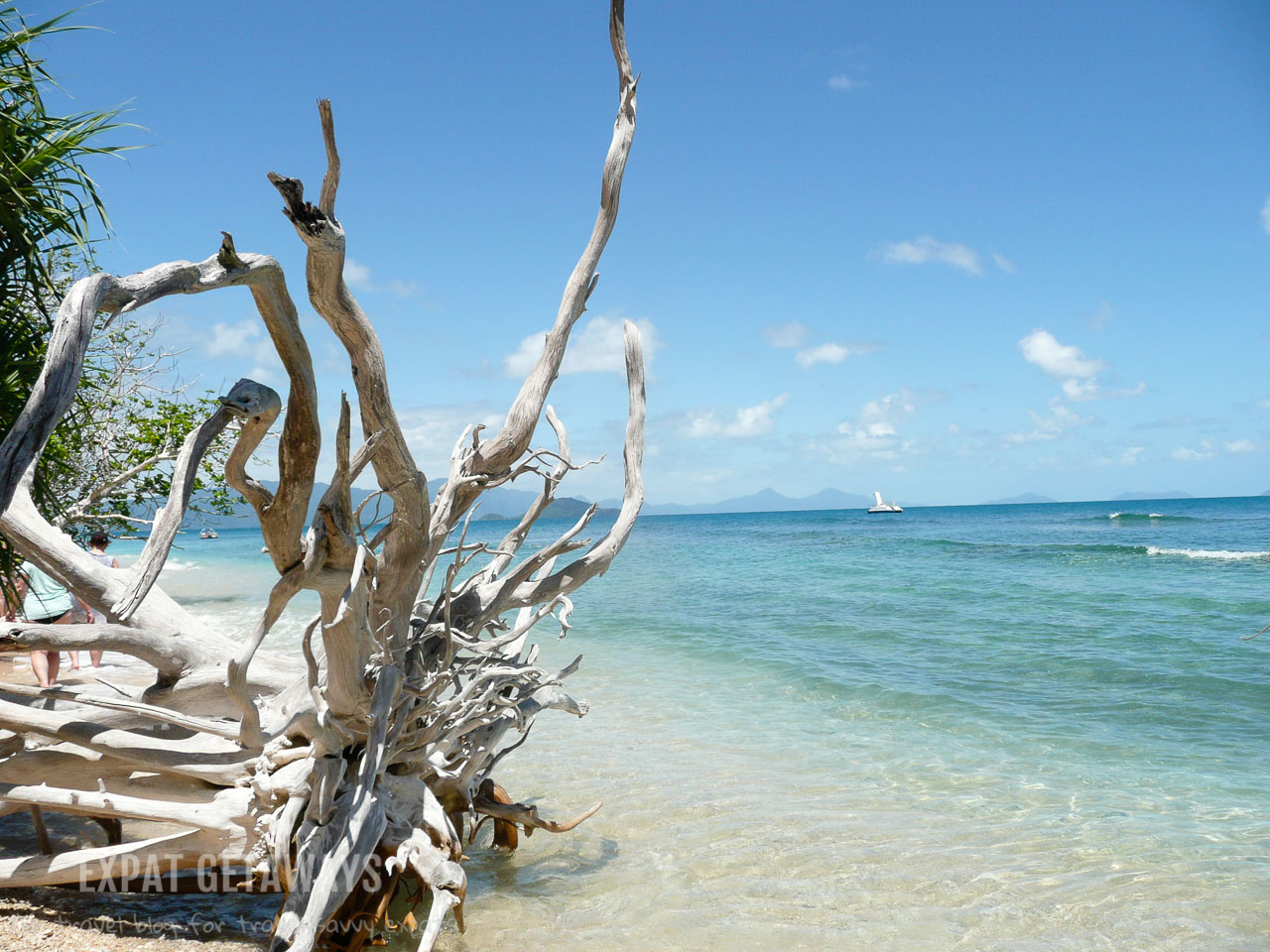 Rainforest and Indigenous Culture
You can't visit Cairns without venturing into the amazing Wet Tropics of Queensland – the world heritage listed rainforests that stretch along the coast.
The most famous national park in this part of the world is the Daintree – "where the rainforest meets the reef". Contrary to popular belief, there is no tree called the Dain Tree, the name came from Richard Daintree, a friend of explorer George Dalrymple. You will however find amazingly rich and ancient biodiversity. There are trees here that were around when dinosaurs were roaming the planet. This rainforest has existed, relatively unchanged for hundreds of millions of years.
There's no denying, it is pretty special!
Mossman Gorge Section
Leave Cairns early for the incredibly scenic 80km drive north of Cairns to Mossman Gorge. The gateway to the national park is Mossman Gorge Centre, a huge success story. A few years back the Indigenous community were not doing that great. They had their community land at the entrance to the national park, but visitors were heading straight onto country without any acknowledgement of the traditional owners. Not only that but visitors were taking their cars right into the park and was damaging the delicate environment.
Now the centre employs a 90% Indigenous workforce and offers traineeships in hospitality and tourism. There are local guides sharing their knowledge of country, shuttle bus drivers, reception and retail staff as well as hospitality staff at the local café.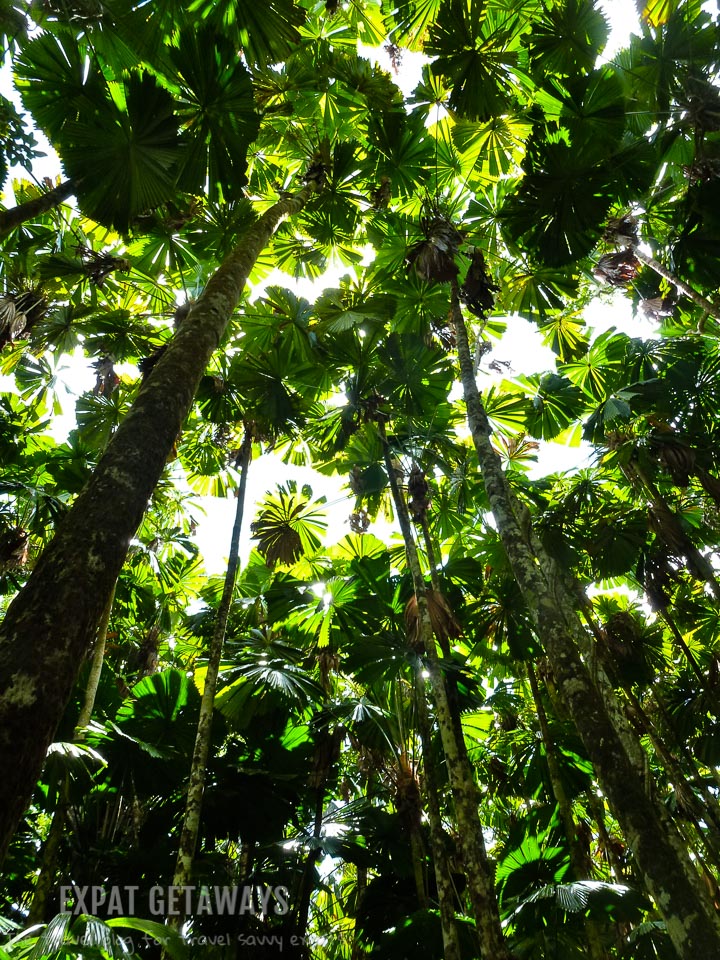 It is also possible to visit the gorge on your own, but you will need to park at the Gorge Centre and pay a small fee to take their eco-shuttle to the start of the walking track.
The best way to experience Mossman Gorge is to take a Dreamtime Walk. Not only will you experience the fabulous Daintree Rainforest, but you will do so with a local Kuku-Yalanji Indigenous guide. Back when I guided in Cairns I took this tour regularly and every single Kuku-Yalanji guide offered something unique and different.
Stop back at the Centre for lunch and a browse of the Indigenous art gallery before continuing north.
Cape Tribulation Section
About 100km north of Cairns you cross the Daintree River on a car ferry and into the "dark side". Quite literally in this case since the power lines don't go across the river. When most people think of the Daintree, this is the area they imagine.
The road winds for another 35km through dense rainforest past beautiful beaches and on to Cape Tribulation. The key is not to rush. There are lots of places to stop along the way. Pick one or two of the following stops to visit on your way up and save the others for your return journey to Cairns.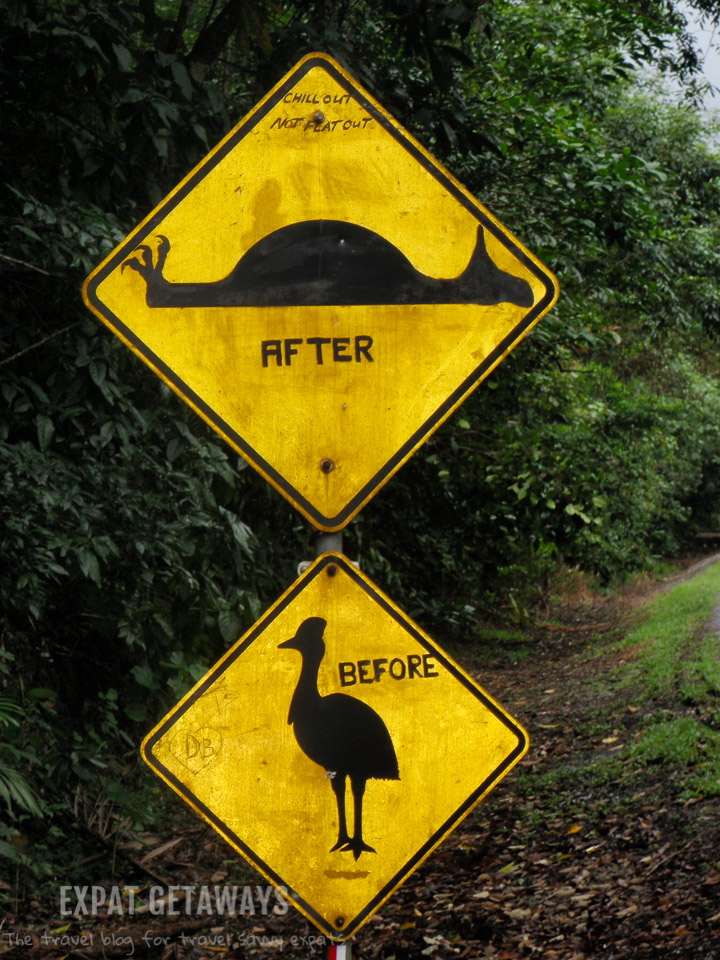 Alexandra Lookout
You must stop in here for a quick photo and to check out the fantastic views. On a clear day you can see the mouth of the Daintree River, Snapper Island, the Low Isles and even down to Double Island. This is your first glimpse of the ancient green hills rolling down to meet the Great Barrier Reef.
You'll see the turn off on the right 8km after the ferry crossing.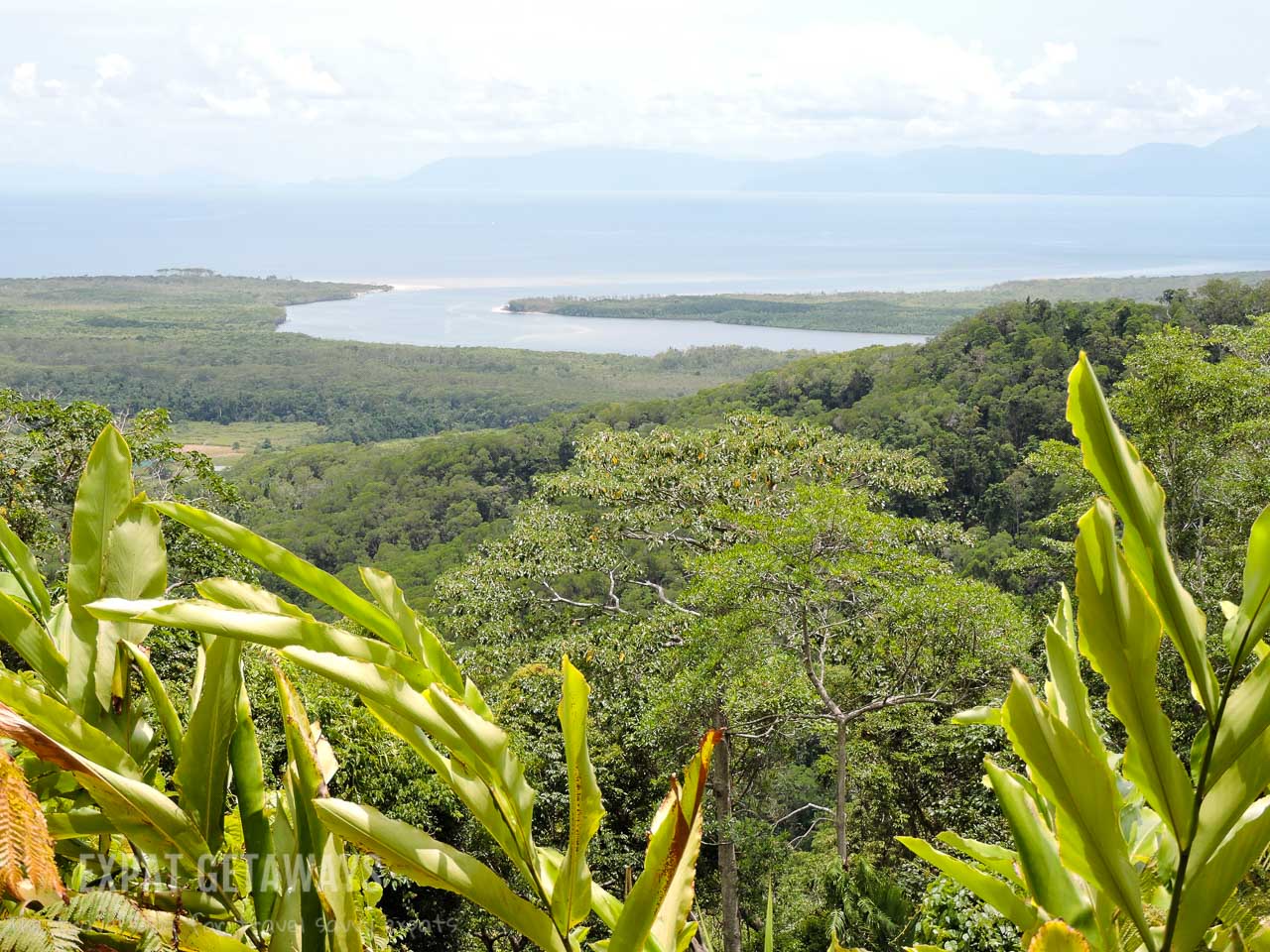 Jindalba Boardwalk
This is one of my favourite walks in the Daintree. About 2km on from Alexandra Lookout you'll see the turnoff on your right for the Daintree Discovery Centre (a great stop if you are looking for some information on the rainforest, a drink break or have kids you want to entertain/educate). Take this turn and continue on a few hundred metres and you'll be at the start of the Jindalba Boardwalk.
The Jindalba loop is just 700 metres but take your time and take in the landscape. This is a great spot for spotting cassowaries so keep your eye out at all times. I was even lucky enough to spot some juveniles that had only recently left the nest.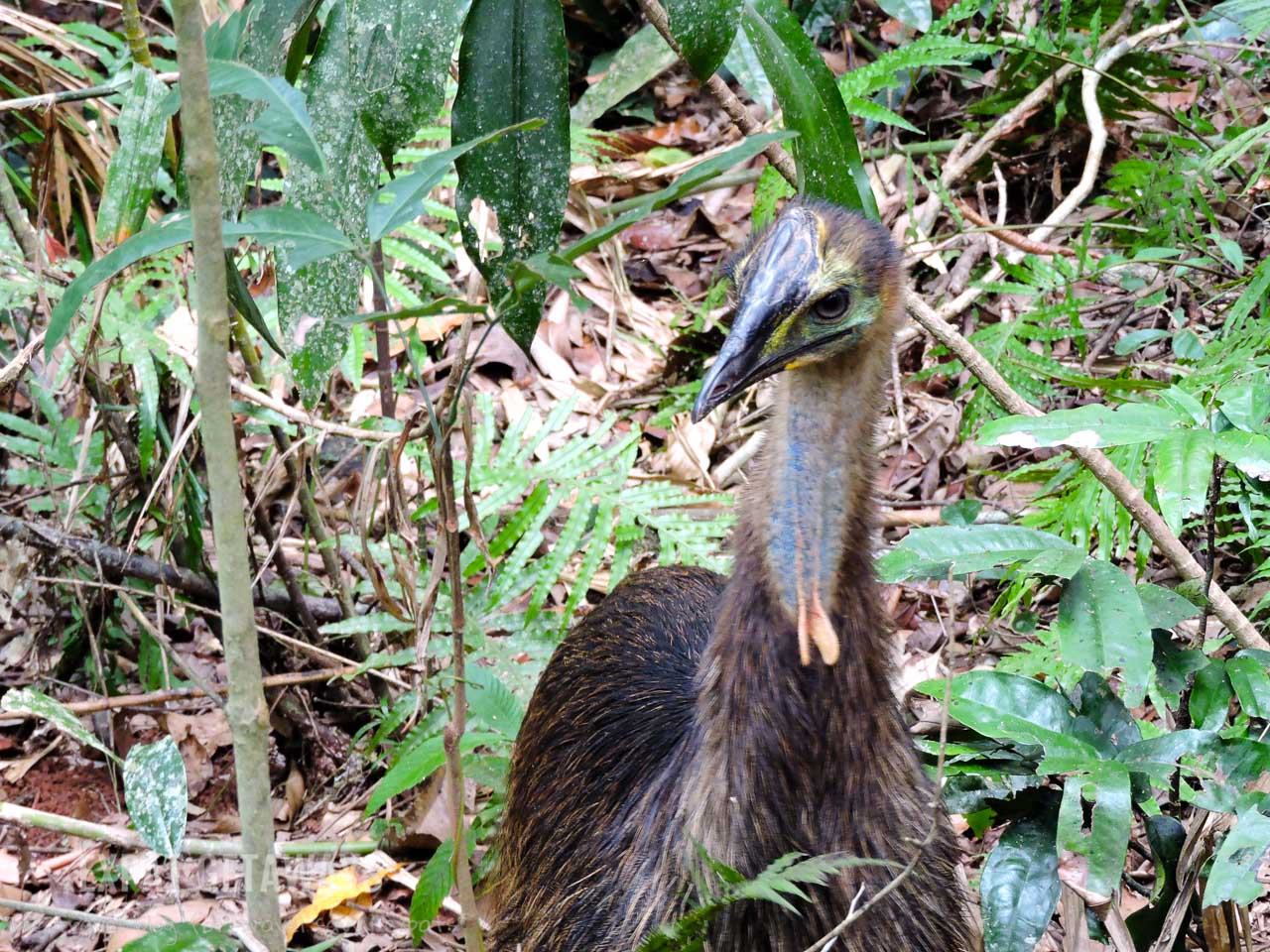 Marrdja Boardwalk
Marrdja takes you along Oliver Creek, past a glorious strangler fig and through the mangroves before looping back past basket ferns and cycads. Keep your eye out for cassowaries, peppermint stick insects and the very cute Boyd's forest dragons hiding in the greenery.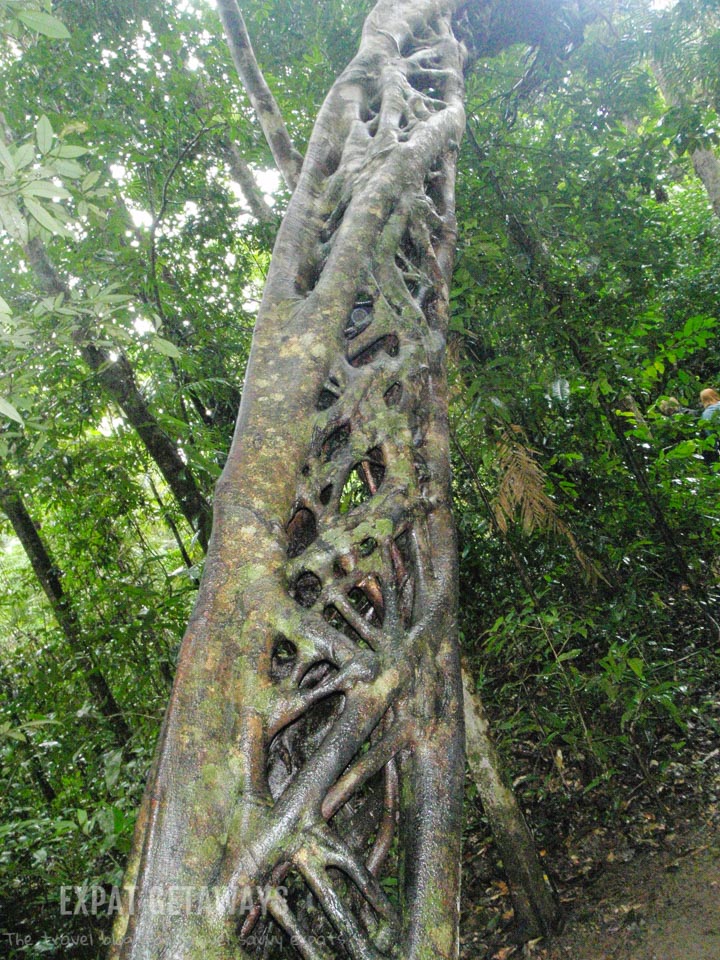 Cape Tribulation Lookout
This is it. Where the rainforest meets the reef. Two UNESCO World Heritage Sites side by side. The short walk here will take you from the beach up to the lookout where you can see the fringing reef hug the coastline.
A few miles out to sea is where Captain Cook famously ran his ship, the Endeavour, into the reef. He looked ashore and named Cape Tribulation as the point where his trials and tribulations started. Nearby Mount Sorrow was named at the same time when his expedition was looking most dire.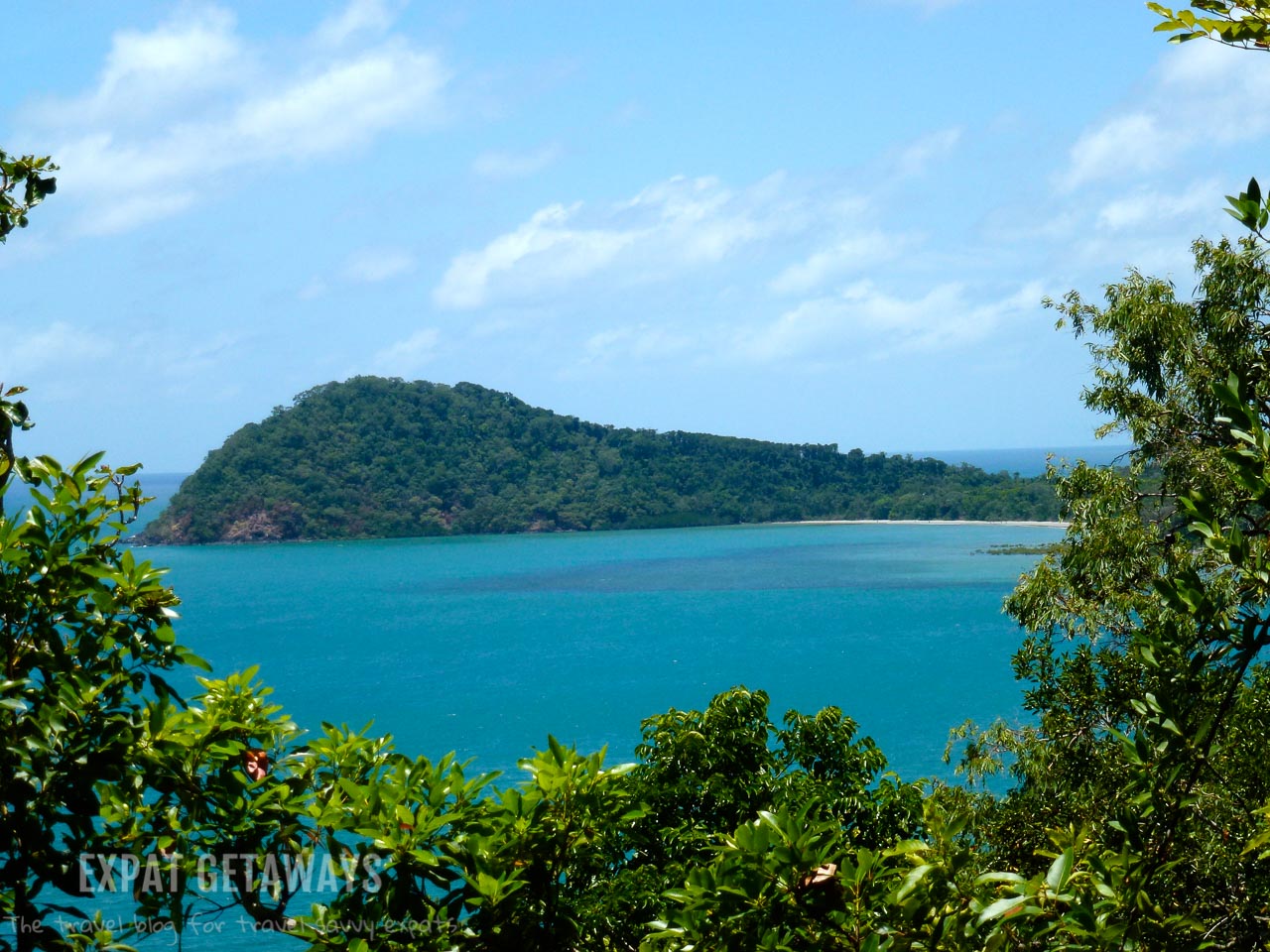 Captain Cook managed to get the ship a little further up the coast to what is now Cooktown. He stayed ashore for six weeks, naming the Endeavour River after his ship before completing his voyage and claiming Terra Australis for England.
Extra Activities in Cape Tribulation
If you are looking for something extra to do in the Daintree I highly recommend these activities:
Ocean Safari  (check out Jess's Guide to the GBR – Snorkelling for full review)
Port Douglas
On your return to Cairns stop in at the beachside town of Port Douglas. In the 1980s this was the playground of the rich and famous thanks to the now disgraced Aussie billionaire conman Christopher Skase. He tried to make the town like Hollywood and shipped in fully grown African oil palms to line the main road into town. He built a luxury resort with a two-hectare swimming pool and world-class golf course and the rest is history.
Macrossan Street is the main road and you'll find excellent boutiques, cafes and pubs. At one end you'll there's the cute St Mary's by the Sea chapel and at the other Four Mile Beach. It is also worth the detour up the hill to take in the view from the lookout before driving back to Cairns.
Getting There
Cairns International Airport has direct flights to/from Hong Kong with Cathay Pacific, Singapore with Silk Air, Manila and Auckland with Philippine Airlines and Tokyo, Osaka and Bali with Jet Star.
Otherwise you can connect through Sydney, Melbourne, Brisbane or other major Australian cities.
Accommodation
Restaurants
Mondos $$
Salt House $$$
Tamarind $$$
Tours
Love it? Pin it!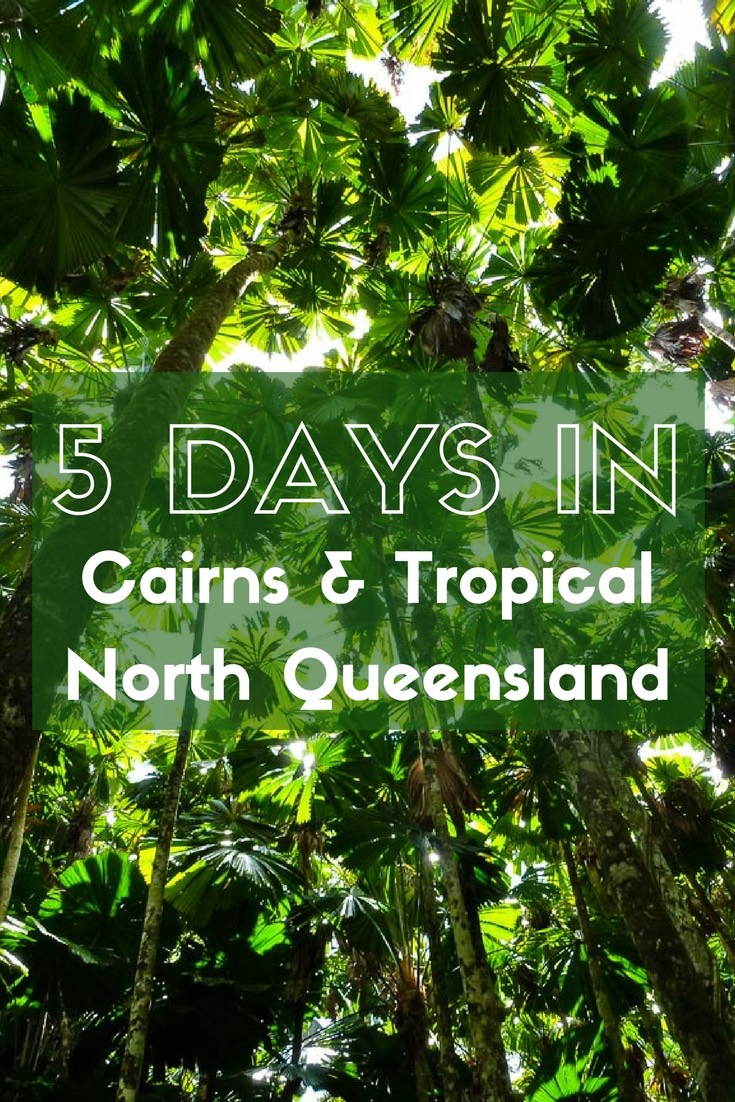 Expat Getaways endorses a policy of full disclosure.  This getaway was not sponsored or paid for by any company mentioned, and all views and opinions are solely those of the author. This post may contain affiliate links. This means that I may get a small commission at no extra cost to you. I only recommend products that I use and love myself, so I know you'll be in good hands.
Comments
comments